Caroline Grace is here to prove dreams really do come true, if you work hard and stay true to yourself. At 22 years old, the pop and R&B songstress has already opened for KYLE on select dates of his Lightspeed World Tour, including San Diego and Hollywood. Somewhere in between those two cities is where she is bred, in the beautiful city of Laguna Beach.
Read the full interview on IrvineWeekly.com!https://irvineweekly.com/caroline-grace-chats-about-career-goals-and-work-ethic/
Moving to L.A. four years ago to pursue music, real name Caroline Renezeder was just wrapping up her thesis at USC while balancing rehearsals for her performances. While she only started actually recording music at age 14, the singer-songwriter recalls singing her whole life. Last year, she unleashed her debut single titled "Show Me," which she co-wrote with Poo Bear, one of the industry's most well-respected writers.
Where do you fit in the realm of pop and R&B?
I have so many different vocal influences from Etta James and Stevie Wonder to Lauryn Hill (in terms of production). Growing up, I was trained classically and started writing very mainstream pop music. But in the past few years, with my voice developing more, I was inspired more by R&B. Definitely still pop, but an R&B-inspired vocal lane, where I'm trying to reinvent almost. Lauryn Hill is definitely my biggest inspiration.
You're from Laguna. How does that play into your life and career?
It's very laid back, but it's also close enough to L.A., so I've always looked to L.A. and sought that. I always begged my parents every day to drive me up to L.A. Being from Laguna, my parents are very laid-back and mellow, which now that I'm living this life, I'm so thankful I've had that type of life to escape to. That definitely plays into the way I approach everything: very mellow and low key. The beach and all that, it inspires me. Moving to L.A., I've definitely gotten more into the urban scene. There's a lot of aspects of Laguna. That's where my family is, and I'm very inspired by them and my friends down there.
I hate to say this, but I used to LOVE…
The "Laguna Beach" show?
Yes!
Oh my gosh. I have to tell you, I have never watched it. I watched one episode, and I was like, "This is not real." Growing up, Trey was my camp counselor, Lauren's little brother was one of my good friends, random stuff – so I never thought it was a thing. Also I was young. When the "Laguna Beach"show was out, I was maybe seven or eight. I never got super into it.
What part of L.A. are you in?
Santa Monica, so it's still by the beach. I have to be by the beach, otherwise I'll be landlocked. But I did live downtown for 3 years, when I went to USC.
How important is it to come to L.A. as an up and coming artist?
It's everything. If this is the industry you're trying to break into, here or Nashville really.
With the pop and R&B scene, it's where I've made all my connections. You definitely have to be here.
At what point did you realize this music thing was for real?
I've always known it was for real and this is what I was going to do forever. I never had a doubt in my mind. There was never anything else I wanted to do. It was more so like: "I'm going to make this real." Whatever it takes, I'm going to do it. It's slowly but surely evolved. I actually woke up this morning and had one of those "oh wow" moments. On my way to rehearsal, I realized "holy shit, this is actually happening." These past few months have the most I've actually seen the results of "this is actually going to work."
What was the inspiration behind keeping your name?
Well actually, it's not my real name. My name is Caroline Renezeder. It's amazing, but really long and Austrian. My middle name is actually not even Grace. I was born and raised Christian. I've always been inspired by the word 'grace,' so I just found it fitting to put that in there.
You just dropped the "Bad Behavior" visual. Talk about your mind-state creating this one.
I created the vision with one of my really good friends, Jeff Vanags, who directed and edited it. Essentially, I've always been a very nostalgic person, and very inspired by the past. Vintage is my favorite thing ever. I've always been very inspired by the 1950s. I grew up watching every old movie you've ever thought of, so I wanted to create a visual with VHS. At school, I focused on narrative studies and how to create narrative arts. I thought, "It would be cool to jump between modern times and the past," by going into the different frames of red camera vs. VHS camera.
Also, I'm very into fashion. I love the way that they're shot. The apartment's very eccentric and even our clothes, we're wearing matching plaids. It's kind of inspired by those fashion campaigns where it's like, "Why the heck are there stars on your face in the middle of the desert?" That's kind of a weird inside vibe.
Bring us back to the day you wrote "Show Me" with Poo Bear.
That was definitely a very humbling moment to walk into. It was at Westlake Studios over on Beverly. I knew who Poo Bear was, obviously. I walking in and was pretty nervous. I was expecting him to be not what he was. He was literally the nicest human in the world. Incredible. We immediately bonded. We were just talking and within the first five minutes, we realized we went to the same church!
He said, "I have this idea. If there's a way, will you show me?" I was like, "Yeah." Because I've always thought there are double entendres between talking about love and relationships, but it can also relate to your faith. He had the same idea, and we cut it just in a few hours. It was so easy. He was the nicest human being to work with, and I hope we'll be able to work a lot together in the future.
What's the best piece of advice he gave you?
In terms of songwriting, because "Show Me" happened so fast, he said, "If it's not that fast, it's not a hit." He told me, "Don't sing any line more than twice, then you know it's not right for your vocal." Everything I used to think with writing, if I get it too fast, it's like, "Oh no, have to spend more time on it." Now, it's like the song I'm releasing next week, we wrote in 15 minutes. I'm like, "Yup, it's good!" Because of what he told me.
Also, with all his success, that man is so humble and real. Really inspired me to always, no matter how big my career hopefully gets (or wherever that goes), always to stay humble and remain passionate about what you're doing. Be kind and respectful of everybody.
Talk about studying writing at USC. You studied writing, right?
Yeah, Narrative Studies. I loved the school and made so many friends, but I definitely struggled in terms of, "I know what I want to do with music, why am I spending all this time being at school?" That's actually when I took time off from school. Then I totally had a shift in perspective about a year in. I thought, "This is such an incredible gift that I'm able to get an education." Also, if I do have a large social platform, to be able to talk about the things I want to talk about in a very eloquent and educated way.
I found this major, which is the intersection of all narrative forums. It has helped me so much. Not only in songwriting, but music videos, photoshoots and how those all intersect. It's really allowed my artistic vision to flourish, because it's given me all the tools necessary to know how to tell a story with branding. It's really just made me a well-rounded person. The discipline of school and hard work, it kicks your butt.
What can we expect from you music-wise?
At KYLE's show, I actually performed some unreleased songs that are much more upbeat dance tracks. Lately, I've been very inspired by the '80s and disco. [smiles] This one song, "Leave My Heart Alone," definitely has some '80s vibes in there. I'm kind of exploring my voice more, to let the soulfulness of it come through. I'm planning on dropping a sequence of singles, and most of them, lyrically, are holding true to self-empowerment. That's the space I'm in right now. Who knows if a boy will come into my life and I will start making love songs. [laughs]
What is it you want fans to get from your story?
I want fans to look at me and think if they put in the work, they can do it. For me, I'm not signed. I have my own production company and record label, Illuminate Creative Group. Everything that I'm doing, I've built an amazing team of people that I'm very lucky to have. I would not be able to do it without them. You have to put out in the world what you want to get back. You have to seek those connections on your own. You have to find that on your own. Showing fans that you have to be courageous enough to do that and you can do that, but also being inspired to work hard. Not only do you not have to be afraid, but you have to work your butt off. I think that really comes through in my music. Be a badass and work your booty off, and do what you want to do.
What were you most excited for when opening for KYLE at the Hollywood Palladium?
First of all, I've never played a venue this big, so that was just epic in itself. I've also been a really huge Kyle and Marc E. Bassy fan for a while. "Plot Twist" has been my ringtone forever. Now that I opened for them, holy cow. Meeting them and performing with them was so incredible and surreal. I was so excited. My grandparents have never seen me perform, so having them and my family there to see me perform on stage, just ripped my heart to shreds.
What are some goals yourself as an artist at this point in your career?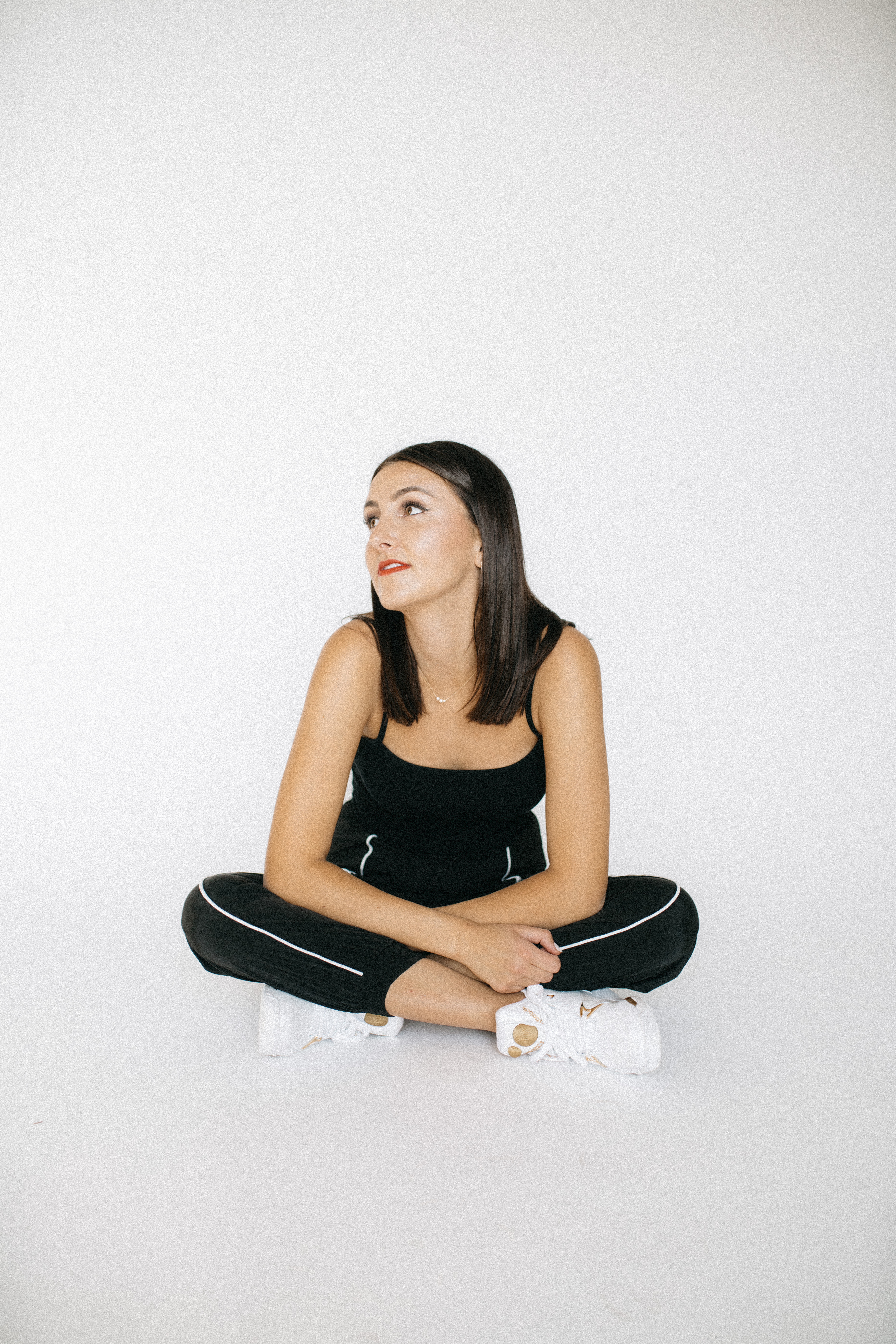 A lot. I want to obviously get as big as I can. I want to be touring. I want to have more people know my music. I also just want to be studying the business and eventually getting behind other artists. Being a real player, not only on the actual artist side, but the industry side. That's what I'm trying to set myself up for now. With my own Illuminate, it's all about being a light in the darkness.
Eventually, 10 years from now, I want to settle in and have a family. After I have my career and everything as an artist, I want to find artists that have the same drive that I had, to be hard workers and also promote positivity into the world. Hopefully give them the opportunities that I've been given.
How important is social media for your career?
It's so important. That's something I have learned, because I used to not like social media. I was bad at it. I'm still kind of bad at it (or just making myself do it), but I've definitely learned how it can be such a tool in talking or communicating with your fans. I've really found a new appreciation for it. It's also such a cool way to tell a story. My sister taught me it's just another narrative form and Instagram is another way of framing your artwork. It's just so cool that you can find anybody and just reach out to them. It makes the world a lot smaller.
What's a normal day in the life? Walk us through.
Lately, I wake up and typically go on a run. I work out because I need to keep myself sane with all that is happening in my music career, but also trying to finish school. Two days out of the week, I go to class and study my booty off.
I'm currently planning the release of this music video, which I'm also editing and making sure everything is set in place. A normal day consists of going to rehearsal, going to class, going to workout class, checking emails, writing emails, writing essays and then going home and not letting myself be stressed out. I have an amazing group of friends who just rely on to keep me sane in the midst of all this hecticness.
Do your colleagues know what you do?
No, they don't. The ones I went to school with do, like my friends, but nobody in my classes really know.
3 things you need in the studio?
I always have almond butter with me, because I can't focus when I'm hungry. Almond butter is my favorite thing. A big comfy jacket, for sure. And cough drops. They're so gross. They're called Fisherman's Friend and they taste like dog food. My vocal coach Mark, he told me about them when I was 14. But when you have them, it opens up your sinuses and you sing like an angel.
What would you be doing if you weren't doing music?
I would be trying to do music. I've never really given myself a plan B, because this is all I ever wanted to do. I'm very passionate about underdeveloped countries. I would definitely be trying my best to find another career that allowed me to travel and give back to those in need.
Who's the most played artist on your phone?
Right now, it's Ariana Grande's "thank u, next." I love that song!
Dream collab?
Either Chance The Rapper or Logic, because I'm inspired by both of them.
What advice do you have for an aspiring Caroline Grace?
Just do it. A lot of people expect that someone will come by and recognize your talent and make you a star, but I realized that nobody is going to do that for you. Nobody is going to be your biggest advocate except you. You have to go out and make it happen. Work hard, know who you are, stick to your guns because people are going to try and tell you who you should be, and that won't translate to your fans. Emma Watson said in her address to the U.N., "If not me, who? If not now, when?" A lot of things are terrifying. I was a little nervous to play at the Palladium but this what I've been working for. If it's not me, it's going to be somebody else.