Read the full interview on Flaunt.com!
Seddy Hendrinx creates the perfect blend of hip-hop and R&B, injecting emotion and feeling into his songs. Hailing from Jacksonville, Florida, it wasn't until the murder of his best friend Johnell in 2016 when he decided to change his life for the better and pursue the music altogether. His name derives from both the legendary Jimi Hendrix and trap's finest Future, the latter of which calls himself Future Hendrix.
Seddy describes himself as a "soulful, reality street rapper who likes to experiment." When it comes to his rhymes, Seddy tells real-life stories of the struggle: from being homeless to now signed with DJ Drama's Generation Now label (in partnership with Atlantic Records). Last year, he released his standout single "Low Key," which interpolated SWV's hit "Weak in the Knees."
Fast forward to 2020, he returns with his most impressive project yet: B.H.D. (Black Hearted Demon). The tape features production from multi-Platinum hitmakers Cheeze Beatz, Don Cannon, and M16. Flaunt caught up with Seddy at the Kandypens house in Los Angeles to discuss his journey from being homeless to signed, studio essentials, Nipsey Hussle's influence, wanting to start a hospital, and more!
What was it like growing up in Jacksonville?
It was tough. At one point it was everything it was supposed to be, but you go through trials and tribulations. Went from that to being homeless, to having to get back right and then moving out again on my own.
What was the reality of being homeless?
We didn't have a roof over our heads at the time. We ended up staying at the Sulzbacher homeless shelter right across the street from Duval County Jail. Unfortunately, I ended up visiting that jailhouse a lot. Growing up like that played a big part of my childhood.
How long were you locked up for?
I was in and out of county a lot. The longest was 8 months, for possession of firearm by a juvenile delinquent. In 7th grade middle school, my brother got caught with a BB gun. It was the metal one, I wouldn't let him go down for it so I said I brought it. I ran to the office and told them I bought it the day before yesterday, so they locked both of us up. That's how I started on the whole juvenile thing, went from pebble guns to real guns… quick.
When did music come into play?
Music came into play once I lost my boy Johnell to the streets, to gun violence. My best friend, my brother, a close friend to the group. Real close to me, the first time somebody I seen everyday or grew up with go like that. I was pulling up to the party, the ambulance was there. I still got scars on my knees for when I hopped out the car, dropped my knees. It was Lee and First Coast's prom night.  N*ggas told him not to go to that party, I really think they set my dawg up.
How old were you guys? How did you push through?
17 or 18. Shit, I had to. I found the mic and went in with music. Balanced the street with the music, that took me on a challenge. How I'ma stay real and tell the whole world about my life story, the way I'm really living and still stay out of jail? It worked because I'm out of jail, but I ended up bumping my head a couple times in the process, on that road getting to where I want to be.
Were you always dreaming of being an artist coming up?
Nah, I just always knew I was something special. I knew my voice needed to be heard in some way shape or form. Music caught me first, music I felt comfortable with. I never want to go out lame, can't go out on no sucker shit. I gotta stand on my 10. Music was a way for me to stay comfortable in a lane where I can be a 100. Obviously, you get in the rap game and shit changes.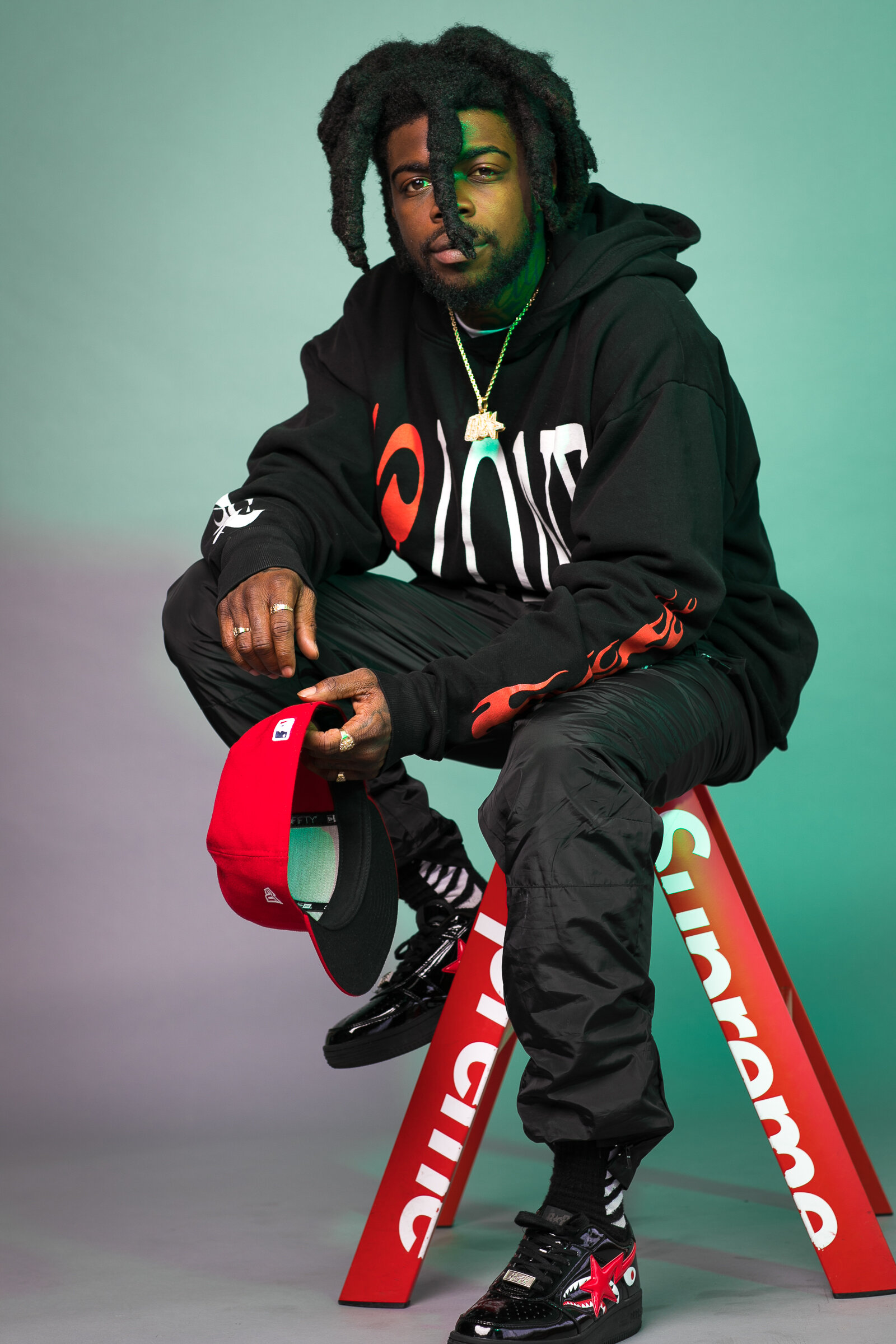 You're with Generation Now, what's your relationship with DJ Drama?
Shout out DJ Drama, Lake, and Don Cannon. My manager now Willie Joe found me first, he's like "yo this is something we need to do." He brought me to DJ Drama. Even Drama's like "alright, one song. Can you do this on a frequent basis?" I went back in, did 8 songs. They came back like "let's get it, come on." I went with them, I was on tour months later.
Who'd you open for?
I was on tour with Wiz, Moneybagg Yo, French Montana. Playboi Carti was on the first day, he only did the first 2 days. He quit that bitch, he still got the bag though.
How's that whole journey been?
It's been blessed. I'm blessed I'm not doing what I used to do. If I could avoid the sucker shit and all the fake smiles… I like the doubt. I love being the underdog because everybody has to turn around, they gotta bust a U-turn.
Jacksonville has a ton of artists, how does the city support y'all?
The city loves me, supports me 110%. I came in this shit with support all the way. The city took to me. I dropped my first song, it went viral. Everybody's reposting in the city. I was already popular, everybody knew me. When I got known for music, it shocked motherfuckers like "this n*gga doesn't do music. This finesse, conning, robbing, lying ass head, he don't rap." Then it caught on that this n*gga really can do music. He's telling the truth while representing the city, and it took off.
What's one thing you want fans to get from B.H.D. (Black Hearted Demon)? 
I'm just like you. No matter how big I get in this music shit, you'll be able to get back to all my music — but specifically B.H.D and know that "I know where his heart's coming from. He's coming from a good place, he'll never change. He's like us, he fights depression." I really have anxiety, all kinds of issues I be fighting. You have to be strong.
Significance in the title?
Black Hearted Demon because I always been known to have a good heart, but I also got some fucked up ways. I'm a giver but I can take it. It's yin yang with me. It's a blessing and a curse.
You talk about your fears on "Pimpin Wit Nip," what were you going through when you recorded that?
I recorded that out here [Los Angeles] at Paramount. The homie took me through the hood, I'm already fucked up by Nipsey. I was trying to work with him, we're setting it up. I was talking my shit regardless but that gap when the beat's breathing, people singing in the background, I said "it's godly." I need to put Nip, it clicked. [snaps] Nip needs to be talking right here. I'm riding around like Tupac in California "Picture Me Rollin." I'd love to have people picture me rollin' in a droptop with Nip and he's dropping jewels on them.
What did you like about Nipsey?
The man was great. From the jump, genuine natural born leader. It's a difference when motherfuckers become that. That shit poured out of him, oozed out of him. It was there. God sends certain people for certain seasons for certain reasons. They turn the world, spike the other seeds that's going to change the world. That's what he was here for, he did his purpose.
"Hands Down" hit over a million on Youtube, how does that make you feel? 
It makes me feel great. I know my lane: the bitches. Beautiful women. Beautiful, intelligent, talented, cooperative, helpful — that's what bitch stands for for me. That's a bad bitch. My lane is gangster rhythm. I speak from my soul, I speak for the streets. I had to do stuff continuously, not in and out the streets and getting by. I really was 10 toes in this shit already, 110%, I was still able to tap in with my Lauryn Hill side, my Andre 3000 side.
You sample Maxwell, what was his influence on your sound?
The Maxwell sample's crazy because I love old school music. I love old school samples, going back and turning them out, because I grew up listening to that as much as the gangster shit. Maxwell's stuff really hit me because I did the "Low Key" sample, I wanted to come back around with another. That's the perfect one, that's why it did over a million views when I dropped. It was organic, out the door. Freestyle, I don't write down anything.
3 things you need in the studio?
Zaza for sure. Gotta have water and fruit. Any fruit, as long as it has mangos and pineapple. I might need percs or some lean. I'ma need my drugs. #HealthyJunkie, I'm pushing that. Putting it on clothing, we're out here healthy. We stay getting geeked, but we sweat it out the next couple mornings. I stretch and do push-ups, and run. I do basketball, I do cardio. I burn it out and I eat good.
Are you vegan?
No, I don't eat a lot of shit though. I'm picky. I eat the same thing, every day. I eat fruit all day. If it's not fruit, its wings and fries. I get Chick-fil-A: I get large fries, macaroni. Don't even get the chicken, get the buns and make them like a sandwich on some hot shit. Just the buns, pause. [laughs]
Your hobbies are oil pastel paintings, basketball, hunting. Have you been able to do those during quarantine?
Nah, I haven't been able to do any of that in quarantine except basketball. No hunting. I did paint, me and my girl got this Airbnb in Tennessee. She got papers, we did oil pastel.
You got a girlfriend? 
Yeah, I got an ole lady.
So all those songs are about her?
The good ones, yeah. I know what one wants to hear. I did stuff in my past that I hold onto, the same way they hold onto. They just don't do music and put it out. I'm a voice for a lot of people who don't speak for stuff they can't say.
How was being handpicked by Future for his 2019 compilation album, 1800 Seconds Vol. 2?
That was raw. At first, Meek was supposed to do it but then Future came and da-da-da. It was an opportunity, take it and run with it. Add it to the resume, something good to speak on. I got some brothers through that, a lot of good music. I like bouncing off energy, it's good.
Anyone you want to collab with?
Andre 3000 and Lauryn Hill. I need that Lauryn Hill and Andre, ASAP.
Talk about launching your own imprint, Florida Boy Entertainment.
I had to get my LLC man. You got your own business, I wanted to come at it with something. Having Florida Boy under my belt, I have 2 producers and artists under my belt. We're a team, we in this together. I'm building a foundation to blow everybody else up, because I don't want to rap forever. Building Florida Boy was my motive for that.
Why don't you want to rap forever?
I want to get a Grammy or 2, a plaque, then say I'm done. I did it. I want to get a hospital in my own name, have my own healthcare chain, change the world. I want people to say "Seddy Hendrinx done lied, robbed, conned, finessed, made it through the music. He rapped to the females, he moved this way. This n*gga stopped rapping to get a hospital in his name, changed the world?" I want to be the first smooth American gangster, motherfuckers know what he's on and he changed. Show people that nah, motherfuckers can be a convicted felon and really come from a fucked up past, but change the world. I want to be the first, I'ma inspire so many souls. Imagine Seddy Hendrinx having his own hospital and healthcare.
What makes you want to give back in that field?
Because I know what goes on in the world, humans need more help. The earth needs more help getting taken care of, period. I like to help the best when I can. I don't like all that extra shit, but I like to do my part. I want a big impact. I want to make this big, I want to leave a mark.