Read the full interview on Flaunt.com!
Giolì & Assia are ready to show their talents to the world on a global scale. The multi-talented production, multi-instrumentalist, songwriting, and DJ duo are proud to represent their hometown of Sicily, Italy, creating not only incredible music but injecting love, passion, and dedication in all that they do.
They state: "We're dynamic, full of influences and music ideas. We love to show the world, the people, how many styles and genres we can mix in our music. We're from different backgrounds, and we like to mix and unite them to show both sides."
With Assia on the vocals, turntables, and keys, and Gioli playing guitar, handpan, piano, and drums, the dynamic pair inject live instrumentation into their records — a rare unique style that sets them apart from others in the electronic music scene. Being romantically tied to each other also comes with its own benefits, with one cooking while the other eats.
Currently signed to Ultra Records, the girls exploded onto the scene in 2017 with their single "Stay Closer," and have since consistently released standout records for their growing fanbase. As label owners of their own Dieses Records, Giolì & Assia have found their niche with their monthly #DiesisLive sessions, one time even performing a live set on top of an active volcano in Milazzo, Sicily (the visual currently hails over 15 million views and counting).
Now, the girls are ready to release their forthcoming MOON FACES EP, spearheaded by singles "For You" and "Hands On Me." Flaunt caught up with Giolì & Assia via Instagram Live, who were located in their hometown of Sicily, Italy. Read below as we discuss when they first decided to become a DJ duo, their new EP, an unforgettable boat ride in Sicily, owning their own label, and more.
What are all the genres you encapsulate? 
Gioli: When I was younger, I was playing classical piano. We like to always play piano and instruments in our live sets. As DJs we play techno, underground tech-house, Afro-house.
Assia: We like to mix a lot of genres. We put in some pop songs and some remixes from the pop scene because we want to take this direction too. There's no genre essentially, we like to play them all in our own vision.
Gioli: We actually play the handpan, our most famous instrument. It's like a steel drum, it's new in the underground world. It's funny because we discovered this instrument through some videos but in the end, the instrument made us more popular. People like that a lot so we involve this in our singles, in our live sets, in our shows.
Assia: Not many people use this instrument in the dance and techno scene so we started mixing this instrument that's usually chilling and relaxing with strong beats. It came out very cool and very nice to hear, the people love it.
Talk about being Italian roots, it's not everyday you see artists from Italy.
Assia: People usually say "you're Italian, Spaghetti! Mafia!" [laughs] We love our country. Every time we travel, we love our country more because it's our home and what made us. The only bad thing about Italy is not a lot of people speak English, we had to learn step by step while working and travelling.
Gioli: We love the weather, we love the food. Our fans are here. We love to travel, but because of this COVID situation, it's not possible.
When did you guys realize you wanted to be a DJ duo?
Assia: Almost 6 years now, we've been a couple since the beginning. We moved after being a couple after 6 months. Everything came out pretty easily because we had the same passion, same goals. We even like to do the same things. We started this project 2 years ago, the first reaction was amazing. We put out one song with the handpan, everyone loved it. Right after, we started playing in one of the biggest clubs in Ibiza, Privilege.
Gioli: It was pretty fast.
What's it like performing in Ibiza?
Assia: We loved Ibiza, we felt it was home. We love everything about that island: the vibe, the people. A lot of people were speaking Italian so it really felt like home. We used to play every Thursday at Privilege, then during the weekends we're flying over to other countries. Our life was very busy and fun honestly.
Gioli: It's super crazy now with clubbing and nightlife, it's super beautiful as a landscape and an island in general. It's almost like Sicily, so we were living very good there.
How much are you missing performing?
Gioli: A lot, everyday!
Assia: We talk about that everyday. "We should've been there, we should've been In London sold-out. In Istanbul, in the US." We miss everything. We miss the airports, the venues, the show, the feelings, and the food because we're not used to cooking everyday.
Gioli: Room service every hour almost. We hope that we can go every single place in the world.
What's your favorite song to drop in a set?
Assia: Hmm, that's hard to say. "Emptiness" and "Blind." I love "Blind" too. They're one of the deepest we did, I love the vibe and the reaction of the people too.
Gioli: "Emptiness" because the drums, it's the only one where I play the drums the whole time so i think it's kind of fun for me.
What can we expect from your new single, "Hands On Me"?
Assia: You'll get something new from us.
Gioli: But all the key points of our production are there. People can expect the handpan, some lyrics.
What are you most excited for with the release of your MOON FACES EP?
Gioli: We're more excited for a track called "Rollercoaster," but you have to wait. We're very excited, we love this track. It's our favorite. [laughs]
Gioli: It's very emotional. There's a lot of piano, we really feel it. For the first time, we wrote lyrics that hit different for me. It was the worst period of our quarantine too, so it's pretty deep. Super dark and emotional too.
How was doing the livestream in the boat ride around Scopello, Italy?
Both: [laughs]
Gioli: For me it was very cool and easy, but for her it was a nightmare.
Assia: More than that because I got seasick. I was doing the makeup in the bathroom and started vomiting everywhere.10 minutes after, we started the livestream.
Gioli: During the video, she's acting very cool for the performance.
How often do you take boat rides?
Assia: It was once, the only one.
Gioli: We've been in boats sailing around the Sicily coast, but not performing. It was hard because it was very windy and the handpan was about to fall down twice. I had to play and at the same time had to touch it to make sure it's safe. It was a little bit uncomfortable at the end, shaking almost. Every time we do a video it's a struggle, so we're used to it.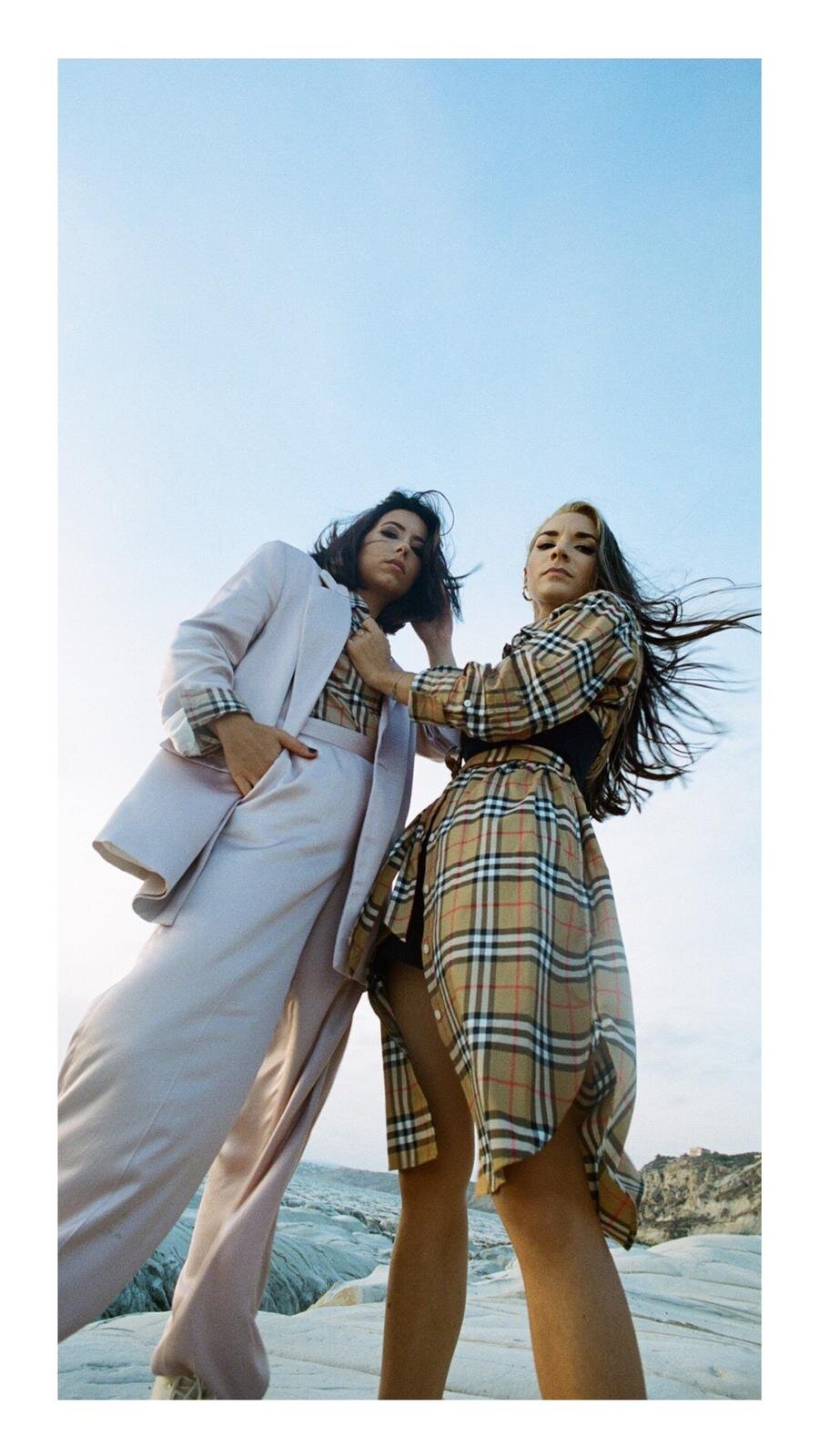 Someone said your English is so much better.
Assia: We don't practice now that we're stuck in Sicily every day, so it's funny. We watch Netflix in English almost everyday, so it's kind of a practice.
Gioli: We have problems because we watch mostly everything. We finished a new series called Warrior Nun. We were in love with La Casa de Papel and Dark. Now we're watching an Indian series called Indian Matchmaking. C'mon Netflix! Put something else on, we need it
What's the premise of your label Diesis Records?
Assia: In Italian, Deisis is the flat notes on the piano. When you have the black keys, you call them "diesis" or "bemolle." A minor chord is something imperfect.
Gioli: Our idea was something was imperfectly perfect. Something really new aren't 100% acceptable from people in a way for some reason.
Assia: We like different genres. This could've been a problem for labels in general in the past. Now we're working on our own terms, we're happy and proud. We wanted to create our own home  where we can play and produce different kinds of music, as well as our own artists we want to release on our label. Create something different from what's the standard, where everyone can express themselves in the best way.
You have so many fans that love you!
Gioli: We're thankful for that! We miss feeling your energy.
Assia: We miss you so much. We miss our friends and our fans a lot. This year is incredible in a negative way, we can't wait for 2021 to come.
You guys love food, what's your favorite?
Gioli: Pasta in every single way, fish, shrimp, tiramisu. She's good at cooking at that. [points to Assia]
You can make tiramisu from scratch?
Assia: Everything, even lasagna. All kinds of food you want. I like to invent, experiment. We work well in quarantine. I was lucky to be locked down with her. I'll feed you every day of my life.
Gioli: She's very good at cooking, I'm a good eater. [laughs] You can see from my face that I like food.