Read the full interview on Flaunt.com!
Narissa is the definition of a boss bae, a "self-made, inspirational, black queen from Los Angeles." Not only is she an incredibly talented recording artist, but she's the founder and owner of The Lash Trap, her eyelash salon, which resides in the heart of south central.
Narissa is community driven with a passion for inspiring others.  She recently held her Slauson Clean Up event in an effort to keep the streets and store fronts in the Slauson area clean. Powered by Lash Trap, the quarterly link up provides a safe space for small businesses to network and meet the community they serve.  With the last one taking place on a beautiful Saturday in October, Narissa included a Voter's Registration and Poll Worker sign up for this year's presidential election — highlighting the importance of voting. Collectively, they conjoined to remove the trash on the streets of Slauson.
Flaunt pulled up to The Last Trap shortly after the event to discuss Narissa's passion for giving back, her recent single "Research" featuring BLXST, and Nipsey Hussle's influence.
What's been up since the last time we spoke?
Girl, I dropped that EP and been running my shop. I recently stopped doing lashes. COVID came, it was a blessing and a setback. A minor setback for a major comeback. I was able to get a lot of opportunities and upgrade my shop, invest in myself. I'm filming a movie right now, it's a visual album/film coming out in 2021.
What's the premise of the movie?
It's called Boss Bae, you'll see. It's my album, but also a story within a visual. It's really good, I'm going to have everybody on the album in there. It's a vibe.
How did COVID-19 affect you, your artistry, your business?
We shut down for a second, but it was right around a time where I really needed a break. I wanted to do music more. Every day, I wanted to do music instead of lashes. COVID came, I got a chance to sit in my house and make music. Chill and vibe out, it was great.
Talk about the music you created.
Honestly, I got the inspiration during quarantine for the music I made after everything loosened up a little. I just  moved so I'm trying to get the sound right in my spot. I had an inspiring quarantine entanglement.
I love that you linked with BLXST on "Research," how did that record come about?
Before quarantine, I'd been recording while I was chillin' at home. I'd caught a cold so I'm like "let me sit at home and make some music." One of my producers, DTP sent me some heat. He's from Germany. Did my thing. I hit BLXST up like "you need to get on this." He's like "this is one of them ones, I'ma get on this."
This record is more R&B then your usual raps, right?
I have both sides to myself, an R&B side and a more hip-hop side. That's more the R&B side but this next project, you're going to get an even amount of the vibes. It'll be obvious.
Loved your looks, talk about combining the blue and red.
I have both sides to myself. Shit, it's natural LA vibes. I love sexy, LA vibes. I be doing my own clothes, making my own little pieces. That little purple outfit in "Research," I made her custom. I like to make my own shit, I want it to hit in a certain way. Eventually I do want to do my clothing line, but music's my priority right now.
What does it mean to be a boss bae?
Boss bae is for the girls, for the women, for the bosses. Not trying to hold nobody back, but trying to push everybody forward, keeping everyone going, keeping everyone on task. Boss bae is about leadership, whether it's in your friends, your community, your group. Boss bae is getting to your money by any means, on your terms. Your time, creating something that's going to be here after you. Corporations, legacies, that's boss bae shit. Not putting your career in the hands of n*ggas, letting a n*gga hold you back. Do you, that's boss bae shit.
Saw your post saying you ain't signed to nobody, what's the reality of the independent grind?
Sometimes it hits, sometimes it doesn't. It's hard. You be having to get all this money for your own videos, you gotta work double. In the past, I'd have to lash so much to get my shit done. Now if I teach a class, I make a bigger bag. That way, I can shoot my videos. In order for me to do my thing, I got to put people on.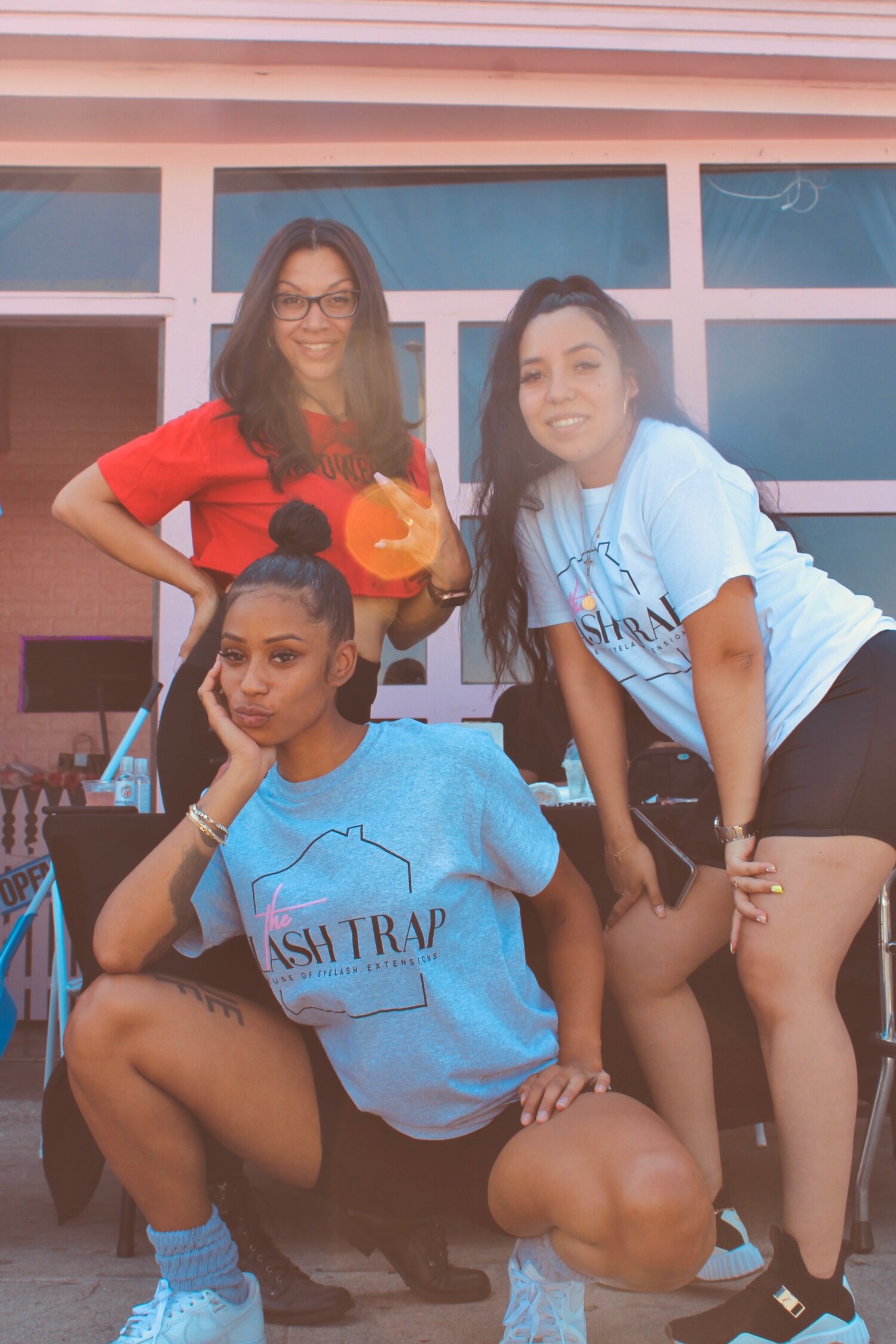 What does it mean to do the Slauson Clean Up your city?
We're starting to do it every 3 months, get together and clean up. Because there's litter, trash, they don't really tend to this area as far as the city. We have to keep it together ourselves, it gets real grimy.
How did you first come up with the concept? Was it your idea?
No actually, it was my mom's idea. She's a little community activist lady. She's great, she's a community leader. She's retiring next year so she's going to get more into it.
What does it mean to be able to give back to your city with your mom?
It's bomb. It's all I've really known. Riding in the car, she'll be like "they need to fix that!" Always hear her complaining about stuff in our neighborhood, always made it better. That's really what I'm used to.
How important is it to vote? Love that you rose awareness for that.
We want to get everyone voting. Make sure you guys vote. Play your part because not voting is voting, so we need you to vote. For people who maybe haven't voted, I wanted to make it easier to register.
How was linking with Wiz Khalifa on "Tap"? 
That was fire. We've been making music honestly, we have a good creative flow. I was at a party. He hit me like need you on big pimpin. I'm like …on my way. I pulled up, I recorded it at his house. It came out two days later.
Did you learn anything from working with Wiz?
He's very fast when he works. He does what comes to his mind right there. Now, I don't second guess my first mind. Before I started recording myself, I used to write my shit then go to the studio. He records like me, he's just faster. He sharpened my freestyle skills. He can make a song in 10 minutes.
Do you write or freestyle?
Sometimes if I have a beat for a while, I'll write to it while I'm driving. Sometimes I'll think of raps randomly during the day so when I do sit in front of the mic, I can incorporate them. Sometimes I'll think of a whole song out the blue, I'll have one of my producer friends come over and make a beat around that. On my new album, I have this song I co-produced. The drums, me hunny! Period. I'm proud of that, ready to turn up with that.
I see Nipsey tatted on your arm, how does he continue to influence you?
He's in my daily life from my hustle to the food I eat down to the weed I smoke. We've always been vibing to his music, getting our money to his mixtapes. We still do the same thing. You already know, it's an ongoing adjustment. I really want new music, guidance, and inspiration from him. It fulfills me to be that and provide hope for everybody I fuck with. I gotta make sure we keep going. It would be a slap in Nip face if everyone just gave up.
What can we expect music-wise?
"Boss Bae" single is pulling up.
Boss Bae EP is pulling up.
Boss Bae Documentary is pulling up!
I have 3 other singles coming after that.
Boss Bae everything!