Read the full interview on Flaunt.com!
If Tillavision doesn't inspire you, we're not sure what will. With the recent pandemic hitting, artists and creatives were forced to transition to digital content — placing the Cleveland Ohio native in high demand as he's grown a reputation through his animated music videos, social media content, and live performance stage visuals over the past two years.
Currently residing in Los Angeles, Matt Penttila got the moniker Tillavision as an abbreviated version of his last name and nod to ancient world conqueror Attila the Hun.  With that warrior-Tilla spirit, his peers called him Tilla. He states, "I went by that for years as a music producer and when I had to reinvent myself as a visual artist, I added 'vision'.  It was a fresh start for me, and I wanted to bring a new look to the culture through 3D."
Tillavision is a play on "television", and Matt's projecting what a new type of entertainment could be.  This year alone he has created content in the 3D, AR (augmented reality), and VR (virtual reality) space for the likes of Swae Lee, Pop Smoke, JuiceWRLD, Young Dolph, Lyrical Lemonade, Bape, Chinatown Market, Chicago Bears, Patrick Mahomes, Kyler Murray and more.
Getting his start in Hip Hop at 15 yrs old breakdancing, Tilla began DJing and throwing his own club nights in high school.  Eventually he wanted to make the hits he was spinning and began producing his own beats, forming a production duo with his friend Alex Fitts, calling themselves The Kickdrums.
They worked with the likes of 50 Cent, RZA, Scarface, MOP, Kid Cudi, MGK and others, dropping a half dozen acclaimed producer mixtapes, before deciding to retire from beatmaking in 2010, shifting his focus to building Livemixtapes.com, a music streaming site launched by his childhood friend he believed was the future. In conjunction with exclusive mixtape releases, Tilla helped popularize merch in hip-hop culture, creating early merch collabs with 2 Chainz (Tru University), Future (Astronaut Status), and Migos' (Free Offset).
Tilla loves to draw and was always the best artist in his class. Decades later, 3 of his animated lyric videos are top trending on Youtube at the same time, running up hundreds of millions of views including Pop Smoke and JuiceWRLD videos, Cardi B and Meg's 'Wap' lyric video, and DJ Khaled / Drake's "Greece" "PopStar" visualizers. This is the tale true of someone who's simply doing what he loves, finding success in endless facets of entertainment along the way.
Flaunt caught up with Matt in downtown Los Angeles to discuss his upbringing in Cleveland, selling his first beats to Kid Cudi, working on "WAP" and DJ Khaled / Drake's visualizers, Walt Disney as his biggest influence, and Juice WRLD's new virtual Juice WRLD.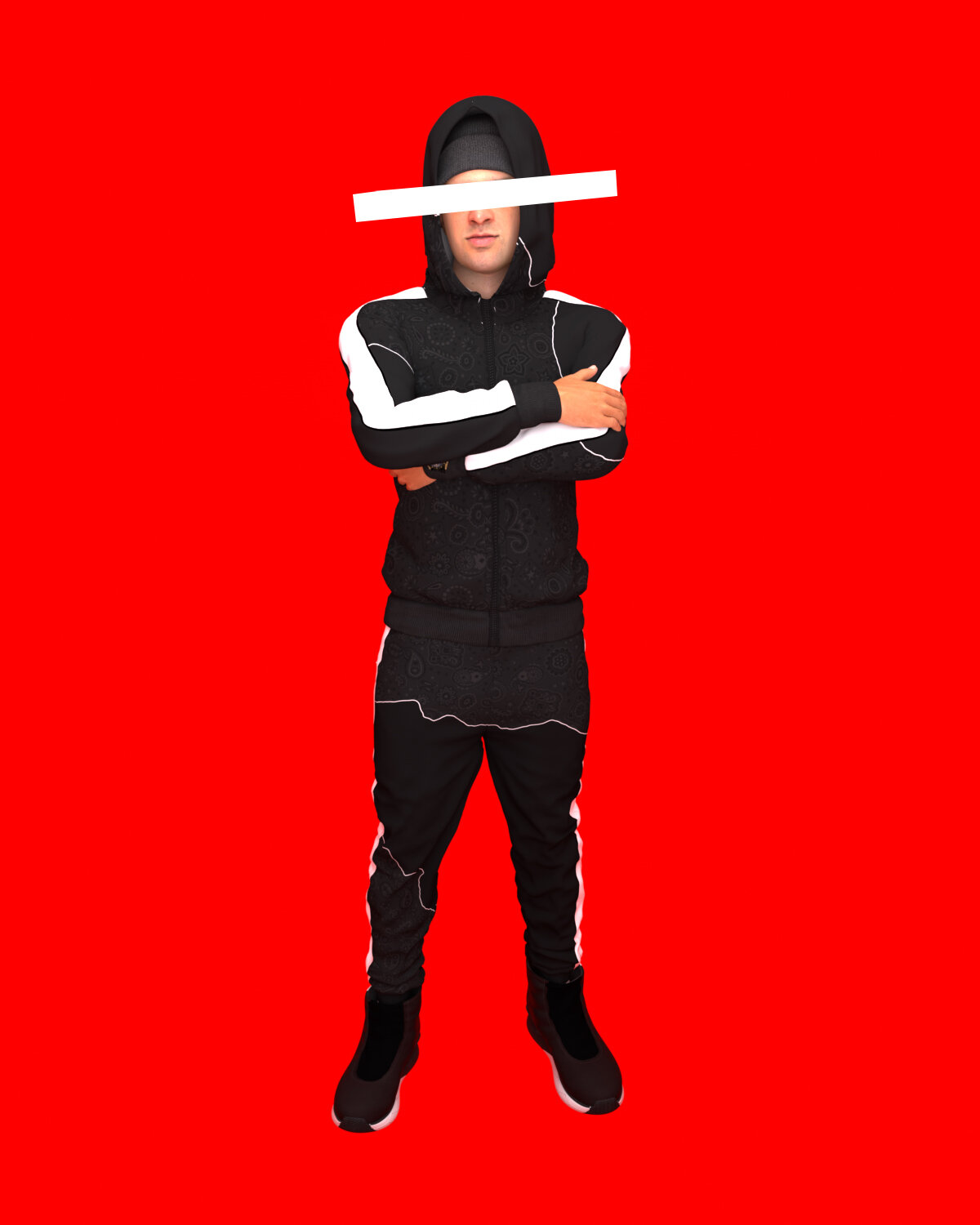 Just being from Cleveland, what was the household like growing up?
Where I grew up, the local high school athletes were the stars in my town, not the musicians and artists.  My band class wasn't producing rockstars and the art class wasn't producing Art stars.  I felt my talent couldn't shine there, and I felt unfulfilled.  I was searching for an artistic outlet.  Then in high school a few upperclassmen introduced me to the downtown Cleveland music scene bringing me to clubs and events where I'd be exposed to Hip Hop culture for the first time, DJ's, MC's,  B-Boys breakdancing and graffiti art. We also hit up the raves and electronic music clubs and concerts.  Previously the idea of dancing was absurd to me, but it became my favorite thing to do.  In this world, the artists thrived and the energy was exhilarating.  I fell in love. I eventually brought it back to my hometown.  I taught B-Boy classes to middle school kids.  Taught them Hip Hop.  I had my own weekly party I'd DJ with 500+ kids. I wanted to spread the word.  I began Djing the hotspots downtown.  My best friends became radio DJ's.  We were all still in our teens.  It was a lot of fun.  DJing led to producing and that's how I started to meet other people like me in the area. There's some cool talent from Cleveland. We lived in the shadows of one of the greatest Hip Hop groups of all time Bone Thugs-N-Harmony, so we had to reinvent ourselves for our generation, the 2000's. This is the era of Ray Cash, Chip, and Royalty Camp, just before Cudi pops and soon after that Machine Gun Kelly.  At this time we were all discovering ourselves. I knew Kid Cudi and others early on.  He was the first person I ever sold a beat to.
How did you sell him your first beat? That's crazy.
I was going to college, deciding if I wanted to continue or take the opportunity of local music connections I'd made with DJ's like Mick Boogie and DJ Joey Fingaz, who linked me with top guys in the business. They helped get my production group, The Kickdrums drops from artists like Nas and Kanye. I have drops of them co-signing me as a producer.  I decided to pursue music, visual arts wasn't interesting to me at the time.  Being a rockstar was a lot more exciting.  I became a manager at this recording studio. We'd get all the local rappers who'd come through as well as a host of other interesting and sometimes hilarious characters. Kid Cudi was one of the best to enter our studio at the time, he went by KID MESC. I got paired up with him to record his mixtape. He was really turned off that I'd charge him for beats initially.  I was asking $200 a piece.
That was alot of money at the time.  I was determined to make the sale though. At that moment, I was making a commitment to myself that what I did was worth something because I'd never sold a beat before. If you believe in what you do, you'll charge for it, if you believe in what you do, you'll invest in yourself.  He bought three beats.  I believed it instilled belief in ourselves and what we knew our potential was.  After that, we collaborated a couple more times and the songs got better and better.  The Kickdrums landed a track on his A Kid Named Cudi tape and deluxe Man On the Moon album.
Do you still talk to him?
He became super successful and went on his own journey while I went on my own path.  We grew apart after his first album dropped, nothing personal, just kept doing our thing.  I'm proud of him and happy to have had our time working together.  It's been a side goal of mine through my visual arts to someday cross paths and work with him again. It's cool when things come full circle.  We can have some laughs about our demo days at the studio.
How did you get into animation?
While working for the music streaming website LiveMixtapes, it was part of my job to make promotion for new mixtapes we'd drop exclusively on the website. I made a trailer for Lil Wayne No Ceilings 2 mixtape.  Young Dolph, Migos, Blac Youngsta.  Other random stuff!  Like clockwork.  Then I discovered the 3D artwork relatively early and it blew my mind.  I began teaching myself 3D programs like Cinema4D.  I watched tutorials all the time expanding my skills.  I knew 3D was the future, where the industry was headed.  I knew it would make me stand out.  B-boy mentality, I need the best moves in the circle to show out.
How have artists transitioned to digital content during the pandemic?
As soon as the pandemic hit, all of the buzzwords I was bringing up to music artists and their management the past few years, are now popping up on news feeds. Virtual concerts, avatars, digital content, everything. My phones been ringing off the hook and it still is right now. People are excited about the new possibilities.
Oh really?
It's going crazy. People have to be more creative, they're using their imagination. They're inspiring their listeners and fans to use their imagination, to step outside of your comfort zone and try to experience things differently. I love being open to new ways of entertainment, immersion, and experience.
You've worked with everyone from Cardi B to Swae lee to Nas to Dolph…
It was mind-blowing working with all the top A-list artists, artists I've been fans of for a long time. I spent an hour on the phone with Busta Rhymes, talking with him about a new project.
I'm ready for this, I've been lucky enough to work with many legends in my career. I treat it like a job. I bring my A game to every little thing. My goal's to leave my clients ecstatic, that's my formula. I've paced myself for the long-run where you don't get too caught up with stars in your eyes, these are people who have done amazing things.  Now we can do amazing things together.
Talk about doing the "WAP" lyric video and DJ Khaled / Drake "Greece" visualizers.
I did a handful of shots in the Wap video, a very talented guy named Yasha directed and he hired me as one of the animators. I had 5 other animators I was working around, all amazing guys, but I wanted to steal the show!  It's just friendly competition.  That's Hip Hop!  If you watch that lyric video, there's a part where a fish swims into a statue's butt, that's my best shot I think.  If you know the line by Meg the Stallion you'd understand!  I want to make you laugh.  Get a reaction.  I'll take risks, I want to stand out.  This is a matter of sitting down and pouring your heart into the work, only having maybe 24 hours to do it.  Everybody needs everything yesterday. I don't know if it's the same thing with you and what you do.
It's definitely the same feel.
We only had 24 hours to make both "Greece" and Wap."  You can't hesitate. You have an idea, pour your heart out and hope it's good enough. Cross your fingers and hope a fish in the butt does the trick.
What projects are you most proud of?
I'm very proud of the social media campaign I took part with DJ Khaled and Drake, "Popstar" and "Greece".  I created a few dozen digital assets, mostly animated shorts.  The best was a minute long clip introducing the two songs where an owl dove from the top of the CN Tower in Toronto and plunges into the beachside cities of Greece.   It's a roller coaster ride that compliments the epic nature of the drop, pun intended.  Drake's one of the greatest artists of all-time, DJ Khaled's the greatest DJs on the planet. Sometimes you're unsure of yourself but when your teams motto is "We The Best."  The mentality rubs off on you.  Hold your head up, you're in the company of champions.
Pop Smoke and Juice WRLD too, working with those guys has been a great honor to me. Being a part of their legacy, there's a responsibility you bear . It's a great weight on your shoulders but when you get good feedback and response from what you did, you feel you properly honored them.  It's my humble contribution to those who paid the ultimate price in this rap game and who are legends and never will be forgotten.
I saw you worked with Note Marcato. I just interviewed him.
Me and Swizz have talked in the past. Note's been on my radar because I'd been following Swizz and seeing him. When I had the opportunity to work with him, I was super pumped because he embodies everything that I'm about.
How so?
Absolutely. I'm into rap superheroes, the skill, image, branding, and most importantly quality music. Note is the full package. He comes from music royalty, he's got it in his DNA, he also has this incredible image. Note's not afraid to be different. Look at what he did at the Grammys, he showed up in character, face paint and all. The dude's fearless in the front 5 rows, it shows there's something there. He's got star power and is passionate about art.  I'm super excited to work with Note more. We have a crazy video.
How was working on Nas' King's Disease?
Creating for Nas was a lifelong dream. 'Like A Gun' was one of the first rap songs that really blew my mind, and of course I rocked with him ever since. I worked with his incredible team at Mass Appeal to create a social media animation for "Ultra Black." They gave me creative freedom, I chose to illustrate what Nas has rapped throughout his discography, lyrics which describe Black Kings and Queens throughout history.  Nas only had 1 edit, related to his fit.  That's the part I was most nervous about, this man is a fashion icon.  He chose a classic look with one pant leg rolled up standing on a rooftop in Queens.  It's a dope moment.  I made the camera rotate transition from a record on a turntable.  I end with a short glimpse of Nas as a pharaoh king, draped in gold, his eyes open. I wanted to bring his raps to life in a way I could see.
Talk your love for fashion as well, working with brands like Chinatown Market, Crocs, Bape, Converse and Carrots.
I love working with fashion. My mom's home-ec, a family consumer science teacher and an incredible seamstress. I was making my own t-shirts with puffy paint in elementary school. She taught me how to sew.  I wanted to someday start a clothing brand.  When I retired from music production, there weren't many people in Hip Hop taking advantage of merchandising so that became my thing.  I learned every aspect.  I part-owned a merch fullfillment warehouse.  Maxo Kream, Montana of 300, and 808 Mafia were some of our biggest clients.
I began understanding how the merch game works.  When the clothing brands started hitting me up later for 3D work and promo animation,  I already knew what they wanted and how it should be presented.  I have a blueprint.  The video should grab you in the first 3 seconds.  It should end with products and website information.  It should loop seamlessly.  It should be high quality.  It should be entertaining and the viewer should get some sort of enjoyment.  I started partnering up and doing merch videos and sometimes designing pieces.
My design for 999 Club and Juice WRLD means the most to me: "Legends Never Die." Before they even named his album that, we put that on his shirt. It was released as a memorial shirt.  I remember I was working on show visuals for his Rolling Loud concert. I was in the middle of making my song visual of a floating frozen Juice head.  When I got the phone call that he'd passed, heartbroken and in disbelief I spent the day adding angels, a halo, and finishing details.  That video ended up being the video they played onstage at the Rolling Loud Memorial performance. I used some of it for the shirt design too.  RIP the GOAT Juice 999.
Any goals for yourself?
I want to blow up Tillavision digital content studio starting with the debut of Tillavision official Youtube.  A mix of animation styles, music, and weird stuff to watch late night in the vein of early MTV LiquidTV, Adult Swim, Love Death and Robots.  I'll be showcasing alot of new content from myself and surprise guests. Eventually I'll grow to full length films and entire universes similar to Marvel/DC.  My biggest influence is Walt Disney and his Disney brand.  He was a real game changer.
Walt Disney is your biggest influence?
Definitely, he introduced us to magic as children. Every time you saw that palace and that rainbow go over, I'm about to see something great! It took you some place. The guy introduced the full length animation of Snow White to the world. Nobody had seen a full-length film animation, it was always shorts. I'm trying to have similar type visions, similar type impact. If you aim for Walt Disney status and you fall short, you're still doing pretty good in life. What did Pop Smoke say? Shoot For The Stars, Aim For The Moon. The goal's to shift culture, have a lasting impact, and leave the world a better place than I found it through creativity.
Talk about doing Juice WRLD's 360 degree virtual website.
His mother Carmella Wallace had a memorial made in real life.  We recreated the memorial and built an entire explorable garden around it. You can visit a mural of Juice, and leave a message on the Graffiti Wall.  Visit the Wishing Well, a nod to the smash single off the new album.  We have the 999 Vault, a sanctuary with different never seen pictures of Jarad from Carmella. It has information on his new charity Live Free 999, which donates instruments to schools. There's easter eggs hidden.  You can click around and spend some time in there.  This is beyond 3D animation, this is creating immersive experiences. I'm really excited.