Read the full interview on Flaunt.com!
Raiche is here to declare her place in the music industry once and for all. Growing up in the church with music blasting on Sunday mornings, the Pittsfield, Massachusetts native has soulful roots engrained in her. Hailing from a small town meant devoting all her energy into music since she can remember, eventually uploading cover videos to her Youtube channel and garnering her own niche fanbase online.
Describing herself as "a strong woman who likes to make some bomb music," the singer-songwriter takes on her real name Raiche as her artist name, also her grandmother's maiden name. With her beloved Nana being her biggest drive and motivation, Raiche continues to put in the work necessary to be one of the greats, attaching nothing but positive energy along the way.
Most recently, she unleashed powerful music videos for her singles "Funeral" and "Pick A Side," holding fans over until her upcoming album. Described as her "coming of age" project, Love Land is an exploration of self-discovery, self-love, and self-acceptance. Flaunt caught up with the GDE/ Island Prolific/Atlantic Records recording artist via Zoom to discuss growing up in Pittsfield, her sound, the new singles, the importance in manifestation, goals, and more!
How was it growing up in Pittsfield, Massachusetts? I know church was a huge part of your musical background.
I was born and raised in a Christian family.  Through the church, music was interwoven into my life. It's how I started singing. I was raised in a small town where there wasn't much around which led me to have huge dreams as a little girl. Singing and watching a lot of movies influenced me and sparked my drive to go out and figure out my life and career. I'm a small town girl and I love how it nurtured me into who I am.
How has your sound evolved over the years?
This last year, it evolved quite a lot honestly. I've been working with my main producer, Bridgetown, we've really been cultivating my sound together. We've tried so many different types of new styles, from pop to urban to indie. We finally found what sounds good and what doesn't within those styles, we merge them all together into my own little style. This new project has evolved so much, I'm very proud of it. Really excited for it to come out, it's everything I am in one.
You recently released "Funeral," who or what inspired this record?
"Funeral" is straight up about being done with really whoever. It can really relate to a relationship, a friendship, basically being like "I'm done with you. You're emotionally dead in my mind and my heart, so peace out."
Was this a real life situation?
Not necessarily. I've gone through situations like that, I can't say it's related to one human being. That's how my music works. Maybe a majority of it, some of them are directed to certain main situations. This one was a general person.
What's one thing you want fans to get from "Funeral"?
I went through a huge breakup maybe 6 years ago. Going through it I couldn't find one song that was like "you don't need him, you're good or you're done, move on and get over it." Every song was so emotional, talking about being in love. I didn't want to listen to that, I wanted to listen to something that's trashing him. That's where "Funeral" was birthed.  A song expressing that sentiment.
How important is it for you to empower women?
I like to write music that empowers women, makes them feel like "yeah you can be in love but if he's not good for you, then you don't need him. You're good enough by yourself, there's somebody better out there for you." With all types of relationships. I like to look back to high school, how sweet, quiet, and nice I was to everybody, and people would walk all over me. I wish I had the balls and the guts to say what I'd say now. My music's for people like that, who don't have enough inner gut.
Bring us back to when you recorded "Pick a Side." 
"Pick a Side" is definitely about being forward and asking a man for what you want. I remember when I was younger, I was so quiet. Never had the guts to go up to someone and say "this is what I want to do. Do you want a relationship with me? Is this what it's going to be?" I was so afraid, held back and reserved.  "Pick A Side" is about asking for exactly what you want out of a relationship.  In my experience that's how men work.  It's important to tell them what you want—otherwise they're going to go about dating you forever until it's whatever. I feel strongly about that in almost every one of my relationships. [laughs]
How important is social media for your career?
Social media is important for everyone's career regardless of if you're doing music or not. It's a huge platform to be able to show your talents and product to the world. I definitely try to interact as much as I can on social media. Although too much social media can honestly be bad for your mental health. You do have to protect yourself and I'm an advocate for mental health. It can be good and it can be bad in many ways, it's how you deal with it and use it.
How'd you find your way to The GDE/Island Prolific/Atlantic Records?
Honestly, everything happened very quickly. I started taking music seriously about a year and a half after I got out of high school. I moved to Boston where my sister was living. I met a DJ at a nightclub that later introduced me to his production company. They signed me to GDE.. We cut a bunch of cover songs and original songs that got to producer Prince Charles, who signed me to island Prolific/ Atlantic Records.
How's your journey been in the music industry?
It's been wild. I've learned so much, I've grown up so much. It can be really beautiful, but it can be really dirty. [laughs] Overall it's exciting.
How big is manifesting things into existence for you?
I'm big on manifesting as well as prayer, which are both honestly the same thing. When I was younger, I always wanted to do music. I always daydreamed and prayed about it. I daydreamed and things literally happened the way I daydreamed it. I got found in the way I daydreamed it. Not everything was completely perfect, but the bones and the structure of it was there. It's really wild how you can do that in your life. Manifesting is really powerful and everyone should try connecting with their inner self.
How would you describe your fashion sense?
I am a minimalist. I've been really into browns lately though, brown is yummy to me. I love gold jewelry. I'm very simple, clean. I don't like to do too much, unless it's for a crazy music video. That could be fun.
What's your favorite cover you've done?
I really like those oldies, the Brenda Lee ones. I recently did a Bruno Mars cover, that was really dope. It was his 10-year anniversary, that was cool. Covers are fun. If I had a choice, I'd rather really sing my own music, honestly.
How much do you miss performing?
Oh, I miss it a lot. I've been cooped up recording and writing. It's been great and very exciting but this new music, performing it will be a whole other level. That's what I'm excited for. I miss it a lot, I really do.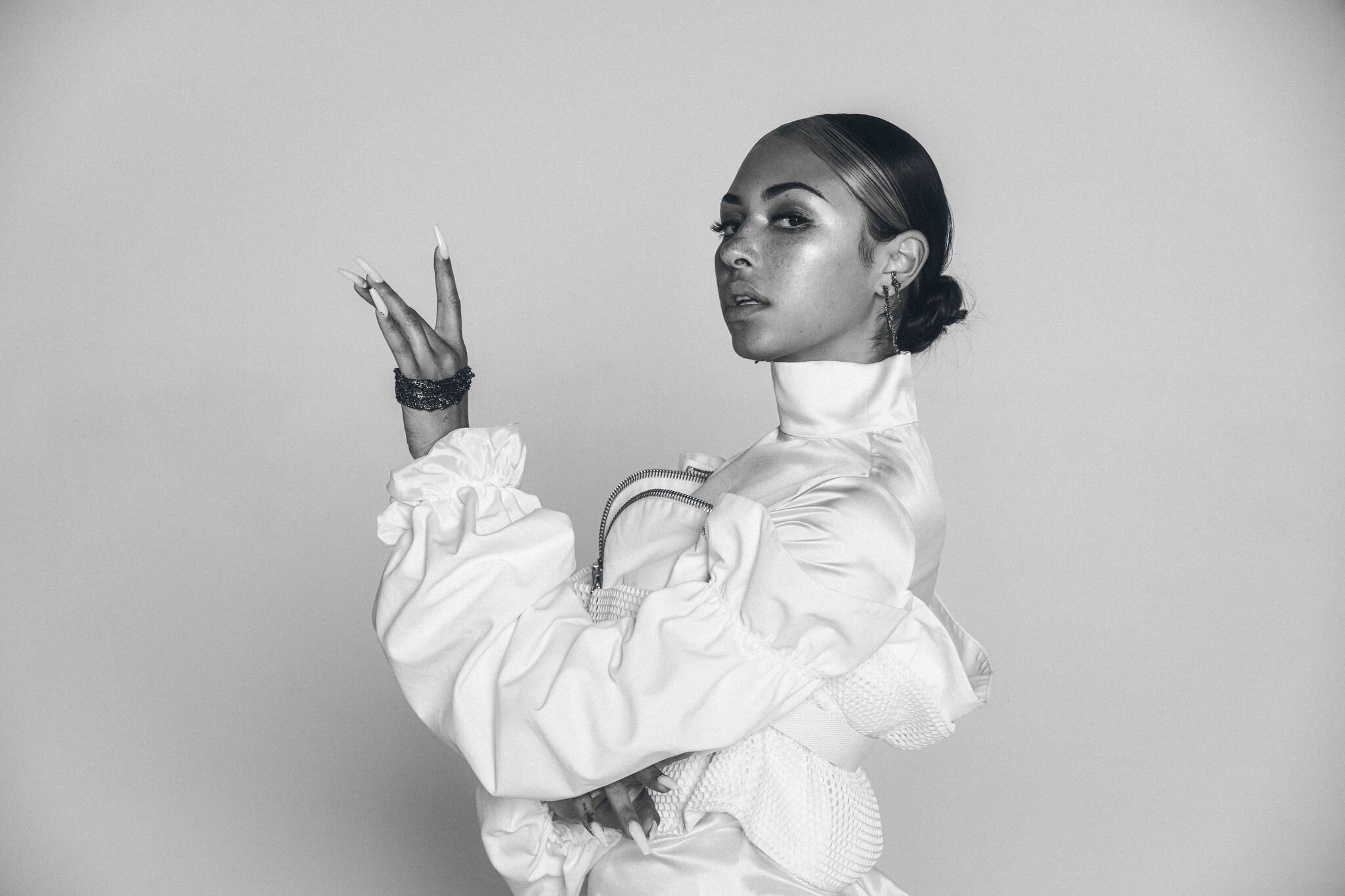 Who are your top artists in rotation?
Right now, it's Giveon. He's ill. Also Janelle Monae for sure. Honestly, myself. I've been writing a lot of music and I've been literally listening to myself. [laughs] I can't be the only artist who does that.
What can we expect from Love Land coming next year?
Love Land is my impression of love. One song is talking about an open relationship. Another one song is talking about how if you screw me over, I'm going to burn your clothes. The album is really talking about variations of love, how I want to be loved and how I love others. A couple of songs are really fun, for the girls. One song's talking about the hustle, starting from the bottom and working your way up. Actually one of my favorite songs, it's called "Homemade."
I'm also excited about contributing to Atlantic Records Christmas album that's out right now, Still Home For The Holidays. I've got 2 songs on there: "I Hate Christmas" and "Anticipation." They're really sweet for the holidays.
Goals for yourself at this point of your career?
With Love Land I want to fully establish myself into this industry.