Read the full interview on Flaunt.com!
Raheem Devaughn has already accomplished what most artists could only dream of, and he's not slowing down in the slightest. A true music lover if there ever was one, the Newark, New Jersey native has been blessing fans with heartfelt music for well over a decade. With 3 Grammy nominations under his belt, he continues on his mission to create tunes that both evoke change and exude love at any given moment.
Describing himself as "heart healer and a light-bearing individual," Raheem is a recording artist, humanitarian, actor, father, and a child to his beautiful parents that are still living. With a new found love for acting, he was recently seen in Netflix' Love Dot Com with a forthcoming role in Develop A Wife releasing in December. 
Spearheaded by lead singles "Marvin Used to Say," the sensual "Mr. Midnight" and the new fan-favorite "Twilight," Raheem returns with his eighth studio album, WHAT A TIME TO BE IN LOVE. Released via the SRG ILS imprint, the 14-track project speaks volumes to our current times, touching on his social responsibility to inspire and encourage listeners as they continue to fight the good fight for justice and quality.
Flaunt caught up with Raheem via Zoom, who started off the convo with a nice chat about Zodiac signs. Read below as we discuss his upbringing on the East Coast, his nickname Love King, the new album, how COVID-19 has affected him, goals, and his own rooms on Clubhouse!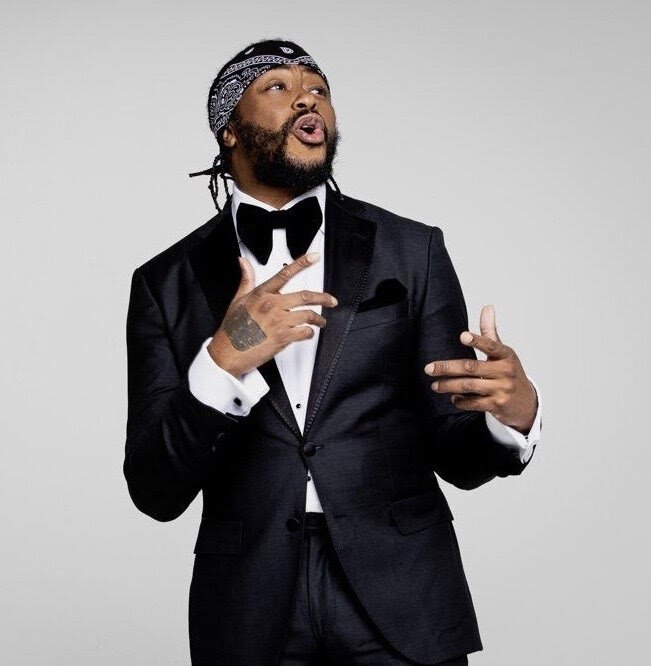 Being from New Jersey, what was the household like growing up?
I was born in Orange, New Jersey, in Orange Hospital. I grew up in the DMV area. I spent a lot of time in Maryland, Montgomery County at one point, PG County at one point. I didn't start traveling to D.C. until after I became an adult and really started pursuing my music career. Shedding as some musicians call it, I was shedding as a vocalist and going to different open mics. One being on Monday nights, a place called Bar None in Northwest D.C. I started migrating into Baltimore to an open mic called One Wednesdays, then another one called Black Lily ran by The Roots.
At one point, people thought I was from Baltimore, from D.C., from Philly because I attended so many. I did that big ass circuit for a solid 24 months, faithfully. I'm a creature of habit. Was in a few early groups, Urban Ave 31 which had a huge following of independent music under that brand. An obscure hip-hop soul group, it was Wu-Tang meets the Roots but I was the only vocalist in the crew. I founded The CrossRhodes with a guy called Wes Felton, we put out a very dope album before its time called Footprints On The Moon in 2017. We've always been known for making socially-conscious music.
Talk about being the first R&B soul artist to make mixtapes.
My first solo album came out in 2005, The Love Experience. Prior to that, I forced the label's hand, Jive Records, to put out my music. Street Experience Volume I was the mixtape that really kicked it off, did a series Volume 1 through Volume 5. That was cool, something I'll forever have under my belt. Then I did Street Melodies, it became a way to market and promote myself. I'd do them in between an album coming out to build anticipation, take other people's instrumental beats from Top 20 records and flip it. Do my own version or write a whole new song, service it out to the DJs. You can find a lot of older stuff on LiveMixtapes, DatPiff, those platforms still.
When did you pick up the nickname Love King?
Love King started around 2013, which was A Place Called Love Land album. It was time to reinvent myself. I have many attributes: The R&B Hippie, Neo-Soul Rockstar, The Love King, Soup Cooler Jones, Mr. Spank Ya Long Time, The Lip God. A couple things that's always been floating out there. The Love King came from a conversation with a previous manager who's still a very good friend of mine, Mike McArthur. We're talking about the potential crash and burn it could be, but I thought it's suitable for me because I had started my LoveLife Foundation. All the titles of the albums have love, whispers of King of R&B started happening. At that time, it's still brewing.
That's me! I'm the Love King. Everything I embody is love. An album, a socially conscious song, a song speaking to intimacy, it's in the frequency of love. I operate through the streets with a give back component on a frequency of love, that suited me. I knew I had to believe it. If I didn't believe it, then people weren't going to believe it. Every so often I'll do an interview with a guy and they'll say The Love Doctor. I know what it means whenever they do it. It's their ego, they just can't. [laughs] They'll intentionally say "yeah, we got the Love Doctor. I ain't finna call him the Love King." [laughs] It wasn't meant in an arrogant way. I'm a lover at heart, I like to project that energy out into the world.
What A Time To Be In Love out now, how are you feeling? 
Love is the highest frequency we can operate. What A Time To Be In Love is a very romantic, very sensual album. If I were to create a genre for my music overall, I'd call my ballads and my love songs Euphoric Soul and R&B. That's how I want you to feel when you listen. I want it to feel beautiful, like art and lush harmonies, heaven, floating on clouds, waterfalls. You're astral planning, that's the vibe of the album. There's a socially conscious, politically aware side of me. It's very important to always encode that in a body of work, talk about something that means something. That's the inspiration for "Marvin Used To Say" and "Lawd Help Me," as well as the poetry happening throughout the entire body of work.
Talk about the impact of "Marvin Used To Say," and the social injustice it touched on.
Ironically, it was released the same day as the March on Washington. In its own way, it organically became the anthem for the March. That's when I realized it's Movement Music. Everything I do is Movement Music, whether it's movement for the bedroom or for the actual movement. There's people of a black and brown color who need to fight injustice on this planet. As Marvin Gaye did, he made socially conscious music. We're approaching the 50th anniversary of the What's Going On album, I couldn't plan better for that. I didn't know at the time when I did the record, I move on spirit. It's all the universe letting it pan out. I always wanted to do a record that paid homage to him. Frankie Beverly & Maze Silky Soul, Nightshift, a few records paid homage to him. I accomplished that, the reception's been received very well. We have a video in the can. I play Marvin in the video, I can't wait for the world to see.
I was bumping "Mr. Midnight," who or what inspired this record? 
Your whole aura changed when you said that. I want women to feel sexy in a very classy way. It's sexy, there's some risque bars, but it's still very pleasantries to the ear. Women are the most disrespected on the planet. It's always my quest to make y'all feel beautiful, to feel adored, adorned, the whole nine. That's the ultimate riding on the way to go get it record. After the club, after work, midnight is the start and finish of the day. Late enough to say "hey it's a new day," but early enough where if you want to get in something, no pun intended, you can. Up until the pandemic, you could make a call, go hit a lounge or club until 2am or 3am. That sexy anthem for the bedroom.
How has the COVID-19 pandemic affected you?
It's been crazy. Financially I've taken major hits, especially being an independent artist. I've been independent for the last 10 years, a lot of people don't know that. There's not certain cushions we have from a record company standpoint as an indie artist. This is the decade of the hustler. It's time to reinvent yourself, get better at what you do. It's all systems go. No rules, you can't break the rules. It's a great time to experiment, see what the new norm is and what's next. Manifesting and creating some new lanes for myself to communicate with artists and do online performances. Drive in-concerts, Funkfest where it's outside, 50% capacity. Practicing the social distancing. Definitely interesting times.
You participated as part of the Biden-Harris Shop Talks to help mobilize Black Voters in Philadelphia. How was that experience? 
Pretty cool to be able to speak from a black man's perspective who lives in Washington D.C. right here where the White House is, a lot of the laws and legislation is passed. My opinion mattered and we got some results. We have a new President, new cabinet. At the same token, there's a thing called accountability. We have to hold them accountable as well. They have a lot to fix and clean up, a lot of mess in their lap currently. It'll all pan out effectively as it should.
What's your faith in God?
That mustard seed faith is a powerful thing. These days I'm continuously praying higher, be as much as a light being as I can be. Through the music on and off stage, holding myself accountable. Being better and understanding that everything for all of us is for us, nothing happens to us. Things will manifest, you have to work towards it. With the power of the creator and a positive mindset, anything's possible.
3 things you need in the studio?
A really dope engineer. A lot of dope music, production-wise. That's it. I don't require much. I'm low maintenance when it comes to studio sessions. To have some cannabis or Sativa is always a good vibe, but it's not necessary in terms of creativity. The gift's in me, it's not that deep. There's a time when I'd need people in the studio or I'd feel some type of way about going Live. As of late, I'll do whole studio sessions on Live. The album What A Time To Be In Love out right now, a lot of fans were a part of the process. They saw me making the album, working on it. They'd ask "wait, do you not to write stuff down?" Sometimes you gotta see the process in order for them to respect the process.
Goals for yourself at this point in your career? 
To be a better businessman, continue on my entrepreneurship. Expand with my merch. Do a lot of community work, I'd like to see that grow. We've been doing The LoveLife Foundation for some years now. We do a number of things like fight domestic violence, feed the homeless, provide food banks with local organizations on the ground. I got a Turkey drive right now in Southeast, Ward 8. We've worked with the AHF in the past, they're one of our biggest sponsors and supporters of the LoveLife Foundation. We do the Textbook Scholarships Fund where we provide funding for students to be able to buy books and supplies their first year of college. Lighten the load, give them 2 or 3 grand for the entire year. That can be a challenge the first year especially if you don't have funding or scholarships, can't get all the loans you need that you apply for. A number of things I'm doing that people can tap in on.
Anything you want to let us know? 
What A Time To Be In Love is on all platforms, currently the #1 R&B album. Pick up the album. Tap in with me on Clubhouse, been doing this real cool thing called Sage & Slow Jamz as well as the Garden of Love. I did a room the other night, everybody was raving "when you gon' be back?" I'd already applied for my club and gotten approved.Come check me out, we have good conversation. A lot of good slow jams, good vibes. A lot of people from the West Coast get on, parents in different places. All around the world it's a dope platform, especially with what's going on right now. We got people talking and engaging again, as I hope my album does.