Read the full interview on Flaunt.com!
Louis King is here to put out a West Coast classic and create a time capsule through music and art. The Los Angeles native prides himself in his roots in the city, with an unwavering passion and love for music since he can remember. Beyond that, he's a proud father, activist, hustler, overall creative that can't be boxed into any one lane.
With his most recent project titled De la West Los speaking volumes to his upbringing in West Los Angeles as a leader who's striving to inspire the youth and his community, Louis sees his art as an emulation of life. Going into survival mode dealing with the COVID-19 pandemic, Louis describes the project as "an expression of hope and blessings. The growth is in the gratitude towards being able to create. That's half the battle, enjoying and loving what you do."
From being a world-class athlete to a hip-hop touring artist to an award-winning creative to an educator, Louis spends a good majority of his time speaking at various schools and prisons, encouraging at-risk youth to find comfort in expressing themselves through art. Now, he readies his forthcoming project titled No Traffic In LA arriving top of the new year, tapping West Coast legends Ras Kass, Kurupt and Ab-Soul.
Flaunt caught up with Louis via FaceTime, who was rocking his No Traffic In LA, Slauson edition hoodie. Read below as we discuss how he's adapted to the pandemic, the story behind the new project, what he wants fans to get from the project, fatherhood during quarantine, investing in the cannabis industry, doing AIM4theHEART workshops, and more!
How have you been holding up in COVID-19? How has that affected you and your artistry?
We're definitely adapting. Specifically the music industry, reflecting on social justice, fashion trends, social media, all the different things we have. It gave us time to see this is an industry where we have to travel thousands of miles to get our money. If we were ever put into a situation where we couldn't do that; what would we do? For me, it's a realization of self and identity. Understanding that whether it's the music business, the cannabis industry, social justice, or civil rights, I'm going to provide for my family. We've been blessed to be healthy. We had to look outside of the box. We all had barriers to entry in these businesses but the rules have completely changed. It's been a developed into a blessing having to have moved forward with uncertainty and absolute fear. This was past 6 months were definitely scary. Whether you believe in what's happening or not but this is some different shit. The experience has definitely been a spark and a torch for creative innovation.
Forthcoming album No Traffic in LA, what's the origin of this story?
De la West Los happened to have an album release event the same night the pandemic state of emergency was announced in America. Hugh Augustine, SerkoWB & DEVMO were set to perform at the release party. We had no choice but to cancel the event hours before showtime.
No Traffic in LA is a time capsule of a time period where there truly was No Traffic in LA after the citywide stay home order. A journey through my experiences navigating through this historic moment. A story about hope in a time of fear. With Songs and storylines like Ventilators, discussing the irony of someone being killed with a knee on their neck suffocating and not able to breathe during a COVID pandemic where people dying from having difficulty breathing. Pieces about George Floyd. Ahmaud Arbery with cinematic spoken word interludes like "Breonna," about Breonna Taylor or "Hashtags" which represents the ongoing violence and disproportionate brutality caught on camera in the social media era.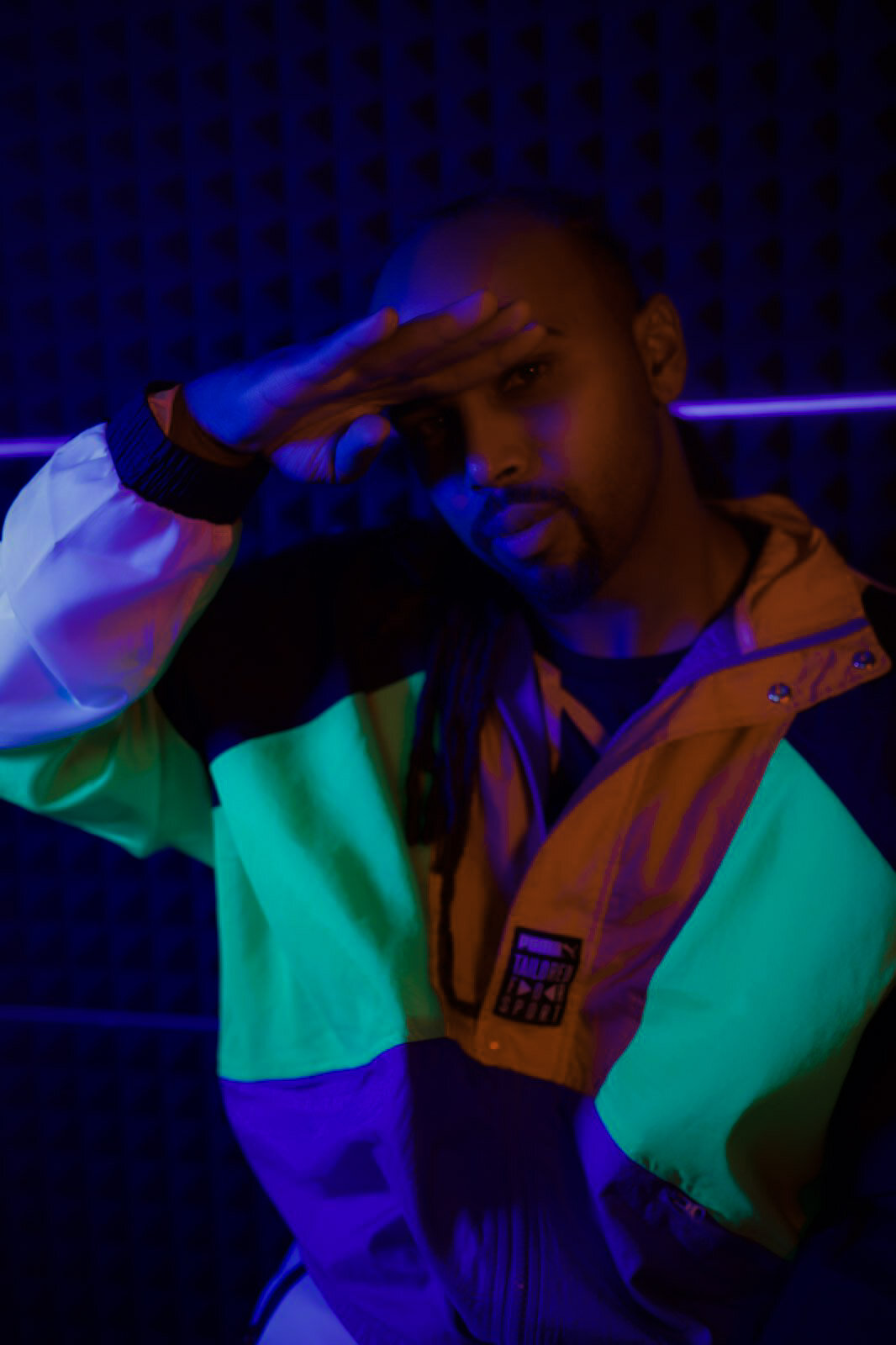 How would you describe this era?
We've been living in a political climate which has escalated into civil unrest, riots in the streets and we're right here in Los Angeles. I watched the army pulling up occupying the protest in response to people marching and standing up against black people being killed unlawfully without any accountability or judicial consequences. This is a historical time and It's an honor to have been blessed to have been able to and creating during this time. No Traffic in LA is saying "okay I'm out here. Can't tour, all the shows getting cancelled. What else we gon' do to make this work?" We're investing, putting moves on the board. Shout out to Jah Gold & Rare Edibles. We got all types of goodies?
It's the time for hustling. At the end of the day, nothing can stand in your way even when the world's on fire. For one time in the history of our time you could say for real, there's No traffic in LA for a good month or 2. It's a metaphor.
What do you want fans to get from the project?
A piece of mind, a piece of perspective. I've been out here sharing my voice in the halls of justice with the microphone and a tour bus, fighting for accountability from the Los Angeles Sheriff's department. Accountability for our brothers and sisters that've been laid down in the streets. No Traffic in LA is like California Summertime with Riots in a Pandemic. A way different vibe than being somewhere like Maine or Nebraska on lockdown.
I want change to come from the words and the art always. I want it to be a stepping stone, a piece of inspiration, an effective tool for education. I get the honor of working with kids in schools and prisons, using these verses and songs to teach classes. "What's Black Lives Matter? What do these hashtags even mean? What's police brutality? What are you perceiving if you're a third grader? What's going through your head?" You're removed from school altogether and then all of a sudden you're in Zoom class. 6 or 7 hours a day on your computer, that's wild. No Traffic in LA is a thematic story for those students. Most importantly, I want you to feel something from the music.
You mention cannabis, talk about entrepreneurship and the startup you're working with.
I was able to launch into educating myself on legalization and the study of the civil rights of cannabis. As an advocate, understanding the disproportionate amount of black men, women, and minorities in the prison system on the grounds of possession of marijuana. The billions of dollars it's making on the backs of all those men and women. I want to make change in the policies. To make change, we actually have to be in the rooms ourselves. I'm out to move forward in that world with the intent of creating more opportunities and breaking down barriers for the diverse communities in the cannabis industry.
There are a lot of opportunities in this space. You don't have to be a grower, You can be a lawyer, an accountant, delivery driver or even a nutrient distributor. Get your money. It's an essential business, but we've got to learn the laws if we want to make the big money and the big impact.
How's fatherhood during quarantine?
Shit, fatherhood during quarantine is the best. You got to be home a lot. We toured more than 10 months last year, the first year of my child's life. It's definitely been a blessing in disguise for me to have been able to spend more time with my family during quarantine and teaching my daughter how to grow fruits and vegetables in the garden.
What drives you to build community spaces online, and the AIM4theHEART virtual workshops?
We have class tonight actually. It's an awesome program, we've been able to do a lot of workshops over quarantine. We did a 4-week workshop series in the Bahamas, another 4-week series in Los Angeles. A lot of these are online Zooms. Multiple times weekly: it's a comfortable space for artists to come and discover have serious conversations through music and art while digesting emotional literacy together. We did a whole class on "Hashtags," the song on the album No Traffic in LA. We talked about the protests. How the images we were seeing in the media and through our own eyes made us feel. We also touched on metaphors, similes, making near rhymes and alliteration. Real conversations.
The workshop is founded by Leila Steinberg, who used to work with Tupac and currently works with Earl Sweatshirt. A lot of really talented artists come out of the Mic Sessions Workshop. Fana Hues & Jarette Romero are both Aim4theheart artists featured on the No Traffic In LA album as well.