Read the full interview on Flaunt.com!
Salt-N-Pepa will forever go down in history as the female pioneers of Hip-Hop.
With the new Lifetime film, "Salt-N-Pepa," fans are given a front-row seat to the legendary duo's musical career from Queensborough Community College students to become one of the first all-female rap groups to date. Their success in hit singles "Let's Talk About Sex," "What a Man," "Shoop" and "Push It," are paired with endless Platinum plaques and even a Grammy win.
Stepping into the heavy roles of "Salt-N-Pepa" are G.G. Townson and Laila Odom, playing Salt and Pepa respectively. Raised in Los Angeles, G.G. is best known for her recurring lead role in Bounce TV's "In The Cut," appearing in various roles on networks including Disney Channel, Nickelodeon, and CBS.
Born in New Jersey, Laila is an actress and producer appearing in "The Bobby DeBarge Story," "Game Shakers," "Phantom Halo," and "Undercover Brother 2."
Both ladies agree they picked the best two women to play the roles of Cheryl "Salt" James and Sandy "Pepa" Denton, with their unwavering drive as the one thing they share in common. Attributing her East Coast nature to her aggressiveness, Laila is spicy but nice, while G.G. is a little more subdued. G.G. explains, "Laila's the crazy one and I'm the laidback one. We're literally them personality-wise, born in a different time."
"Salt-N-Pepa" is slated to premiere Saturday, January 23rd at 8pm EST on Lifetime.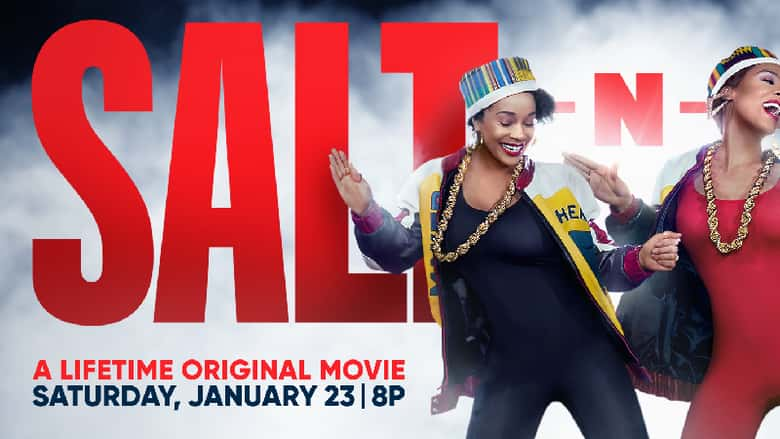 AllHipHop: How did you guys prepare for your roles?
G.G: Preparation for the project started as soon as we got the audition. Any actor knows that your work begins as soon as you get the call. Watching archived interviews, learning the music, watching music videos, trying to get much of their mannerisms down even before meeting them so you go into the room and give the best performance or your rendition of who you studied as best as your ability could for the character. After we booked, it was us going into our individual corners: me with Salt and Laila with Pep. Soaking up everything they had to offer: listening to stories, learning them from their point of view. Not reading a script that was written about them, but learning them from them.
Laila: We also went into the dance boot camp with our choreographer, Christian Vincent. We did that in LA, then went to Toronto and finished up there. Met the Canadian dancers there, got to know them. Fine-tune things because we had different dancers in LA, we had the final dancers Toronto. We did a little bit of music bootcamp where we're in the studio, trying to get their mannerisms when it comes to their music. We had an awesome director, Mario Van Peebles who had his own vision of what it should be. He knows that era, he knew them so it was a little bit easier.
Unlike right now if you were to do a biopic of Cardi B or Nicki Minaj, we'd be able to do a day by day, blow by blow of them and their progression. Especially Cardi B, because she's relatively a new artist. With the girls, it was a harder search for that information because we didn't have social media. We didn't have that many outlets for that genre of music, they were the first. It was an oral history. It was them telling us "when we were in the studio, it was this. We'd laugh, we'd do this." It was helpful having them there on set, but definitely a mixture of them in person and us trying to get things from Youtube and old archive videos. There weren't that many. 
AllHipHop: What there any pressure to play such icons?
Laila: Hell yeah it was pressure. It's one thing if you're doing a time period of the 1800's,there's nobody around from the 1800's to say "oh yeah nah, they didn't do that." There's no checking on that but for us the people, hello! They're right there.
G.G: Definitely pressure, they're on our spot already. [laughs] 
Laila: Exactly. My first day of shooting, Pep pulled me to the side like "that's not what you doing."
AllHipHop: What were you doing?
Laila: My co-star Jermel Howard plays Treach. This is a scene introducing my son Tyran, who I'd met my day. You can't do that to children. You can't introduce them to their TV mom that day, they're gonna bug out. He bugged out. I'm like "let's get another kid, let's reconnect." [laughs] Pep pulled me aside like "you can't just be like 'bye Tyran!'" Oh okay, let me try that again. That's a prime example of having them there to say "you might not want to do that" or "yeah, that's exactly how I was feeling." G, I know you had that type of rapport with Cheryl.
G.G: The studio scene where we kept peeking around the corner, she's like "y'all… that's exactly how we felt that night." We're recording the "Push It" song. It was late, it was hot in the basement. Me and Laila, we're over it. Everything that happened in that scene was real. We're already getting yelled at by Mario, we're messing up lines. We started laughing but it worked, Cheryl said "that's exactly where we were mentally" when they're recording that song. They hated it in the beginning. They didn't understand it. Pep's like "what is this? Why we gotta do this?"
Laila: That was such a funny night. [laughs]
AllHipHop: How difficult was it to learn how to rap?
Laila: Can't we all rap at this point? We all grew up on hip-hop so it's not like their music was foreign to us. I knew the songs. You might say "oh s###, I didn't know that's what they were saying." You know how you get to the point in the song, you say [hums melody]. You might not know what the actual words are, but you can keep with the melody of the beat. Especially when we went into the studio, we had to hear every word that we were saying.
G.G: The actual rap songs were easier, it's the showstopper songs. 
Laila: Oh my god.
G.G: [laughs] There's this song, it was their first song we had to do. There's a whole performance in the movie and because the song was cut the way that it was, there's no way to go back to see who's track was who's. It's on old school tape: you cut it on, you do your rap, you cut if off. If it's bad, you physically cut the tape off and start it over again. We had to figure out who's part was who's, what the words were because you can't Google that song. Even the beat in the movie, we did it over a live beatbox so that's a whole nother element in itself. That'll be cool to watch back for sure. [laughs]
Laila: The beat was different but we're talking about girls who were learning how to rap. That's the beginning of their career, you can hear the youth in their voice. You can't tell Sandy from Cheryl at certain points. When we're rehearsing, I was killing it and they're like "that's not even your part!" Oh, I knew that. They sound so much alike because they're so young, especially with that first song. They're young and they had no experience, like us on our first day. On the first day they're like "rap! Hit it!" What? What're you talking about?
G.G: It's negative 6 degrees in Toronto.
AllHipHop: Did you guys freeze?
Laila: Yes!
G.G: Understatement.
Laila: It was cold, we weren't used to that. We got there in October, it felt like January. It was freezing and normal for everybody, but not normal for us. That was the first shot out the gate of us. It definitely wasn't easy because the beat isn't the same beat of the song. There's a mix match. 
G.G: We're standing on tables that weren't really stable. We were daredevils and doing our own stunts, it was scary.
Laila: That part, but it was a good time.
AllHipHop: What's your favorite scene in the movie? What are you excited for people to say?
G.G: The "Push It" performance, I'm excited for that.
Laila: Iconic!
G.G: I don't know if the crew was gassing us but after our first take, they're going nuts. We had a concert, oh I guess we're good. We didn't get to see anything but we're going off of their reactions. Our co-star Herbie, him and I have a pretty big scene I'm excited to see. That was a very draining day so hopefully all the energy put into that scene translates on film. Everything I didn't get to see of Laila, I'm excited to see. There were a lot of times we weren't even on set together, she was at the house then they'd come get me.
Laila: I feel that, I feel the same way. I know the chemistry between you and Herbie so I'm ready to see that. Let's talk about how I had to drive a 5-speed car from 1970, that I didn't know how to drive. I tell people I know how to drive a 5-speed, but not from the 70's.
AllHipHop: What was different about it?
Laila: It was a mess. They kept saying "Laila, come on." I didn't know what I was doing, but then I got it. We were rolling, then we wasn't. It was perfect. I want to see the night where we hear that song on the radio for the first time. A lot of very special moments. The first time we go to the studio and Salt has a baby, I have a baby. Those are really tender, wonderful moments. Me and G.G share a lot of moments that're very the hip-hop version of Steel Magnolias. It's sweet, it's kind, it's friendship. 
AllHipHop: What role does music play in your lives and careers?
Laila: G's trailer is right next to mine, we get in the morning and sometimes G's already shooting or I am. Every morning, I heard Dababy! I didn't have a choice, now I know his music. What time is it? Why's it so early? Who's playing this? I thought it was one of the dancers, why is the dancer's music so loud? It's G.G's music. By the end of it, I like Dababy now. It was fun.
G.G: [laughs] Me and Salt would have dance parties in the trailer! Especially in between takes, what else are we gonna do?
Laila: Seriously. It's true, hip hop for me is the soundtrack of my life. I can almost hear certain songs for everything that I'm going through. I used to sneak into the clubs. I can remember the first time I got into the clubs, what song was that? Like G said earlier, I know they got the right ones to play these roles. G brought the West Coast vibes, I brought the East Coast vibes, it worked out perfectly.
AllHipHop: What's your favorite DaBaby song, G.G?
G.G: At the time, it was "Suge." Now, "Finding My Way." I like that one because it's different from his usual stuff, that's a good one. I like the short film he did with that too. With hip-hop, it's nice when artists do music videos that tell a story. I'm always interested in those music videos, like 106 & Park was on fire!
Laila: It was such an important show. It's so funny G, I don't know if you know this but when I'd come in and get dressed, I played Tory Lanez the mixtape the whole time I was there. I probably shouldn't say that now, but that's what I was listening to. Don't quote me on that.
AllHipHop: I know, is Tory Lanez cancelled…?
Laila: You can't help it.
G.G.: The mixtape was bomb, it was.
AllHipHop: When the film was first announced, there was backlash over alleged colorism in the casting. How did you handle that?
G.G: I'm gonna put this very nicely, Laila will go in and rip heads off. At the end of the day with the colorism comments, people seem to forget that everyone involved was majority black. The casting director was black, producers were black, the writers were black. Our hair, make-up, everybody that had immediate involvement was black. It wasn't coming from a place of not being aware of the world. People seem to think that Bob from wherever casted this movie.
They are going off of headshots that are retouched or have been reposted. The colors of pictures do change when something's taken from one site and reposted, reposted, reposted. We had to get signed off on them. If there was at any moment where they said "she's too light, she's too dark," because they did already have an interview two years ago. They said "it's not gonna be a dark-skin Salt and light-skin Pep." They were so involved in the entire process and they did a wide casting search. It wasn't they didn't take the time and do the work to try and find the best people possible. It's a mixture of people wanting to have something to say and something negative. I'm seeing it a lot from our people that want to talk about the advancement of 3 black women, period. Us reaching our goals and living our dreams, I thought that's what we should do and we should be supported by anyone.
Laila: Colorism is a problem lots of ethnicities face. It's not a black issue, it's everywhere. Let's not be like it's a black american thing, that's not true. Overall the issue is that it's a movie, people need to get over the fact that it's not a look-a-like contest or who looks exactly like them. You probably won't find somebody who looks exactly like them. People will say "she's too light. Why couldn't they find girls from Queens?" Because they didn't. Sometimes when things align, it's about people who bring the essence. People who understand the friendship and the music, who can dance and act. They might have missed out on somebody who's dead on her, but she was lacking some place.
We're not sitting here and debating anybody's color, it's a very low vibrational way of thinking. We're still black. They did not cast a 75-year-old Jewish man to play Salt or Pepa. If they did that we'd have a problem, but they didn't. We're in this space and time of people voicing their opinions. You can, but know what you're talking about. When you look at the color of Salt and Pepa, they're not that far off. It's not a big thing. I hope people can take from this interview and understand what we're saying, we understand colorism. We get it, this isn't an example of it. Thank you for letting us address that on a platform one final time, we're not addressing it no more. Let's talk about sex, let's talk about "Push It," let's talk about the music. Let's talk about these women that as teenagers were able to break down doors. That low vibrational "it's Salt, Salt, and more Salt!", that was cute but we're gonna end it and stop all those comments right now. Moving forward, happy New Year everybody. We're not doing that.
AllHipHop: On a brighter note, how does it feel to have your billboard on Sunset? 
Laila: Bomb! That's amazing. It's a childhood or very early actor's dream to say "I have a billboard on Sunset and Wilshire!" What a blessing to be a part of something where we're in legendary places. Sunset Blvd has always stood for something in entertainment and nightlife, I'm really proud to be there. I'm really happy to be able to take a picture, at the same time for women after us to say "you can do that too. You can get a billboard. We're seeing more and more of our friends on billboards, actors we know that came up and auditioned. It's our season G, it's our turn to live and bask in that right now.
AllHipHop: What are you most excited for?
G.G: I'm excited to see it, we don't know what it looks like. 
Laila: I'm excited to see the reactions from people. I want to know what record label I'ma be signed to after. I'm a rapper now!
G.G: I'm ready, first single Summer 2021! Hello!
Laila: Got my mixtape ready, I'm waiting for what label wants to sign me.