Read the full interview on Flaunt.com!
Lionel B is far more than just a rapper, he's a celebrity YouTuber, single father, hustler, and trapper all in one. Hailing from Panama City, Florida, Lionel has established a name for himself online and on social media, going viral 87 times on YouTube and garnering over 347K subscribers in under 2 years. With his Lionel B Show, he covers everything from hip-hop controversy to celebrity deaths, your one-stop shop for all things rap-related.
Most recently, Lionel unleashed his new single titled "Shawty Go Low," which has been doing its thing on TikTok. Having worked with everyone from E.D.I. Mean from the Outlawz to Papoose, the rising rap artist proves you don't have to be boxed into any one thing—you can do whatever your heart desires. Perseverance is key, and Lionel isn't letting anything stop him from reaching his goals and dreams.
Flaunt caught up with Lionel via FaceTime, who was posted in the studio in high spirits. Read below as we discuss his journey from homeless to 6 figures, gaining a presence on Youtube, the creation of The Lionel B Show, his new single "Shawty Go Low," his Top 5, goals, and more!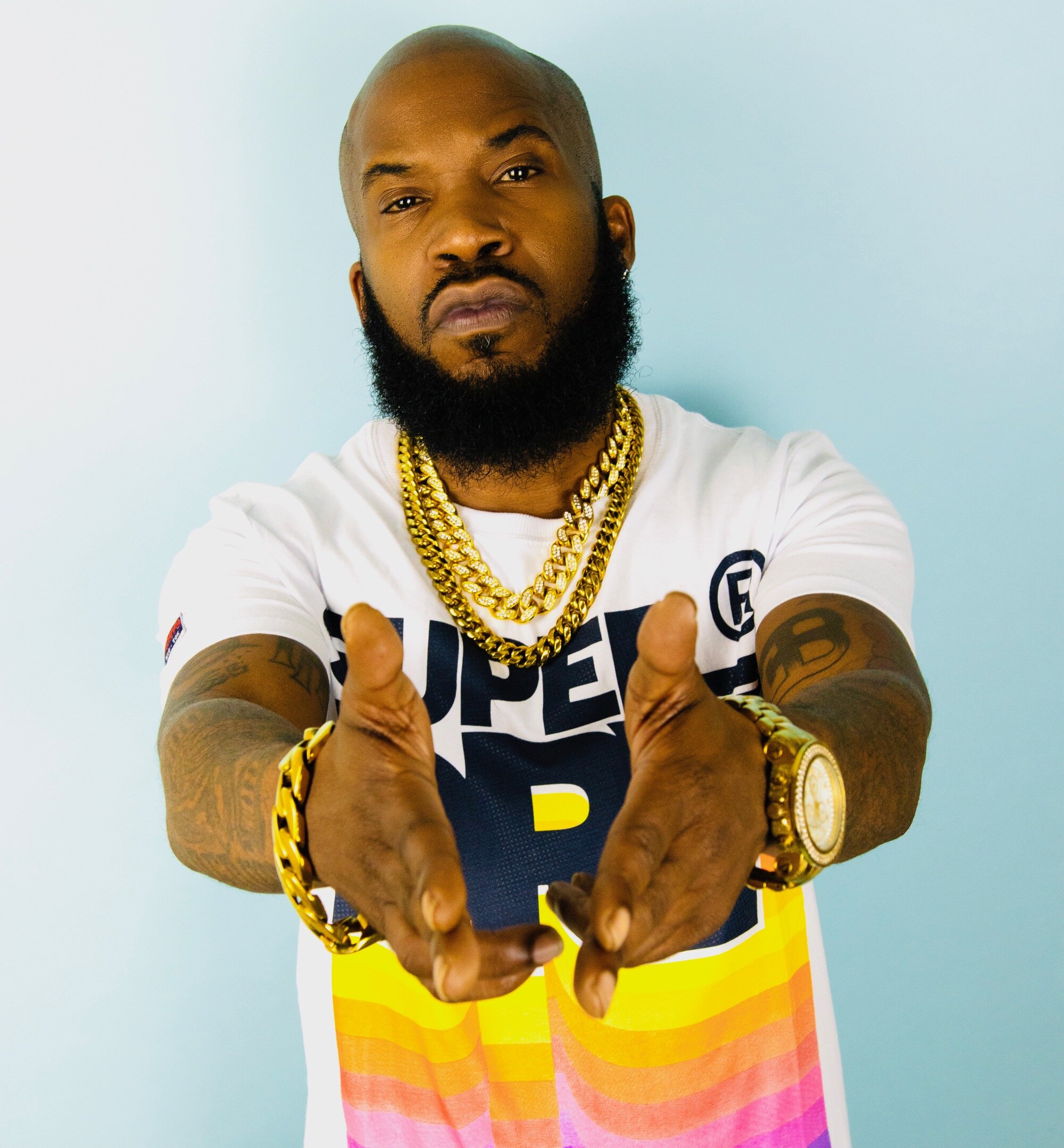 Talk about going from being homeless to making over 6 figures in 2 months, that's impressive!
That was crazy, it definitely inspired my drive. I really had to pull myself together. I had to come from nothing in order to make it. One thing about it, I was always being optimistic. You know what, I have to figure out a way for me and my son to make it. It was no quitting for me. I still don't understand that to this day, I have to figure this out some type of way. I kept positive vibes, I kept grinding and I popped on YouTube. I did see DJ Akademiks, I used to watch him—every now and then, not a whole lot. I saw his numbers like damn, all he does is talk. Shit, I could do that. People like my voice, that might be a lane. Plus I already knew how to do music videos,  graphics, editing, so it ended up being a good fit for me.
What was your secret of gaining a presence on YouTube? 
It was more so me setting myself apart. It was my style, the way I interpreted news versus the way others interpreted news. That really made me stand out because a lot of my peers who do the same thing I did, not to sound cocky but the numbers I have, it took them 4, 5, 6 years to get the numbers. It only took me under 2 years to get over 300K subscribers and that many views. You can go look at any vlogger right now and see where they started, look how they climbed and how they're able to build their following. To me, it was real organic. I want to be different. When I came into the game, I didn't see anybody doing no crazy animations. They're talking, they have a picture showing. They have a video clip showing but they're not doing anything too crazy to make people be like damn, that's something they've never seen before. I add that element into YouTube.
When did you get the idea for The Lionel B Show?
It was crazy because at the time, I was homeless. Initially, I had a job interview and I was going to work an IT job. Initially it was called The Lionel Barnes show, my real first and last name. Every time someone will look me up or Google me, they'll be like "damn why do they have you on YouTube talking about music? What the hell?" You know what, let me do Lionel B and cut that out. I wanted it to be something personal to me. I didn't want to have any weird, made-up nickname because I don't go by any other nicknames except for what my mom calls me. The Lionel B Show, something simple that people will remember me by.
Going viral 87 times on Youtube, hitting over 87 million views and 347K subscribers in under 2 years, how does that make you feel? 
It's amazing, honestly I didn't even know how many views I had. Of course every month, YouTube pays you based on your views. I've gotten some really big checks, some small checks. I never really sat back and looked at what my total amount of views were. Mind you, I got the money and trying to survive. Doing cool shit, I was able to buy my mom her dream car. I wasn't really adding up how many views I got in total. When I first discovered how many views I had back at 40 or 50 million I sat back, shit that's a lot of views. Here I am now, 87 million views crazy. Amazing, I'm almost at 100 million. If you equate that to album sales, that'll be Diamond or Platinum.
When did you realize you wanted to do music for a living?
The funny thing is I was into music before. Back in 2006, I had a little small record label. I had the opportunity to be able to work with Plies, me and Plies did work. Deuce Poppi which is Rick Ross' right-hand man, he got on a song with us. That's the first celeb I did any type of music production or music with before. My artist, we did song called "Move Something." I knew it was hot, I sent it to Slip 'N Slide. Being a kid at 18 and 19, they rejected every damn thing I ever sent them. I sat there, worked on my craft, got better.
Finally I sent them a track, they said "yeah, we like it." Shit, I felt like I done made it. Not only did Deuce Poppi get on a track, but TJ's DJ's was co-signing the music as well. TJ Chapman is B.o.B's manager, he does music reviews and he'll light you up if the shit ain't right. That was big for me, us being from similar cities. He's from Tallahassee, I'm from Panama City about an hour away. That was dope to get the head nod, the little homie doing his thing. I appreciate that, that inspired me to go harder.
Talk about getting respect from legends like Papoose and Fat Joe, those are big cosigns.
It was crazy. When I first met Papoose, he had his guards up like "damn this dude's a YouTuber, I don't know if he's like Akademiks. I don't know what this guy is about to be on." He was standoff-ish but once he had a chance to sit down and rock with me, "okay, this dude is solid." We built a relationship from there, I got a chance to vibe with him. I grew up listening to Fat Joe. I always looked up to Fat Joe and Big Pun, being a kid and being in high school. It was super dope to get a cosign from Fat Joe, he DMed me one day like "yo I see you working king, that's what's up." To me that was worth 87 million views right there, to get a shout out from an icon and he's recognizing your efforts, who you are in the game. To me, that was dope. Salute dude for that.
How'd it feel to have "Shawty Go Low" go up on TikTok?
It was amazing because every artist's dream is to have that one hit that resonates with people. People can record their whole entire life and still be trash as fuck. Having something that resonated where people are constantly DMing me like "yo I like that record," I'm not having to beat anybody down like "hey, listen to my song." People are coming to me like "oh I rock with that. Damn, you're on YouTube and you rap?" They be confused sometimes. DDG did it, so I'm coming bro. He's not the only YouTuber that can do it. Queen Naija did it. Queen's dope, not gonna cap.
You lost your mom back in July, how were you able to push through?
Honestly, it was hard. When she first passed I shut down from everything. I had to really understand who I was as a person because ever since I was born, all I had was her. That's how I identified with the world. Losing her was like damn, well how do I readjust? Who can I go to when I'm feeling fucked up? Who's going to be that ear for me, that really really loves me? Not there for any other reason, not because I'm poppin' on YouTube. Who's going to really ride for me? She was that impartial person that's going to always ride or die no matter what, if I have or didn't have.
I really tried to figure out how to identify with the world again. I couldn't even talk to my neighbors, my neighbors was saying hey to me. I didn't even know what to say because it was such a shock. What do I do from here? After time, I hibernated for a while and got my bearings together. I did a lot of praying, a lot of crying, a lot of everything. Every emotion you go through: denial, cries, tears, anger, joy. A bunch of emotions but it was super hard, for her to be gone so quick.
How does music help you cope? 
It helps a lot because it gives me the added outlet. I love YouTube, it's super dope, but I didn't really get back into music until after she passed. It gave me another outlet, something else to get me really busy on and keep me focused on. It felt like another challenge. I already dominated Youtube, I needed another obstacle to keep my mind occupied so I wouldn't think about the bad and negativity.
Who's in your Top 5?
Definitely Biggie, Tupac, Nas, Jay-Z, Andre 3000. Biggie changed my whole life man, being a little country Florida boy. When I first heard "Juicy," that shit was crazy. I had that single on a cassette tape, it stopped working after a while because I kept rewinding it, playing it, flipping it over in the car. I never heard nothing like that before. I grew up on Luke so I'm like damn, what is this?! I grew up on 2 Live Crew.
What can we expect next from you?
Oh man, nothing but greatness. I have new records coming out, I have one called "Racks In Your Head," we're turning up to that on Instagram. I want to work with the greats. I want to stand out not only on YouTube, but music as well. I definitely want to hit the billboards one day, that'd be my ultimate dream. I'd like to be able to dominate like my other fellow YouTubers, that's super dope. I salute everybody doing their thing and is super good at it, I give credit to anybody doing both. DDG, Queen, they're really talented in both respects. I want to start my own television network at some point. I want to be the dope Tyler Perry, make some cool stuff and get my vision out there.