Read the full interview on Flaunt.com!
Lex is here to take the music industry by storm. Arriving in Los Angeles all the way from her hometown of Anchorage, Alaska, the singer-songwriter prides herself in creating that classic, signature R&B and pop sound we all know and love. With her smooth sultry voice, she creates heartfelt ballads that the masses can relate to and enjoy… while swooning fans with her inner and outer beauty.
Having started singing at the young age of 6, Lex grew up in a diverse household influenced directly by her African American father and Pacific Islander mother. Growing up listening to the greats from Whitney Houston to Stevie Wonder to Brandy, Lex would soon start singing in her grandfather's church and school choir before entering singing competitions and slaying. Her most notable cover to date, Whitney Houston's "I Have Nothing," solidified her love and passion for music ,and she shows no plans of slowing down anytime soon.
Now, she unveils her highly-anticipated debut single titled "Personal." With her Instagram bio reading "I sing in real life, drink my water, mind my business and keep to myself," Lex proves she's human like the rest of us, creating relatable music for her growing fanbase.
Flaunt caught up with Lex via Facetime, who's been residing in Los Angeles for the past 9 years. Read below as we discuss her roots in Alaska, biggest influences, the turning point for her music career, debut single "Personal," love for fashion, lover for baking, top artists in rotation, and more!
You're from Anchorage, Alaska, how does that play into your life and career?
It was super fucking cold honestly. There wasn't much to do. In Alaska, it's a routine thing. You wake up and it's the same routine. If you go to work, you go to work. If you go to school, you go to school and come back home. There's a lot of adventurous things to do if you're into that: snowboarding, skiing, ice fishing. But as far as the creative scene goes, there's not much of one in Alaska. That's why I made the move to California. Alaska has the best seafood, the nicest people. I love it there. It's great for retirement.
Biggest influences growing up?
Beyoncé's definitely my first one. I've loved Beyoncé since Destiny's Child, but when "Irreplaceable "came out… we have this little black fireplace at my grandparents house. I used to force my family to sit there while I sang "to the left, to the left!" [sings Beyoncé] I had no business singing that song at that age, but I'm singing my heart out to that song. Beyoncé's always someone I look up. Rihanna too when she came out with "If It's Lovin' that You Want." She's an islander, I'm an islander. That's a connect we have. Whitney Houston was someone my mom played all the time, Michael Jackson, all the greats of course. Lauryn Hill was played heavily in my house, Mary J. Blige. A lot of dope, dope artists I remember growing up to. A lot of islander artists because I'm half-Samoan and half-black, so it was a mix of both.
At what point did you realize this music thing was forreal?
I was 10, my vocal coach said "there's a state vocal competition they do every year, I think you should join." I was nervous. I love to sing, so this would be the ultimate test to see if I can really do it in front of people. I entered and I was 10. I sang Whitney Houston's "I Have Nothing" and I won. At that point, I'm like "I can do this for the rest of my life." Having a mic in my hand always felt right and comfortable. Performing in front of people was the telling point for me.
Inspo behind your name?
My real name is Alexis but Lex is 3 letters: simple, easy, and straight to the point. It's hard to forget honestly.
Debut single "Personal" out now, what are you most excited for?
I'm excited to be releasing music, it's been a while. "Personal" is personal, it's exactly what I I'm going through right now as far as being in the industry. You know too, being in the industry we're in. It's so busy and hectic, very time-consuming. Love is not really existent for me right now as far as it being in my schedule. It's something I do want one day once I'm at a place where I'm comfortable with in my career. That's why I'm excited for everyone else to hear my side of things.
Who or what inspired this record?
It was more so a personal letter to myself, what I was going through personally that I put on a record.
Do you believe in true love?
Absolutely, but I also believe in love finding me. If I were to go and find love… I'm never one to force things. I want it to naturally find its way to me, but I definitely believe in true love. I love love and I'm a big lover. It may not sound like it on my records but trust me, one day I'll be in love.
How was shooting the "Personal" music video.
It's definitely again, personal. It's an intimate video. It's the sweeter side of Lex. I'm excited about it. I love the crew, the shooting day is a lot of fun. I'm ready for it to drop so my ladies are reminded how strong, amazing, and independent they are on their own.
How was it shooting the video during COVID?
My team was great about making sure everyone's following guidelines. The energy was still there. There weren't many people but it still felt like a real video set, a real video shoot. We got it done, I'm excited for everybody to see it.
3 things you need in the studio?
Water, my chapstick, and tea. That's what I need, those are mandatory.
Do you write your lyrics?
I write, and I co-write with writers in the studio as well.
Talk about being Pacific Islander and African-American in the R&B game.
It's great, I love it. Being a Pacific Islander, they're strong-willed. That's the beautiful part. My grandparents raised me and they're Pacific Islanders. I grew up with a lot of morals that are instilled into me today. I'm big on family and very family-oriented. One thing about Pacific Islanders, we don't play about our family. That's the #1 priority for us. Being black is great. [laughs] I love being black, I'm proud of it. I'm proud of the mix I am. To put on in the R&B realm is exciting, we need more of it. I'm glad to shed light on that, we're out here!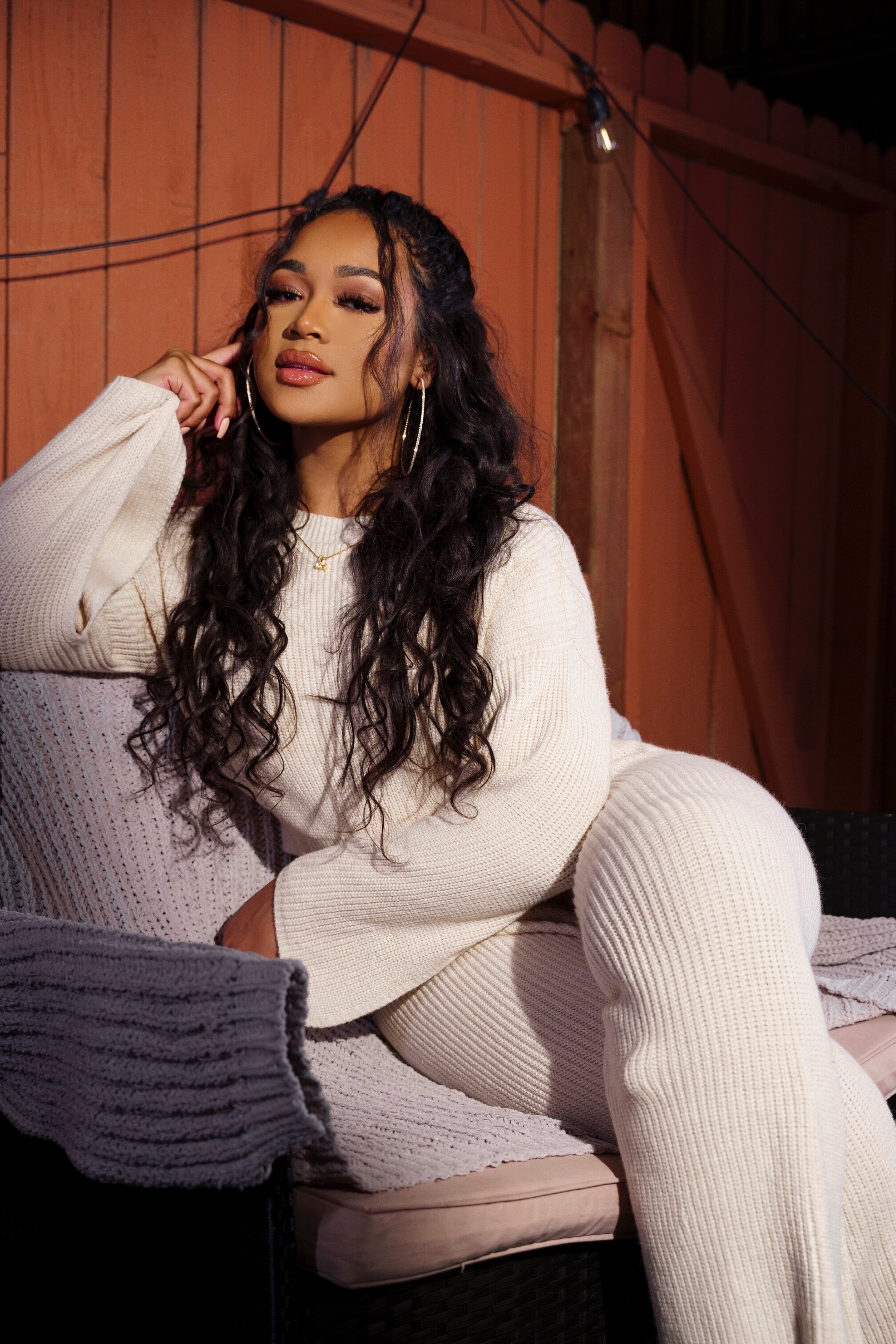 What would you be doing if you weren't doing music?
I would've been a lawyer, because I love to argue and win cases. [laughs] I don't shut up, definitely would've made it in court. That was always my plan A, until I realized I loved music the way that I do. I went to law school, I had it all planned out. I was big on academics, I was on the National Honor Society my whole school career. Trying to make straight A's was the only way I could do music, so it was definitely law school.
Do you have a love for fashion as well?
I love fashion. During the COVID lockdown/quarantine, I was making a lot of my own clothes. I'd take old shit and cut it up. I got a sewing machine and tried to learn how to sew. I was so infatuated with how things were made. If they can do it, I can do it! I was really big on making my own pieces. After COVID and stores started opening up, I'm like "okay, I'll just go buy it." I like to make things on my own time. I made my own masks. I love fashion, especially with me being a curvier girl. One day, I want to cater to that. It's hard for me to find jeans that don't smash the ass, but fits the waist. I always get my shit tailored and definitely want a line catered to that. I fluctuate a lot so the shit I bought last week might not fit this week, gotta make sure the material is right.
Is there something fans may not know about you?
I'm a hell of a baker. I can throw down in the kitchen when it comes to sweets. I'm still learning on the cook part, but the baking part I got that down pat.
What do you like to bake?
I'm more getting into making my own recipes up. When I first started it was a lot of box mix, then I'd add my own touch to switch it up. Cinnamon rolls I'm good really at. I make a bomb ass Reese's cake, a bomb ass Oreo cake, red velvet cupcakes. I make great mac and cheese, that's not a dessert but it's in high demand when the holidays come around. All types of sweets! I'm a sweets person, much rather sweet than savory. I definitely have to know how to make my own.
Top artists in rotation?
Right now, I listen to a lot of rap. Of course, SZA is #1. I listen to her all the time. Summer Walker, she's dope. Drake's always in my rotation. Lil Baby's heavy in my rotation, and last one probably Megan Thee Stallion. I love "Pussy Talk" by City Girls. I listen to Mulatto, I listen to the "Throat Baby" remix with City Girls. I'm so ratchet. In my car, it's a whole lot of trap music. I listen to Gucci, I listen to a lot of shit. Jeezy too, I listen to both of them. It's a good mix of everybody, something for every mood. Definitely if you're in the car with me, my playlist fits everybody.
What's your favorite Drake song?
There's so many. I know the whole Take Care album through and through. I know the whole Views album. My favorite Drake song right now is "Faithful" off of Views.
What can we expect next?
A lot more music. Hopefully outside opens up soon so I can perform these songs live. I'm finalizing an EP and a project. Definitely film, I do plan on being in a movie with The Rock one day. We're the same mix, it'd be great for the culture. He's Samoan and black, I'm Samoan and black. A film with the both of us would be fantastic. TV shows, of course hosting, a lot more Lex!