Read the full interview on Flaunt.com!
GG Townson spends her waking hours on set, and she wouldn't have it any other way. You may have recently seen her play the iconic Salt from Salt-N-Pepa in the rap duo's self-titled biopic on Lifetime, or maybe you recognize her from her role CW's television series All-American. Either way, she's here to inspire the masses and show that they too can make their dreams come true with hard work, dedication, and passion.
Growing up in Los Angeles as the baby to her two older brothers, GG was always that kid playing dress up, entertaining and singing around the house for her parents and their friends. WIth her mother seeing her daughter's talents early on, it was GG's grandfather (Ron Townson, lead vocalist of Fifth Dimension) who introduced GG to her first agent, who was his agent at the time. From there, she booked her first DIsney project… and the rest was history.
In our last interview, GG revealed that the minute she gets that call, the preparation begins. Her other endeavors include playing Stella on Bounce TV's In The Cut, and an upcoming film titled Welcome Matt alongside Tahj Mowry.
Flaunt caught up with GG, who had been on set since 8am, via Instagram Live. Read below as we discuss her biggest influence, her first commercial, playing Salt in the Lifetime biopic, the preparation behind the role, her love for All American, self-care routines, working with Tahj in Welcome Matt, and more!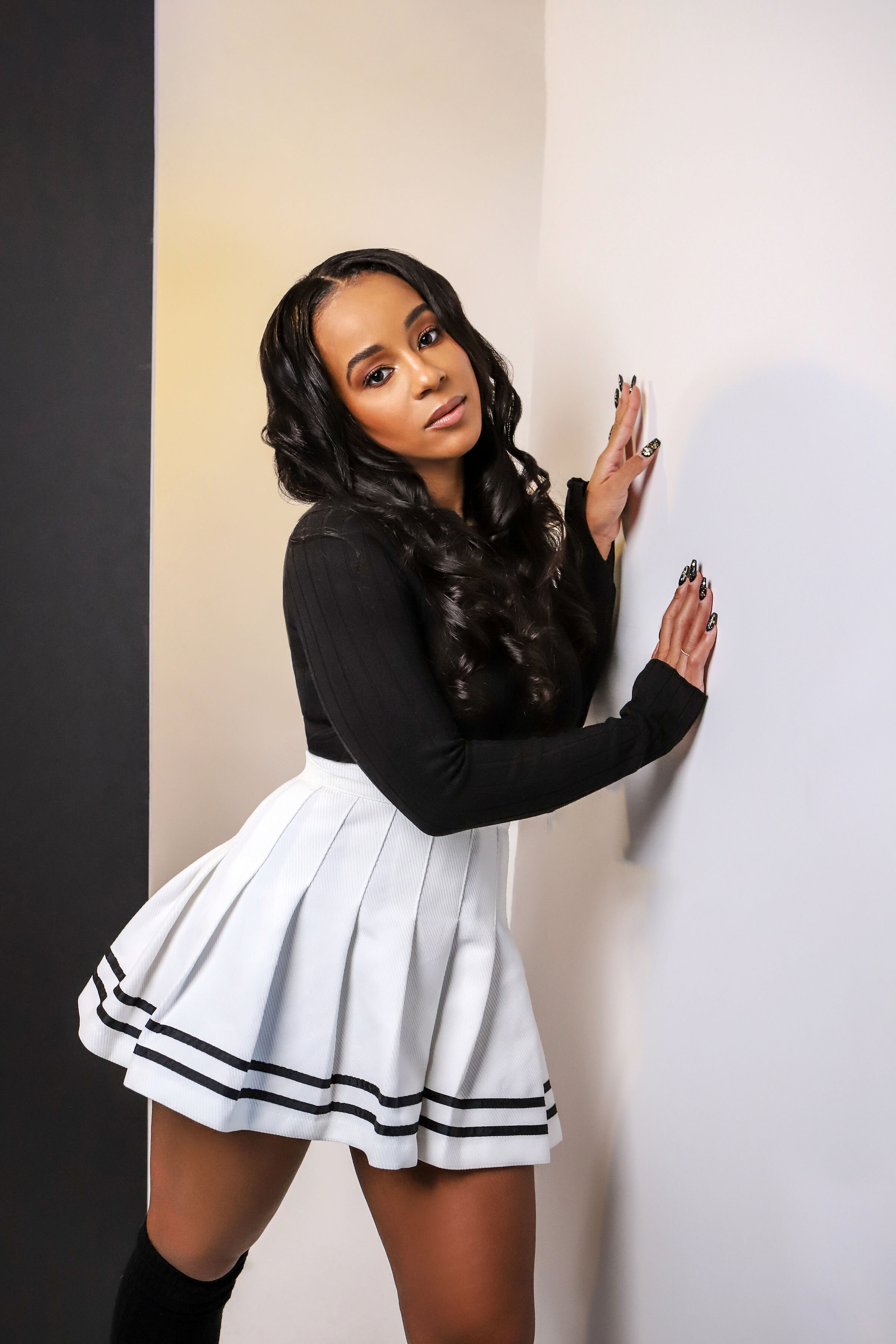 Your grandfather is Ron Townson from Fifth Dimension. Did you have musical aspirations at all?
My musical aspirations are always here with me, because I come from a family of singers. Music was not really in the forefront for me. When he was in his prime, I wasn't even thought of yet. When I came around, he was done with it, getting out of the end. It wasn't a situation of "oh, let me show you how to do certain things or let me take you on sets." People assume that's what I got from him, with him being who he was, but for me he was Papa. I didn't see him as everybody else did. It took me getting older and going back to figure out who they were as a group and all the things they did, to really understand who Fifth Dimension were.
Biggest influences coming up?
My biggest influence is simply my mom. She inspires me to be the best me, whether that's me as an actor or me the professional taco eater. It doesn't matter what I'm doing, she's the one that always instilled in me to do my best no matter what, and be a good person inside and out.
Your first big break was on Disney, were you nervous?
It was a commercial on Tune Disney that ran. It was me and my set family, we're watching TV and my dad goes into the kitchen to make popcorn. All of a sudden, you see all this popcorn coming from the kitchen. The popcorn's flying everywhere, then he comes out like everything's normal. It's a play on him being the Goofy dad, so the voiceover over the actor is the character Goofy.
Highlight from playing Salt in the Lifetime biopic, Salt-N-Pepa?
The highlight for me was doing her justice and making her happy. I went into it with the weight of not only knowing that yes, I had to please my network, and yes, I had to please my director, but she is very much still alive and involved. Respectfully, her opinion was higher than everybody else's on the totem pole, because it's her life and she chose me. She signed off on me to say this girl's going to be the one to tell my story.
How much research and preparation went behind this role? 
From prepping music and memorizing lines, then understanding that she's a real person.  Putting on the element of dealing with the bulimia and all the relationships she has, the relationship with Pep, with Herbie, with Gavin, all those different things. It's so many things all in one and you have to be true to all of those things because she's a real person. It's not like I'm going in pretending to be this character, I'm going to give my rendition of what I think this character's going to be—rather than no, this is her life. I have to know her life. It wasn't about pretending to be her, rather understanding how she felt. How she thought in those spaces she was in in the scenes that we covered because no, we didn't cover 35 years. It's impossible. But the highlights we covered, understanding what happened before the scene you see and what happened after that carries into the next scene. It was more than reading lines off of a paper that someone else wrote about a fictitious character.
Someone said you did so good! How was the reception from the people? From your peers?
Thank you, it was a lot of work guys. It was definitely great to have the positive response, of course we have the negative responses as well. You have to take the good with the bad, I accept it all. If you're not talking good or bad, it's a problem. So please, keep talking. Have other people interested as to why you aren't a fan or why you are a fan. Ultimately, that's getting someone else intrigued about wanting to know well, why do they like it or why don't they like it? It all works.
For someone that has never seen All American, how would you describe the show?
It's a very well-written sports show that's centered around sports. If someone hears that it's a show based off of a high school football player, they may not be interested, but it definitely has a good balance of everything. Your drama, the love, tender moments, real moments: the writers definitely do a great job of balancing all of that, while also keeping it true to where the story is and the age range that everyone is too. I'm not in high school, but I can only assume kids are going through these types of things right now. When I was in high school, these are things that were parallel to experiences that I had.
I definitely was sucked in when I got the job. I was hooked in for season one and two on Netflix. I binged it before I started shooting so I could go to set, know exactly what's going on. I definitely became a fan, for sure. Down to the point where when I was going in for my shoot days, I thought "man I have to read these scripts, but I don't want to because I want to be surprised too!" I want to be able to watch it week by week and have the same reaction as everybody else. That's how into the show I am.
How is it rewatching it with you in it?
For me myself? I cringe when I watch myself. Oh girl… so awkward. So cringy. I'd rather not.
What do you feel when you're on set or when you're acting?
I definitely am my happiest when I'm on set, for sure. I discovered that when I was working on In The Cut with Bentley Kyle Evans. He made it so that, even if you weren't working, you could come to the set and chill. It was a really great family-oriented cast and crew, so I'd go to set and chill on set. That feeling of "I'm supposed to be here, this makes me happy." It's that feeling for me.
What is it you want fans to get from your story?
Honestly, I'm still trying to figure that out, a girl does not have it figured out from day to day. Even before I got this job and got shipped across the USA, I was feeling like "when's the next job coming? What am I doing? What's going to happen in a couple of weeks?" Having doubt and all those normal emotions that people like to sweep under the rug, but I was going through it. I really was, and I'm not afraid to admit it. It is what it is, it's a natural thing. People should feel through their emotions. I'm still figuring it out, but I do know that I want it to be real and authentic.
What do you like to do for self-care?
Well, I like to workout… now. I'm sure my friends are like "girl, who is this person?" Because a year ago, what? You had to beg me to workout. Now, I really enjoy it. I'm sad that I've been gone for these couple weeks because I miss my trainer, I miss the crew at the gym. I miss the ladies. Working out, I keep a journal. It's a journal/planner combo, I got it off Amazon. It's called the Law of Attraction planner. It goes through your days, you write out things that happened throughout your day. There's a section for notes and things you want to focus on for the month. There's a section for your goals for the week, goals for the day, goals for the month. At the end of each month, it has you do a monthly reflection. I was a little late, but I did my March reflection this morning at 6am. I like stuff like that. I have spa music on my playlist I like to listen to. Skincare, I'm knee-deep in my skincare routine. I have my go-to company. Doing stuff like that gets me in my peaceful moments.
Who are you bumping when you workout?
The music at the gym is a shuffle. My trainer Gerald, he puts on a shuffle on YouTube. We just listen to a little of everybody honestly.
What are you most excited for with your upcoming film, Welcome Matt, alongside Tahj Mowry?
For one, Tahj is amazing, so I'm excited for people to see that movie off the strength of him. My character, she's definitely different. She's a therapist who needs a therapist who had a therapist. She's helping Tahj with agoraphobia, but she suffers from this overemotional situation where she doesn't really know how to process emotions without breaking down. She's overly emotional, there are a couple scenes where she breaks down crying and completely overreacts.
Are you real life crying?
You know in the Salt-N-Pepa movie, those tears were real. All of those tears were real. For me, it's thinking about things I could substitute, things that could pull out the level of emotion I needed to for the sake of that scene. This is the unfortunate part, sometimes it has a mind of its own. You'll start crying and be a mess. The bathroom scene in Salt-N-Pepa was an example of… actually I have two bathroom scenes. There's a bathroom scene after me and Herbie break up, I'm crying. Cheryl was in Video Village that day specifically, and she was crying. She came into the bathroom once everyone cleared out and said "I'll sit in here, just get it out." Because it would not stop. I had to let it go.
How would you describe your fashion sense?
Anything comfortable. This sweater is my favorite sweater, it's from Ross. I love this sweater. Yes, I need my own Ross location. I'm there too much.
What are you most excited for this year?
You know, your girl's going to summer like I've never summered before. That's what's going to happen. I'm not going to be stressed. I'm going to be living my best life.
Where are you going?
I don't know yet. I want to go on somebody's island for sure. I want to be buns out, sun's out. Some island to show off these muscles that I've gained working with Gerald.
Anything else you want to let the people know?
Stay tuned to my Instagram. I should be able to talk about what I am doing soon. This is going to be exciting, I'm really excited about this project. My character, she's different from what people have seen for sure. The thing with this character, I was even thrown for a loop reading the script. You think you know who she is, then it switches on you and you're like "oh shit!" I'm scared of her a little bit."