Read the full interview on Flaunt.com!
Neffi Walker is an accomplished Afro-Latina interior designer who focuses on the Black cultural experience, using her talents and skillsets to advocate for change and inspire the masses to do the same. Having been an interior designer for the past decade, her focus lies in black walls, moody spaces, and sexiness.
Her company is influenced directly by Neffi's heritage and love for culture. As a strong, successful Afro-Latina designer in the space, her goal is to have representation that can tell stories through home design.
Neffi is opening her own curated home store in Newark, New Jersey under the company's name, "The Black Home" which opens on Juneteenth amidst the COVID-19 pandemic. The day Juneteenth is intentional and will be the backdrop to a festival celebrating Black culture.
On the entrepreneur tip, Neffi expands her product line from bespoke furniture, candles, and flatware to bath salts, marble coffee table board games, luxurious robes, eco friendly baby bassinets, and much more. Flaunt caught up with Neffi via Zoom to discuss her roots in Harlem, biggest influences, how she got her start, inspo behind The Black Home, the wallpaper made of banana leaves, importance in giving back, motherhood, goals, and more!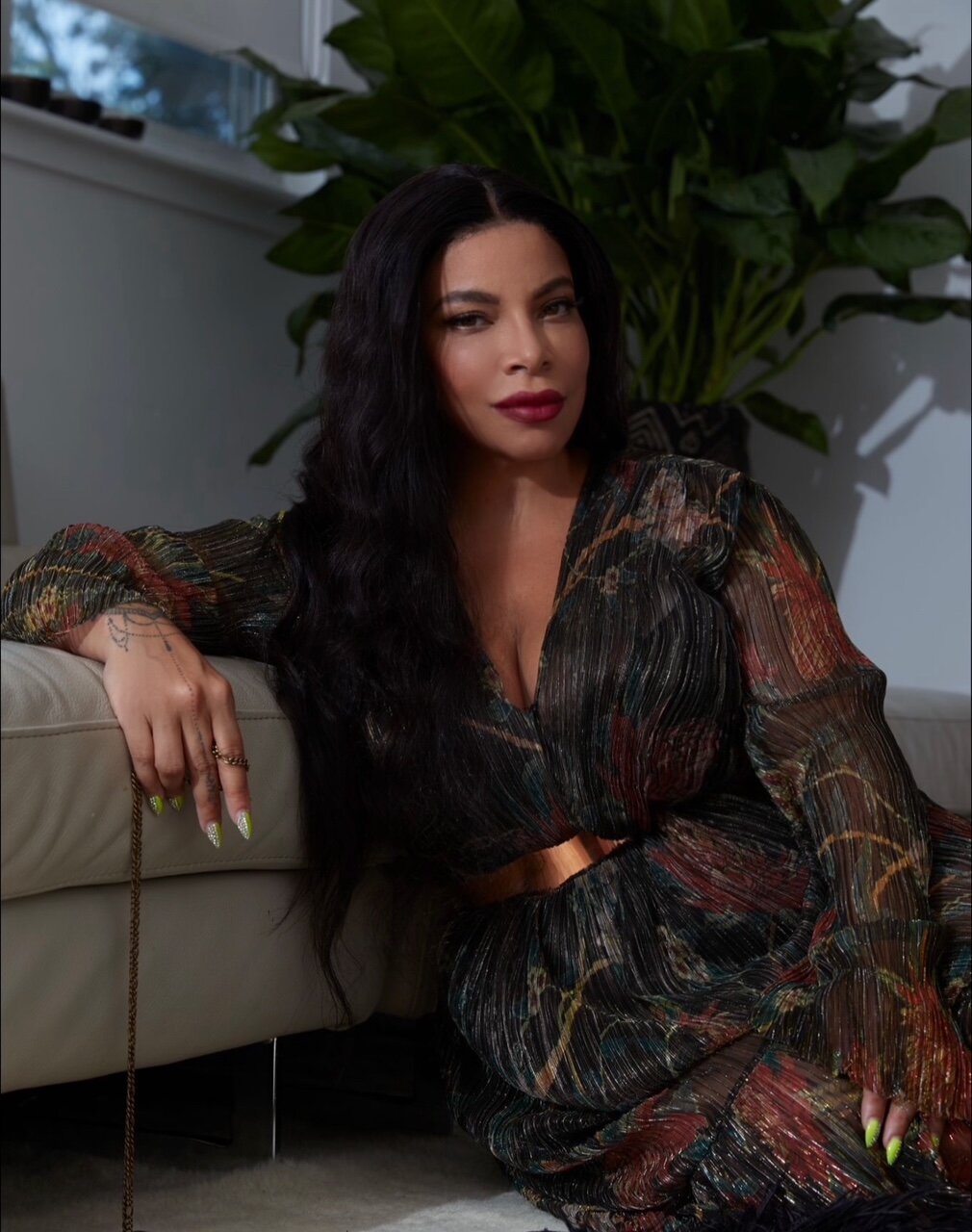 You're from Harlem, how does that play into your life and career? 
Harlem in the 80's and early 90's was filled with dope boys in shiny cars, jazz music at grants tomb, hip hop, 125, Apollo, and 8 ball jackets. Harlemites are known for doing things big and being extra. A very "see me" environment. I feel I've continued that boldness in my designs. Very classy and in your face eloquent visuals.
Biggest influences coming up?
I lived right next door to Dapper Dan and on the other Brownstone on the next block was Doug E Fresh and his family, so my block was always super lit. Growing seeing all the fashion, celebs, and music on my actual block really helped to mold me into the person that I am. Really 80's hip hop, breakdancing, all that flyness.
How did you get your start?
Before interior design, I ran basketball clinics and events for NBA hopefuls for a career, which required constant traveling. Once I got pregnant with my last child, I decided I wanted to do something new, which kept me near to home. I moved from the East Village, NYC to a house out in the suburbs in Jersey. It felt like The Shining at the time looking at deer in the backyard and the absence of city noise was strange to a die hard New Yorker. Immediately after birth, I started renovating my home, which felt therapeutic to me. I realized instantly knew that's what I wanted to do with my life due to the immense joy it brought me. The renovation took about 5 months from top to bottom. That led me to redesign 5 of my girlfriend's homes as well just for kicks. One of my friends sat me down and said, "Babygirl, I think this is an actual career. You need to look into this, you're pretty good at it." So that's when it started.
What inspires you the most?
People and having the pleasure of designing spaces where folks can feel comfortable and happy. Your home is your safe space. I meet a lot of people that are going through transitions, I understand and can empathize with that. Having the opportunity to help families with their plan based on favorite colors, items they've collected, etc. Creating a space where they feel like, when all is said and done with this crazy world, now I'm home. Now I feel comfortable. That is everything for me.
When did you first get the idea for The Black Home? How is it influenced by your heritage?
I decided to open up a store and signed the lease a month before COVID hit. Being that I was locked into the lease, we had to push forward. I wouldn't say it's been without issue, but it's been a wonderful experience overall. You be able to shop The Black Home full product line, but also seven other businesses that are seasonally curated, fluid within the feel of The Black Home brand within the space. It is important for me to share space with smaller businesses who can benefit from our large dedicated network of clients . Community over competition is one of the mottos.
Why Newark, New Jersey?
Newark is a black city on the verge of gentrification. It would've been really easy for me to do this in Harlem, super easy for me to do it in Brooklyn. Newark is untapped. I wanted to be grounded in a space where people coming into the neighborhood can use our space to meet the lifelong residents. Gentrification is difficult when the community is changed not to represent the community it's been serving. I want this space to be a conduit between both of them to be able to convene, get to know each other, respect and learn from one another. Newark is intentional due to its blackness.
 How does the store celebrate your African American and Latina heritage? 
Everything I do is for the culture to be completely honest. Even with the wallpaper line Verna Fogg and I created, adding banana leaves was intentional. Banana leaves are the main ingredient in the Puerto Rican dish called pasteles. We pondered what can we do for our culture that can be put on walls, add a peel and stick element so it's easy for people in apartments to install and remove. Let's create a wallpaper line! I'm happy we've received such a positive response, because wallpaper is not the easiest thing to sell people on, but they like it. I'm here for it.
I try to have intention with everyone I create with culture at the core. It's called The Black Home for a reason, 99% of the items in store are curated from people of color. The point of the experience in store is for people to come in and celebrate heritage, black culture, people of color, the culture. Between myself and the 7 businesses in-house, we hit the nail on the head.
How'd you land on the name The Black Home? 
This is actually my second store I opened. The first one was called Le Noir Home which is The Black Home in French. People would always come to the store and ask "are you Le Noir?" I realized I was being extra and Instead of naming it in French, I made it simple: The Black Home in English. It encompasses the point that I do mostly everything in the color black. I'm known for black walls, black bathrooms, black kitchens.
What's your favorite item?
We created these beautiful bassinets in Indonesia, as well as this gigantic black peacock chair, makes you feel like a queen or a king sitting on a throne. I'm known for velvet sofas and chairs, so we have a bunch of those here. Our candles are AMAZING as well. We also have a marble tic-tac-toe game that is bomb, I'm excited about that.
What's the impact you want to have on the community?
To transparently show people that certain things can be accomplished. The whole rollout of the store, if I didn't show all of the behind-the-scenes, it'd look like an impossible feat. I want the community to know we're all one, and we're all here to help each other get ahead. That's really my whole purpose. I love people in general so as many people as I can help along the way, I want to.
Advice for people who want to do what you do?
A lot of people get stuck on wanting to get a bunch of degrees in the design field. If you have the eye, you should move forward and try to do as many DIY's for environments as you can. Move through that before having to get stuck on having to get a degree. Moving ahead and starting is always the best way. Even if it is really small, at least you start and you can see how you feel about being in that career field.
Goals yourself as an artist at this point of your career?
Hopefully opening up a second store in Atlanta as I look into designing boutique hotels. The main goal is to create as much product as possible to go into clients homes. I'm growing from the design client aspect, and more into product design. That's the 5-year plan. We're accomplishing that already with the store, but just expansion.