Read the full interview on Flaunt.com!
As female artists continue to take over the world, look no further than Baha Bank$. Dubbed the "Queen of Chicago," the rising star has been killing it independently, doing whatever is necessary to get her name out there. Exuding both inner and outer beauty at any given moment, the "Shake Dat Ass" recording artist prides herself in being 100% authentically herself.
She states, "I always tell people, I have multiple personalities. It depends on who I'm with. You know how they say different people bring different parts of you out? I'm funny. I think I'm really funny. I'm super sweet. Everyone has a mean side if you bring it out of them, of course. I be trying to be me all the time, I'm just me."
Now, she returns to unleash her newest single "Drip," produced by Eric "E B" Butler. Paired with a cinematic visual to match, "Drip" sees Baha channeling her acting spirit, as she plays a queen pen getting busted by the feds, with a 70's feel that fans can't help but fall in love with.
Flaunt caught up with Baha in downtown Los Angeles to discuss her roots in Chicago, her biggest influences, love for all genres, the turning point in her music career, her new single "Drip," shooting the visual, collaborating with Chance The Rapper, their friendship, her forthcoming project Big Bank, new record "Don't Tell Nobody," and more!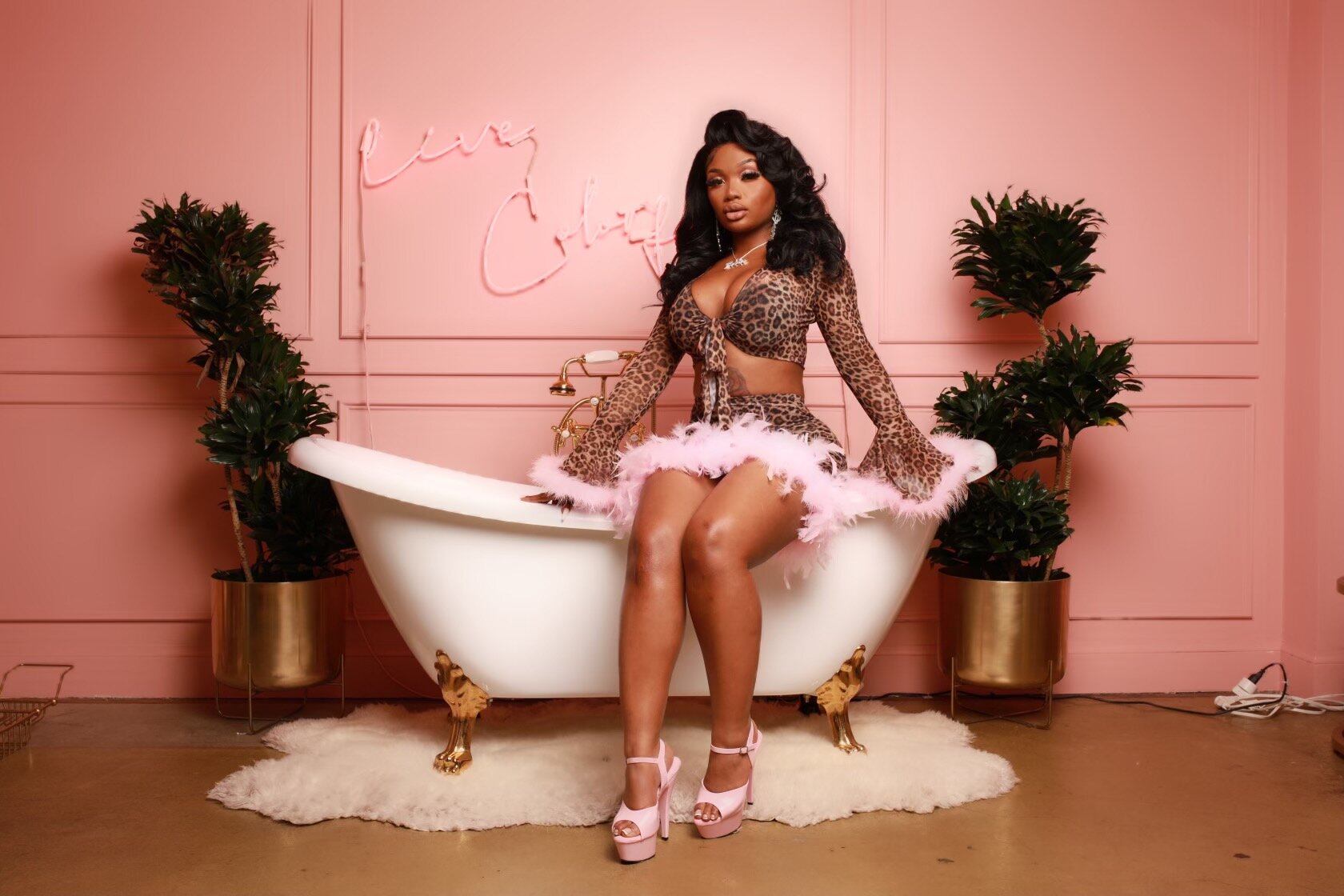 Why are you the Queen of Chicago? 
When I made the statement, it wasn't to disrespect any of the Queens that have come before me. I can do anything I put my mind to. The spot of the Queen is open, so if I want it, it's mine.
Coming up in Chicago, what was the household like?
It's really different. Chicago's a big melting pot. I grew up around a lot of different influences, even when it comes to music. Half of my family's really big on hip-hop and old soul music. I grew up on pop music too, I love Hannah Montana and all that. It's hard for people that aren't from the city. If you know how to move and you become accustomed to it your whole life, it's great. I love the city of Chicago.
You make more hip-hop, right? Who are your influences in that realm? 
Not gonna lie, one of the reasons I started rapping was because of Renni Rucci. I love her so much. I love Lil Kim. Everybody knows I love Trina, she's the baddest. I love Nicki Minaj. Who doesn't love the Queen? Because she's the Queen Queen. I love Cardi B. Cardi B and Renni really gave me the "You can do this." I used to do bottle service in the club. I only started rapping a year ago. People always say, "Oh, IG models trying to rap…" I saw them doing it. If they could do this, I know I can do it.
At what point did you realize you could do it? Was there a turning point? 
When I first started rapping, I did the #Casanova challenge. Really my friend at the time, she had forced me to do it. I was scared to post it because everybody knows that it's already hard for artists in Chicago. Especially female artists, we catch a lot of flack. We don't have a lot of support from the city. When I posted my #Casanova challenge, everybody said "oh my God, why didn't you tell me you could rap? Why didn't you…?" I'm telling them, "I never said I was a rapper. I literally said 'I can do anything I put my mind to'." Once I posted that, "wow maybe I could really do this." I had the support of all the people around me. If they fucking with it, let's go!
What was the inspiration behind your name?
I've always been called Baha, it's been my nickname since I was a child. People confuse it with the Spanish term 'baja'. Mine is Arabic, it means splendor and brilliance. I used to have Baha Bolden on everything, because my real last name is Bolden. King Louie, we were at an event and he found out my name was Vivian. He'd say "oh, Vivian Banks. Miss Banks." It stuck with me because Baha Bank$, it just flows.
You just released your "Drip," bring us back to the studio session.
I have a friend, he writes music. He's really big on pop-ish type of music, big records. It's one of my friend's beats. I heard the beat and kept thinking "what would Space (songwriter) do on this beat?" What was I thinking about when I heard the beat? I heard fanciness, everything gold, diamonds. The beat gave me the 70's feel. That's why with the "Drip," we geared more towards the 70's theme of it. It was a different lifestyle back then, I really loved it.
How was it shooting the music video? 
It was really crazy. My friend that shot it owns a production company, we shot two videos in that one day. We shot a video for my song "Sweat," then we shot the video for the song "Drip." It was super fun. My friend's dog is always on set, he was accidentally getting in the background of shots. He's on the cover, we kept him there because he really fit the whole vibe of the video. It was a long process. Lots of wig changes, a lot of outfit changes. My friends are pretty much my team, so it's not really a bad work environment. It's really fun, we always try to be calm. They really keep me level-headed so I'm not going crazy and losing my mind.
Talk about the fire cover art and what it represents to you. 
Drip! [laughs] People assume I'm this over sexual being. I really tell people: sometimes I'm a nerd. I used to do Robotics growing up, and I'm super smart. I have Baha Bank$ and I have Big Bank$, that's my alter ego. In "Drip," it was more of  Big Bank$. This is me, nobody could tell me nothing. I know I'm hot shit. Y'all see me as sexual, we gon' put it out there.
What's your secret to staying snatched?
Maintenance is key, not gonna lie. I'm a real honest person, I'm not one of those people that go and say "oh, I've never had surgery a day in my life." Girl if it ain't broke, fix it before it is. Don't let nobody discourage you. Don't let nobody make you feel crazy because you want to change your body. I'm not really a workout type person. I hired a trainer now 'cause I'm trying to maintain, but the secret is Columbia. [laughs]
What surgery did you get? 
Girl, which time? I got lipo, I got a BBL. I got my boobs done twice. Beauty is pain, I'm telling you. 
How does it feel to have the Chance the Rapper cosign?
It feels great. It is helping me because it's already hard for women artists in the city of Chicago. Even when I came out with my first song "Need That," I was hardcore rapping and that's what everybody expected from me. But I never wanted to put myself in a box because that's how artists fade out. I make hardcore rap music, I make regular hip-hop music, I make pop music, I make R&B music, because it's all things I listened to. It's all parts of me. With him cosigning me, some people say I switched up, but it gave me a bigger audience. You don't only want the hip-hop crowd, you want the people that like pop music. You want the different sounds.
What is it you want fans to get from your story?
I really want girls to know they can do anything they want to do. When I was younger, I used to sing in the choir. I never rapped before this, I used to play the alto sax and the piano. When I got to the end of high school, I was still doing musical theater and commercialism in the beginning, but I put it to the back. I gotta focus on my education. I gotta make it make sense whatever I do. The fact I started rapping after I had a baby, and I was in school at the time — I graduated with a double major. I graduated in December, I was studying Sustainability and Biology. I wanted to be a surgical dentist and wanted to develop sustainable property.
Oh, wow. That's dope!
Thank you! A lot of people would get deterred, I had to do it. It's something I want to do. My grandpa used to tell me: if you find something you love, you'll never work a day in your life.
How old is your kid? 
She's 3, she'll be 4 in May.
How's motherhood? 
It's amazing! I love her so much. She has so much character. She'll be talking to me sometimes, I'm like "girl!" Her dad will tell her "You need to put your shoes on so we can go." She'll say "no, you need to put your shoes on. Worry about yourself!" She's so crazy. If she hears my song, she'll say "that's my mommy's song." She'll say "Mommy, I want to watch it. Please, let me watch your video." Girl no, you need to sit down.
What's her favorite song of yours?
So crazy. I want to say it's "Shake That Ass," but let me tell ya'll. If "Need That" comes on in the car, girl stop singing this song! She's like "I'm sorry mommy." Girl this one is too grown for you. She knows when she's singing a song, don't say the curse words. She knows curse words are bad. Even if I curse around her and I'm talking out of context, I'm talking to somebody else, she'll say "don't say that, that's a bad word." Even though she listens to the music and it's a little vulgar, she knows right from wrong. She knows what not to say and what to say.
Talk about making "Shake That Ass" with Chance.  
When I first made the song, I never intended for it to go anywhere like this. I used to do bartending and bottle service, so I have a lot of friends that are dancers in the strip club. I was trying to make music for them to dance to and have fun to. We're at one of our friend's studios, I was recording a different song and he walked in. He came to the back, he's listening to my music. He said "how did you get so raw so fast?" I don't know, I'm just trying! We played Cuvee' for him, that's the song he was gonna get on. It's not out, but it's more a pop-ish song. He was sitting there, gonna write to it. I played "Shake That Ass" for his wife Kirsten. I told him "nah, don't listen to this. This is for the ladies, this isn't for you." He heard it and said "nah, this is the one. Let me get on this one." He sat there and he did the feature.
How did you guys tap in? 
We went to high school together. I went to Jones College Prep, he went to Jones College Prep also. I'd known him already. The older we got, we got closer. I already knew him. The relationship was there, I just had never been doing anything musically. I was focused on school, my baby, there was a lot on my plate going on.
What can we expect from your project, Big Bank? 
It will of course feature some songs that I have released. I got some new music, new features. I got a song called "Birkin" I really love. It's high energy, dancing. I have DCG Shun on that one. I got another song that's on there called "Get It," which features Pronto Spazzout. We gotta keep it going in the city. A lot of people reach outside, but you gotta build the crib. You gotta try to make it a Chicago thing. I got some hardcore rap music on there, some freestyles on there for people who forgot I could rap for real. Of course, I got some music with that pop-ish feel. I really like to have music for everyone because even if you don't like one song, I'm gonna catch your attention with at least one of them. That's gonna make you go back and say "oh well, what else does this girl have?" It's going to be explosive y'all.
Anything else you want to let the people know?
Oh, yes! On August 20th I'll be performing at Lyrical Lemonade Summer Smash Festival in Chicago with Pooh Shiesty, A$AP Rocky, Mulatto, Lil Baby, Gunna & a whole lot of other surprise guests.