Read the full interview on Flaunt.com!
Travis Thompson is here to prove that you can make your wildest dreams come true, no matter what the circumstances. Simply a kid from the suburbs of Seattle, Washington, the multifaceted singer, songwriter, and rapper creates music based on real-life experiences from his point of view, allowing listeners to relate, confide, and understand the struggles we all face in this thing called life.
At the end of the day, Travis describes himself as "a good person, and I do my best." Exploding onto the scene with singles "Father Forgive Me", "Need You", and "Hold Me Down" in 2017, the Epic Records signee has already embarked on a North American Tour with fellow Seattle rapper Macklemore, and even made an appearance on the The Tonight Show with Jimmy Fallon.
Fast forward to today, Thompson releases his newest critically-acclaimed single titled "Crossfaded," with a cinematic video to match. Directed by Logan Fields, the music video brings to life Travis' sentiments to partying, mixing weed and alcohol and the results that come thereafter. This holds fans over until his forthcoming project BLVD Boy arrives sometime this summer.
Flaunt caught up with Travis in Santa Monica at Nabil's Gully movie screening to discuss his roots in Seattle, part-time jobs, inspo behind "Crossfaded," shooting the video, his vices, music being therapy, top artists in rotation, forthcoming project BLVD BOY, and more!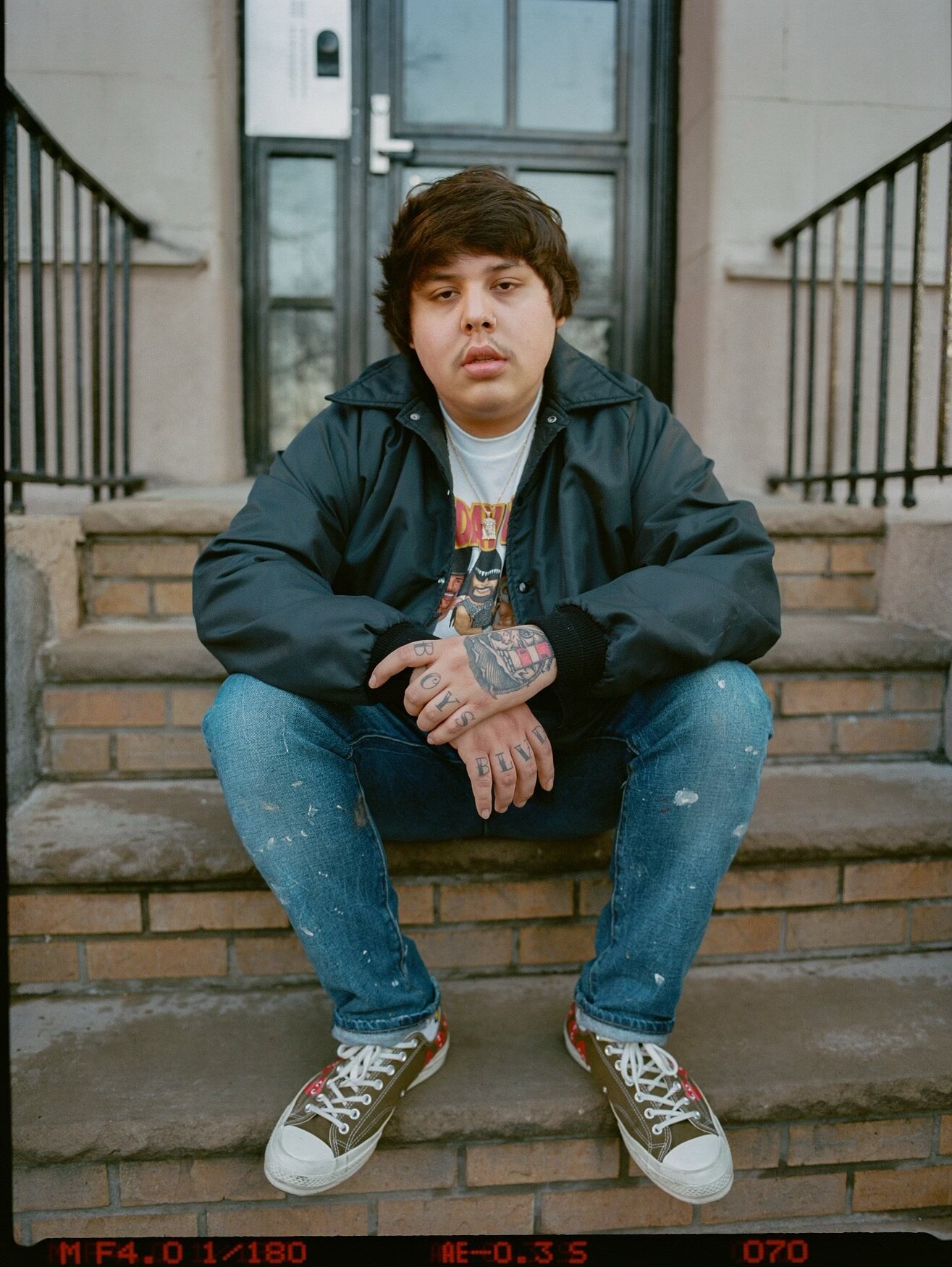 A young Travis Thompson coming up in Seattle, did you ever think you'd be where you are today?
In a sense, yeah. I knew I could never work a real job because I'm so lazy. If I'm not super passionate about it, I'm lazy as fuck, so I knew I could never be someone's employee.
Did you work part-time jobs?
Yeah I worked hella jobs. I worked at Old Navy, I worked at a pizza place. I worked at a fruit repackaging factory. I had hella jobs, but I knew I could never work for somebody. I did expect that something would be different, but I didn't think shit would be this lit.
Were you crossfaded recording "Crossfaded"?
Yes, we were definitely crossfaded recording "Crossfaded." It was during the pandemic when we made it so we're at the house all day kicking it, being in our own heads. Getting cross faded like every fuckin' day. At the same time, I learned I needed to be more present. I can't be fucked up all the time. So that's what that song is about. I'm trying to be more present.
How much did you party during the pandemic? 
Oh my god, it got bad bro. Too much. It got to a lame point where I'd be blackout drunk playing video games with the homie. That shit's not good, but it was lit. [laughs] I'm super ass at video games so it made it even worse. It's cool, it was a dark time but I made the best music of my life in it. I needed it to grow up a little bit.
When you heard it back were you like oh shit this is the one? 
I was in a super dark place in my own head like "fuck, I need the new music to be so much better than the last music. A whole new level up." It put me in a place that was weird for me, but at the same time It made me grow hella and get way better. The music is so much better.
What was your creative vision with the music video?
I wanted it to have the feeling of being crossfaded. The video is the POV of me walking through a party and blending the idea of what's real and what isn't. Trippy shit like that.
How was it working with Logan Fields? (Rod Wave, Lil Keed)
Logan's the homie. Everyone at Blank Square is the homie, it's been great. It's been tight, they're cool people.
What was the highlight from shooting the video?
There's a shot where I'm spinning 360, it was in a whole ring of fire roller coaster rug where I'm straight turning up. I was holding on for dear life. It was a little crazy, but it was fun. One of those moments where you're upside down in this weird rig and you're like "holy shit, this is my job."
Were you crossfaded during the video? 
Not until the end of it, but I was definitely geeked up fasho. They gave me a trailer and that was new. [laughs]
What are your vices? 
I love to smoke, I like to drink. When I'm out here [Los Angeles], I love Tender Greens. I'm a thot for that shit. I order the fried chicken plate with the arugula, that shit be hitting. I have a lot of vices, but I'm not off the wagon by any means. I keep them under control and get shit done.
How does music help you cope?
For the longest time, I felt more like a writer than a musician. I didn't appreciate music the way I needed to. Maybe two years ago, I decided to say "fuck it." I had to dive into music and be a musician. I started playing music nonstop. Even when I didn't want to hear music, I'll play it. I started to realize "oh shit, music IS therapy." When people tell you that your music saved them, it's hard. I never really understood it.
Now, when I'm in a bad mood, I throw on some crazy Bay music or something. I'm from Seattle, we love the Bay. Whenever I'm in a sad mood I'll throw on some ALLBLACK or some random shit, and it's like…how can I be bummed out? I'm good for it. It's funny because that's what made me understand that music is a way to heal and cope with shit. Not just writing and stories- but the feeling of music forreal. I was making music and didn't fully grasp that until sorta recently.
Top 5 artists in rotation now? 
I love Mac Miller, RIP. I love Isaiah Rashad. I love ALLBLACK for real. Since we're in LA, I really like Azchike a lot. Who else? I love Brent Faiyaz lately.
One thing you want fans to get from BLVD BOY?
Man, it's growth. I know every artist says "this album is a collection from my old albums," but I swear to God each song is a leveled up version of the shit we've been doing- but in a whole new way. What we've always done has been super fan-driven and cool for us- but I feel like now we not only have the best version of that now, but new versions of my music that has legs now to really be something crazier than ever before. We're making songs that slap at parties, in the car, at night alone, wherever you play them. And I'm just more grown-up. I feel like for a long time I was a kid fresh out of high school who was just excited to be a rapper. A lot of shit has happened in the last two years where I've had to grow up, and face myself in new ways. So the music reflects that.
Why are you the BLVD BOY?
Because I grew up on Ambaum Boulevard, that's the street I grew up on which connects Burien to West Seattle. But everybody has that street. I wanna feel like that grimey kid, who skated past everybody at different times of their lives. At first, I had a bunch of crazy narratives and all these names for the album. ButI didn't want to make people subscribe and jump on board for a whole fucking narrative this time. I want to give people who I've become. And who I was. It's a collection of songs that represent who I am. BLVD BOY, boom!
What features can we expect? 
We have some cool people on it. SuperDuperKyle is on it, Kota the Friend, and WS Boogie. Even more I can't say yet. We got crazy shit on it, I'm excited.
How do you feel about the playoffs? 
I need to be tapped in more. [laughs] I wish I fucking knew bro. The NBA took my team when I was 9 years old, I'm from Seattle so the Supersonics. I've been tapped out. But the Seahawks are raw for sure, so we're good for it.
Goals for yourself as an artist at this point of your career?
My goal at this point is to keep leveling up. Doing the same thing we're doing on a bigger scale and helping more people, making people happy.