Read the full interview on Flaunt.com!
In our lifetime, there are ample opportunities and various career paths we can pursue, proving you don't need to be boxed into any one thing. Insert South RC, the Naples, Italy-born model who's been enthralled by rap music since he was a little boy. At age 13, real name Raffaele Capuano, recalls listening to his favorite artists Lil Wayne and Drake, who inspired him to go on and create music of his own.
In describing himself, South RC states, "I'm a young guy from Naples, who isn't afraid to be myself and try different things in life." He's a high fashion model, who has been featured in GQ, Glamour, Vogue, and Vanity Fair. By the looks of him, you would never guess he is also a hip hop recording artist, who is really into trap music. Some of Raffaele's songs he has released so far are sad, melodic, while other tracks are happier "pop rap." He describes his sound as "sad music that is trying to see the light."
After his parents' divorce, South RC was raised mostly by his mom, who taught him how to persevere during hard times. His rough experience growing up is definitely heard in his music. He said "I grew up seeing a lot of poverty and crime. Seeing these real life situations kept me humble and gave me street smarts to get through life." He brings that same energy into the music industry as he creates heartfelt records in the studio. His lyrics are inspired directly by real-life moments he and his friends have experienced such as racism, relationships, police brutality, and everything in between.
Following the success of previous singles "Business" and "Fresh Zone," South RC unleashed his new single titled "Camera 301," holding fans over until the release of his forthcoming EP arriving sometime in September.
Flaunt caught up with South RC via Zoom, who was posted overseas in Milan, Italy. Read below as we discuss his roots in Italy, Lil Wayne being his biggest influence, getting discovered as a model walking down the street, new single "Camera 301," studio essentials, his forthcoming EP, goals, and more!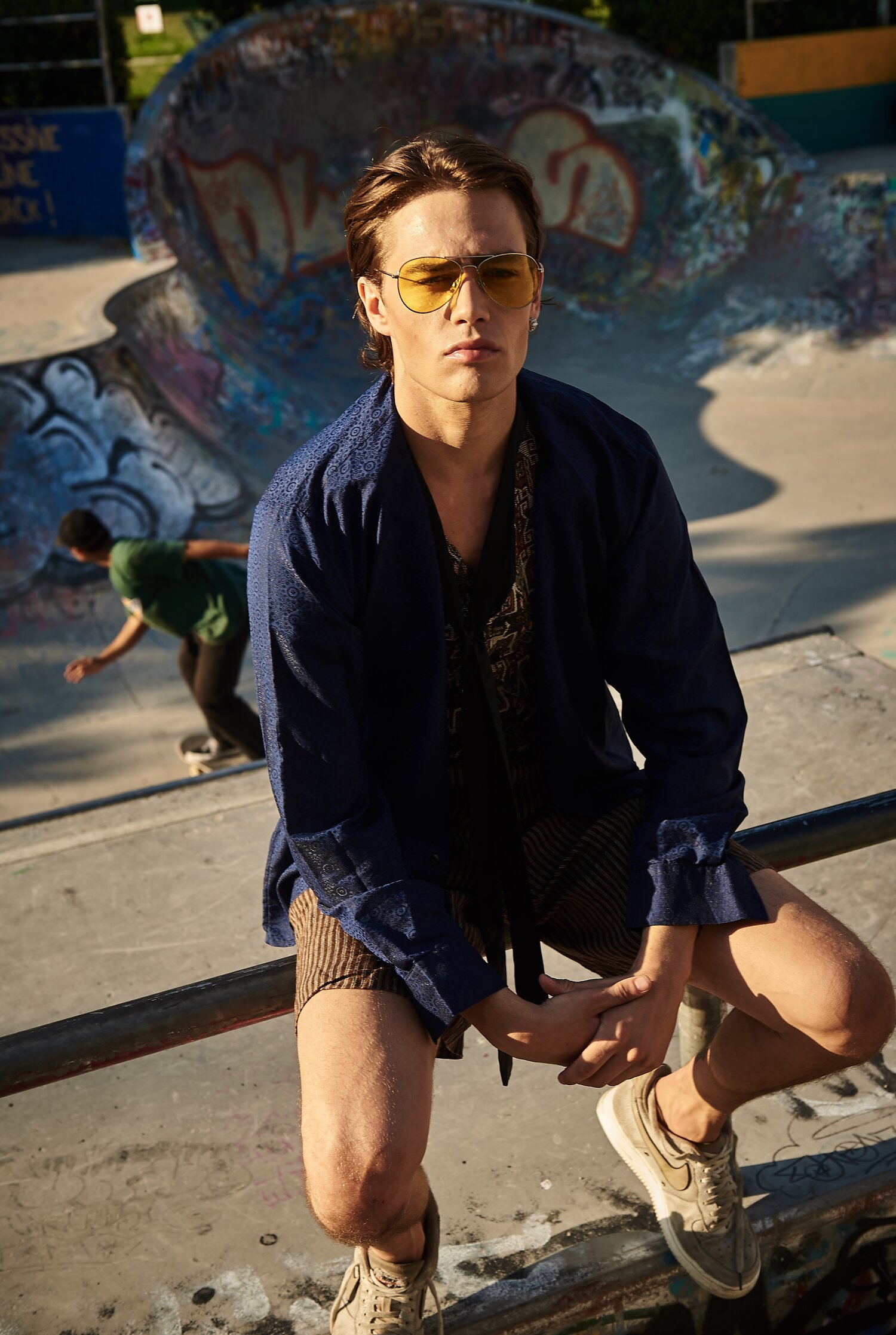 What was that like growing up in Naples, Italy?
Growing up in Naples has fundamentally made me the person I am today. Naples is one of the most beautiful cities in Italy, but it's also one of the cities that's forgotten a lot by the Italian government. It's not very well-developed compared to the northern parts of Italy. I think growing up in Naples shaped me to understand from early on that in life there's good and bad aspects. Growing up there you see a lot of things that maybe you should not see as a kid. Living where there is a lot of poverty and crime, you learn about the real values of life. It has also given me a more positive outlook in life and made me have tough skin. Being around poverty, it taught me empathy and gave me a hustler mentality that makes me try harder to become successful. Thanks to my hometown, I am more sympathetic towards people who are less fortunate and try to understand their situation.
Biggest influences coming up?
My biggest influences in life have always been my mother who raised me and my favorite artist Lil Wayne, an American rapper from New Orleans. My mother is a strong woman who was a single mother in Italy raising four children. I am the youngest of my siblings and she raised us all and taught us life lessons and values. While times weren't always great, she never made it seem like we were struggling and provided for us as much as she could. Lil Wayne gave me the passion to become a rapper. I grew up listening to him and I love how his music is a huge reflection of his life growing up. That is the kind of artist I want to be. I want to create music that stems from life experiences.
We know who Lil Wayne is!
Of course you know who he is. [laughs] He has been the biggest influence in my youth, because when I was young, I suffered through the divorce of my parents. His music was an escape for me while I was going through that rough part of my life. He's been my mentor without him knowing it.
When did you realize you could do music for a living?
Well to be honest, I still don't do music for a living…at least not yet! Right now, I am still a full time model, but I hope one day my music career takes off so I can make a living out of it. Until then, it is a way for me to express my feelings as best I can. Creating music is my form of therapy.
How did it feel to be discovered walking down the street? 
Yeah, when I was 18, I got discovered by designer Francesco Scognamiglio while walking around the streets of Capri. I was young and didn't know what I was getting into when he signed me to his modeling agency. My modeling career took off when I was walking in major fashion shows in Paris and Milan. I began to realize how my life was changing, while I was booking gigs with Armani, DSquared, Christian Pellizzari and more. People who never gave me the time of day suddenly wanted to be my friend. I was working constantly, traveling, and making a lot of money doing what I love to do. It felt amazing! This is why I say fashion really saved my life.
What inspired your new single, "Camera 301"?
Back in 2020, Italy had a really long lockdown, maybe longer than the one in the US. During the lockdown, I was isolated from my friends and friends, because I lived alone in Milan, while they were in Naples. That long period of isolation motivated me to write and create a lot of my songs in my home studio. When I wrote "CAMERA 301", I was in a very lonely mental state and the lyrics reflect on that time spent by myself. The beat is dark and the lyrics are melancholy which describes the sad vibes during that lockdown period. Last year was a time of transition for me to reflect on who I am and who I want to become. In the song, it talks about a guy spending his time alone while he yearns to be with the woman he wants to spend the night with in a hotel room numbered 301.
"Business" talks about your life as a model and your relationships. What was it like recording that one?
Creating "Business" was very fun. It was one of my first songs I wrote and randomly uploaded it on my social media. It was recognized by one of the biggest rappers in the Italian rap scene, Samurai Jay. He showed me some love by reposting the song. He then reached out to me. We got in the studio, remixed the song, and made it so much better. That song has a special place in my heart ,because it's the first song that went viral that a lot of people really loved. It was nice.
3 things you need in the studio at all times?
No bad vibes. I don't like people who are in the studio with me with negative energy or negative attitudes.

 I need my Red Bull, which gives me energy. I am in the studio for hours at a time so Red Bull keeps me going.

And I need a good music producer who understands me and my sound. There are many producers who make music, but they don't understand the actual artist. If you don't have a producer who reflects your sound, it's not going to work out. You need a producer who can vibe with your mood and your personality.
What can we expect from your forthcoming EP, releasing in September?
Creating this EP has been a big step for me because I've always released music single by single. I have 2 major producers from Italy attached to this project; Tom Trigger and Saint Cardona. With each song featured, I hope my fans get to see me and understand me more. I am not doing music as a hobby, but the goal is to have it become my new career path. I want to be taken seriously as an International rapper, so I hope this EP will do just that.
How often are you recording versus not?
I am in the studio everyday. Even if I am modeling during the day, I come home and spend one or two hours at night in my home studio. I create so many songs that may not make it in my EP, but may be featured in my upcoming album.
What do you like to do for fun when you're not working?
When I'm not working, I like to travel and spend time with my family. With the lockdown being over, I am spending a lot of my free time with my mom and siblings. I also like to take them on vacation and we love to travel around Europe. I also love playing sports like soccer and swimming. Playing sports is fundamental for my mental health and keeps me in shape.
Any goals for yourself as an artist at this point in your career?
My ultimate goal is to have my music become my next career path. Creating music and performing is a big passion of mine, so doing it for a living is the goal right now. When I am able to live off of this and tour the world, that's when I know I have made it. I'd never do music if it doesn't come from my heart. Many people want to do music for fame, but I do music for the love and passion I get from it. My goal is to have my music listened to by different people across the world and rapping on stage with high energy opening up for other artists like Drake or Lil Uzi.
Is there something fans may not know about you?
Many of my fans don't know that I am a deep thinker. I really like to spend some time by myself and think a lot. Meditating at least once a day helps me clear my head and focus on what is really important. For my mental health, I don't focus on things I cannot control. It is unhealthy to over analyze something that I cannot change or fix. I rather focus on bettering myself and learn how to improve upon it next time.
How is music a coping mechanism for you?
When I was 10 years old, my parents got divorced. I grew up with them fighting and yelling at each other. When they were going through with their divorce, I used music as a way to escape those bad moments in my life. With the dark sad music I used to listen to, I felt every lyric and melody in my heart. The happier pop music I listened to automatically made my bad feelings disappear. Music has always been therapeutic for me. When I was younger and in a mood, I would play the same songs on repeat for hours on my iPhone. It helped cope with the world that was around me at that time.
Anything else you want to let the people know?
I still haven't decided on the title of my upcoming EP, but I am planning on announcing it this summer so people should stay tuned for that. This EP is going to be a true reflection of me and my life growing up in Naples. I'm going to be as honest as I can be with each music track. It won't all be good things and it won't be all bad. I am going to reflect on the happy times of my life and the sad aspects as well. Being a male model has its good and bad. Money, drugs, and pressure to stay hot and relevant in this industry will all be mentioned in the tracks. Transitioning into rap music is tough, but I hope people can see the real me in this project. People can also keep up with me on social media and DM me. I try to reply to as many people as I can.