Read the full interview on Flaunt.com!
Big Trip is exactly what his name embodies: a big fuckin' trip. Hailing from New York, but now calling Denver, Colorado home, the former baseball player turned recording artist brings that same energy and talent from the baseball field into the studio, showcasing his ability to sing, rap, and entertain the masses on the daily.
In describing himself, Trip states, "I'm definitely a go-getter. I'm a person who sticks to my beliefs, and I'm stubborn about what I believe in. Luckily, I've got a lot of good intentions that come with that. I'm a person who strives for more for sure."
Being an athlete his entire life, from 8th grade until his sophomore year in college, the rising star claims he was never that good at school, eventually playing Division 1 college baseball. After getting into some trouble, he relocated to the West Coast-based on intuition and feeling. While he didn't know anyone in Colorado, it was the mountains that drew him in.
Drums were his introduction to music, and it wasn't long until Trip formed his own rap group titled 'Low Hanging Fruit'. Now going on his fourth year doing music, Trip returns with his highly-anticipated debut album titled Going Postal, home to lead single "Baseball Money Rich."
Flaunt caught up with Big Trip via Zoom to discuss his move to Colorado, biggest influences, how he got his name, inspo behind "Baseball Money Rich," shooting the visual, debut album Going Postal, collaborating with Marc E. Bassy, studio essentials, goals, and more!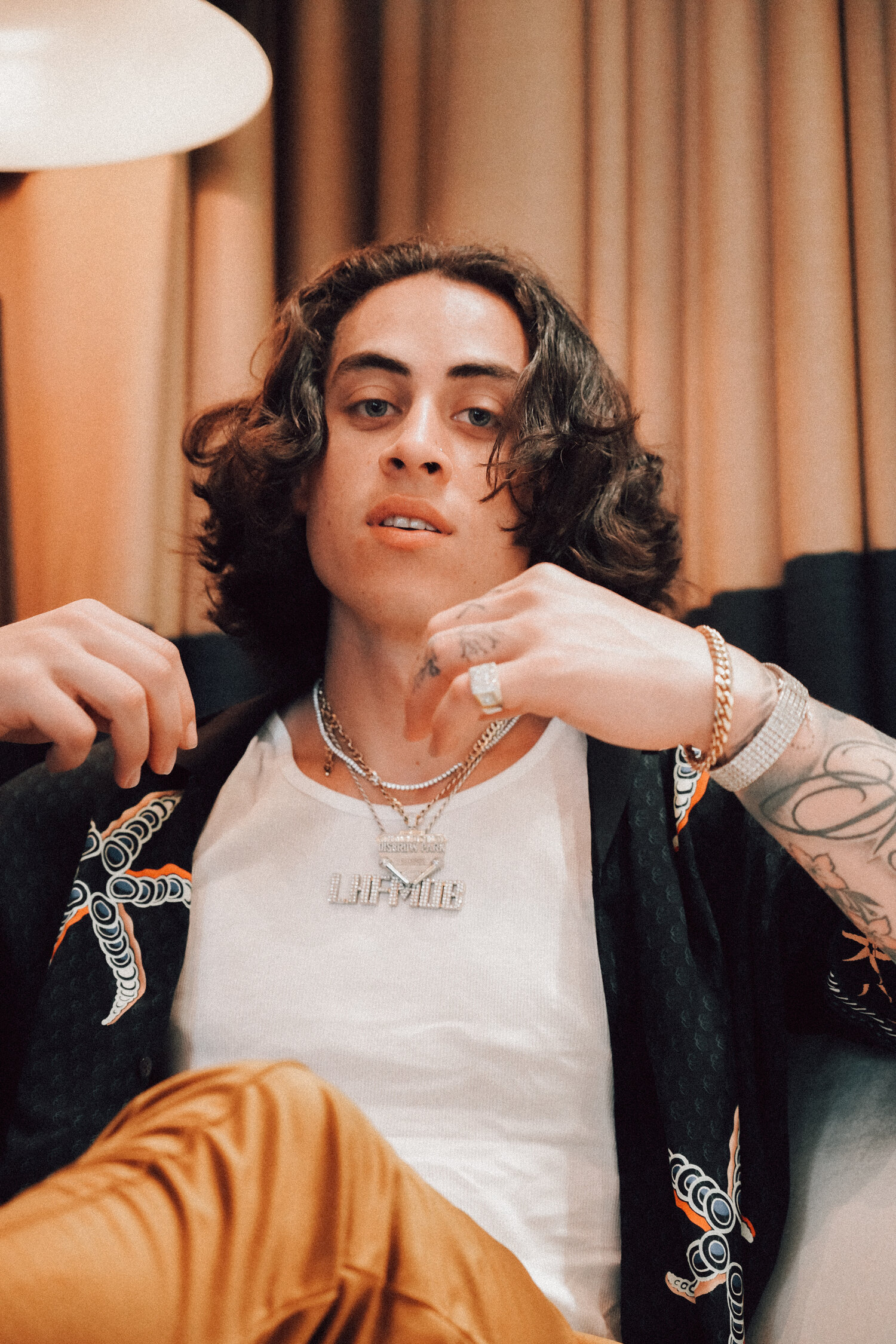 Biggest influences coming up?
I'm from southside New York City, and I lived in a bunch of different towns—like 4 different towns in Westchester County. Growing up, Biggie was a huge influence. I was born in '95, so Biggie was definitely it. Hearing him was incredible. Lil Wayne, for me personally, was also someone I looked up to. I listen to a lot of old music and a lot of different genres. I'm really a combination of everything I love, and I love all types of music.
How did you get your name Big Trip?
My last name is Tripodi. I'm not the original, but my father's nickname was Trip for Tripodi. He has an '81 Corvette, all black, super fly in Port Chester, New York, and the license plate's "TRIP." Once I was born, the only people who called me by my first name, Brendan, were my mom and my 3 older sisters. But everybody immediately said "Alright, he's Trip." Middle name Luigi, last name Tripodi.
Talk about your new single "Baseball Money Rich," that's so full circle creating a song about baseball.
It was tough, because baseball was such a big part of my life for so long. When I quit and really made that decision, I resented it for a while. I didn't even want to watch it, didn't want to play, didn't want to think about it. As I took some time off and started changing my career path, I started to ease up. I was able to watch it a little bit more, even play some video games. I always knew there was going to be a point in my musical career when I was going to make something for baseball.
I played a lot of different sports growing up, athletics are a big part of my life. Basketball's one of my favorite sports and it's very synonymous with hip-hop. Everyone who knows hip-hop knows basketball. Football reps the same, but baseball is in a different territory with music. It's either Hispanic music, because there's a lot of Hispanic players, or I played baseball down South, so there's a lot of country music. For me, I knew I had a segue I could take advantage of. I played Division I, so I played all around the country. My time was coming. When the right beat came, it came to me instantly. I have a text message I sent to Mike [manager]: "Yo Mike, I'm going to make a song for MLB the show 2021. We gotta do it, we gotta make the game!" The next week I sent him the song. It's been fun.
Talk about shooting the video as well. How was that whole experience?
The video was incredible, shot by the legendary Damien Sandoval. I know you've got Chanel West Coast, but we saw Chanel right before, because Damien shot her video before ours. Tell Chanel I said what's up. Damien did a lot of amazing work, it was incredible. We're in Los Angeles, we had about 4, 5 different locations. A whole lot of beautiful women, a whole lot of money, it was a movie for real.
Everyone's saying it's movie-like, but we really walked into a movie setting. This huge factory that had all these different types of walls set up, different colors, fog machines, crazy stuff. I thought I was going to have a seizure at one point with the strobe lights going, it was wild. [laughs] It was amazing, we shot near the LA River too. We got some iconic shots. I'm always reppin' the Yankees, but I had to rep LA a little bit too because we filmed in LA. I arrived in LA in my Piazza Jersey. It was dope, we came with a really full product that's different. It could be an anthem for the MLB right now.
Debut album Going Postal out now, how does it feel?
It feels amazing. It's an accumulation of a little over a year of work. Everyone was adjusting to the pandemic. I was in a group before the pandemic and before finding my management. The pandemic gave me an opportunity to really focus on myself as an artist and to rebrand. I really took that time to find what's my best sound, what's my best look. Really no major changes, just minor tune-ups, and I needed some help from professionals because sometimes, you get lost as an artist with how to bring it all together.
The whole experience was amazing – making the whole tape. We've got 11 songs on there. We've got Fenix Flexin from Shoreline Mafia, and we've got Marc E. Bassy on a beautiful summer anthem for the ladies, I promise you. A lot happened over the course of the year, a lot of good and a lot of bad. I traveled more than I ever have in my entire life. We went to 15 states throughout the country making music, linking up with different artists. It was dope. I had my first 2 seizures I've ever had in my entire life.
What happened?
It was weird, never happened to me before. I never had anything, no medical issues really. We were actually shooting a video for "INTL," which came out before the album dropped. Luckily we got through it, shout out to Zay Jones shooting. Luckily we got all the scenes in, but it was a hot day in New York. It gets muggy in New York, and it was about 98 degrees. I was fixing my hair in the mirror one second, and the next thing I know, I see the ambulance.
My whole team was there. They grabbed me. They made sure I was cool. There's lots of highs and lows, I really express it all on the tape, especially on the outro which is called "Delivery Notice." I'm speaking about everything that goes on. I went on and on. Talked for about 7 minutes, so whoever listens to that song, I know, is a real fan. It was a ride. No pun intended, it was a trip for real.
How'd you connect with Marc E. Bassy?
He's amazing, he's a cool dude. I was a big fan before I even got to work with him, so it's a cool experience for me. I went to see him in Palm Springs for a little bit. We got to meet while he was making his album, which sounds incredible. My manager Mike and Marc's manager are cool, so we got to make some magic. We made a song I definitely think is a summer anthem. It's something for the ladies, that's who I made it for. Anytime I've got a song for the ladies, I think of Marc E. Bassy. He's going to put a little Justin Timberlake sprinkle on it and make the girls go crazy. That was a beautiful song, I'm excited for that.
My main producer, Dirty Harry, is from San Francisco. My other producer, Stoney the Antagonist, is from Minnesota, so we've got a wide variety. Stoney is the one who made the track with Fenix Flexin from Shoreline. It's an energetic, West Coast record, and a very on-brand song for me because I say "when I'm feeling down, you've got to pick yourself up." It's called "Run a Lap," and that's exactly what I do – get myself up off my ass and go run a lap. Fenix added a perfect grittiness to it.
What made you relocate to Denver?
At first, it was the mountains. A place I'd never been to before. Playing baseball, I went to the North, the South, the West Coast. I went all over playing baseball, but I never spent time in the mountains. Honestly, I had a dream that I was looking out of a car window and I saw mountains. For some reason in the dream, I said "that's the mountains in Colorado, that looks amazing."
Even though I'd never been out there, no one from my family, none of my friends were out there, on a whim, after I had to leave my school because I got in some trouble, I said "Alright, I'll move to Colorado." It's a beautiful place, aesthetically with the mountains. To me, it felt very open. A new place to recreate myself and re-establish myself.
Just being in a different area. I was able to restart everything. I needed a new space away from my family and friends back at home. You know how family and friends get sometimes, they hold you back. I had to relocate and honestly, it gave me confidence over time. I ran into one of my homies who's out here, and ended up working on music with him. I was playing the drums, we were rapping. Next thing you know, I started a group [Low Hanging Fruit]. We did about 60 shows throughout the country and two international shows in Madrid and Paris. It's been a fun ride.
MLB All-Star Week is in Denver this year, how excited are you?
It's amazing, I've been a baseball fan my whole life. To have it coincide, my tape is dropping July 2nd, I think the All-star Game is the 13th. We're definitely going to be there. I'm excited to watch everything. I was a power-hitter back in my day. I just had shoulder surgery, I'ma get back on the field once this heals up. I'ma try to watch the Home Run Derby, that's what I'm excited for.
3 things you need in the studio at all times?
I like lemon water with ice for sure. I absolutely need some weed. Preferably from Colorado. I see you smoking, but I don't know if you smoke this weed Shirley.
Colorado got the gas?
We're the original so we've got the crazy, beautiful looking green. Healthy. I also need some snacks, like Swedish Fish.
What is it you want fans to get from your story?
With my music, I want my fans to always be energized. Whatever vibe I'm trying to create, I want them to feel the authenticity of it. I went through a lot, a lot of different towns and experiences growing up. I had an incident where I was in a coma from drinking and drugs. I had a .62 blood-alcohol concentration with weed, cocaine, Xanax, and molly in my system. It was a no-call, a dead zone basically. I was out for about 18 hours. It's crazy so it's a miracle that I'm here.
Even before that I had a lot of beliefs in this world that were special, that I thought were true. It's the fact that that happened and I was able to come out of it when a lot of my homies ended up dead from the same shit. For me, I want to be a person people can relate to. I have a lot of interest in psychology, the mind and the body. For me, it helped me a lot getting through whatever I had to get through to get where I am today, to deal with what's going on in my head and retrain the thoughts. That's why I want to be a symbol, some hope for people to let them know "Yo, I'm there with you too. Everyday I've got to make sure I'm right, but know we're going through it together. I'm here with you."
Can you describe your fashion sense?
My heart, my core is always New York. Everyone who knows me knows as soon as I can, I'll wear Timb boots. If it's a hint of snow coming or even if it's a little bit below 40 degrees, my Timberlands are coming out. Definitely traditional with Air Force 1's, but I also like high fashion. High fashion things are my look. I want to make it look like I came off a runway. I want to walk right off the runway, right onto the stage and right to the afterparty. I like that mixed with the Timberland, Air Force 1's athletic look. My roots are athletic, I love Jumps too. I love looking fly, baseball jerseys and all that.
What're you most excited for as the world is opening back up?
We got a whole lot coming. It's beautiful, the world's opening back up, shows are going to be going on everywhere. Definitely, a lot of stuff going on in Colorado, especially with some of the festivals in Colorado that are happening. We're going to be going all around – LA, New York, really, wherever we can go. Besides that, you're going to see me everywhere. Not only on screen, I'm going to be in your city. We're going to go to the clubs. I'm pulling up on you Shirley, with some Colorado weed. Everywhere. Even on TikTok, watch. I'ma take over TikTok, go see it.