Read the full interview on Flaunt.com!
In a world where upcoming artists are yearning for that major label situation, Tanerélle is here to prove you can still make your dreams come true by remaining independent. Hailing from Atlanta, the singer, songwriter, model, and actress recently hit over 30 million streams on Spotify alone, grinding as a solo artist for 6 years straight with no major label backing.
And not for nothing, Tanerélle is the definition of Black Girl Magic, and you can feel that badass female energy in all her endeavors. Arriving on the scene with her own version of modern-day R&B and pop, the rising star went from cleaning houses to invest in her music career to now launching her own label, Mama Saturn Enterprises.
Most recently, Tanerélle signed across the board at ICM Partners, tackling the realms of voice over, acting, international touring, and more. While fans continue to stream her newest single "Good Good," let's not forget her single "Nothing Without You" landed #1 on Shazam's Charts, thanks to a placement on HBO's Insecure. Additionally, fans can look forward to a standout remix of "Star," tapping hip-hop elites A$AP Ferg and Shelley FKA DRAM.
Flaunt caught up with Tanerélle via FaceTime to discuss her take on social media, signing at ICM, why she named her label Mama Saturn Enterprises, hitting 30 million streams on Spotify, touring with Ari Lennox, her new single "Good Good," spending $20K on her virtual concert, landing her placement on Insecure, and more!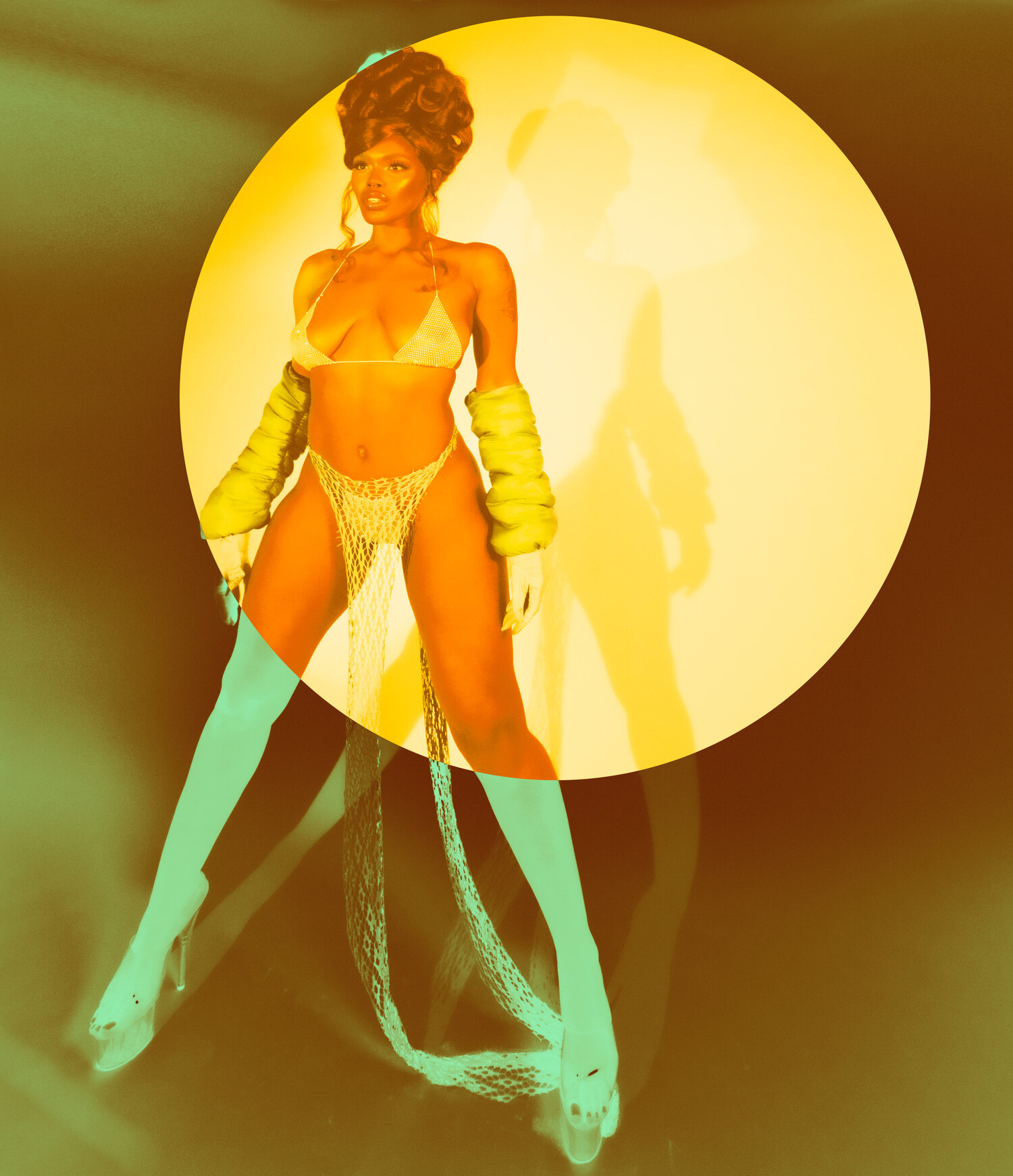 How have you been? We survived the pandemic.
We did. We got through it didn't we? I've been really, really good. A bit busy and overwhelmed though, I'm actually going on a little social media hiatus at the moment to pour into myself and love on my soul a bit more.
I want to do that every single day! 
Yes. I used to be so worried like "should I have someone post for me incase the algorithm takes me off of people's feeds?" But I eventually got to the point where I don't care, I'll cross that road when I get there. [laughs] As long as I have my genuine supporters and genuine people that care about what I'm doing I'm good.
Congrats on signing across the board at ICM Partners, that's amazing. How did that happen?
My wonderful manager Felicia Bennett helped bring that dream into fruition. She had been speaking to me about wanting me to have a conversation with them sometime last year but we we're in the midst of a pandemic so we all held off on until the time was right. When we finally did speak, it was with a few different people from different departments and it was such a lovely, warm hearted conversation. We talked a lot about my music, training, acting and all these other things I've been interested in or delving into and working on. It was really awesome. Everyone was so kind, caring and invested in me not only as a creative, but who I am as a person, a philanthropist and the things I want to do for the world. They're my dream agency so I didn't want to think it was too good to be true, but when it happened, all I could think was "this was for me." My mom always tells me "You can't miss what's yours." it's been really wonderful so far. I'm grateful beyond words.
Talk about starting your own label Mama Saturn Enterprises. What's the meaning behind the title?
I've been independent for the entirety of my music career thus far… 6 years and I've only had a manager for the last year and a half now, so I've been doing this: already being my own label. It just felt like the right time to make it official. I've always wanted to be put in a position where I can help other artists as well, especially women. To have a safe space that's run by a woman, that genuinely  wants to see other women win and succeed. To be able pass on what I know as time progresses. That's the dream.
So I started Mama Saturn Enterprises. It also keeps me in the pilot seat as far as owning my masters, my trademarks and my copyrights, because ownership is so important to me. If I work with another label I'd like it to be more of a partnership, versus someone signing me and being in control of all my stuff. I've put so much into these last 9 years of being out here where that's something I've worked for, I deserve to keep ownership of my art and the things I put so much blood, sweat, tears and money into. As far as the name, Mama Saturn Enterprises felt not only national or international, but universal, spacial, galactic, which is very much me. I wanted the name to reflect my evolution as Mama Saturn the creative, the entity, and the woman.
How'd it feel hitting 30 million streams on Spotify independently? What was the reality of the grind getting there?
It feels very surreal. I remember the days of being super excited when I got 30 listens and 30K listens. Now I have 30 million. No machine, just hard work, hustle, an unshakable belief in myself and genuine people and creatives around me that help make my dreams a reality. This time last year I had 10 million listens so it's really cool to watch it all grow.
Wow, it doubled in a year?
Yeah, which was amazing. I feel like so many things played a factor. A week before lockdown I had the pleasure of touring New Zealand and Australia with my love Ari Lennox. A few weeks into lockdown Elle magazine named one of my songs as a top quarantine song and then a couple months into the lockdown I got a placement on Insecure which really brought a lot of love my way. I also feel last year was a time where a lot of people really heard me and felt what I was saying for the first time within my music. Last year was such a pertinent time for our evolution as a species and I feel like music really provided as a catharsis through the growing pains.
I received a lot messages everyday from people explaining how they were using my music to heal, to feel better. I believe the space, the stillness we were experiencing as a whole alloted time for my music to be heard with an open heart. I feel my words were resonating because I typically write about existential pondering, my spirit, my existence, my healing, love, just life in general. I'm really really grateful. I look forward to celebrating 300 million streams…3 billion.
How was touring with Ari Lennox? What was the highlight?
A dream. She's an absolute sweetheart, a living legend. She is one of our generation's top vocalists, hands down. I stand by that. That woman is art. It was inspiring to tour with someone that I looked up to and admired, whose music meant and means so much to me. For her to have me…I couldn't believe it.
Funny enough at the time, I was going through an existential crisis. [laughs] It was very scary. I almost thought I was going to have to cancel because of the extremities of what I was feeling on top of having to travel to New Zealand and Australia. My therapist really helped me help myself though. She told me to use the tour as a moment to practice presence. That tour the most present I'd ever been in my life up until that point. I remember so many faces from each crowd because I had to be present, I had to be there so I wouldn't phase out or have a panic attack. I'll never forget it though. That tour changed my life. It was also wild that I got to tour for the first time ever, abroad on top of that before the world shut down for a year. Blessings.
New song "Good Good" out now. How are you feeling? 
I'm so excited about "Good Good." I can't believe it's finally out. I'm also really happy to finally have some music out with Camper cause he's such a phenomenal producer. I'm feeling good about it though. It's already at 150k listens in 2 weeks and the people seem to love it so I'm happy.
Loved the photos you took for the cover.
Thank you so much. My friend Orin shot that for me during one of our "for fun" shoots. I had been wanting to do something with water so I found this portable shower to use, had my hairstylist Jay Nixon who slayed the hair hold it over me as the water poured down and got the shot. It was challenging but so worth it. My makeup artist Nimai also killed it cause that makeup did not move at all.
Talk about getting A$AP Ferg and Shelley on the remix of "Star."
So I did The original "Star" with Machinedrum who really is one of the best producers of our time. I wanted to write a song about the pressure I put on myself and the pressure I feel to be on all the time. I wanted to write about how I don't give myself grace or compassion to say "It's okay if nothing's coming right now. It's okay if I'm not a machine."
Ferg heard it, loved it and added his magic. The same thing happened with Shelly, he heard it, loved it and added his magic. You can never have too many remixes. Both were dreams come true. It was really awesome being able to have them come to space with me, artists I appreciate and respect.
Talk about spending almost $20,000 to put on your virtual concert. 
Last summer, my manager and I were talking about how I should do another virtual concert. I'd done one on YouTube at the beginning of the pandemic & I really wanted to shake shit up. I wanted people to be able to delve into my world, into my mind, my soul. It didn't start at that price trust me, but you start getting into a passion project…I got to the point where I was like "even if I don't make a penny from this, I want to do this the right way. My supporters deserve that." And that's what I did. I felt so good at the end of it all though. To be able to produce, executive produce, creative direct, co-direct and star in my own show….to be able to work with so many wonderful creatives during a damn pandemic with so many rules and so much fear in the air in general….we really brought the vision to life and brought some happiness during a really dark time for all of us. And I made more than a penny back [laughs]
That was the first time I said "Oh, you're really doing this? You're really making a living off doing what you love." People are hearing me and they appreciate me. It was lot of fun. Now I'm in a space where I want to continue doing more. I was able to make such a statement within that virtual world. I want to continue to do that, whether it's virtual reality, games, virtual music videos. I have a lot of plans and a lot of dreams of where I want to take this, but now I'd like to sell it to Netflix or HBO. [laughs] I wanna give it to the world and move forward in creating other stuff.
How'd it feel having your single "Nothing Without You" placed on HBO's Insecure? It went #1 on Shazam and was considered for a Grammy nomination!
That was absolutely insane. I was psyched because I'm in love with Issa and everything she does. Been looking up to her since Awkward Black Girl so that part was yet another dream come true. I didn't expect the reaction from everyone after though. Overnight my streams shot up, my followers shot up, it was really wild. There was this week long frenzy on Twitter and Instagram where everyone was like "Who's this girl? Why have I never heard of her before?" People were diving into my discography and really vibing with it. It was pretty fucking magical. It ended up being the top song in TV for 2 weeks, #1 on the Shazam charts for almost 2 weeks and it was considered for a Grammy nomination which was pretty fucking cool.
Congrats! I love that. 
Thank you!! That was my first #1. I'll never forget it. Like it was Shazam's charts but that was still fly to me. To have a #1 because over 100,000 people are Shazam-ing you because they absolutely need the song. It definitely played a huge part in the catapult of my career. I'm indebted to Issa for showing me so much love.
What're you most excited for? What do you have planned for the future?
I can't wait to finish my debut album. That's where my heart is right now. I can't wait to finally release my visuals and I'm excited to keep creating. As far as the future I look forward to booking my first film, my first series regular role and I look forward to continuing to be a cool ass dog mom.