Read the full interview on Flaunt.com!
Israeli pop superstar Noa Kirel is bringing her nonstop energy across the globe to the United States. Noa is a jack of all trades, from singing and songwriting to dancing and acting, she shines in all areas of entertainment. Noa's unbeatable catalog boasts chart-topping smashes in her native language, Hebrew, and has amassed her a fanbase of millions across all social media platforms.
Noa describes herself as "a young kid and hard worker with big dreams and big hopes."
At age 14, Noa released her debut single and at age 16, she made history joining the panel on Israel's Got Talent becoming the youngest judge on any Got Talent show worldwide. She also starred in the hit television series, Double Take, which recently wrapped its fifth and final season. Noa has always been a non-stop hard worker continuing her career even as she was drafted into the army in early 2020 like most of her Israeli peers.
Now, Noa has unleashed her highly-anticipated English-speaking debut titled "Please Don't Suck," which flips the timeless smash "Mr. Sandman" into a modern bubblegum bop. Partnering with director Jake Wilson and iconic choreographer Sean Bankhead, the song's official music video has garnered nearly 15 million views in just over a week.
Flaunt caught up with Noa who was located in Tel Aviv to discuss her roots in the country, how hard it was to make pop in the beginning, the impact of "Please Don't Suck," shooting the video, starring in her own TV series, and more!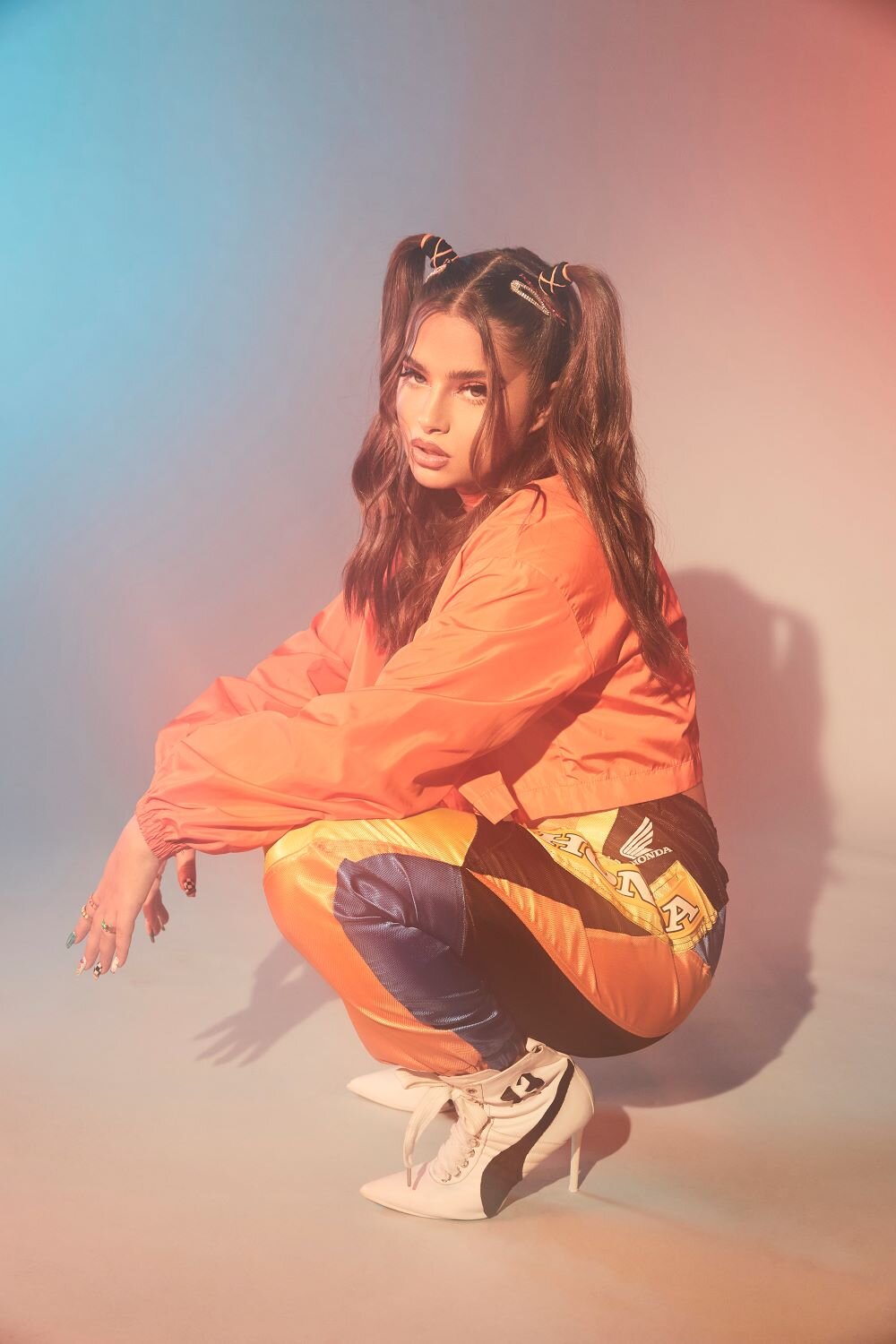 Being from Israel, what was that like growing up? 
When I started in Israel, there wasn't really that much pop music. It was really new, especially for girls and for women. My start was really hard. I needed to prove myself and go through a couple of years until people understood me because it's really a small country. I did it, thank God. [laughs] Now I'm 20. It was seven years ago and I had to work extremely hard and still do.
Now everybody loves pop and listens to pop music. It's more normal now. Back then, people were like "Who's that girl? Go to your school or something, you're so young."
Now I want to take my career to the next level and release music to a global audience. My new single "Please Don't Suck" is just the beginning and it's very exciting.
How does it feel to release your first English-speaking single, "Please Don't Suck"? I'm sure it was a long time coming.
Yeah, I've been waiting for this moment for such a long time. I couldn't wait for my audience here in Israel to hear the new single because it's so different from what they're used to. It was a very exciting switch to go from making music in Hebrew to English. The reaction feels amazing so far. People are loving it all over the world.
What were you going through recording this record? Was there a certain boy that inspired it?
I think we can all connect to the song. It can be about 2020 (which sucked) and relationships that can suck sometimes. It's inspired by that moment you're starting to fall in love with someone and then you find out they suck. It happens to everybody. It's a really relatable story backed by a cool and fun beat, perfect for summer.
The video's amazing, I see you dancing in it. What was your vision?
With a lollipop. [laughs] It was such an amazing experience, the shooting was a fun day. It was my first time working with Sean Bankhead, the amazing choreographer, and Jake Wilson, the amazing director. We had dancers, the vibe was really easy, colorful, and full of humor. It was a great shoot.
How long does it take you to practice the choreography?
Actually, it was one or two days max. The choreography was so catchy and fun, vibing with a lollipop. It felt really fresh.
What was the best memory?
There's so many. When I first read the script, the lollipop theme was very memorable. I ate so many lollipops that day so it was sweet in the beginning, then the sugar rush was too much. I also celebrated my 20th birthday on the set, which was the most amazing birthday gift I could ever ask for.
What's your favorite look from the video?
The black one with the bun. It was a little bit dark, but a sexy look. It felt like a different mood from the other bright pink and rainbow looks.
Can we expect more of these pop records in English?
It's the first single from my global project, so there's many songs coming soon. It's exciting to do the switch from Israel to the global market. I've been waiting for this moment for so long because in the middle, there was Covid and everything. I did the recording of this song and the whole album on Zoom, remotely in different countries and in different time zones. It was challenging but I learned a lot. I'm really excited for what's coming next, there's going to be a lot of surprises for sure.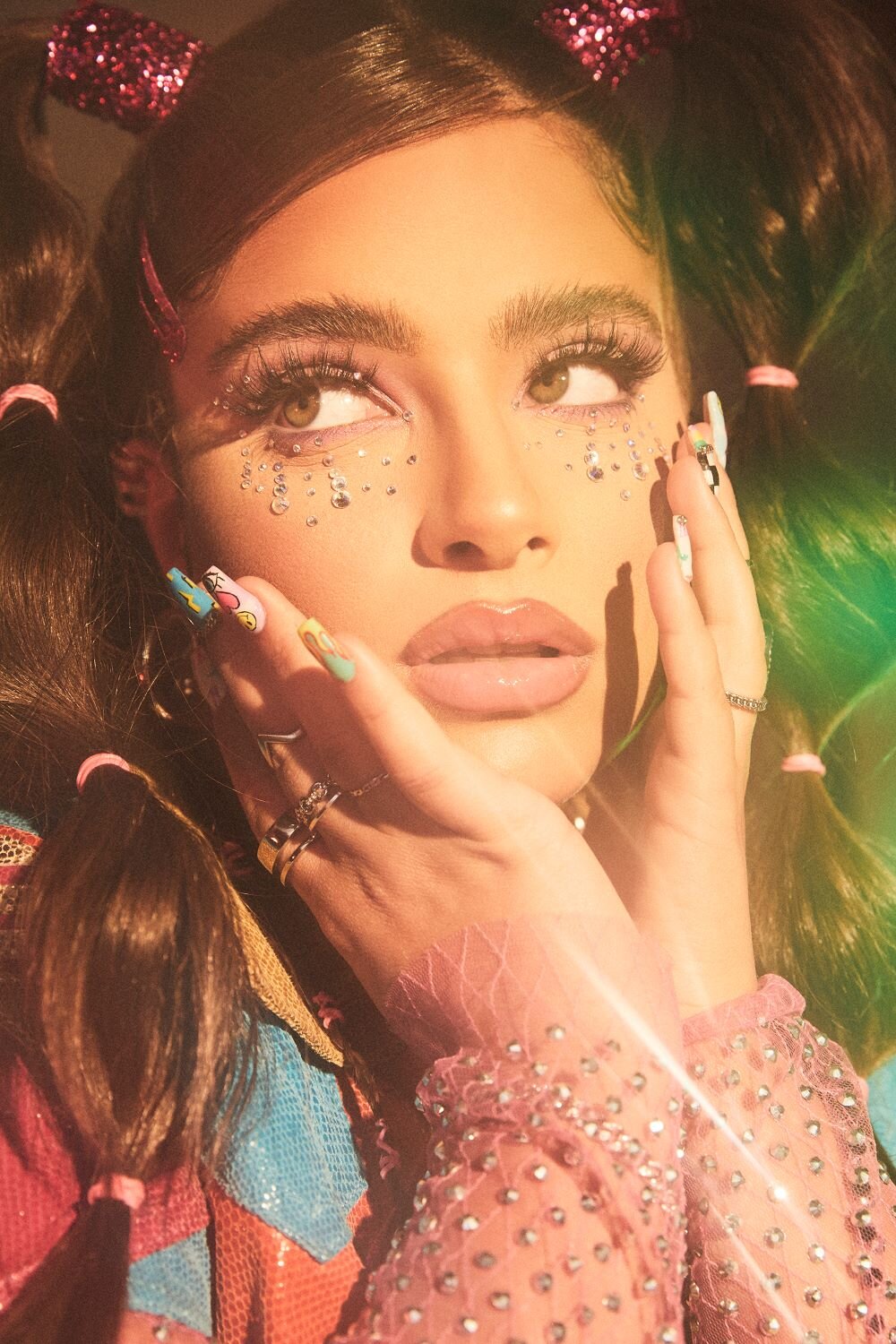 Essentials you need in the studio at all times?
First of all, food. [laughs] That's really important. Like sushi. Give me food and I'm okay. I don't need that much really, just food and good energy with people I love.
How did it feel to recently wrap the 5th and final season of Double Take? 
This was in Israel and it was very fun to act in 5 seasons of the series. It was an amazing experience. I started when I was 15.
Best part about starring in your own TV series?
What's special about this show is that it combines songs, dancing and music, not just acting. It's really important to me to combine everything together. It was a massive success in Israel. I hope to do one like this in America.
How does it feel to make history as the youngest judge on Israel's Got Talent?
That's crazy. It's an amazing experience to sit at the table, be a judge and offer my opinion and advice to the talent. It's a big honor for me to do it at such a young age and also something I hope to do in the US.
What do you like to do for fun, when you're not working?
I love to go to the beach. I love hanging out with my friends and watching TV shows and movies. I like to just chill because I'm really working 24/7. To get to chill for a bit is really nice.
Any goals for yourself at this point in your career?
I have so many, really so many. To perform at Coachella. I have big, big dreams. It's taking time and hard work, I'm definitely ready. I have so many goals: big stages and big arenas. The biggest.
Favorite American artists you listen to?
It's so hard to choose one. I love J. Lo and Beyonce because they do everything. They're singing, they're dancing, they're acting. They're powerful, strong women, and I really can connect them.
How would you describe your fashion sense?
Not too serious or fancy. Maybe streetwear, colorful, sporty even. A little bit of black for stage looks, maybe some sparkles.
What're you most excited for this year?
To do shows, to see people and meet fans. To get on tour and for everybody to be healthy and well.