Read the full interview on Flaunt.com!
The only thing better than skateboarding is skateboarding culture. On a beautiful Saturday in July, professional skateboarder Boo Johnson teamed up with lifestyle curator Trap to throw the ultimate Summer Shred Session, something they hope to continue to do for years to come.
Taking place at Houghton Skatepark in Long Beach where Johnson resides—also where he has his own skate shop called Pharmacy Boardshop on Pine Street—the event reeled in local skateboarders of all walks of life to compete for an opportunity to be sponsored along with endless cash prizes.
Talk about full circle, Johnson began taking skateboarding seriously at the young age of 12, over a decade later turning pro at age 23. With over 669K followers on Instagram alone, Johnson serves as a role model to young skateboarders all around the world that they too can have a chance to turn their skateboarding dreams into a reality. In addition to being part of STIIIZY's skate team, Johnson has his own clothing company called Just Have Fun.
Trap, who's known for his famous black buckethead, also put his custom Mercedes S63 up to be raffled to a lucky winner. Hailing from Orange County, Trap built his platform called Trap University to help educate the masses about cannabis culture and lifestyle, especially within the scopes of music and extreme sports.
Flaunt caught up with both Boo Johnson and Trap on-site in Long Beach to discuss what skateboarding means to them, the synergy between cannabis and skateboarding, giving back to the community, what's next, and more!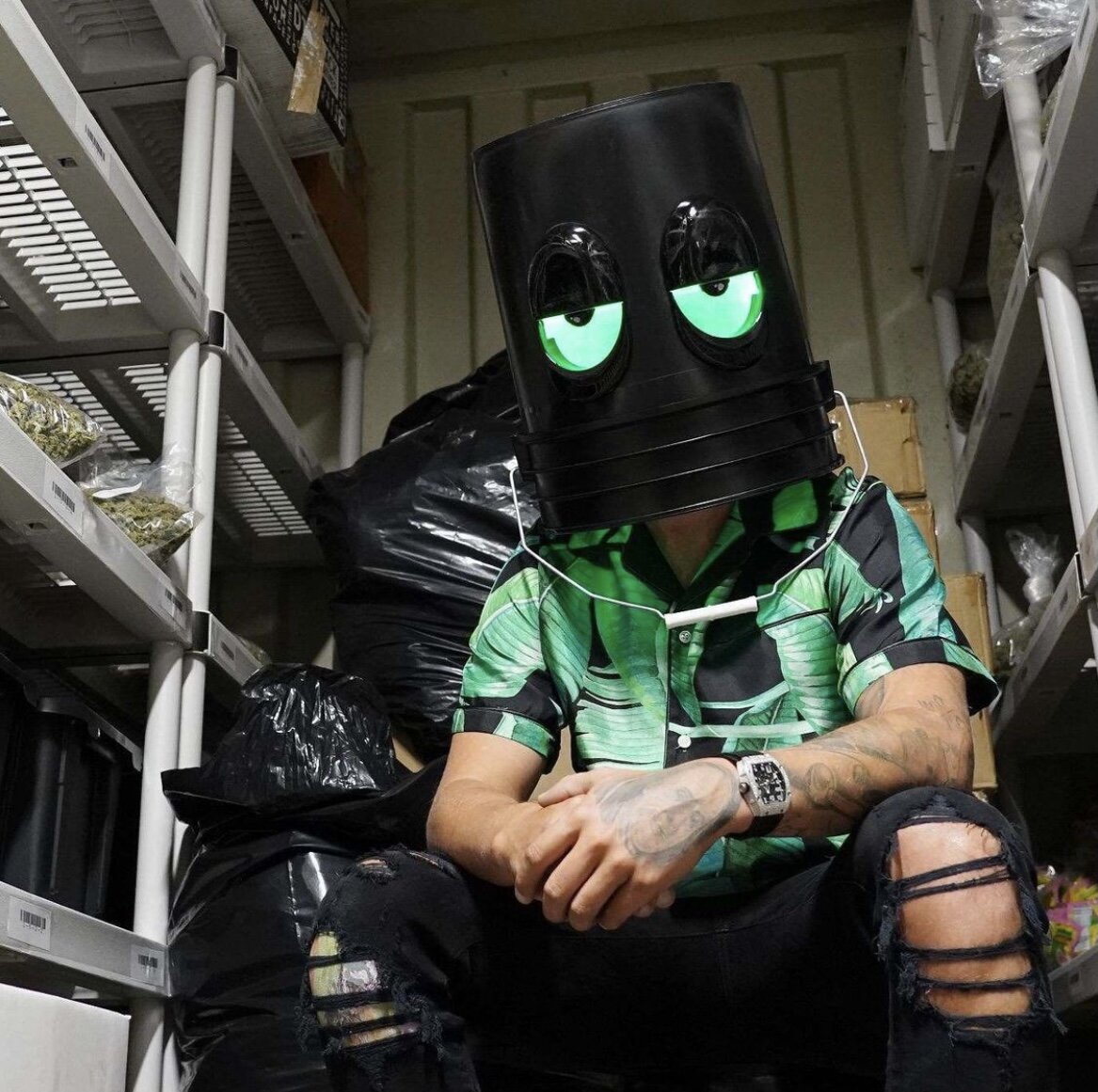 What does it mean to be here in Long Beach today? 
It's everything. Last time we talked we're on the Eastside of Long Beach, now we're on the Northside at Houghton Skatepark. It's a little different vibe here, it's good to bring some energy and good positive vibes over here. It's a little tougher area than the beachside. A lot of kids don't have it like a lot of people do on the Eastside. It's cool to bring some life over here and keep it fresh.
When did you come up with this Summer Shred Session?
We couldn't really find a name to call it. But we're out here giving back, trying to get the community together.
You went pro at 23 years old, how has that impacted your life?
It's been six years now, it's a huge impact. It's changed my life. Now I'm able to be that person giving back, that's the biggest thing. Nowadays, people praise the wrong people. Once you make it, if someone else doesn't have it you have to look out and build that community so they can make something out of themselves.  I'm here to let people know it's all possible.
Coming up, was there a mentor or someone you looked up to?
There are a bunch of skateboarders I looked up to, but I looked up to people like Alan Watts and Denzel Washington. People that really inspired the next person, their work ethic is everything.
Do you still compete?
Every now and then, I don't really like contests to be honest. That's why I have skate jams where everyone's skating together. Not like "alright, your turn." You skate for a minute and all eyes on you, it's a lot of pressure.
What's your favorite part of skateboarding culture?
The lifestyle: very free, very outgoing. It's all love, everybody's trying to push each other to do better or to land one of the hardest tricks in the world.
What's the hardest trick you have done?
It's called a hardflip back smith grind. Skate talk. [laughs]
How does cannabis plays a role in skateboarding culture, especially in your own life?
It's our best friend. It's what we need on our off-time. It brings us grounding and helps us maintain, honestly. You need something that calms you and gets you grounded for the next day.
Does it hurt extra bad when you fall?
It hurts so bad bro, that shit's no joke. Football players have grass to fall on, we go down on cement. Medical therapy is everything.
How did you and Trap come together?
I plugged up to him through one of my homies. We did a little photoshoot together. We bro'd down and connected on a higher level than just business. We've been boys ever since, just grow together and build shit. He comes from nothing too, it's cool to collab with someone who has the same mindset on giving back and doing cool shit.
How does it feel to give away a big prize today? You got the Mercedes up for auction.
It's huge! That's Trap's car, I heard he just got a brand new 2022 GLC AMG. He got a big body. He's like "yo this car's paid off, I'm trying to give this to someone in need." Right now, it's been a little rough for everyone. For someone to drive off in a Mercedes is really cool.
You own your own skate shop, what does it mean to be an entrepreneur as well?
Shit man, owning my own skate shop is huge. Pharmacy Boardshop in downtown Long Beach, it's really the safe zone in Long Beach. For all the skaters in Long Beach shredding all day, they need a spot to come hang out, watch some skate videos, or get a one-on-one talk with any of my employees that are my best friends. I'm there all the time too so they could catch me up there and get some advice. Learn how to be a professional skateboarder at a young age.
Best advice for someone who wants to be a professional skateboarder?
Honestly, to work hard and have fun with it. Don't really try to get sponsored, it'll all come. If it's meant for you, it'll all come. Just skate, have fun, and have a hard work ethic. Nothing comes easy.
How hard do you work?
I work hard. I still work hard every day. I woke up early and set up all these tents. This is all me, hands on.
Do you have any goals for events like this? 
I want to do bigger shit, I want to do real events. I want to throw a festival for all the homies in downtown Long Beach. Do something real impactful, everyone can come out.
What're you most excited for this year as the world slightly opens back up?
I heard we're going back down on lockdown, but honestly I want to keep shit going. Either way if we go on lockdown, the world does not stop for me. During COVID, I doubled my money, so you gotta keep going. Don't let the world affect us.
How would you describe your fashion sense?
I love fashion, it's something that everyone digs. I wake up and I like figuring out what works and what doesn't. Being different is key in life.
TRAP:
Who is Trap? How did Trap become Trap?
I'm a trapper, I come from the streets. I've been in the weed game for 10 plus years: doing sessions, festivals, black market branding. Now, we're transitioning into the white market. That's why it's Trap University, the whole thing behind it is I'm taking all the black market brands and taking them to the white market. All these guys that have built their names in the streets, I'm giving them an opportunity to do their thing on the white market and get a legal bag.
How easy or hard is it to get these brands on the white market?
It's easy. Once you have licensing in place, it's just really capital and marketing. Going out there and making it happen.
What's the significance to the buckethead?
The buckethead is… if you know, you know type situation. I'm a pothead. And the bucket signifies the brady action. We send nothing but touch downs. Nothing but BucketGangShit here, yaheeeerd me!
How did you get into the cannabis business?
Growing up in Orange County, California, I had my parents' friends and people who knew growers. I ended up moving packs, getting into the black market dispensaries, then really just branding.
What are the most popular strains you carry?
For sure the Pop Latto, the Zaburst. Those are the top two strains, 100%.
What's the hardest part about being in this industry?
Really finding a loyal team, building a loyal team is probably the hardest thing. Finding quality employee and building the team is the biggest struggle, but I'm blessed to have a great team. We've built something great. Right now, we have over 100 employees.
What separates Trap from the others?
I'm from the streets, for the streets. I'm out here for the community. Everything's free: free food, clothes, drinks, weed. I'm all about giving back. I'm giving away the S63 today.
What made you decide to give away your car?
I got a new one and said "you know what, I can raffle this thing off for the amount of money I owed on it." I pay it off, and someone gets to drive off in it for $100. It's for someone that really needs it.
Talk about your love for skateboarding.
I grew up on a skateboard ever since I was a little kid. Always being at the skatepark, skating in the streets, it's something I love and have a passion for. If I get stressed, I hit the skatepark. I put a complex in our warehouse, we got a whole little skatepark. Now we're going to keep skating and spreading love and positivity.
Trap University hosted a 25-city skatepark tour around the country. How was that whole experience?
Wild, it was quite an experience. We got some crazy stories. Overall, it was a dope turnout. We got to bless 25 different cities with some gas.
What's next for Trap University?
We got some good collabs coming out. We got a collab with Packwood we're dropping. We got a couple other collabs I can't talk about yet. Just really building and growing on the white market, that's it.