Read the full interview on Flaunt.com!
Luh Kel is a heartthrob in the R&B game, and he continues to prove why he's here to be one of the greats. Hailing from St. Louis and having made music since the young age of 14, real name Turran Coleman exploded onto the scene with his viral smash "Wrong," touching audiences all around the world with his distinct voice and heartfelt lyrics inspired by the highs and lows of relationships.
Going on to sign with Jonny Shipes' Cinematic Music Group, Luh Kel's career just keeps going up, as audiences around the world continue to swoon over his love-inspired R&B ballads. Does Kel believe in true love? Fans are left to wonder, as Kel releases a song like "F Love." His previous single "7:26AM" was directly made after a girl had broken into his home, but that's just another regular day in the life of Luh Kel.
Being only 19 years old, Luh Kel arrives more mature, more knowledgeable, and more cautious of his surroundings. A true introvert if there ever was one, he is always making it a point to take care of himself, his family, and his people—with music being his saving grace. While he doesn't see it as therapy, it's his innate talent to create such smash hits so effortlessly, allowing him to thrive in all aspects of his life.
On the 17th episode of Shirley's Temple, I sat with Luh Kel at Matrix Studios in Los Angeles to discuss his recent birthday festivities back home in St. Louis, being an introvert, residing in Atlanta, his take on true love, what inspired "7:26AM," an all-star collaboration with Blac Youngsta, quitting working out, collaborating with Trippie Redd and Queen Naija, love for theme parks, and more!
I actually interviewed you at 17 years old, how's it feel to turn 19?
It's cool, I feel the same though. It's nothing different for real, it's just more responsibility. As far as houses and cars, stuff like that.
How many cars you got? 
We have a whole bunch of cars as a collective group.
I just interviewed Curren$y, he said he had 36 cars.
Yeah I ain't there yet. Not close to that.
You're kind of close, for your birthday you threw a Luh Kel All-Star weekend back home in St. Louis right? 
Definitely. We got T'd, I can't tell you details I might go to jail. We got T'd fasho, we had a bunch of parties. Parties after parties, party again afterparty again.
How hard does Kel party?
I don't party! I don't even like parties. The only reason I did it was for my birthday, you know people expect you to turn up. Other than that, I am at the crib chillin'. I had fun, turned up for the little weekend, but I'm not the type to be like "this week I'ma party. Next week I'ma party." Go to the strip club, throw money. None of that.
Do you do club appearances? 
I've been to club appearances, but I get bored. If I go out, I gotta be secluded. I gotta be apart from everybody. It'll be us listening to music, we could do that at the crib.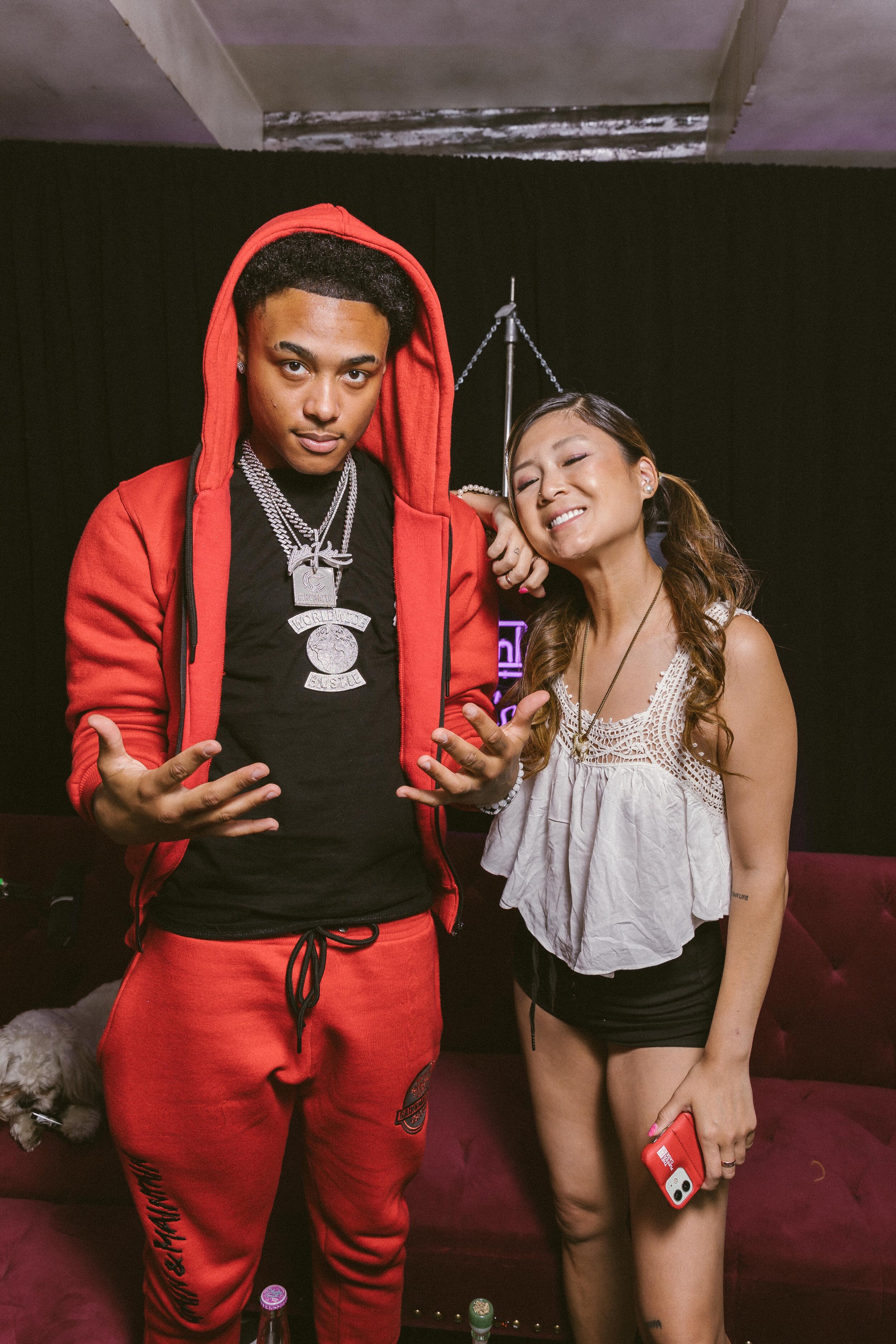 Are you an introvert? 
Yeah, I don't like being around a lot of people. I get around a lot of people, I just… [shrugs shoulders]. I just like my space.
Do you like when people come up to you and ask for pictures? 
It's cool. It's too much. You go into a crowd of people, everybody looking at you. I got my chains on, I gotta go out like that. It be too much sometimes.
A huge part of this show is mental health, how's your mental state?
I'm good, it's just different being out now than it was before. Before, it was a regular thing going out. Now because you were in the crib so long, you got so used to It.
How's Atlanta? Everyone's there.
That's what makes it fun though, everybody's there. You get to link with everybody behind the scenes. Chill, kick it.
What do you like to do in the crib?
Sleep, play the game sometimes. If I'm not doing that, I'm probably smoking.
I was bumping "F Love" earlier. Do you believe in true love?
No. I don't care about love. The fuck? [laughs] That shit's cool, I don't know. Overrated, next. I don't care about relationships anymore.
What were you going through recording "F Love"? I heard it was an interesting time in your life.
I think I just got out of that one relationship with some girl. [We've been together for] 10 months, I broke up with her. She was doing stuff I didn't want her doing, so you gotta go. I let people know what I like and don't like if you constantly do what I don't like, it's over.
What was she doing that you didn't like?
Doing her thing. Stuff I didn't want her doing. Shit, I'm not trippin' though.
"7:26AM" is about a girl who broke into your crib in the middle of the night. Can you elaborate on what happened?
Really I was messing with a girl, me and her had broken up. I met her on Instagram. We broke up, I was chillin' with a friend in the crib. She broke into the crib at 7:26am. I looked at the security camera, and she was with her people.
Did they know you were home?
Nah, they knew I was there. I don't even know what's going on in other people's heads. The police came after that, but it wasn't nothing to it.
How is music a coping mechanism for you? 
People say they use it for therapy, I don't really think it's therapy. I just know how to talk about how I feel.
Shout out to Jonny Shipes, he be on talented people. 
My girl Abby picked me up. She had found me. I was already who I was before Cinematic, already going up off little videos I was doing in my room. They really helped me out, helped me create the image I was already who I was.
Who have you been working with that you are most excited about?
I work with a lot of people, but the one I'm most excited about is Blac youngsta. He's hella cool. The songs we have are crazy.
When are we going to hear that?
When it drops. He and I have to talk about that. If you 're looking at this gang, make sure you hit me up. I worked with him on a couple of records, that shit goes crazy.
How is it recording out in Atlanta? 
I have a certain engineer to help me record all my records. I fuck with my engineer, he makes my voice sound good.
You were on a cover recently, we wanted to plug your modeling. 
I don't have any problem with modeling. I did that one little thing though, I was looking all good. It was cool. I don't know how to sit in front of the camera and really do a bunch of poses.
How do you feel about having the camera on you in general?
I'm camera shy. All these cameras around me right now, I'm shy. I'm finna blush. [laughs] I be hiding from these cameras.
Do you vlog your own shit? 
I'm a real private person. Before I was all into the Instagram shit because I was young, but now that I'm older I do shit on my own. My life changed so fast. I live a real 30-year-old life. I have all of these responsibilities, a lot of people to take care of, a lot of shit to do. I'm really private. It's a lot of people I have to put on because they were there for me when I was down. I have to make sure they're straight.
How many people are in your circle? 
My circle gets bigger and smaller everyday. It's hard to even explain. All of them are my homies fasho.
What can we expect from your new single, "BAECATION"?
Yeah I'm finna drop some new shit. Some island type shit, some different shit for me. Some lil summer shit
How much music are you sitting on?
I have hella songs. I don't have a number for you, but enough for a couple projects.
How'd that collab with Trippie Redd happen? I love "Feen."
I recorded the record with Scott Storch, my team and I sent it to him. We really got cool after the video shoot. At the video shoot, we're chillin' and talking. That's where we got cool at.
How was it working with Queen Naija?
She's really cool, she's real genuine too. I think a lot of artists are pretty cool. It's a lot of weird people in the industry but the people I've come across have been genuine.
I heard you've been working out? 
A little bit, I gave up though. I quit. That shit hurts. I don't feel good afterward, that's the thing. If I felt good after, I'd still be doing it. I was sore for two weeks straight! After the two weeks, I didn't have a 6 pack. I said "man fuck that, I'ma go sit my ass in the corner and keep eating Cheez-Its."
Was it one workout session? 
I did 4 sessions. He was hard, he knew what he was doing. I probably wasn't doing it right.
When you were working out, who were you listening to ?
Whatever the gym played, some rap shit. A bunch of rap songs. I don't listen to music.
A lot of artists say that, by default you hear music. 
By default yeah, but you know the songs. Like Lil Baby… they play around my homeboys. For me, I'm in my headphones. I'm only listening to myself. If I listen to other artists, I'ma start trying to sound like them. I'm not trying to sound like nobody, I want to sound like myself. I'ma keep listening to myself and perfecting my craft, instead of trying to learn somebody else's.
You have a very crisp R&B, nostalgic but new, when did you discover your own sound? 
I'm still finding it honestly, but I'm getting there though. You gotta hear some unreleased shit, lately my stuff is going hard as fuck.
It's funny because last time, I asked you if you were sick of "Wrong" and you said yes. 
Yeah, I get tired of that. It's so old. It's all good though, the fans love it.
Is that the last song you play at your shows? 
Yeah, the fans love it. If they love it, I love it. But it's just tiring like "damn, turn this off."
Favorite ride at Disneyland?
Batman, Superman, I like all of them. I've never been to Disneyland, I'ma go though. That has to be where we do the next interview.