Read the full interview on Flaunt.com!
FF Rarri has dedicated his entire life to music, and he continues to grind to get to where he wants to be. Since the young age of 14, the melodic rapper has made it a point to create heartfelt music to uplift the masses all around the world, not just something you can turn up to. With his unique sound and cadences, the rising star stands out amongst the rest, with a fashion style that does not go unnoticed.
In describing himself, Rarri states, "I'm very artistic, outgoing and genuine towards my friends. Also stylish."
Residing somewhere in between singing and rapping, the recording artist prides himself in his ability to do both. Most recently, he released his newest single titled "With The Bros," with a forthcoming visual that will undoubtedly attract anyone who watches. As Rarri continues to discover himself through his music, fans can expect a forthcoming project arriving sometime this fall.
Flaunt caught up with FF Rarri via FaceTime, who was located in McDonough, Georgia, where he states, "it's suburban, it's cool. Ain't nothing too much going on." Read below as we discuss his sound, his roots in Georgia, biggest influences, the turning point in his music career, how he got his name, new single "With The Bros," studio essentials, his fashion style, dream collabs, and more!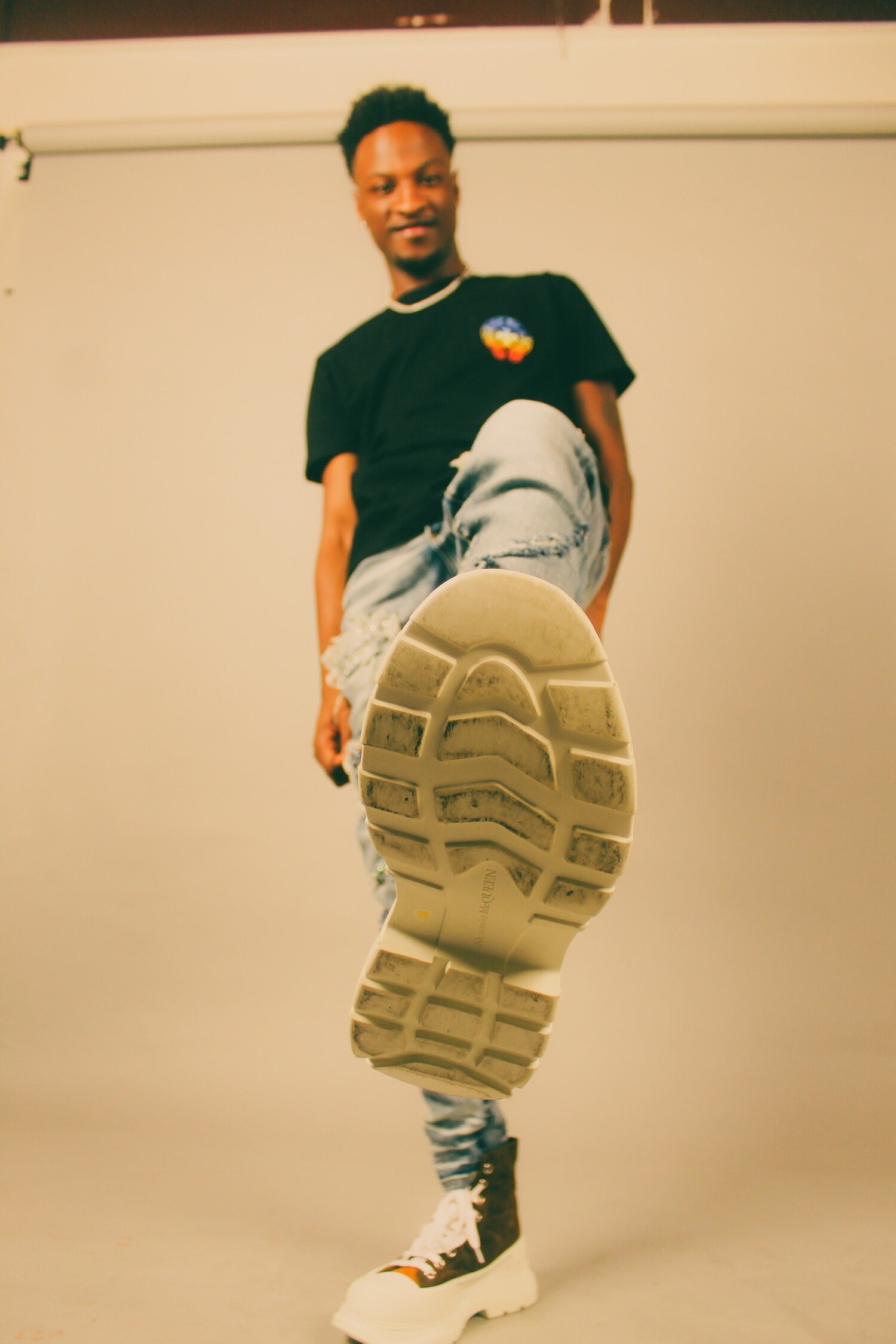 How would you describe your sound?
Very melodic. Sometimes I do it, but I really don't like hardcore rap. I'm more singing and rapping. It's just melodic. I make turn-up songs too, try to make them for the club.
What was a young FF Rarri like growing up in Georgia?
Growing up, it wasn't too rough. Where I'm from, it wasn't that bad, because I was around my cousins at that age. That's when I started hanging around MoneyyShawn and Marc J, then they got this rap group called Double-F. I started hanging with them, it was really cool. I was bad. I was always bad, but I made it a way out. I never got into too serious of trouble.
Who were you listening to coming up?
50 Cent, A$AP Rocky, Young Thug, just to name a few. I listened to a lot of people. Andre 3000, Outkast.
When did you realize you could do music for a living?
I was 14, I used to watch music videos. My uncle said "You might as well rap." That's when I thought about it: "Shit, I might as well rap." After that, I started making covers and writing lyrics. I was making songs on my phone at first, but after a while my dad helped me and started getting me equipment. From both my parents for Christmas, instead of asking for shit people normally buy like games, I was asking for music equipment. When I got enough music equipment, I built a home studio. Once I got the home studio, I started making songs.
What's the inspiration behind your name?
I came up with it myself. Growing up, I always moved fast. I move fast period but whenever I used to get mad or I might still do it, I'll move fast. Do shit fast. My friend's like "Damn bro." I know he kept saying something about it so when I was thinking of a rap name, I knew I was Double-F. I said "Let me think of something," I started thinking of names. I thought of Rarri again and said, "Man, FF Rarri." I messed with it.
You just released "With the Bros", how are you feeling?
I'm liking the feedback, a lot of blogs started writing about me now. I went to Patchwerk to record, I said, "Let me see" because this is my first time going to a big studio. I've been putting thousands of dollars in my equipment at home, but I still said "let me see with a big studio." I liked it. I liked the sound and everything, but I've got more singles coming too.
Is there a video for that record?
Not yet, it's on the way. I thought I'd have it by now, but I don't have it yet. I'm still waiting on the video man to edit it. I just shot it a month ago almost.
What can we expect from the video?
I went to Cam Kirk Studios place in Atlanta. I had put the green screen behind me. It was a dressing room, another room, then there were mirrors. First, we did a scene behind the green screen. After that, he followed me into the other room with the mirrors and dressing room. We walked through there and made a video. A couple of my friends pulled up.
What's the reality of the independent grind? 
It's harder because I've worked with artists with a label. I see with a label, it elevates you faster or just knowing a certain amount of people. I've been around artists in the industry, I notice how it's easier for them because they know certain artists. It ain't too bad, you have to really start meeting people. The more people you meet, you go up. It's connections, you've got to get connected. With me, lately I've been in Atlanta. I've been getting connected with different artists, being around them.
How's that been?
It's been cool. I've been seeing how they move. It's cool. It's showing me "okay, this is how I should move."
What can we expect music-wise?
You can expect a lot of singles, but I do have an album coming out in November called They'll Love Me Again. Last time I dropped an album was a year ago, I'm trying to see what it's going to do. I've been recording for a while, I'm still going to the studio. I'm going to see what that does, but I have videos and singles until the album drops.
What can we expect from the album?
You can expect a little R&B. I consider myself a rapper, but I really sing. It's going to be a little pop, but a little R&B and rap type thing.
When did you realize you had a little vocals?
I ain't gonna lie, I be in the studio and I use a little autotune. With my voice with the autotune, I learned over the years how to change it and make it sound good so that's what I'm on. I can rap. People hear me spit, but this is how I like flowing. People can't even lie, with the new day and age with the new rap, it's like that. You've still got Jay-Z, Nas and all them, that's cool. But nowadays, it's a new time. A new flow.
3 things you need in the studio at all times?
I need water because I've got to stay hydrated. It hurts your voice. Weed, and a fire engineer.
How would you describe your style?
Now, I'm leaning more towards a rock type of style. Sometimes I wear colorful stuff. It's either colorful or it's either rock like leather and stuff like that. Sometimes designer shoes.
What type of clothes or brands do you like?
I like Prada. I'm starting to make a clothing line too, but I haven't worn it yet. I'ma start wearing that. I like Louis Vuitton. I really like Alexander McQueen, I like Rick Owens too. I'm trying to get into the limited stuff, pieces. I already got some shoes. Oh yeah, and there's Marni. I've got one Marni sweater. It's all designer shit, I like designer.
What's your relationship with Yung Bans? I saw you with him recently.
We're all close with Fani, the original Fani. He's a designer. With us being Double-F and my cousins are cool with him, we're all like family now. With me being with Fani all the time, one day Bans was there. We're talking, he was cool. Shit, we took a picture.
Anyone you want to collab with?
Thug of course, Kid Cudi, and Wiz Khalifa.
What do you like to do for fun when you're not in the studio?
I love doing shows on stage. Going shopping and buying clothes, going out to eat sometimes. I like Japanese food, I've been liking Japanese food lately. J I like subs. Not Subway, but Firehouse. Subway's okay, but I like the good subs.
Anything else you want to let the people know?
Album on the way. Everything on the way. New elevation!