Read the full interview on Flaunt.com!
Musical Banshee, melancholic rebel, headstrong gambler and lyrical truth-teller are just a few of the words that come to mind when attempting to describe the enigma that is rockstar, fashion icon, and recording artist LP. Born into a traditional New York Italian household, the Los Angeles-based singer-songwriter has been charting a course that has been anything but traditional for over two decades. First making a name for herself as a songwriter penning hits for such notables as Rihanna, The Backstreet Boys, and Cher, before ultimately stepping into the limelight as her own artist.
In describing herself, LP explains she's "a musician first, a personality of sorts second. A smoker, a midnight toker or whatever the hell they call it. I do all things. I'm like an action figure, I got a bunch of shit to do. I've got little detachable ports, you know," she adds with a laugh.
To date, her sound defies true categorization and depending on your continent, in Europe where she has amassed several top hits, she is considered pop. But in the United States, withs its reliance on radio air-play, LP is considered "alternative". Musical fluidity is nothing new for an artist who has spent her career fighting to create a sound and a following that is uniquely all her own. Exploding onto the scene with her 2016 smash hit "Lost On You," LP continues to inspire audiences all around the world to do what they love, stay true to themselves, and go after their wildest dreams. On the verge of the release of her forthcoming studio album, Churches, Flaunt caught up with LP via Zoom, for some communion with an artist whose new music will surely make you a disciple.
Read below as we discuss LP's strong pen game, discovering her genreless sound, the success of "Lost On You," and the inspirations behind  her hit single "Goodbye," and forthcoming album Churches.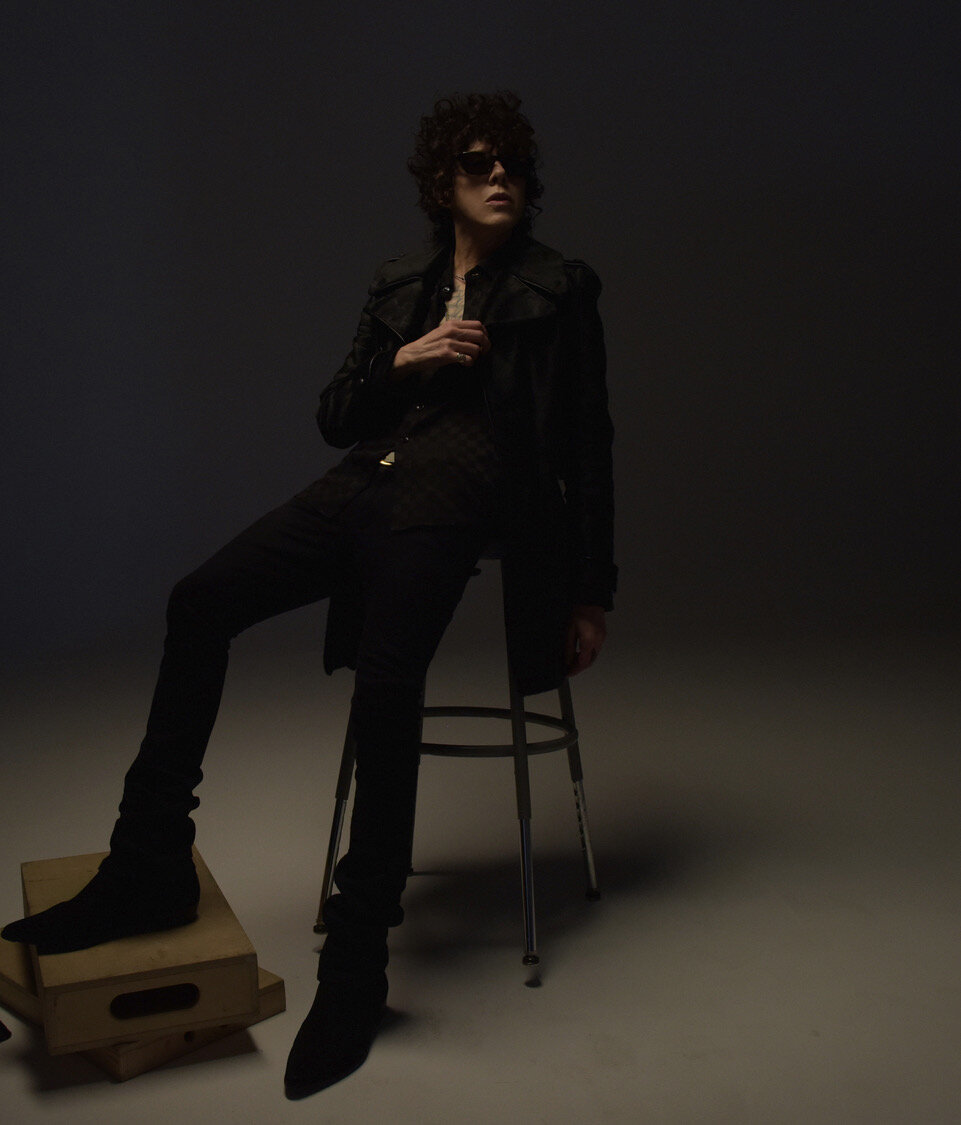 You're from New York but live in Los Angeles. How does that play into your life and career?
LA's really where my shit kicked off. I got my first record deals in New York, but then really my writing and all the songs… My muse is out here, so I like it here.
When did you move out here? 
2010. My first record deals, my first major shit was 2006, then I became a writer for other people.
I want to touch on your strong pen game, you've written for everyone from Rihanna to Cher to Backstreet Boys. Can you bring us back to those sessions? 
The Backstreet Boys was my first cut with another artist, they took one of my songs. It was 2006 to 2009, I was signed as an artist on Island Def Jam and Universal. I wrote 140 songs or some shit, one of them got taken by the Backstreet Boys. My own record didn't pan out, I got dropped and shit just fizzled. So I embarked on a songwriting career through that first track.
That's what I thought was gonna go down, then all of a sudden 2011 two years later, I started getting some big cuts. Started to make some waves writing-wise, I was writing shit for myself too. I wrote this song called "Into the Wild", which got used in this really big Citibank commercial. My shit started to go up. I put out a good live EP, then shit got a little mucked up. You know, normal record business shit. [laughs] That shit went all south for a minute, then I got dropped from Warner Brothers right before. After I wrote this song called "Lost On You" and some others, I signed an indie deal. "Lost On You" became a hit, then that whole next wave of my career started as an artist again, crazy.
What did you learn from those writing sessions?
My shit got infused with knowledge. What I've learned is I don't have to be tied to a genre to be honest, that's one of the biggest things I can say for my artist career in general. People are not sure where to put me and that was a problem with my shit in the beginning. I don't adhere to any specific genre so when I went off and wrote all different songs for all different people, that strengthened that. I could write in any genre.
I wrote songs without limits… because I'm not really a pop artist, but my songs have some pop meanings. I'm not really a rock artist, but there's some rock in my songs. I don't think anybody knows what's happening, but it doesn't matter. The same with sexual fluidity, it's like song fluidity. I don't have to be one thing, because people make you do it, they try to force you into shit. I don't believe in that.
Does that bother you when you're labeled a certain genre versus another?
No, that's the thing. I don't give a fuck. If you like my song, sick. If you don't, sick. Whatever, nobody cares. No one should care. If you saw my show, I don't think you'd be like, "Wow! I love that show, but I'm a little pissed because it wasn't rock enough. I love rock." [laughs] No one says that. You should just like what you like without always having to label it.
"Lost On You" was a really big moment for your career. Did you anticipate the song's success? Because 408 million views on YouTube is incredible! 
Yeah, that's the official music video. There's a live version of it, it has 817 million views.
No, I didn't expect that. That's one of the biggest stories of my career I tell constantly because I want to inspire other people not to get discouraged. Before Warner Brothers dropped me, they called me in to see what I was working on. I played them "Lost On You", then they dropped me. It went on to become this global hit. It's par for the course with suits behind desks, you know what I mean? They're like "Yeah, I don't know about this one." [imitates male voice] They can inevitably be absolutely fucking wrong. And they were.
What was LP like then? That was 2016.
I was trapped a little bit more. I had people telling me what to do, what they thought was good and not good. I'd been there many times before. I got dropped from several labels, signed again and then dropped, so I know what that's like. I definitely didn't feel as in control as I do now. I don't know if anybody's in control of anything, not to get too existential. [laughs] I certainly don't listen to motherfuckers who say, "I don't know about that song." Listen, shut the fuck up. You don't need to know anything about this song. Let people decide and that's it.
How does it feel to be independent and have creative control? 
My managers have been my same managers for the last 11 years. They've been with me through thick and thin. They're the ones that really orchestrated most of the moves as far as the song becoming a hit, where my career was and how it went down. Now, they have a label. This record I'm putting out on October 8th, Churches is out on that label.
The first single off the new album is "Goodbye" and it's out now. Where were you going through recording this record?
I was reading what someone said online the other day on Instagram: "I love this song". It's about not continuing the things that don't serve you anymore. Relationships that aren't lifting you up to your highest mass, people that don't support you the way you'd like them to, or bad thoughts really. The things that get in your way, it's about that.
Where did you guys shoot the music video?
We shot it in the Topanga area and Marina Del Rey on a boat. It was cool. My friend Will's boat, he's the coolest man. I'd been on his boat a couple of weeks earlier with a friend, it was my first time. My managers and I were talking about where we'd be going. I want to do a continuation from "One Last Time," the video before. That video seemed like such a dream and it was. I didn't expect to do that. I didn't know I was going to continue and go in this other direction, but it actually worked. It was exactly what shit was about. It was where I went after the "One Last Time" video. When you let your thoughts keep you somewhere, then all of a sudden you let them take you out of somewhere, you'll realize you didn't have to stay there. It seemed like you were happy.
What was the best memory from shooting?
Definitely not watching the production Grip throw up over the side of the sailboat while I'm shooting a scene. I said "aw babe!" She's yakking on the side of the boat. The best memory was coming home on the boat. We were hanging out and drinking champagne, talking as the sun was setting. I rode on sailboats a lot when I was a kid. It's so magical being on the water like that when everything's chill and the sun's setting. It's beautiful.
What can we expect from your new record Churches dropping in October? 
Well, it's eclectic. I'm excited, as excited as I've been to release music. The record as a whole feels like something. It covers all the bases I wanted to cover. There's joy, sadness, sex, tear it all down shit. One of my friends listened to it, they've seen everything I've been through in the last couple of years. They said "I definitely felt like I was there. I can pick out that this was definitely your life in a nutshell the last two or three years," so I like that. That feels good because this stuff was really everything I've been going through. The pandemic gave me four more or so songs on this record. That extra added time gave this super cohesive vibe to it.
Why did you name it Churches?
One song's called "Churches," it's a song I wrote about believing in God. I fully believe in God. I don't think people think that about someone like me, maybe? But it is something I believe. I don't believe in organized religion or an actual church really, but I believe in people. I believe in God. I wish religion didn't have to be so critical sometimes.
Let's get into your fashion. Tell us what you have on today? I see the cowboy hat.
I got a fairly sheer fucking Saint Laurent tank top, some Saint Laurent sunglasses. I have a Lone Hawk hat on and some fucking H&M espadrilles and some bespoke white jeans from my tailor. Some underwear from Nice Laundry. [laughs] We got everything!
How does it feel to be this style icon that you are?
Thank you, I wish. I'm definitely comfortable in my own skin and it's a lot due to clothes. I do a lot of yoga to stay how I want to look, keep my body the way I'd like to keep it. There's that and there's clothes, that's all I need.
Favorite brands? How would you describe your style?
Saint Laurent and Celine. I hate to use the word hipster, but I guess it would be by other people's standards. Some element of hipsterness in it, but I like timeless stuff. I'm not into genres, even though I'm wearing a fucking cowboy hat and espadrilles for fuck's sake. I don't subscribe to it. I like to try to be elegantly rock and roll.
How often are you shopping? 
I definitely bust a move to Saint Laurent at least once a month probably. I have a dude, my friend Joey hooks me up there. I like pieces I'm going to have for a long time. I collect. I have a jacket collection that'd fuck you up. [laughs] I always try to keep it fresh. I mix it with vintage as well, I have a pretty sick vintage T- shirt collection. I do a lot of hats.I like Baron Hats, they custom make hats for me. So does Lone Hawk. I've been into Gucci a bit. I love their glasses. I like some of their hats, their shoes. Saint Laurent is my main squeeze, and Celine. Anthony Vaccarello has been killing it with Saint Laurent.
Any goals for yourself at this point in your career? 
You know, I'm really concerned with my body work growing. I want to be as prolific as I can, leave a pretty immense body of work that keeps growing on itself. To continue to tour and grow my live shows and my fanbase. I got everything I want, so it's a nice place to create from because I'm trying to please myself and please my audience. I want to be the best songwriter I can be really. Work on my voice too, but really songwriting for me is the main thing.
How was Lollapalooza? 
It was so dope! It was a shock to be back. We did a show at The Metro the night before and that shit was wild. It was definitely people flipping out. When we're in the dressing rooms, it felt like we had ever stopped. It was cool.
Anything else you want to let the people know? 
I'll be back, especially next year. I'm going to be touring in September in Europe. l'm really excited to get back to it. I hope we can get these variants under control, everybody get vaccinated, and get the fuck out there.