Read the full interview on Flaunt.com!
Blac Chyna is a superstar in her own right, and now she's bringing that same energy into the music industry. Boasting 16.1 million followers on Instagram alone, the Washington D.C. native is a true jack of all trades, rising to prominence in the entertainment world as a stunt double for Nicki Minaj in Kanye West's "Monster" music video. Now, things come full circle as she's a recording artist, starring in her own visuals.
From balancing being a mother of two beautiful children to being an entrepreneur opening her own beauty bar, Lashed by Blac Chyna in Encino, CA to creating bangers in the studio, Chyna reveals her secret to staying sane is staying organized. With a string of releases including "Seen Her," "Cash Only" featuring Trippie Redd, "My Word" with Too $hort and Keak Da Sneak, "DOOM" with Asian Doll, "Hollywood" and most recently "Thick" with Desiigner, Chyna is here to provide you with all the feel-good anthems.
On the 19th episode of Shirley's Temple, I sat with Blac Chyna at Matrix Studios in Los Angeles to discuss her pets, having her own CBD line, getting on OnlyFans, collaborating with Trippie Redd, long-time friendship with Asian Doll, getting Too Short and Keak Da Sneak on a record, her mental health, self-care routines, why she goes to therapy, ideal date night with Lil Twin, opening her own shop Lashed Cosmetics, love for her kids, and more!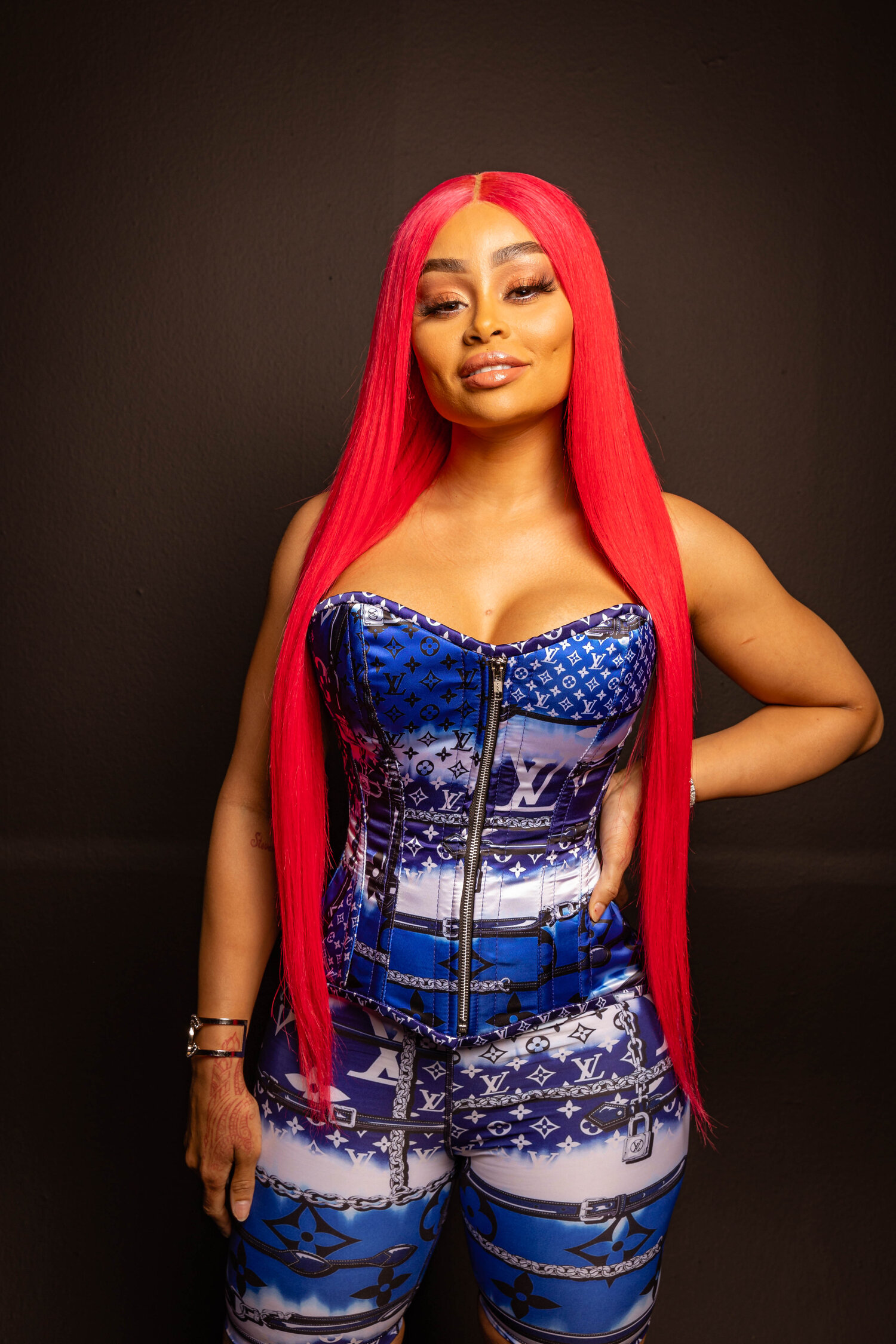 We were just talking about your bald cat, how many pets do you have? 
I have so many pets. His name is Bel Air. I have 2 cats, 3 dogs, and 2 birds. [laughs] I keep saying I'm not going to have anymore pets, but I keep getting more and more.
You have your own CBD line, how'd that come about?
Yes, me and Plain Jane partnered up to do a CBD line. We have the hemp flower, it's Hawaiian. We have the blunts, we have the raw papers too. I'm excited about that. The process was different because I don't smoke weed. A lot of people that used to smoke weed started getting into the CBD to wean themselves away from the weed. It was different for me because it was straight CBD. It works for me.
You have multiple streams of income. How does it feel to be this female entrepreneur that you are? 
Honestly, it feels good. For me, it's that balance, things that I've gone through growing up and whatnot. It made me be more of the hustling, intuitive person that I am today really.
How much time are you spending on OnlyFans? 
Not that much time. I have other things I'm doing, it's one of my side hustles.
What is money to you?
You have to make money to survive. For me with money, I'll be able to make sure my kids are straight. Be able to support myself, be able to pour money back into myself and my own products. Be able to open up a shop and do the things that make me happy, the things I'm passionate about. Money will help me pay for my engineers and help me pay for my studio, doing things I like to do. I'm not one of those types of people like oh my god, money hungry. "Oh, oh, oh, I need this." Of course, anybody needs money to support whatever it is you're trying to do. Especially if you're an entrepreneur, a mother, a business owner, or in the entertainment industry.
How do you balance it all? You got two kids, you got the music taking off.
Honestly, just being organized. Setting your times, making sure you have the slots for everything and not cram everything at once. Because when you try to do so many things at one time, everything will crash. Everything will fail. If I take one week to focus on Lashed, the next week to focus on Blac Chyna Closet, or say to myself "alright, I want to finish 3 songs within this month"—it's prioritizing your time. Finding that balance.
Love your song "Cash Only" with Trippie Redd, he was my second ever Shirley's Temple episode. How was it working with him? 
It was fine. Recording with other artists, you need to be in a room with them. Because you might be a fan of somebody, then when you meet them you're like "Ugh, I really don't like this person no more." Because their attitude or your energy just don't match. "Eh, now I'm thrown all the way off."
We were in the studio together. He vibed with the song. We cut the song, he cut the song the same day. Off the dome, it came out really good. With features, some people don't want to be on the song. They're getting paid or doing it to do it for some clout shit, they'll rush it. They'll say 5 or 6 things and be out. It was bars, thanks Trippie.
How was it shooting the music video?
Super easy. That day, our scene—the location we had, it was so hot. It was hot, smoking hot. [laughs] I'm sweating, he's sweating. I'm like, "We gotta get this scene! We gotta get out of here. Where's the fans? Where's something?" It was blazing hot. It was good though. I had my two girls, the Double Dose Twins come out. I had my brother Mally Mal in there. I had my team there, they made it all come together.
You released "DOOM" featuring Asian Doll also. How did you guys tap in?
Me and Asian, shoot we've been friends for a long time. I was playing her my music before I even dropped it because I've been doing records since 2017. She'd say "Chyna, you need to go ahead and drop your music." I'm like "Alright sis." She came to LA, I had played her "DOOM." She said "Bro, this is the one. I'm getting on that shit right now." I said "Alright, that's a vibe." Cut it at the house, the song was already done. She hopped on and murdered it, did it right on the spot. [laughs] They better stop sleeping on my sis Asian, that bitch is fire.
Where'd you guys shoot the video?
It was in LA. Me and Asian, we've been to so many award shows together. We did Wild 'N Out, and this is way before the music. We're already doing things before the music came out, so the relationship was already there.
You connected with Too Short & Keak Da Sneak on "My Word." I'm from the Bay, how was that whole experience?
It came about because one of my good friends, Mother Goat, she records in my studio. She helps me with my music too. She's from the Bay. She said "yo Chy, you gotta do a song for the Bay." I said "alright bet," so we're going through samples and things. Before that, I always told myself I don't want to be sampling people's music. I want to have my own beats, I don't want people's memories to get rejogged.
Tito redid the beat, I cut the song. I said "man I wonder if I hit up Keak, would he get on it?" Because that's the only way I'd release it. I have so many songs that are super fire, but we have to wait for the right moment. With the sample, if Keak gets on it, I'm down to put it out. 100%. I'm not going to put out a sample without the original person, that's weird.
And that song is iconic!
So Keak loved it, he sent it right back. I'm in the house like "ahhh, oh my gosh. That's fire! That's legendary." I hit my brother Mally Mal up and said "Mally, who else do you think would sound fire on this?" He said "Too $hort." Bro, I don't know Too $hort. Too $hort's a legend out here, stop playing. He hit up Too $hort. Too $hort said "cool," sent the verses back. We tweaked it: did this, did that. We shot the video.
With music, that's one thing. But for people to show up for a music video, that's a total different thing. They'll say "oh I'll cut the song," but in your mind: "I'm never gon' show up for the video so I don't care." I'm telling you how people are: "I'll do it, but I ain't gonna show up for the video though." They showed up for the video, so that makes me happy.
Obviously you're independent, how's the journey been?
Create Music pushes out my music to all the streaming networks, YouTube and all that. Right now, I'm independent. Honestly, I want to put out more records so people understand I'm really serious about the music. I'm going to do the balance of okay, club soft like "Hollywood," then "DOOM." This then that, this and that. It's not this one sound you'll get from me. It's different sounds, different things with my voice. Music shouldn't be so stressful, it's no pressure. I don't think it should be pressure anyways.
"Hollywood" is a bit more slower, you're singing a little more. What were you on recording this one?
"Hollywood" is one of those songs you put it on and vibe to. You don't really think about what's going on, it doesn't put you in a mood. You put on certain songs like damn, this song makes me sad or this song makes me hyped. Sometimes, we don't want to hear that all day. For me, I'm the type of girl who likes to listen to oldies, jazz, all types of different music. I want to give people the journey of a rollercoaster with me and the music, it's not a set tone for Blac Chyna.
Are you working on a project? 
Yeah, I'm working on a project. I have two songs with Desiigner. One is called "Thick," I posted one of the cover arts. The other one, I'm not going to say the name but it's another song. The two songs are really fire, I'm excited.
Mental health is a huge part of this show, how are you holding up?
With anything, we're humans. Of course, we'll have our ups and downs. Before when I first came out here, I was totally isolated. By myself. Once I went through my breakups, once you go through that, you start to invite people into your life to either help or give something to you that you're missing out in a sense. Especially I'm from D.C., so I don't have no family out here. If I hire people that's around me, of course I'ma treat them like my family. I'ma treat them a certain way.
But there's some people that don't look at it the same way. "What can I get out of this person?" Or if you stop vibing with them, then it's a problem. "Let me try to break or hinder this person." If I had to tell anybody that's about to come into entertainment, keep everything super, super tight. Business is business, friendships is friendships. Don't ever cross the two because 9 times out of 10, you're going to lose. If you're not a strong person, shit is going to soak you up and spit you out.
What do you do for self-care? 
I can tell you what I'm doing right now, it's been about 3.5 weeks I totally cut out meat. I said "I'm over it." It's different alternative foods you could eat that's actually fire. Not gonna lie, I went to PF Chang's today. They had some vegan/vegetarian stuff, it was good though. It's no meat, okay cool bet. It's other things you could get, seasonings and whatnot.
What I've been noticing is working out every day. Within that hour, you really don't think about what's going on in your personal life. It's that one hour you get to tune out the world, put your phone down. If I workout at home, you're still in that environment of this and I'm still on my phone. If I go out, I'm able to train and not even think about whatever it is I have to do after that.
I see my therapist, there's nothing wrong with that. I encourage everybody to go see it. Honestly a lot of times, we can't become this person we're meant to be because we have so many mental blockages, family traumas or childhood traumas, or other people's insecurities they put on you throughout the years. I'm 33, I've been through it all and I've seen a lot. Once you can find that grounding within yourself, if you see or feel "okay you know what, this isn't working out," and it's a pattern with something, then it's probably you. If you're running through people, this is happening and this is happening, 9 times out of 10 it's you. It's nothing wrong with going to see a therapist. Talking to them will open up different things, an insight for you. Maybe tell you some things you didn't even know about yourself, that you've blocked off years ago.
That's super helpful because a lot of people want to go to therapy, but…
They're like, "oh my god, therapy!" Nah, it's helpful. Think about it like this: how you talk to your girlfriend or your boyfriend, 9 times out of 10 they really don't want to hear it. [laughs] Or they can't do nothing about it, so you might as well talk to your therapist. Shit, because your boyfriend or your friend might leave. I'm just saying: pay your little fee, that way you'll be good.
What's up with Chyna's dating life? I'm sure your DMs are always poppin'. 
I don't even check my DMs, it's probably dry in there. But I am dating Lil Twin. We have songs. I was featured in his video, but it was so good that it seemed like it was my song too. Actually, it was both of our songs. [laughs] We met in the studio, we've been dating for a while now.
What's your ideal date night with Lil Twin?
Food, cuddles, a movie, then we'll end it at night with a prayer. It's so funny because I always end up falling asleep towards the end because his voice is so calming. When you pray, it's like meditation. I'll wake up in the middle of the night and be like, "amen." Every time. [laughs]
What's happening in the world of Blac Chyna's Closet?
Blac Chyna's Closet is doing good. My main focus is Lashed Cosmetics, my store's open in Encino. You should come over and get some services, on me! Every time on me. We do eyelashes, nails, teeth whitening, body contouring, waxing. It's so cute. It's white and gold, marble floors, chandelier ceilings, big mirrors for selfies. Come whenever.
What else are you working on?
The music, then I have my cooking show Cooking with Blac Chyna. It's good. It's so funny because going back to as you get older, now I have two kids. I'm a mother. Certain things like the cooking show, it makes sense for my career. Me starting out when I was 24, a cooking show? What? We want to see some ass, we don't want to see Martha Stewart!
What's your favorite thing to cook? What do your kids like?
Chicken, pasta, macaroni, salmon. They love macaroni. Dream, she eats all raw vegetables. She's always been like that, but it makes me happy because I don't have to force my kids to eat it. They're not big sugar babies, I don't give them juice. It's so funny because King's more on it, as far as the water. Dream might ask for some juice, but she sees that her older brother's drinking water so "I want to be like my big brother." I love them.
What's your favorite thing to do with them?
Honestly, whatever they want to do. The most fun thing to do with them is when I take the iPads and laptops away, for them to come up with creative ideas. King just built a robot and a rollercoaster with wood and everything. They'll add cardboard boxes and make things. For me, that right there is bomb. They could be kids, instead of putting them in all different stuff to burn them out. Once they get older, they can do whatever they want to. Not right now, they still have an imagination.
I love your dimples. Did the piercings hurt?
No, I took them out so long ago. I'm done with the piercings. I'm done with the face tats, no more. I done had my tongue pierced. I'm too old now.
I'm 30, I feel old too! 
I remember saying to people that were 33, "oh I'm 18. You're 33, you're old." Here I am now, 33. I like it though, this is the best I've ever looked and felt. I feel more stable. I know more who I am, but in the same token I'm still getting to know myself. I'm starting to get to know myself every day more and more. That's when you realize, "Okay, I'm really a grown woman." Stop playing.