Read the full interview on Flaunt.com!
G-Eazy's slogan is "from the Bay to the universe," and he wouldn't have it any other way. Straight out of Oakland, California, Gerald Gillum is the walking epitome of someone who built themselves from the ground up, putting in endless hours of hard work, time, and dedication to become the superstar he was always destined to be.
Successfully breaking through into the mainstream light, G-Eazy is a true student of the art, continuously doing whatever it takes to improve his craft while putting his all into each release. While everyone was watching Netflix over quarantine, G took it upon himself to learn how to play the piano and produce, which comes full circle with the release of his newest, highly-anticipated album These Things Happen Too.
Not only did he get behind the boards to produce a few cuts off the project, G even reels in an all-star feature from the best rapper alive, Lil Wayne—someone who G listened to and admired growing up. Additional features include Ty Dolla $ign, YG, Demi Lovato, E-40, and his own artist Kossisko.
On the 22nd episode of Shirley's Temple, I sat with G-Eazy at Matrix Studios in downtown Los Angeles to discuss what Oakland means to him, the first time he heard E-40's "Tell Me When To Go," an epic acid trip, teaching himself how to produce and record, perfecting These Things Happen Too, Lil Wayne feature on the project, opening for Wayne, launching his own cannabis brand Flowershop*, buying his mom a house, signing his own artist Kossisko, launching his own hair gel called POMADE, Kobe Bryant calling him a young Elvis, mental health amongst musicians, collaborating with Demi Lovato, gracing the cover of Playboy, and more!
How'd it feel playing your album back home?
It felt incredible to touch the people. How do you explain the energy to people who don't get it? It's in the air. Something comes over me the second I get off the plane when I land. Ah man, I'm good. I'm home.
What does Oakland mean to you? 
Oakland is such a special place. There's so much history that's come out of Oakland in terms of counterculture, from the Panthers to Hyphy. If you think about how many movements that have come out of the Bay Area, for a movement to happen it takes a kind of mind. A way of viewing the world. "I want to disrupt what's currently here" or "I see things differently," or "I think things should be better." San Francisco, the Bay Area as a whole, that's a huge part of our energy: reinventing the world for it to be better. Think about $hort and E-40, two pioneers of independent hustle. We have our own weed now, this independent hustle shit really came from the Bay, from Too $hort slanging tapes out of the trunk to E-40 finessing Jive and getting Sick Wid It Records.
What's your favorite E-40 song? 
For me, it's always going to be "Tell Me When To Go," just out of how big of a moment this was. I'm getting my fit together, I'm a junior in high school. I'm up early, rolling a blunt. I'm finna go catch the bus to school, and I'd always put on KMEL. Shouts out Big Von. I'm getting ready, it's early. This is when Chuy Gomez was on the morning, 2006. The first time I heard "Tell Me When To Go," that song arrived perfectly on time.
Were you getting down and "doing the bird"?
You know, I'm 6'4", lanky, uncoordinated, and I can't really dance that well. But I be trying. [laughs] That morning, it was like seeing an alien for the first time. It fit right in with the culture, but you knew this wasn't like anything else. This one was going to change everything. I got to school, I see my best homie as soon as I get there. I said, "Bruh, have you heard of that new E-40?" Keak's on it, he's like, "Naw, what's it called?" I said, "I don't even know, it might just be called 'Go Dumb'." I didn't know what it was yet, they didn't say. It's the first time I heard it, so that's always been my favorite.
What psychedelics do you like? 
I pretty much dabbled all around. I do enjoy shrooms, it's really beautiful. It's totally beautiful, things that are from the Earth. I've done LSD a few times. I did it once, and it was hella cool. I was on a bunch of stuff that night, I felt on the moon. It was at this big party with all these celebrities, it was Oscar night. I'm trippin'!
Damn, how old were you?
This was a couple years ago. I'm at the bar having a beer with Adam Sandler, it's that type of thing. Johnny Depp just walked in, Madonna's over there twerking on Quavo. Yo, this is crazy. I'm running around the party, it was great. The next year, I run into the same homie who gave it to me. I did it again and it was all cool, it was our yearly tradition at this party. But at the end of the night man, the trip went left. [laughs]
Have you made music on it?
I have not, but on shrooms for sure. In my studio I got a ceiling full of hue lights so I can change the colors. I got this beautiful rug on the floor of my studio. I love rugs. Rugs are a vibe, laying on a rug hella high. The lights are changing.
What did it mean to be on the Space Jam soundtrack with so many Bay Area artists?
Shouts out P-Lo, White Dave, obviously Damian Lillard. Space Jam 1 if you're from our generation, we watched that over and over. We really grew up on that. I'm probably a little older than you. Man, Grandpa Gerald is getting up there. [laughs] Doing the song for Space Jam, being in the movie, for me I almost got chills.
How does that feel?
It feels crazy. These things happen, dreams do come true. I'm at the premiere, Lebron just introduced the movie. P-Lo's right by me here. When it came on, I couldn't even help it: "Yee, yee, yee!" in the theater. We flipped a Too $hort classic, "Burn Rubber." It was one of those wow, look at where life takes you. More than anything you have to look at that as the reward or the return, what you get in exchange for all this stuff. You can't always base it on the money, the validation from sales or anything like that. The most important shit is experiences you get to have or places you get to go. Doing something with Dame, Too Short, P-Lo on Space Jam, that's nothing money could buy. It's no paycheck or how many records… making dreams come true and being present in that moment.
You built yourself from the ground up, 17 years in. You used to Photoshop your own graphics? 
I fell in love with it when I was 13, 14. I wasn't the only one, it was The Pack who did "Vans." We grew up with The Pack man, that shit was classic. We're all the same age, there was The Cataracs. Around that time, you needed somebody who could make beats, enough design to get a little cover printed or a nice MySpace background to be able to release music. Then you needed a mic to be able to record. I said "look I'ma learn all I can," because I want to be that. I was teaching myself how to make beats, I got Photoshop off of Limewire and figured it out. My first mixtape cover is us with the Bart map as the background. We've been doing this a very long time, I'm grateful to still love it.
These Things Happen Too out now! How excited are you?
Man it's crazy, anything you work this hard on or put as much into… at the end of the day, the thing I'm most excited about is this album is fucking incredible. I stand by that: this is the best thing I've ever made in my life. It's not about the pressure of how hard I worked on it or spent as much time, I know it's that special. It's that good. I'm excited to share that and have somebody hear it.
The project is 4 years in the making. At what point did you feel it was ready?
Whether you're making a product or a brand, a clothing company or some music, you're going to want to keep on perfecting it. But at a point, you've gotta let it go. You gotta mob, that's it.
You grew up on Lil Wayne, how does it feel to have The Best Rapper Alive on the new album?
That's a whole other dream come true. I remember the first time I got on a verse from E-40, that was for the first These Things Happen. I was on tour before I dropped my first album. I was opening for Wayne, that's crazy.
Right after Tha Carter III came out! That's my favorite Carter.
Oh my god Tha Carter III, I'm in high school in the Bay. The Bay and New Orleans always have connections and love. I remember mixtape Weezy, that era coming of Tha Carter II which was so classic, it was really a special time for Wayne. I moved to New Orleans. I lived in New Orleans for 6 years, and went to college there. I moved in 2007, Tha Carter III dropped June or July of 2008. I spent a whole year in New Orleans, in peak buzz and hype of Lil Wayne in his city. I remember the first time I heard "A Milli," it was getting played out in a whip driving down the block. You could hear that shit 6 blocks away, that bass like "damn what's that?" That's that new Wayne, you heard him everywhere you went. It's inspiring to be in somebody's city as a fan, soaking up their energy and studying it. Being moved like, "Damn, that's what I want in the Bay."
How does it feel to be doing it? You went from 50 people shows to selling out arenas.
It's incredible. It's beautiful. On one hand, you humbly want to pinch yourself. On the other hand, you fit the shoes that you wear. You stand up on your own two and say "well, what's the surprise? I always said I was going to be this, why would you be surprised if one day I became it? I told you way back then I was going to be this way, why be surprised?"
But humbly at the same time, you gotta always remember to have gratitude every single day because you can have all that confidence in the world, you can know you're him, but there's so much that could go wrong. It goes wrong for so many people, things are out of your control or trouble I slipped into, this that and the other. Gotta retain that gratitude for being here every single day.
What do you like to roll with?
I'm old school, I still smoke Swishers. I get hated on. Everyone hates on me but that's what we grew up smoking. My mom smokes a lot, she's a daily smoker. She's been a daily smoker since she was 16. Weed is a big love of hers.
And you made your own brand!
Yeah so I send her hella hella now. It's funny when she first smoked my shit, she was critiquing it. I remember one time I'd come home a few years ago, I wasn't really smoking at the time. I've gone through different phases of my life where I'll fall back for a year or two, then get back into it. Be heavy smoking all day. Most people I know are like that, they have their different phases. But my mom's not, she's always thuggin'. It's one of our pastimes, one of our connections. I'm home, she'd always roast me if I'm not smoking. Like "haha." [laughs]
I'm like that with my brother! [laughs]
My mom and brother are like that to me. I'm there smoking with her. Any time I'd tap out early, she'd roast me. I'm trying to hang in there, but it's how we catch up. It's when we get to talk freely and chop it up. I forget what it was, but man it was this shit. All of a sudden, I said "mama, I can't keep doing this. I can't talk anymore. I'm going to bed." [laughs] I can't do it.
Was it a strong indica or what?
It was some crazy indica.
Is your mom into vaping?
She smokes everything. She's big on tinctures. She makes them at home, she's like a chemist. She puts it in a little water and drinks it like a shot of weed. It helps her sleep, I take them now too. Sometimes I get so restless, anxious and stressed. You have all these thoughts going through your mind, pressure you put on yourself and expectations of the industry, but sleep is so essential. I take a shot of that, I'm out. But Flowershop* man, our Indica is a sleeping pill. That shit be having me out. Shouts out to moms, I love my mom.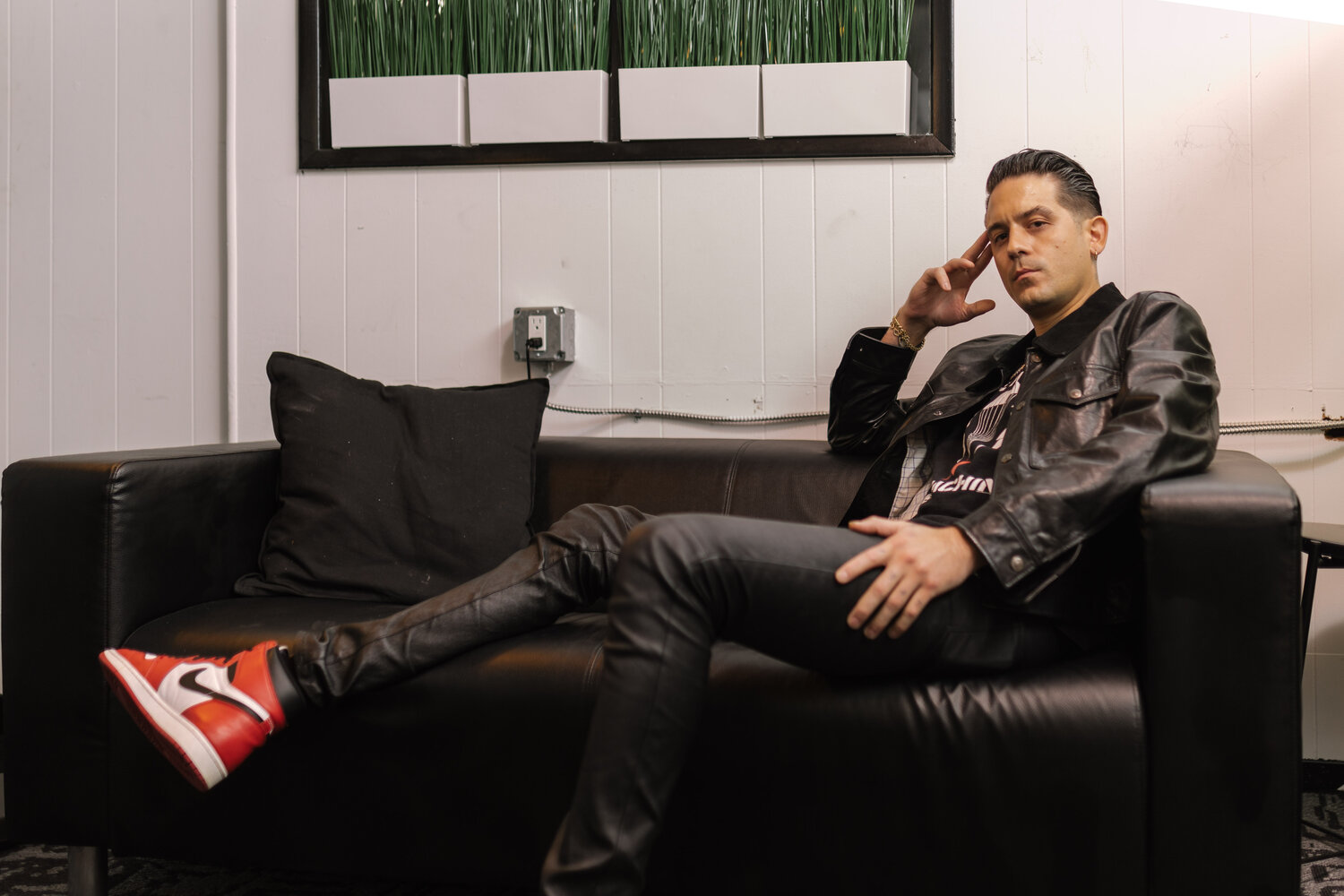 How does it feel to be able to buy your mom a house?
Think about it, what more could you want? I had bought my brother a car, a little Beamer for his birthday. I got my mom a house that same year. I remember my dad calling me saying, "Gerald I heard what you did for your mom and brother, I'm so proud of you." That hit me so hard. I was in a SUV on the way to an airport for a show. My whole team's in the car with me, I'm not trying to get choked up. [laughs] "I'll call you back!" That's what every boy wants to hear from his dad. That sentiment, that feeling of "I'm proud of you." Letting that sink in. Sometimes I downplay it anytime someone makes a big deal out of it. Every now and then, you gotta be present and appreciate how special some of these things are that we've gotten to accomplish in life.
A huge part of this show is mental health. How old were you when your parents split?
I was 5. Man, it's a complicated thing. Love is hard, family's hard. I'm scared of the idea. We're not worried about the sustainability of the planet, the whole nine. Maybe not. [laughs]
What're your thoughts on the abortion laws?
A man can't tell a woman what she can do with a woman's body. Get that together, it's disgusting and heartbreaking. It's very scary.
What're you most excited for with this new album?
The intro is one of the most powerful songs I've made in my life.
Is that the one with Kossisko?
No but shout out Kossisko, that's my artist from Berkeley. He has an incredible project called World of Trouble coming out on the heels of mine. I've wanted to get behind somebody and sign an artist, start a label. It's called Red Stairway Records. Being inspired by somebody's music and wanting to help connect the dots, mentor and usher another generation has always been a goal of mine. Being able to win with your friends and put them in position to win, what more could you want?
I love that every tour, you bring a Bay Area artist to open.
Yeah, off top. If I put together a tour, I want it to be with shit I fuck with. I wouldn't put anybody on my tour I wasn't fucking with. That's me putting my name on the line, also I'm creating an experience for the fans. Imagine I created an experience that was horrible? "G, why you put this weak ass person on the tour? That shit was ass!" Tour's a crazy thing, it's like Saturday for 6 weeks straight.
Do you have to be in shape for tour?
Yeah. [laughs] I'm not really the workout type, that's bad. I literally eat top ramen every day. I eat pasta. I haven't been to a gym in forever. I'm lucky to be tall I guess. I smoke and make music. [laughs] I do hikes, I'll run and hit a treadmill. I've never been the "go to the gym" type.
Did you play sports growing up?
"I didn't play sports in high school, I play bitches." That's in one of my songs. We did a "Boss Tycoon" flip, rest in peace Mac Dre. It's almost like it's our culture that's precious that we protect, we hold to ourselves and are proud of. It's like being in on something. If you know that shit when it comes in and how it makes you move, you're one of us.
That's why I was home for the album release party in the Bay, we did a listening event. When I first got out the Bay was to go to New Orleans. I remember being out there and being confused: "Y'all don't know Mac Dre? Y'all don't know Jacka?" I didn't know that people didn't know Mistah F.A.B. I'm out there in the dorms, it's kids my age but they're from different places around the country. That was a culture shock to me.
Did you bring the Bay to them?
Of course! Watching how they didn't react to it the same way… if you're from it, we know that shit inside and out. We react to it a certain type of way. If you're not, it's just not the same.
What's your favorite Mac Dre song? 
"Not My Job."
Talk about launching your own brand, POMADE, for the Shwoop.
Yeah, for the slick back. We're launching the POMADE, that's been a long time in the making. "You too, can have the slick back with the slut bang." [commercial voice] Some nights, it just falls down. I be having that one little thing right there. The Cut wrote this big article about the Shwoop. They had me, Elvis, Johnny Depp from Cry-Baby, and Zayne. They had me at the front of the picture. [shows photo] The article said "there's a hairstyle, and we've come to call it a slut bang."

How did it feel to have Kobe Bryant call you a young Elvis?
Damn that's crazy. Man, rest in peace. That was so surreal, that hit me like bricks. I have Kobe tattooed on me, I have a signed jersey he gave me as a birthday present. When I got to meet him, the first thing he said to me as I'm walking up: "Yo G, young Elvis. What's poppin"?" Whoa. Here we are talking about it years later. That's one of the things you could say is a testament of his true powers. I felt like I could've walked up Everest barefoot after he told me that, I could have moved mountains. That's the influence and impact he had, a lasting impact clearly.
Of course it's the Mamba Mentality and philosophy behind that, but his direct impact through moments like that. He communicated that in so many ways. Even in games, the way he played was a language of inspiration. I was obsessed with Kobe since he came into the league. He's always my favorite player because he's my dad's favorite player. My dad's favorite player was Jordan, that segued right into Kobe. We watched hella Lakers games, that was our bond. Me, my little brother, and my dad.
For Christmas, my mom would get us tickets to one game a year: Warriors. We'd be way up in the nosebleeds, it's what she could get but it meant the world to me. I remember pulling up to Oracle, knowing that Kobe's in the building gave me chills. He's here, in person. Someone who's larger than life, you can't imagine them to be human. Being 10 years old, I probably had binoculars. That's him, he's physically here. He's real! That impact stuck with me through his 20-year career, 20 years of my life. That's a very long time to be following one person. What artist you've been a fan of consistently for 20 years?
When did Eminem's Marshall Mathers LP come out?
I'd say that's 20 years. I was in 4th or 5th grade when I got Marshall Mathers LP. Oftentimes with music, it's hard because either artists take breaks, or I really love this different era of their music. Kobe as far as his playing went, for 20 years was consistently someone I idolized, worshipped, studied, followed and loved watching. To have someone like that even know I exist and to say that to me, I've been chasing it ever since. That was 7 years ago, right before I released the first These Things Happen.
You carry that same work ethic. How does it feel having a similar impact on your fans? 
It feels great. First and foremost, you have to love what you do. It's not always going to love you back in the ways you wish it would. There's a lot of years Kobe didn't win a ring. Years where artists won't sell as much as they used to, they put out some music that everybody isn't feeling. It's not always going to be a walk in the park. If you don't base it on that, consider basing it on if you love what you do. That part should be the most important. That should be a positive. If you continue to enjoy it and do it a lot for a long consistent amount of time, that should come first. That's what I'm most grateful for. I have a studio, I recorded 2 songs last night. I'm still working, new shit. I never stop but it's not work to me, as much as it's me doing what I love.
Over quarantine, you learned how to play piano and started producing. I get inspired by people who pick up a challenge.
Fasho. The thing about a challenge is, it's a challenge. If it's an easy challenge, it's not really a challenge. Whoever got anywhere by taking the easiest path? I'd rather take the road less traveled, not the path of least resistance. I'm motivated by that. I have balls. I'm brave enough if something's in my heart, I'ma do it win or lose. I put myself out there. So many people get inside their head, overthink things. At the end of the day, challenge yourself. Do what makes you happy, put yourself out there along with taking risks. Win or lose, don't let nothing hold you back from trying something. I've lost many, I've won many. Life is something you've got to keep fighting through.
A study shows 73% of musicians report symptoms of mental illness, and 50% will battle addiction over the course of their lives.
There's a question: somebody came to me and asked "Can healthy people make great art?" I remember asking my mom. My mom's an artist, my dad's an artist. They met as starving artists in Santa Cruz. My mom used to take me down there, our special occasion when I was hella little. Used to go to the Boardwalk. She knew the way to that question. She was an art professor, Master's degree in Fine Arts. Incredibly talented and educated, you can get her to talk about art history and be blown away.
She was taken back by the question, but ultimately said "yes." That's what I want to believe: healthy people can make great art. A lot of great art comes out of a place of heartbreak, pain, poverty or disadvantage, talking about things that have some inherent conflict in them. That's how you get provocative and provoke feelings, but it sometimes comes at the cost of the artist themselves. You can make this music that's deeply emotionally powerful and helps other people, but at the same time it comes at an expense to you. I've lived and carried a lot of it, and put a lot of it into my music. A lot of the very self-aware, vulnerable, self-admitting to my flaws, but it's a taxing thing.
I've been listening to "Breakdown" on repeat, how was it working with such an influential artist such as Demi Lovato?
Shouts out Demi, phenomenal human being. So brave, so talented. Somebody who's shared so much with the world. It's a powerful thing for both of us to go there, for that to be the record we shared. It's real for both of us. I approached writing that song with a perspective of if you're going to go there, then go there. Don't hold back, this isn't the time to tiptoe around stuff. You might as well go there and be real. Anytime you pour your heart out, you make the most vulnerable records that are revealing or honest, sometimes ugly or hurt, that's the most powerful stuff. It won't be for everyday. There's 24 hours in the day, sometimes I want to turn up and be light. Some people don't ever like to go there all the way. For those going through it, records like that can help heal and give them strength.
The video's incredible! All your videos are incredible.
I love videos.. That's one of the things early on we really focused on. That video, there's a subtle reference to "Downtown Love." That's OG, if you know you know. "Downtown Love" was on the first These Things Happen. The concept of the video: by that point I was out of budget so I funded it myself. It was the most expensive video I've ever done, but that's how I've always been. Go all in, reinvest in yourself and the business. I'd rather that than a car or chain, I put it back into building this up. I'm happy with that video.
Best memory from the video shoot with Demi? 
When they had the last part we're under the tunnel. On video sets if it's not raining that day and you need it to be, they have this thing that simulates rain. It's dumping hella water. Man, I love the rain. It made me feel like I was in the Bay and it's raining, then the rain turned off and it's right back to hot ass LA. [laughs] I like when it's cold out and foggy, you put a hoodie on. LA's just hot damn son, you're beating my ass today.
How many A's and Giants hats do you have? 
Man, I always lose them. I have at least 20 at a time. I go through phases of wearing one colorway over and over again. I always have hella options.
View this post on Instagram
Are we going to see more acting roles? I know you were in Hustlers.
You know what's crazy? Jamie Foxx hit me as I was pulling up. Jamie's one of the realest I've ever met. I can't say nothing but the highest praise about Jamie Foxx, truly a legend but also the humility and honesty. You can imagine how busy Jamie Foxx is, so to make an effort? Most people don't do that. It's easy to complain about how overwhelmed or busy you are, why you can't keep up with somebody and that's real too. I keep that in mind whenever someone like a Jamie Foxx has the time to narrate my album trailer.
Was that him?!
Marshawn Lynch did the first one, Jamie did one as well. It's so powerful, the way he said it and everything. Stuff like that or Kobe coming to holler at me after a game, just people who move with grace, respect, patience, willingness and realness. I always want to be that.
View this post on Instagram
Congrats on the Playboy cover, you're the second man to grace Playboy print after Hugh Hefner.
Man, that was crazy. If you could've told me at 16 when I'm a juvie: "listen young Gerald, you're not going to believe this. Outside of the context of everything else that's happening, one day you'll be on Playboy." What?! [laughs] If I could tell my younger self: "one day, you'll be on the phone with E-40 talking about copping Warriors season tickets courtside." I just talked to 40 on the way here about that. Or "one day you'll get a text from Jamie Foxx right after you hang up with E-40. One day you'll drop an album with Lil Wayne, who's your favorite rapper right now. One day you'll travel the world and see all kinds of countries you could've never even imagined existed because you didn't know about that. One day, you'll be able to fly your mom all over the world from New York to London to Paris to Ireland to come see you perform. You're going to fly her first class and buy her a home. You're going to buy your brother a Beamer. You're going home with hella free weed. Listen young Gerald, I know you're rolling up that Swisher and you can barely get that eighth you're rolling with. One day, it's gonna turn around and you're going to do great things. So keep working at it."
Are you spiritual? People who give out good energy get good energy back.
I'm very big on energy. I wasn't raised religious or anything. I was encouraged to follow whatever I find and whatever I feel. Energy's such a real thing, you've got to protect and preserve yours. You gotta be careful who you spend time around, it absorbs. I have a very powerful energy.
How's your journey been in the industry?
You've heard that story so many times over and over, sometimes the business can turn friends against you. But if you're a real one, I can sense it. It's tough man, so tough. Staying solid is so essential but everybody has different perspectives, needs, and wants. You can't make everybody happy, but you gotta identify when people aren't doing right by you. You have the right to set a boundary or cut people off. I've been so loyal and tried my best every chance to do right by people, but you have to remind yourself it's okay to do right by you as well. You can do right by everyone around you, but you can also do right by you. That's what it comes down to.
What do you do for self-care?
Smoke and take naps. I try to carve out me time here and there. I read a lot, I hike. I go on walks dolo, do things I do to clear my mind.