Read the full interview on Flaunt.com!
Not everyone who makes it in the fashion industry gets a handout, and that's exactly what NAHMIAS stands for. Launching the California-inspired luxury menswear line 3 years ago, founder Doni Nahmias is the definition of go-getter, someone who did the work, stayed passionate, and went after his wildest dreams.
Hailing from sunny Santa Barabara, California but moving to Los Angeles 5 years ago to pursue fashion, Doni went from launching a small menswear collection in H Lorenzo 3 years ago to now having his namesake clothing brand coveted by major retailers around the world from Maxfield and SSENSE to Hirshleifers and The Webster. The self-taught designer comes from true humble beginnings, getting his start interning for the well-respected Amiri brand and learning the ins and outs of the business before embarking on his own journey launching his own namesake label.
To date, NAHMIAS has been seen on the who's who in entertainment, including Justin and Hailey Bieber, J Balvin, Future, Lewis Hamilton, Lebron James, and many more.
Flaunt caught up with Doni Nahmias in downtown Los Angeles to discuss his roots in Santa Barbara, love for fashion, launching his own brand, his tattoos, social media, new collection Lost In The Sand, goals, and more!
How did you get that internship with Mike Amiri?
I went to his first trunk show at Maxfield in LA and a couple of his pop-ups, I would drive up from Santa Barbara. After a few times of seeing my face,and small discussions- he gave me the opportunity to intern and learn from him. This opportunity really allowed me to see how a fashion business operates on the inside- and to this day he remains a mentor to me.
What did he see in you?
I believe he saw a bit of himself in me. He saw my drive and passion for the industry and overall my willingness and hunger to learn and evolve myself and craft.
You were really into streetwear culture when you were younger. 
I actually was more into vintage basketball jerseys, sports memorabilia and I would steal my older brothers skate clothes, which is all still a big inspiration to me today. You can actually see several sports references in my collections; oversized mesh football jerseys & elevated silk or cashmere basketball shorts.. I'd like to say I'm re-interpreting sportswear and workwear I'd love to wear as a kid into a form of luxury menswear now.
Did you always dress well? Were you the fly kid at school?
Yeah, I'd say so. Weird, but fly. I had my generous share of different phases. (some better than others lol) This has also allowed me to have several views as I design my collections.
In middle school I wore my clothes extremely oversized. My Dad would dread taking me shopping, I would only want XXXL tees and hoodies from Footlocker and large Dickies from a store in Santa Barbara called 2001.
How does it feel to be having your own brand now? That's huge!
I love it. Every morning I wake up I look forward to getting into my studio. I am living my dream right now.
Being an entrepreneur in any industry is challenging – fashion is no different. It comes along with a ton of stress and work. I'm starting to feel accomplished little by little but also know I've got a long way to go to fully realize all my goals. I want to continue to build the brand, myself and stay surrounded with like-minded people.
I understand you didn't go to school for Fashion, how was it to be self made? 
There was a lot of failures and a lot of mistakes that took place. It's been a long journey being self-taught, but I wouldn't want it any other way. Now, I've seen a lot of what works and what doesn't and have made a strong support system along the way. I have so many people in my corner that have helped me and want me to win, and have so much gratitude for all of them.
Being that I didn't have formal training, I also don't have boundaries of what I can or can't do which in turn, has helped me creatively from fabric selections to silhouettes chosen, and my design process etc.
Who was your first big celebrity client that wore your clothes?
The brand was still on the younger-side; about a year in & J Cole wore Nahmias for his "London" music video. Such a memorable moment for me and great visibility for NAHMIAS. I grew up listening to JCole so it was a special moment. Shout out Raenna!
What's your favorite J. Cole song?
Depends on my mood, but I'd say the entire The Warm Up mixtape or Friday night lights.
How did Justin Bieber end up rocking your stuff?
Justin first wore our 'Miracle Trucker Hat' (link here to purchase), which MIRACLE has become really a staple in NAHMIAS. I think he got it from Hailey or Maeve (Maeve the goat, has supported me early) actually and ended up wearing it on Carpool Karaoke. Millions of eyes saw that hat, that was a big moment for us! I was in Paris at the time it went live during Fashion Week, getting orders slowly. But at that time, we had literally negative dollars. Eating McDonald's and top ramen in Paris trying to make it happen. That night, the Carpool Karaoke show came out and Justin was wearing –  I had no idea, but we had a ton of orders online soon after for the hats! That was a blessing. Thank you JB.
People who put good energy into the world get good energy back. Are you spiritual at all? 
Definitely spiritual. Everyone has 3 homes to take care of, their body, earth, and mind. I also believe what efforts and energy you put out into this world will always come back. Manifestations is 100% real. Take care of your mind and try and keep a clear head, even if the world surrounds you with noise to distract you. Give with gratitude and no expectations and you will receive tenfold. Try it out.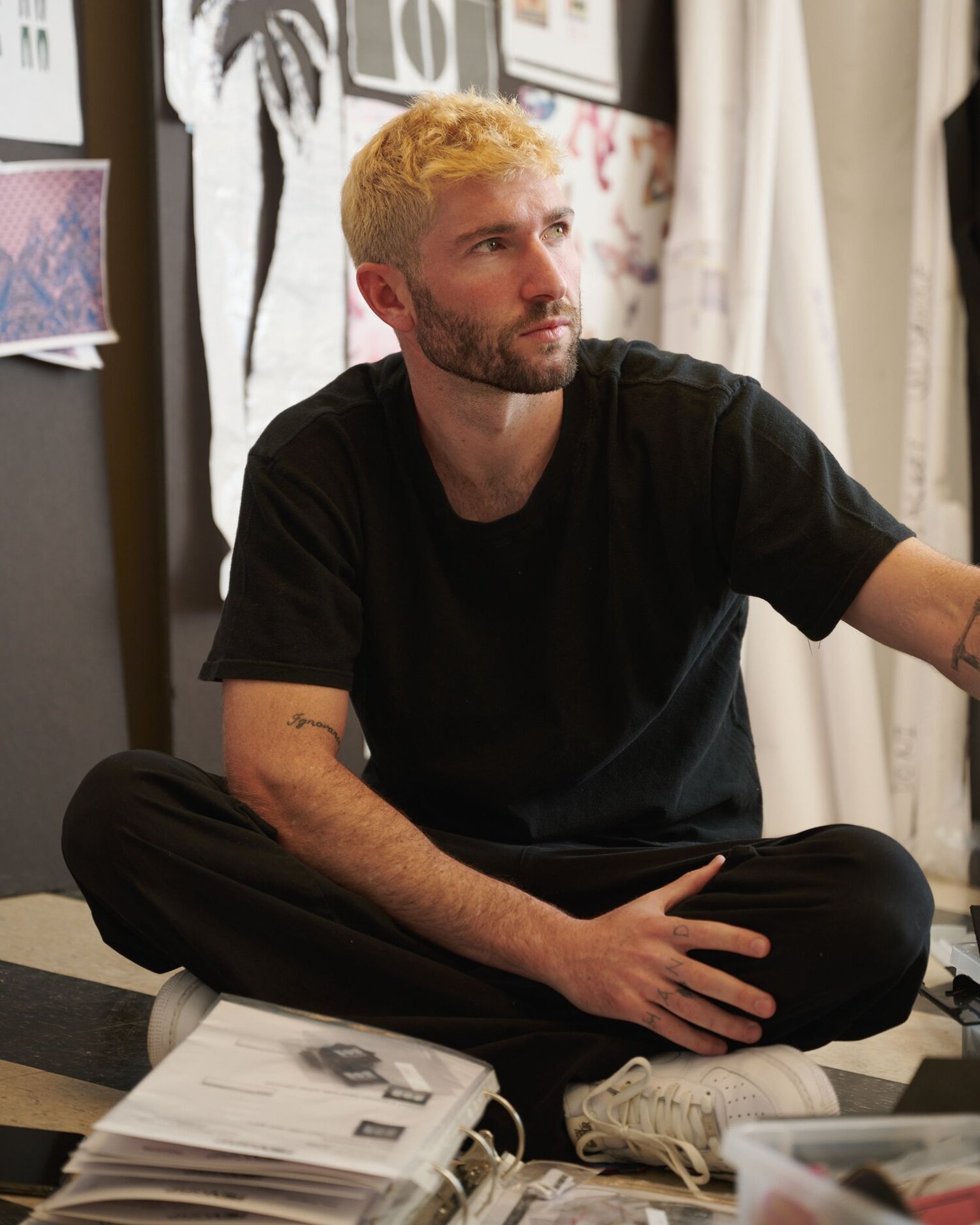 I like your tats. What does the ruler represent?
Design. It's my design measuring tape.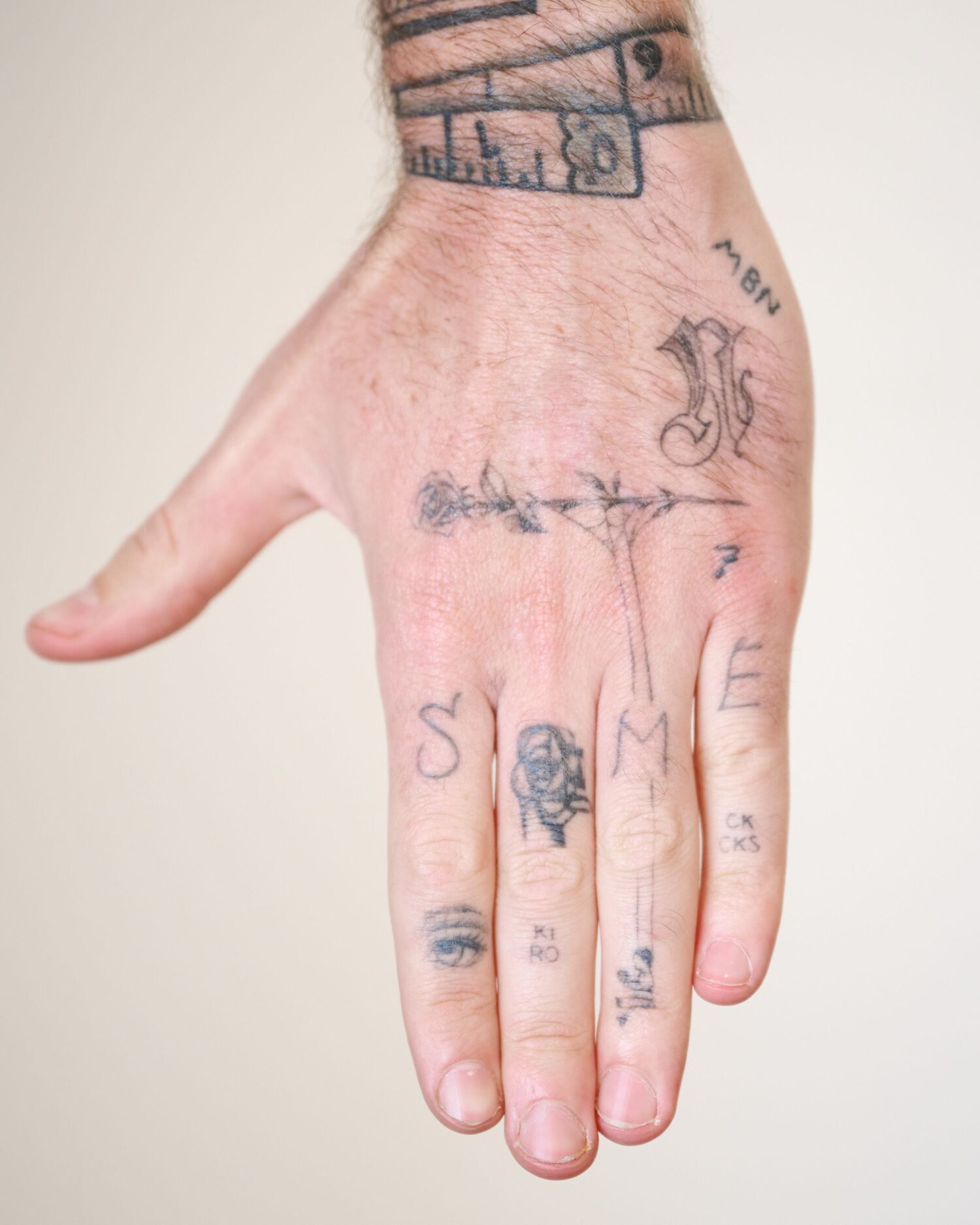 I have my "shoot hoops not guns"slogan. I grew up playing basketball, it's my favorite sport. Passion, patience, and love: the 3 things I live by.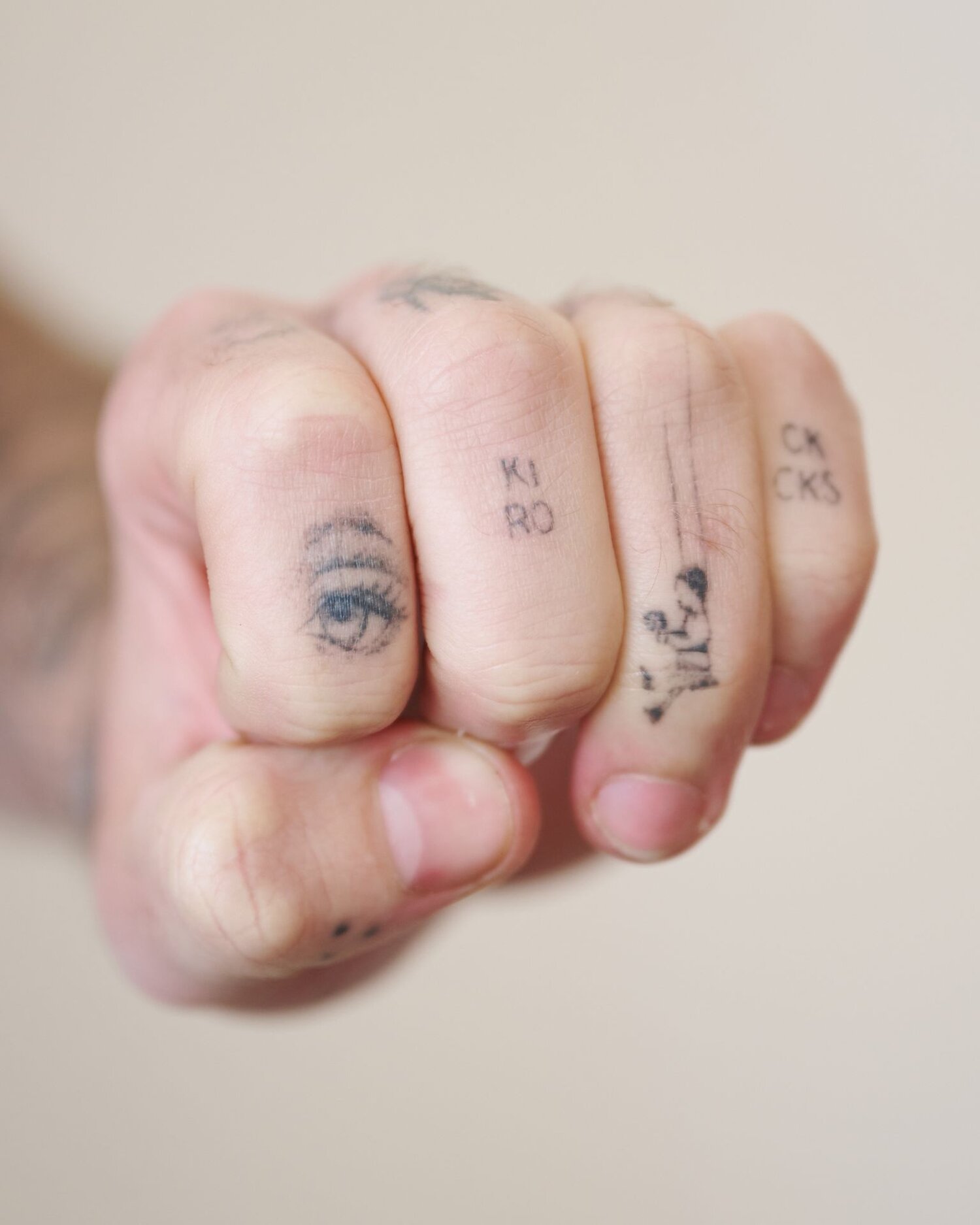 Growing up in Santa Barbara, our slang was "kick rocks", so I have that with my little kid growing up.
805 stomach tattoo for my city and Summerland across my back, MIRACLE on my neck. This is my Cupid homie with the Nahmias tummy tat. This guardian figure on my finger is something my best friend and artist Devon DeJardin created. It's my little spiritual protector. Many others, I started young. Mom was not happy about it.
What are your favorite items and why?
I'm excited about our new collection coming out, it's called 'Star Child'. The entire collection and imagery came out beautiful. I love our new fully fashioned knit trucker jacket made from wool cashmere & the "Swish" trousers that have a basketball net texture hand sprayed onto the garment. The collection feels very personal to me and it's a strong expression of myself. This new collection to me is a departure of what's out there currently in the menswear space.
Where are all the retailers? 
Maxfield La, The Webster, Patron of the New, Saks, Hirshlifer's, SSENSE,Browns, Harrods, A Ma Mainere to name a few and many more..
How important is social media for you?
I hate it, but I know it's important. It's definitely a matter of how you treat it. It can be super distracting and detrimental to your mental health. It's also extremely beneficial for the space I am in and allows me to connect and share with an audience around the world.. it's all how you use it. I love keeping up with all my friends/ family and watching them share their creations, thoughts,  wins, and even losses.
How did COVID-19 affect your business?
Thank God it didn't. It was good and bad. It gave me time to really sit and understand my brand on a more personal level, but we didn't really slow down. If anything, we got busier through COVID. Our online store picked up. It was good for me to take the time to really understand what I wanted to do coming out of COVID, how to structure the business, design process, and everything. Just understanding more the core DNA of the brand and how to structure the company as we grow.
We have a small in house team of a few sewers as well ( love them) and all our labor is domestically made. Luckily we weren't affected much with productions overseas since we're domestically made.
What is the core DNA of the brand?
NAHMIAS is a high-grade yet informal mix of skate, basketball & surf culture. Growing up in Summerland, Santa Barbara, I spent my time between playing basketball + in the water catching waves. NAHMIAS to me tells the story of so-cal beach kid culture; someone with aspirations and hope. I feel like when I Design it is very personal, and I am sharing a piece of myself for the world to wear and use for expressions of themselves. It's special.
Do you go back to Santa Barbara often?
Yes, it is my mental reset. Just go down there and sit my ass on the beach or my favorite lookout Points. I try to go down for the weekend once a month or so. I make a point to see my Family as much as I can also, life moves fast.
Any goals for yourself at this point of your career?
As I grow, I'm hoping that I can help people around me grow too. Being there for others success as much as I am for my own.
Next goal for myself also is to have a runway presentation in Paris. And I hope to see all of you there!