Read the full interview on Flaunt.com!
Once you come across Emma Brooks, it's hard not to fall in love. At only 19 years old, the competitive dancer turned model, designer, actress, and social media creator has established herself as a mainstay in not only the beauty and fashion world, but beyond.
Crowned Miss Louisiana Teen USA back in 2019, Emma went from pursuing a pre-med degree (in hopes of becoming a dermatologist) to walking her first runway show for Sherri Hill during her first New York Fashion Week. Now calling sunny Los Angeles her new home, the sky's the limit for Emma, has fans all around the world gravitate towards her undeniable beauty, down-to-earth personality, and vulnerability when it comes to mental health.
Being diagnosed bipolar and having struggled with depression, Emma uses her platform for the greater good to help others, wearing her heart on her sleeve while doing it. In fact, she's planning to launch her own mental health-focused talk show called 50/50 where she will speak to guests from all different backgrounds and walks of life. Additionally, she's an advocate for the LGBTQ+ community and has been vocal about her bisexuality.
Flaunt caught up with Emma via Instagram Live, who was posted in New York City for Fashion Week. Read below as we discuss her time in New York, walking her first Fashion Week, winning Miss Louisiana Teen USA, getting a fashion internship to designing her own clothes, her passion for mental health and personal struggles, being diagnosed bipolar, relationship with Zack Lugo, and more!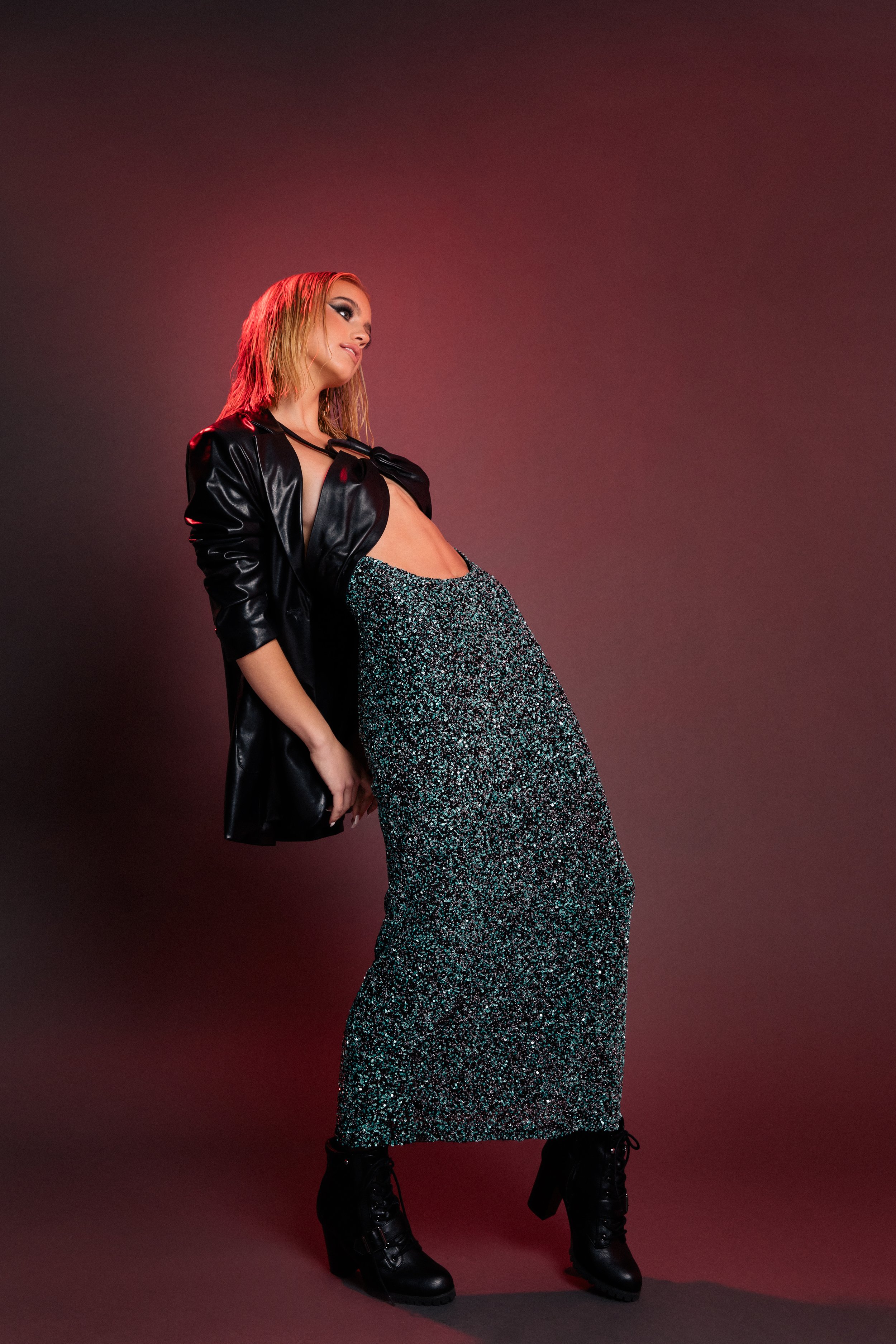 How was it walking in New York Fashion Week? 
It was so cool! It was my first year at Fashion Week. I was so lucky to have such a packed schedule, and I was able to walk for my first time. That was pretty insane for me.
Were you nervous? Because I walked in a fashion show and was shitting my pants!
The first walks I did, I was really nervous. I was speeding it up. It definitely wasn't as good as I felt about the last two walks that I did. It's my first time. I haven't walked in a year or so, out in front of people. It was really such an adrenaline rush, but it was so much fun. I definitely want to do it again.
How did the opportunity arise to walk for Sherri Hill?
I've been working with Sherri Hill for a couple of years now. I did pageants back in Louisiana, I was on the Louisiana team. That year, Sherri Hill sponsored everyone's dress from Miss Teen USA and Miss USA. We were able to go to Austin, Texas and create our dresses. That's when I met Sherri herself, she asked me to go to market for her. I did market a couple of times with her and had a relationship with the company.
One day maybe two weeks beforehand, I get a text from Val who works for them like "Do you want to be a part? Do you want to walk?" I'm like "YES!" It was so fun. Some of the girls from market were able to walk this year, it was so fun to have the girls in one space. I don't get to see them all the time, especially some of the Miss Teen USA girls I competed with were there.
How was your experience doing pageants for Miss Louisiana Teen USA?
The reason why I got into pageants is because I've always been passionate about modeling. I'm from South Louisiana, so figuring out how to get out of South Louisiana to go into that industry is crazy. For me, I always thought pageants were such a perfect great gateway for that. There are many girls from Louisiana who are either discovered through New Orleans Fashion Week or the pageants, so I did both.
I remember one summer where I was going to all of these local Fashion Weeks and I was being coached to prepare to compete. I competed twice. It's interesting because it's so fun, but it's very mentally stressful. You have to learn how to stop comparing yourself to other people. You learn a lot of good things from it, but it's definitely a little mentally draining. There's a lot of pressure. I was fortunate enough to deal with a really great group of women, but I've heard so many horror stories of women not  supporting each other. The whole point of Miss Teen USA and Miss USA is woman empowerment. It's such an uplifting source for women to go to and look forward to. It's really empowering and I love it. I had a really good experience. I competed twice, then I went to Miss Teen USA and that was it.
Can you describe that feeling of winning? 
It was crazy. It's still a really weird feeling. You believe it but you don't. I heard my title be called and I'm like "ME?!" It was a really intense feeling, but it was a really good adrenaline rush. It's so exciting and such a good platform to start off with. I'm very lucky to start off with having a platform with pageants, and a couple years later accidentally have a platform online. I can learn what message I want to promote, how to go about it. What to share, what not to share, and meeting people. It helped a lot.
What would you say is the message you were trying to share?
My platform has always been about mental health. Mental health is very important to me, it's played a very big role in my life. I've always been an advocate for it. I have a bunch of messages I want to give off to people. There's so many things to talk about. One of my main ones is a small piece of advice my mom gave me whenever I was going through a difficult time in high school:  "No matter what, in the end of it all, it will be okay." There's always going to be ups and downs, but to go down you have to go back up. It'll go back and forth no matter what.
What do you do for self-care?
For self-care, things anybody can do I put more emphasis on skincare. I like to integrate things that I enjoy doing into my work. Like cooking, I really love to cook. I don't cook that often anymore but I recently started trying to film it and see what happens. It's a fun process for me. If I can make it work, it'd make my life easier. I really do love reading so I've been trying to make time for that. I finally got a new book. I've had the same set of books for the longest time and I'd read them over and over. I finally went out of my way to get a new book for myself.
What book is it?
It's called The Darkside of Camelot, it's an autobiography about JFK and his life. About his presidency: how he was corrupt and how he wasn't corrupt, the kind of man he was. It's really interesting, I wanted to be more cultured because I'm not in school. History, it's hard to be cultured in the area of what I do. I'm trying to find more time. It's what I enjoy and I haven't been finding time to do that, so now I'm trying to integrate with reading.
Working out in the morning puts my mind in the right space. Early, it makes my energy go up. It's easier to feel motivated. I definitely have been struggling going to the gym and finding time, that's something I'm trying to regulate. Those are usually the first group of things that I tend to go towards whenever I'm taking care of myself.
You were pursuing a pre-med degree in dermatology right?
My junior year of high school, I was low-key settling a little bit but I really wanted to find a way I can make people feel good about themselves. I come from a family of doctors. My mom's a lawyer but the rest are all doctors. I figured this was something I could be good at, but I don't want to deal with a lot of blood. I want to make people feel good about themselves. I thought "plastic surgery? Dermatology? Which one do I want to do?" I did want to go to the pre-med at LSU because it's one out of 5 colleges in the United States that has a cadaver. It's a good program. I did get accepted to LSU but summer before senior year, I attended a leadership camp at UCLA.
I went to UCLA!
Oh really? It was my third time out in LA with all my friends at this camp. I'd never seen the UCLA campus, it's very cool. Very pretty. I found a fashion PR company I really liked. They were the only fashion-based business there. I created a connection with the owner and kept that relationship throughout my senior year. Ended up getting an internship out there for a year. I gave myself a gap year to go live in LA, do this internship, figure out how to make money. If I couldn't become financially stable by the end of that year, I'd go to LSU. I already had an apartment there, I already was accepted. If I had to go there a year later, I could. It ended being 7 or 8 months into living here in LA, I figured out social media a little bit more. I found my niche and was able to start sustaining life. Now, I don't have to move back. I can actually do what I love to do.
How did that internship transition into you designing your own clothing with Princie Apparel?
That was really fun. Princie Apparel is a business that first reached out to me, It started off with me wearing a sweater and a skirt. It turned into a photoshoot with my friends. Getting to know the owners, going to dinners and lunches with them. Some of the products were named after me and my friend Dev, then it turned into "let's do a clothing line. Let's collaborate." The jeans are one of my favorite jeans that I own, it was cool to be able to put a tab on there. Some of the pieces were already there, but they're my favorites. The playsuit, the terry cloth set, some of the tops and colors were more unique to me. My favorite colors right now are green and purple. The playsuit is a new thing I'm really into, and I really love argyle. It's playing into my own fashion sense.
How would you describe your fashion sense?
All over the place. I'll wear streetwear clothes one day, then the next day I'm dressing up in a tennis skirt. The next day I'm wearing high-heeled boots and a dress, then I'm in sweats again. Definitely it's trendy, but trending new fashion. The soft girl, the indie girl, all of that.
I know you're in the process of designing your own brand!
50/50, it's definitely something new. I can talk a little bit about it, but it's still in the works so I don't want to say too much. It's a brand incorporating mental health as well. 50/50 will be a multitude of things, not really anything specific and that's why I'm trying to figure out specifically what those things are. I don't want it to be just one thing, I want it to be a broad spectrum. I'm really excited, it's going to be really cool. I feel people may be able to relate to it and want it, hopefully keep it going because I really am excited about it.
You're launching a podcast with it right?
It may be a group of things. Genuinely, I want to make a conversation about mental health that's very real. I want to talk about my own experience, but I want to educate people about other people's experiences and other mental health disorders that I may not suffer from, but that people go through and don't really know about. It's going to be a full jumble of that, but I do want discuss with other people who may know more than me.
What did you learn about yourself doing pageants and winning Miss Teen USA? 
I definitely learned I hold myself to really high standards. In the beginning, I was looking at every other state. In different countries, the pageant world is so big.  Even when you're not big on social media, there are fan pages about you. There are pageant fan pages depicting who's going to win or who's better than who. It wasn't really me looking at the girls, it was me looking at those accounts and thinking "I'm not good enough." It made me realize how much I do compare myself, and how not to compare as much.
I've been in therapy for a long time. Even before the pageant system, I was in therapy which mentally helped me along. Whatever I was feeling, I was able to express to my therapist at such a young age. I was 16 when I won, and I turned 17 during that year. I won't lie, my junior year was a really mentally hard year for me. Not all of it had to do with the pageant, it was really hard and having the support I did that year really helped me. Having a support system already was so amazing for me. The way Miss Team USA ended was such a bittersweet feeling. The competition wasn't what any of the girls expected. It was purely fun because of the girls. Not because they set it up for it to be fun, but because of the group of girls we had. It was nice to be able to truly appreciate that. I tried to take everything with a grain of salt.
Do you mind sharing what you suffer from? 
I've been diagnosed with depression, anxiety, PTSD, ADD and bipolar disorder. It took me about 3 years to get my diagnosis for bipolar disorder. I've always been on mood stabilizer pills. They always said I had symptoms of it, but it takes so long to get a diagnosis. Once I got it, I was smiling ear to ear. Finally! For it to make sense in my brain so whenever I'm doing impulsive things, all of these symptoms of bipolar I can label and take a step back. It's just happening.
I was diagnosed with depression and anxiety in 7th grade. I'm very lucky to have a mother who's very aware of mental illness and accepting of mental illness, who's for medication and therapy. I know not all families are like that. My main goal is to help the generation that will have children to be positive about mental health. You can't really do anything about the adults. Some are too stubborn and it is what it is. For the growing generation that's Gen Z, who's going to be where the millennials are soon, we need to set a positive example. It's not too late to make people who are mentally ill more normal. It's normal to be mentally ill. I looked at a statistic the other day that 2.8% of adults in the U.S. have bipolar disorder. It sounds like a small number, but it's 7 million people. That's a lot of people. That's normal to me, it shouldn't be weird to have the disorder in your brain.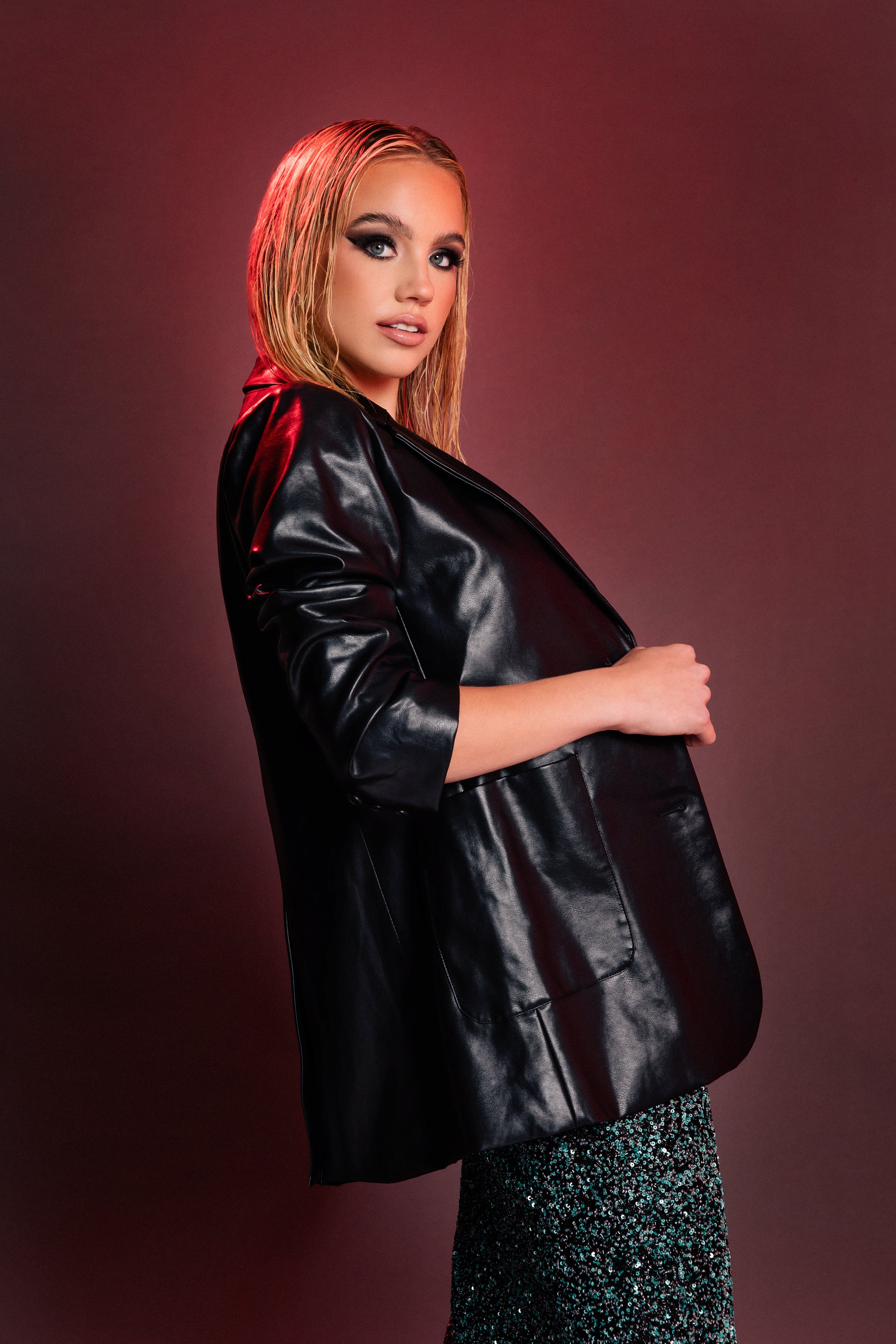 Does it ever bleed over into relationships? 
I'm very lucky to be in a very healthy relationship where he doesn't really have a mental illness like that. It's hard for him but he really does try to understand when and why I'm not okay. He knows that maybe in his mind it's not a big deal, but in my mind I'm freaking out. Whenever people touch my stuff, I'm like "ah!" He was helping me unpack and I'm freaking out in my brain, but I'm trying to be better. I know I need to push myself in those mental capacities. I try to look at things from an objective perspective. The way I feel is one thing, and what it actually is is another. I try to look at both: try to understand where I'm coming from and where other people are coming from who don't see the same thing as I do.
You have a big platform, why is it important for you to help other people? That's so beautiful in itself.
I'm only 19, still figuring out how to use my platform to help people. This algorithm is so interesting, some people don't want to hear it. Sometimes I get too caught up in my own life to be promoting it. I'm trying to be a better person in my own life and on social media, trying to be more inclusive. I'm definitely better on TikTok, I can talk to a camera and people will listen. On Instagram, people don't read long captions anymore. It's nice to find things like this where people will actually listen.
What was your big viral moment on TikTok? 
I filmed a video in high quality using a camera, it was a thing at the time. I was at my friend's house, they said "you should just do it!" I said "okay, whatever it's fine." I did it and it ended up doing really well. It was a high quality video of me lip-singing to a French Montana song. I kept up with it, kept up with regular videos of me propping my phone up and doing dance moves. From time to time, I'm vulnerable and emotional. I'm talking about why I had a bad day, what I'm going to do to fix that bad day. Being like "here's my mental struggle for the day." I'd like to incorporate it more regularly. I don't want it to be just on bad days, I want it to be a normal thing. I'm definitely getting better at figuring out how to do that.
Do you have any advice for managing PTSD?
It's definitely helpful to figure out what your triggers are. It's about how to notice those triggers in the moment because you can't help your environment no matter what it is. It's going to happen. It's figuring out how to take that oncoming anxiety attack into something calm. "I'm struggling right now. I'm remembering this, I'm back in that moment." What're you going to do in that moment to take your mind off of it? Go see someone, whatever it may be. I know everyone deals with their own thing in their own way. It's hard to figure out what exactly is the right way.
The wrong way is any form of self-harm, substance abuse, verbal or mental abuse towards yourself or someone else. Go easy on yourself. You can't help your trauma, it's not your fault. Sometimes you do have to cry. You have to process it, there's no way to deal with it. I'll have a flashback because that one person texted me or I saw this one person do that thing really relevant to my own personal situation, sometimes I have to breathe a bit deeper. Maybe I'll have to cry a little bit, or try and brush it off. It depends.
You're getting into acting right?
I am, it's something I definitely need to practice more. Acting's such a serious thing. I look at it more as an art form than something that's easily fun, because it's not. I'm such an emotional human, it's not that hard to make me cry. I can be someone real through the script. Cinema has definitely gotten a lot more serious. Films have definitely become more progressive and people are talking about real topics. Of course, I want to do some entertaining projects. I want to be fun, drama, romantic, whatever it is. The series dramas about serious people doing serious things, I'd love to be a part of something like that. I want to be taken seriously as an actress. That takes practice so I'm definitely doing that and trying to watch more movies.
What's your favorite movie of all-time?
I'll tell you my two: it went from Titanic growing up to Fried Green Tomatoes. It's a very wholesome, sweet movie. My mom watched it growing up. That one guy from Hawaii Five-0 is in it with a buzzcut. I haven't even watched a movie in so long.
I love going to the movies. Do you and your boyfriend like going to the movies?
We do,  we just have to make time. It's something I'm definitely still working on. I feel I get something everyone will always work on.
What's your ideal date night with Zack [Lugo]? 
Literally staying in is the best. We're both busy, we're both moving. A week ago we went to the Santa Monica Pier and got dinner, it was really nice to do that. Honestly just being with one another after such hectic schedules, we don't see each other during the day. We're not constantly with each other or constantly texting. We'll call each other once or twice to be like "hey, how are you? Do you need anything, are you good? How's your day going?" But we usually see each other at the end of the day. I like to do anything that's very connected.
What are you most excited for next?
Honestly I'm really focusing on this New York trip. A lot of meetings and people I'm trying to meet, just trying to broaden myself out. I'm really trying to be bicoastal. I really love New York and LA, I want to live in both places and work in both places. I'm really excited to be with my friends. My best friend lives out here, Olivia [Ponton]. She's my first friend I had in LA, my best friend. We lived together in LA, it's such a good relationship. I'm with her right now and I'm excited to just be working.