Read the full interview on Flaunt.com!
Rosa Acosta is built from a different breed, and we love to see it! All the way from the Dominican Republic, Rosa is a dancer, model, actor, influencer, fitness guru, entrepreneur, and dog lover, someone who effortlessly demands attention whenever she walks into a room. Boasting 1.6 million followers on Instagram alone, Rosa is walking motivation that if she can make her wildest dreams come true, then you can too.
In 2002, Rosa made her mark on the world by becoming the youngest person to join the Ballet Nacional Dominicano. Being classically trained in ballet paved the way for her fitness endeavors to come, as she now tries to always stay in shape "at least 6 weeks out from a fitness competition." While she looks phenomenal, it's important to note the hard work, discipline, and rigorous training that comes with it.
Rosa serves as founder of her own clothing brands Cossamia and Body by Rosa Acosta, as well as her her own signature perfume. Nick Cannon's was the first to unveil her comedic appeal on several season's of Wild'N Out that positioned her on to the big screen with the newly released movie She Ball. Critics compare Rosa Acosta's acting skills to acclaimed actress Rosie Perez saying she is the 2021 version.
This year, Rosa introduced her newest character Bianca in Johnson, a successful drama on  Bounce TV with a whopping 5.7 million viewers that solidified a promising Season 2 slated to air in 2022. Kicking off her industry career as lead feature in Drake's "Best I Ever Had" video to now landing endless acting gigs, Rosa Acosta's effort has come full circle.
On the 26th episode of Shirley's Temple, I spoke with Rosa Acosta about her role playing Bianca on Johnson, making money on OnlyFans, being in a relationship, launching her own brands, her workout regimen, always staying in shape 6 weeks out from a fitness competition, her love for dogs and wanting to open a dog sanctuary back home in the DR, her background dancing, being in Drake's "Best I Ever Had" video to Kanye casting her to how Trey Songz got her in his video, and more!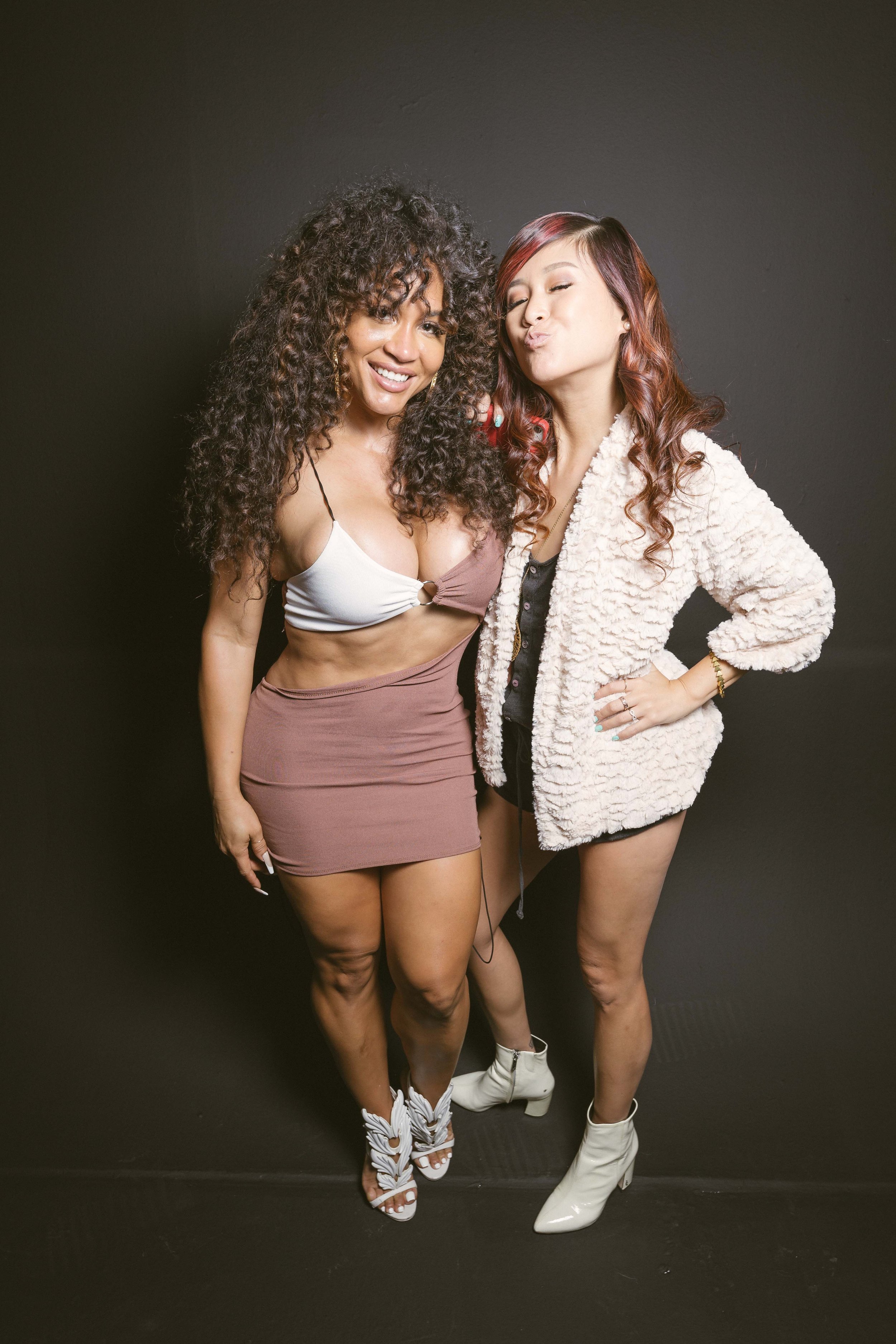 How was it celebrating your new role as Bianca on Bounce TV's Johnson?
It was great. I was so happy to be able to celebrate that Johnson is the most watched series for the network, for Bounce TV. Just today, the news came out that we are renewed for a second season. So happy.
You do a lot of things. Is acting your #1 right now? 
I do everything. [laughs] It's like, what's #1 this week?
What's #1 this week?
OnlyFans is #1. [laughs] I love it because before, we needed to do music videos and magazines in order to get paid. Here and there, there's a video with a budget nice enough for me to be on it. Magazines are also like that. The good thing about this new digital world is that you can create content yourself, for yourself and share with others and there's no middleman. Your fans can see it in real time, right away so I love it.
Do they have to pay to subscribe?
They have to pay to subscribe, but there's tons of goodies, tons of daily updates that go with that. There's also other things that they can pay a little extra to see. I am not a porn star, but who needs porn when Rosa Acosta can do a little something something? [laughs]
What's your subscription fee?
It's $19.99. My OnlyFans is onlyfans.com/rosaacosta, in case you guys want to see what I'm talking about.
Do you have a man?
I'm not saying that I have a man or a non-man, but I'm in a relationship. It can be a girl. It can be a guy. It can be a non-binary person, but I'm in a relationship.
She's not available, so don't try it! 
I mean, people are gonna try regardless.
How are your DMs looking? 
I don't check my DMs. I love effort. If all a person has to do is send me a happy face for me to respond, we're already starting on the wrong foot. You need to do way more than that to get my attention. Anybody that's been with me, knows I don't get down like that. I don't check my DMs.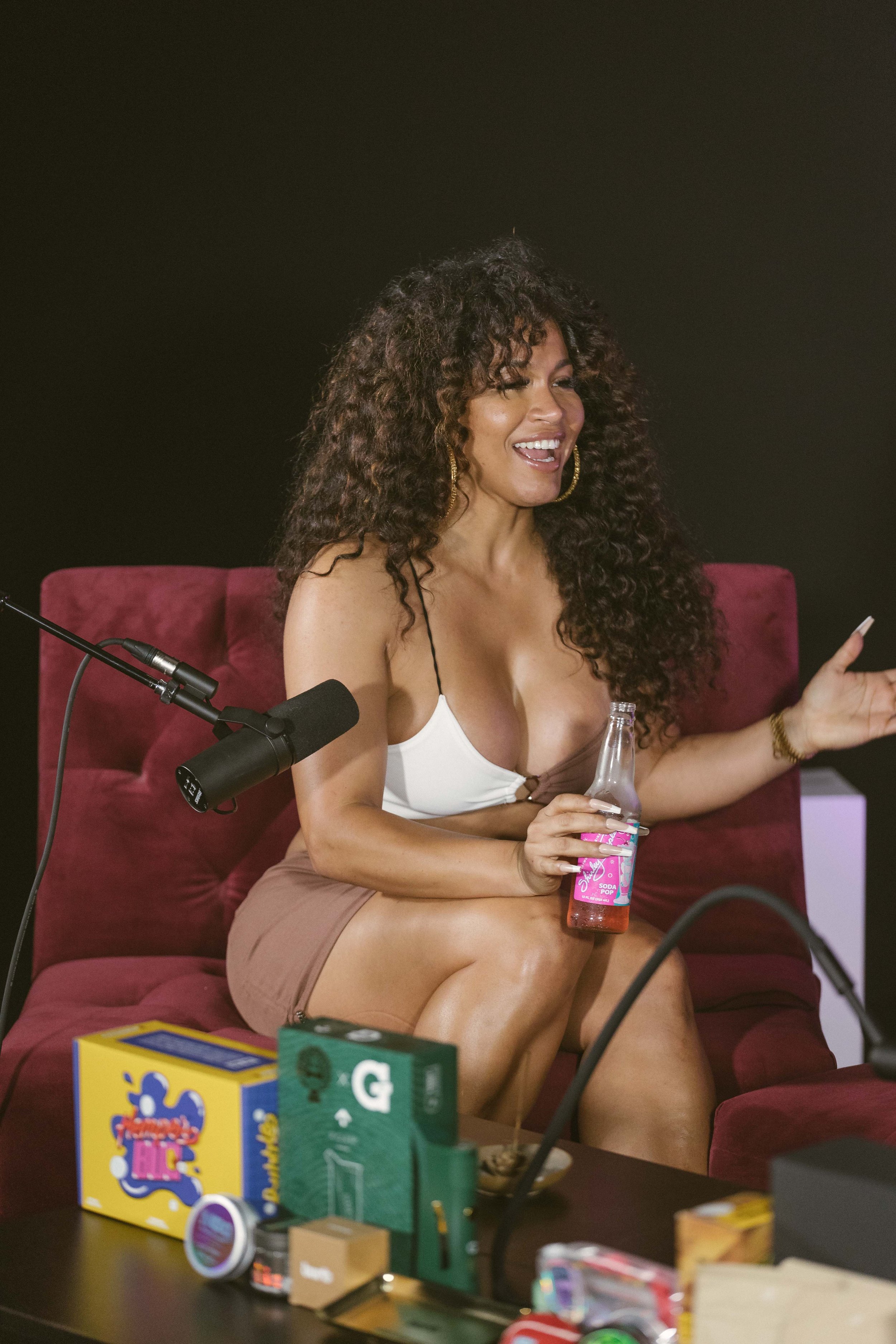 What's your favorite thing to do with bae?
Spend their money. Just kidding. [laughs] I make my money, I'm independent. Unfortunately, because I don't like spending my own money. I'm a homebody, so I love spending time at home. I like to get dressed maybe once a week. We try to do something once a week if we can, out and about. It can be an experience, a little dinner.
Dinners have become a little less of a thing because I'm on a diet most of the time. We go sometimes, but I like experiences. I like going to the museum, or going to a small concert somewhere where there's live music or dancing. Or a little get-together with a group. I definitely love being at home, doing the whole Netflix and chill.
What shows are you watching?
Oh my gosh, I've watched almost everything on Netflix. I'm very into murder documentaries, I love those. I'm learning, in case I have to do something. Just kidding. [laughs]
Can we expect action roles from you? 
I should. I'm athletic so I should do something like that at one point, but not yet. I guess people don't want to see me run and do stunts, they'd rather see me doing other things. [laughs]
Is that your natural hair? 
I love wigs, weaves, and extensions, because I don't like to put heat on my natural hair. When I'm in those seasons or when I have to do a job where they want me with that look, I add extensions so I don't burn my hair. For the past 3.5 years, I haven't put any heat on my hair or color. It's paying off now. The journey of natural hair, it's not as easy as people think. It's long. To be happy with your hair, it takes 3 years, but it's finally [paying off]. I wash it and let it be, like a lion.
I love that you love gifts, 'cause I love gifts too!
I love gifts. It's my favorite thing, to receive gifts. It's my love language.
Do you like giving gifts?
I love giving gifts, and I'm so good at it. It's my love language. The reason why I'm not in a better position financially is because I can't stop buying people very nice gifts. The thing with me is I love to make people feel happy and special, I'm also a very good listener. Everybody says what they want at some point, even if it's very subtle. I love listening, then catching those little things.
Sometimes it's not so much people can't afford things, they don't even have the time to buy it for themselves. They do so much for other people, so I like to be that person that does something for them. I do it not just with my significant other, but with my friends. I know my best friend's tired of me because I've given her so much bullshit, like funny gifts. She literally has a collection of a blanket, pillow, bikini, sweatpants, t-shirts… all that with my face. Panties, puzzles. She has a puzzle when you put it together, it's my face. [laughs]
How was it launching your own brand?
I started Body by Rosa Acosta, my activewear line first. At the time, I had so many friends who had collections coming up. I said, "Why don't we all get together and put everything in one place?" That's how Cossa Mia became a thing. It was me, my best friend Geebin Flores, Angel Brinks, Brittany DeShields, Jessica Rich. All those girls are big bosses doing their thing, I said, "We should do something where we're all together." We've been rocking for almost 8.5 years now.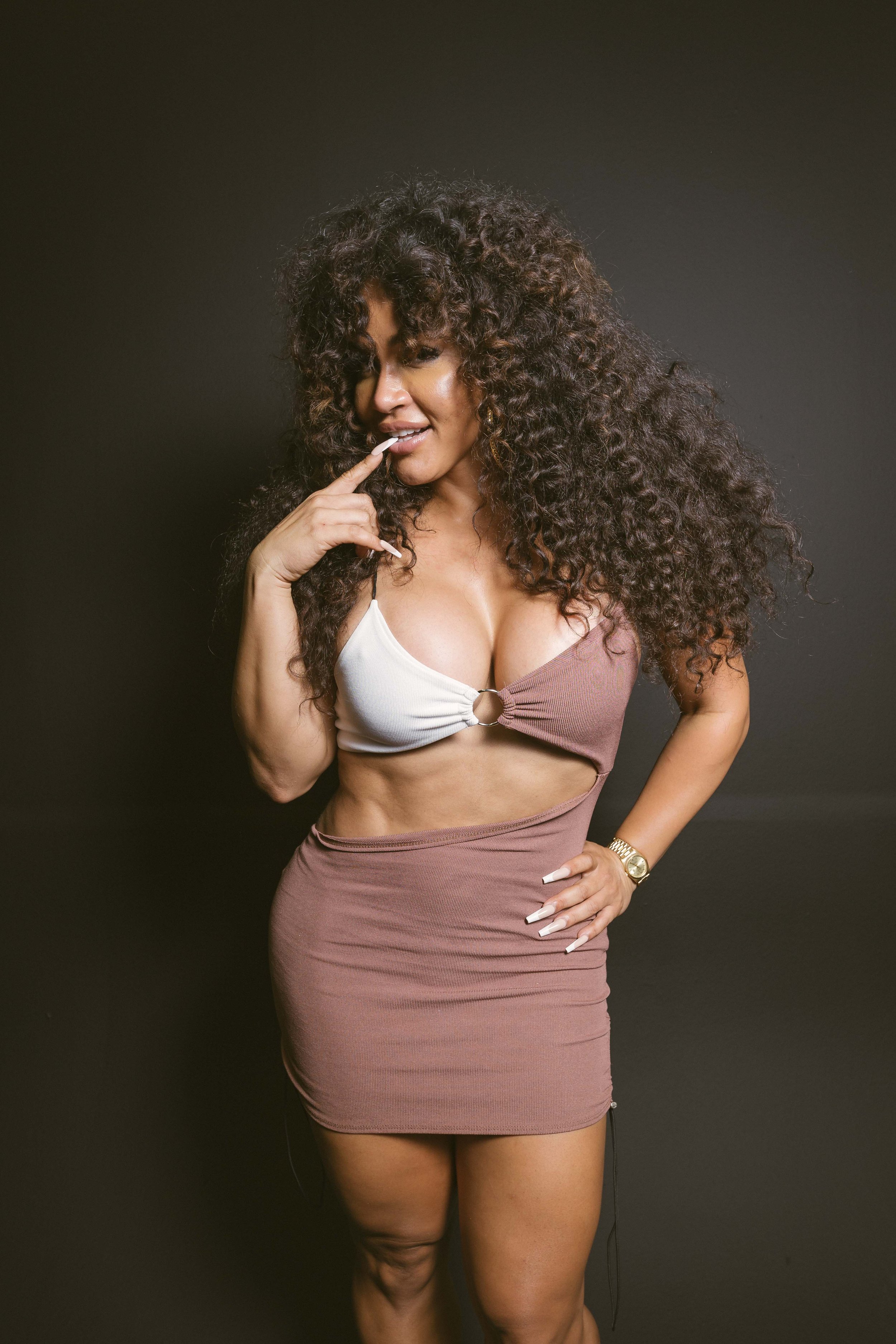 What is Rosa Acosta's workout regimen? 
My problem is I like to look like I'm 6 weeks out from competing, but I'm not going to compete. My diet and my training is as if I was heading to a fitness competition, but I never get to the peak week. I keep working out at that level. I like that look, I like having muscles and being strong. I'm really right now interested in crushing a watermelon with my thighs. I don't know if I can, I've never tried, but I'm working towards that. After I can do that for sure, it's the head of each one of my enemies. Every single hater I've ever had, I will smash your motherfucking head between my legs. What's a better way to die?
How was your time doing fitness modeling? 
It was good. I love the whole thing, I just don't like competing. I've competed before, I like to look the way I like to look and not quite how the judges want me to look. It's totally aesthetic. You don't have to be strong, you just have to look a certain way. It's very specific, and I don't love that look. I like to look like I'm 6 or 7 weeks out from the competition. It's great, I love the dedication. I love the discipline.
Even when I look at people and I don't like the way they look, what I really see is the discipline. People have no idea what it takes to get there. The consistency and the hard work you gotta put in, it's not for everybody. I really love it, I really appreciate it. It's taught me a lot too, about myself. You take your body and you push it to some crazy ass limits, so it's nice to be able to see you can do those things. That you're capable, it's great. So I love it.
How often do you workout? 
I train with my trainer 5 days a week. On the weekends, I either hike or do yoga.
Who do you listen to when you workout?
I don't listen to anything. For example if I'm walking or running and there's music, the dancer in me is going to want to dance. Or to run or walk at the pace of the music, it's not good. That's the way my mind works, so I don't listen to anything when I'm working out. If there's music at the gym, whatever, but I don't have it here with me. [motions headphones]
Sometimes, music is the only reason I'm motivated to go.
I look at chicks on Instagram, and that's my motivation.
Mental health is a big part of this show, how are you holding up?
Great. I have so much empathy and respect for everybody that deals with mental health [issues], but I've never experienced that ever.
You've never been sad over a negative comment? 
No. I've had real problems in my life, so a comment… you know. Unless you say my dog is ugly, then fuck you bitch! Who the fuck you think you are? Come see me hoe! [laughs]
Do you still have the dog with the 3 legs?
Yeah, I just got her in June. All 3 of my dogs are rescues. My first one, that's McCoy. That's the worst out of the 3. He's all the bad things: food aggressive, hates people, hates me half of the day or more. He loves to dig up dirt. He's not destructive, but now he's becoming incontinent so he wears diapers. He was born with a heart murmur, he has some neurological issues. As he's getting older, his health is declining slowly. I rescued him. I was volunteering at a rescue called AGWC Rockin' Rescues. They brought him one day, he was pulled out of a Carson shelter and it was love at first sight. As soon as I saw him, "Oh my God, he's so beautiful." I walked him for 8 months, I went there every Saturday. One day, I said, "Can I take him home for the weekend? See how it goes?" Then he never went back.
I found Princess one month before the pandemic, she's another pitbull mix. She was only 49 pounds when I got her, now she's 70. I found her 2 blocks away from my house, eating trash in the middle of the street. I think she belonged to a homeless person. I took her to the shelter, nobody came for her. I put myself on the list to be the first one to get her if nobody claimed her. I went and picked her up 5 days later, she's been home with me. Then Lulu, which is the tripod. I've been working with tons of rescues back home in the Dominican Republic. Out of 10 dogs I help, 8 usually don't make it. It's really sad, it's terrible. It's bad. By the time we get there, they're dead. Literally this month, I don't think none of the dogs that I helped survived.
What environments do they come from? 
They're in the streets. They're street dogs. Most get hit by a car or they've been in the streets for so long, going through so much. I know these rescues are running on nothing because they don't get enough donations. By the way, if you guys feel like donating your Starbucks coffee one day a week, $5 goes a long way there. I always post them on my Instagram, so please check it out. $5 will make a big difference.
I work with this group, they had posted the picture of Lulu. She was hit by a car, her leg came through her skin through the hip. So sad, it looked like she was in so much pain. I was asking them, "Can you guys pick her up? I'll pay for the vet." They said "Well that's in another city, we'll have to find somebody." I said "Please find somebody." They went and got her, she went into surgery. They couldn't save the leg. Once they're done, usually we have to put them back in the streets because nobody's adopting or fostering, but I had already scheduled a vacation there with my friends. I asked, "How big is she? Maybe I can bring her with me." They said "She's 4.5 pounds." I did all the paperwork and I brought her with me. Now, she's the American dream. She went from dying doggy in the streets of the Dominican Republic, to graduating from Petco for obedience. She has her Bachelor's degree in obedience. [laughs]
Did you have a dog growing up?
There was a dog at home. My grandparents had a dog. Usually in my country, people have their dogs outside, chained in a little dog house. There was nothing I could do about that.
With your busy schedule, how do you have time? 
Yeah, I have to walk them. There's 3 of them, and they don't love each other. I walk the boy first, then the two girls together twice a day. It takes me about 2hours a day to walk all of them.
I'm sure it's therapeutic for you.
No, it's a fucking pain in the ass. [laughs] I just love my dogs. I had a dog before these 3, he was a little older but he was a very good dog. It made me realize how amazing they are. My goal for 2023, I want to open a sanctuary back home. That's my next thing. I don't see myself living back home. I never even wanted to buy a beach house or anything there, because I lived there for so long. I'm good.
How old were you when you came to the States? 
22.
Coming up in the DR, you did ballet. Did you think you'd be here now, acting and doing what you're doing?
No, honestly my dream was to dance. If being an artist here is such a struggle, imagine what it is back in the Dominican Republic. At the time, there was only one classical company: the Ballet Nacional Dominicano. Because it's a government institution, there's a certain amount of spots for it. There's a budget and they cannot go above that. There were maybe 17 people total. Think about only 17 people in the country can be in the company, so I never really thought I was going to.
I was dating one of the dancers at the time, he asked if I could take free classes while I was trying to get a job to pay for college. I was looking for a job as a cashier, a secretary, anything. I was trying to pay my way back to college. I was there for a month or so. One of the girls won a scholarship to go to India to do yoga, so her spot became free. They asked me if I was interested. It was the craziest thing, so I started dancing. I became the youngest member at the time. I was 18, I danced until I was 22. It was great, I learned so much. It was a dream come true, I loved it.
I had no idea that you were in Drake's "Best I Ever Had" music video, such an iconic song. How'd that feel?
It feels bigger now than in the moment, because at the time, I didn't know who anybody was. I didn't know who Drake was. Obviously, English isn't my primary language. When I came here, I wasn't like, "Oh, I need to know what songs are in." I was trying to learn about taxes and other things before I memorized a song or was even hyped to what's going on in the world. I was really trying to figure out life, a new language. I didn't have to pay taxes before, now there's things I have to do now that I didn't have to do back home. When I started getting calls, I usually didn't know who anybody was or how big they were at the time. Even if people told me or if I Googled it, I didn't know.
Did you know when Kanye asked you?
Kanye directed "Best I Ever Had," so I did "Best I Ever Had" through him. I'd done a video with Hype Williams and he said, "Hey, Kenny wants your number. Can I give it to him?" I said "sure." I'm thinking Kenny is another director, somebody who's going to give me another job. This guy Kenny hits me, I GO "Hey!" He said "Yeah I'm a big fan, I love that you do ballet." I said "Cool, okay." He's like, "I'd love to meet up with you to talk about some business."
When I got there, I see this big guy waving at me. I come to him, I introduce myself like "Hi Kenny, my name is Rosa." He looks at me, he points at Kanye West. This whole time, I'm thinking Kenny, because I didn't know the difference between Kanye and Kenny. To me, both are the same. He put me on his blog at the time. It was really cool. Now, looking back at all the people that I've worked with and realizing how big they really are, I'm like, "Oh my god! I wasn't even hype at the time," because I'm thinking, "Oh, another job." Now, I realize I work with a lot of cool people.
We have to talk about the Trey Songz video! 
Oh, "Na Na." [laughs] I did know Trey before I was modeling, because I used to work at a club in New York. They brought him, he was in the VIP. I was working at the club that day, the guy said "Hey, I want to introduce you to this guy." The manager's talking to me so fast, and it's really loud. My English, I'm just saying yes to everything. He walks me towards the VIP area. He leaves me there like, "Him!" I'm like, "Nice meeting you. Wait, what's happening?"
We always used to chat real quick but when I did "Best I Ever Had," he'd always say, "When am I gonna see you?" I'd say "Next time you're in New York." He said "What about Thursday?" I said, "Oh sorry, that day I'm doing a video." He's like, "I know, I'll be there. It's my friend's video." So he was at the video, I saw him like and said "good seeing you." We've known each other for a long time, it's always been cool between us. When he was doing the "Na Na" video, he asked me and I said, "I don't think I want to do videos anymore."
Why not?
Because I was trying to do other things. Why not let the younger girls do it? He said "We never worked together, that's so sad." I asked "How about I style the girls in my clothing?" He wasn't happy about that, but whatever. The day before the shoot, he calls me to say "the girl we had just bailed on us. You have to do it, there's no other choice." I'm like, "Fine, I'll do it."
Do you think he set that up?
No, I really believe it's true because girls are flaky in this industry. [laughs] If a baller tells them, "Hey, fly to Miami with me tomorrow," they're like, "Fuck this video! I'm gonna go fly with these guys."
How did you stay grounded? Because Hollywood can be a lot. 
I was so poor that it'd be stupid if I let any of this shit change me. I have struggled, I know what it is to eat fucking dirt. I love money, but it's not something that makes me. I felt the same way about my worth when I had $1 to my name, till now. It doesn't feel like I'm any better now. I learned so much. When it comes to money, it doesn't make me. I can do a lot of things with it and I love it, but I don't think none of this shit can ever disturb me and change who I am to the core. I've experienced love and life, the little things. There's no way that some cars, jewelry, and diamonds can make me feel any different.
When did you know that you liked girls?
Girls are better to look at. They've always been better to look at. Women are beautiful: titties are beautiful, pussies are pretty. Everything's so beautiful. Men have hair on their bellies and on their backs, what the fuck is that? Why do you have hair there? They be having hair in weird ass places. Their asses are always weird, their legs are always little. They're not shaped well. [laughs] I always thought that women were more beautiful.
I went to an all-girls school, so my first feelings of love and jealousy were with a girl. The first time I wrote a love letter to someone was to my friend: "I love you, you're the best person I ever met. I hope you're in my life forever." Now, I laugh. I wish your husband could see the shit that we wrote to each other when we were 13. I know you don't even tell him these things that you were telling me! We were so gay. [laughs]
We have to talk about She Ball, the new Nick Cannon movie. 
It's On Demand, and on Redbox too. It was great, honestly I love Nick. He does this thing that I love, which is giving me jobs… and gifts. These two things I love: give me jobs or give me gifts. Every time he has a project, if there's a space for me to do something — he's literally called me to be a part of something, and all I have to do is sit down. I was sitting down in a show he did. I don't think I was ever on-camera, but I still got paid. I said "you know what, I love you boss. You're the best. Always making sure there's money to pay the mortgage, you rock."
He had this project, he said "I have the perfect role for you." The same thing: I'm a spicy little Latina girl that doesn't know how to play basketball, but is there because she's pretty. Ruining all the games, it was great. One thing about Nick is every time he has a project, you'll see the same 300 people. He looks out for so many of us, so we all become a big family. It's literally the same people that work on Wild 'n Out.
How was it doing Wild 'n Out?
I was there for a couple of seasons, it was great. You have to give credit where it's due. These guys, these comedians are so talented. You guys have no idea. They're such naturals. Not only are they funny, but they can do it on beat. They'll roast you and make you laugh at the same time. When I tell you they're so amazing. The way it feels, that Wild'N Out family is amazing.
Anything else you want to promote? 
When you go to cossamia.com, you can check my workout line, Body by Rosa Acosta, and my own fragrance, Rosa by Rosa Acosta. Make sure you guys check me out on Johnson! You can catch the whole season on Brown Sugar app and search for Johnson. Also She Ball is On Demand, so make sure you check me out. OnlyFans: RosaAcosta. Go on Instagram, click the link in bio, everything's there. You want a t-shirt with Rosa? You can find it. You want some merch? Anything you want baby, I gotchu.