Read the full interview on Flaunt.com!
Kir is the definition of a true hip-hop head, someone who doesn't take his craft lightly and is constantly pushing the limits. Serving as one of the hottest artists to come out of his hometown of Philadelphia, the East Coast MC deems himself the Hometown Hero, also the title of his debut album released last year.
Kir's trajectory is an inspiration in itself, building his fanbase organically and always putting out lyrics with substance. While the independent grind is not for the weak, Kir proves pure talent and drive is way more valuable than signing to a major label.
Fast forward to today, Kir returns with his newest single titled "No Sweat," which follows his previous release, "Gorillas & Apes," an instant fan favorite. In any case, Kir's music pays homage to the hustlers and go-getters, chronicling the journey of someone who got it out of the mud and turned their life around for the better.
View this post on Instagram
Flaunt caught up with Kir at his studio in Philly via Instagram Live, who was posted in his studio in Philly. Read below as we discuss how he survived the pandemic, evolving as an artist, the independent grind, new release "Gorillas & Apes," shooting the visual in New York, upcoming music, launching his own chips, having his own label, and more!
How you been since the last time we talked? We survived a pandemic!
I'm chillin', working. It was good. Not to say it like that, but I stayed above water. A blessing. It just made me more hungrier, forreal forreal. Because if you believe it or not, a lot of people progressed in the pandemic music-wise or career-wise. That shit gave me a lot of motivation, it made me work even more.
You put out Hometown Hero right before that. How do you feel you've evolved as an artist or as a person?
A lot. I learned a lot more about music. It's not like we ain't know nothing but the more you learn, the more you can accomplish. We learned a lot. After I put that tape out, it gave me a lot of direction of where I wanted to go. I could say we were confused, we didn't know if we wanted to go the label way or distribution way.
How is the independent grind? 
This is the best for me because I got creative control of everything I'm doing. I'm hands on with everything I do. Everything you see on my page, I'm hands on with it. It's the best for me. Not getting to nobody else's business but once I sign something over, it's a lot more people involved. A lot more ideas come across the table that might not go my way, since I'm in a bind contract. Creative control is the most important thing to me, so I'm happy I'm independent.
Let's talk about "Gorillas & Apes"!
Yeah, it's going crazy. That's my shit right there. "Gorillas & Apes" was off the top forreal forreal. It was an in the moment thing, I needed a record that was uptempo. Once I heard that beat, I already knew where it was going. We put the lyrics on there. When I heard it and it was done, I'm like "Yeah this gotta go." We were working on it ever since for a year. 
What took a year?
Nah, it'd been out for almost a year. It just ain't seem like it because we got so much promotion on it. We talked what, 3 months ago? I didn't even release the video then, we still had the audio working. We just now dropping the video, so we're creating a whole new life.
The video's fire. Was that shot in Philly? 
Nah, that was shot in New York. It was lit. We be over there all the time, it's close to where I'm at. It's close to Philly.
Best memory from that video shoot? 
The jet! That PJ was lit.
That cost a hot ticket, doesn't it?
Yeah it costs a lot, but it's a good investment when you're going for the look. Like I said, I'm hands on with all that. We had to think about that. If we wanted to look big budget or even close to it, we gotta update our vision. We can't be on the block shooting our videos, not all of them at least.
How's it feel to be able to put your mom in a mansion? 
When I got locked up, my mom held me down. When I came home, we had to do something that she wanted, because she did a lot for me when I was down. I was locked up, I wasn't moving around. I feel like that was needed, that was a must.
How does she feel about your career now as a rapper?
She's proud of me. She's super happy, she tells me that every day. Because she sees it now, it ain't just me. People coming to her saying "hey, I seen your son on TV." It gives her a happy feeling.
Whose idea was it to have the skit in the middle of the video?
That was me, I directed that video. I direct most of my videos. I directed "Gorillas & Apes" for sure, only because I wanted that to be… like I said Shirley, that had to be the one! It had to come full circle.
What was your favorite shot?
My favorite shot was the skit part. My mans, he woke me up. I had the little headset, he woke me up like "what you on bro?!" My man Gambino, that's my favorite part right there. We had fun on all of them though, I ain't gon' lie. All the scenes were hot.
What else do you have going though? 
We got a lot going on, I swear. Some stuff I can't even speak on yet. We got a lot of new music, collabs, a lot of announcements to put out there. I can't wait for my fans and my supporters to hear it. As far as the music goes, I got a new track I'm about to drop. We're gonna go crazy. We'll still be focusing on "Gorillas & Apes," but these are new tracks. It's more so for the ladies, but it's an all-around good track where people will be able to dance. Participate in it and all that.
Is it an R&B vibe for the ladies?
Yeah, an uptempo R&B. I'd say like "Track Star." You know how "Track Star" was uptempo? It's on that type vibe.
How would you describe your drip?
I mean when it's time to step out, I throw that shit on. But you see right now, I'm in a t-shirt and some cargos. I'm not really doing too much. It's a Philly fit right here: some butters, cargos, and a t-shirt. I ain't really doing too much. I'm in my studio, we chillin'. When we stepping out, I'ma throw it on.
You got the chains on and everything?
Yeah everything. Watches, chains, we got the fresh cuts. Everything! The Prada, the Louis, the Gucci. 
What's the biggest bag you dropped? 
I don't even know, we do that shit so many times. We about to do it again when I go to LA, but probably $12K. If you see it, you buy it. We always shopping.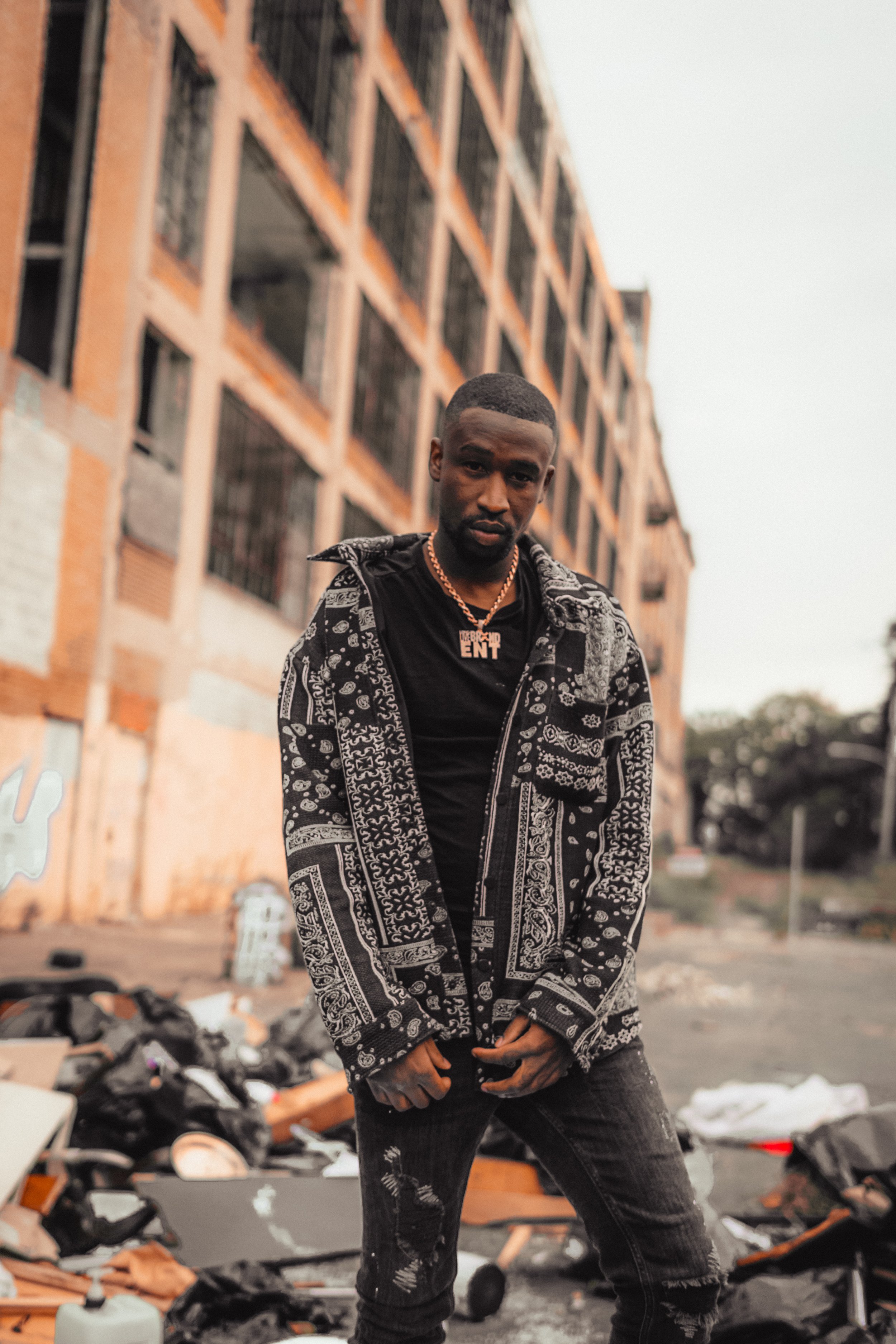 Where do you like to shop?
When I'm in LA, I like going to Victoria Gardens. They got a lot of new stores down there. Rodeo Drive too! I love going down to Rodeo Drive.
What brings you to LA this time?
I'ma shoot a video out there. I'ma go mess with a couple of my guys over at Columbia. I'm definitely going to the studio. 
What are those combos with DJ Drama?
I met DJ Drama in the mall in Atlanta, me and my guy Mont.
That's love. You've been collabing with anyone?
In the first quarter, that's when we're going to start tapping into. I'm looking at all the features I'm getting in, but we focusing on some big features. Right now, it's about me focusing on me and getting my sound out more. Getting people more familiar with me, then we're gonna hit him with the features. I might do a "Gorillas & Apes" remix. I'm still asking everyone who they want to hear on the remix.
I love when artists do that!
Yeah, it'll give the song a whole other life. I created so much life out of one song throughout this whole year, it's crazy.
You've been on TikTok too?
Yeah, "Gorillas & Apes" went up on TikTok. That's what I'm saying, this track I'm about to drop, we about to take over the whole TikTok. Everybody, I'm going crazy.
What about projects? You working on a project?
Yeah, EP end of the year. Hometown Hero 2, Da Blueprint. So how my label is Da Brand, it's going to be Da Blueprint. My label is Long Live Brand Entertainment. When I was first coming up with my label, it wasn't hard but I wanted to make it different. Everybody got Good Records or something something Entertainment, I wanted to make it a brand. I'm a brand. My music is a brand. Our clothing is a brand, so it fit in right. The Long Live part was because I was losing a lot of homies at the time, so I incorporated that with the music.
How is music a coping mechanism for you?
It's awesome. I could get mad, go into the studio and make an awesome record. Because I'm more so an off-the-top guy. Once I go in the studio, whatever I'm feeling I leave it on the track. 
What are you most excited for next? 
These announcements I got that are coming up, I'm super excited to let people know. One of them, I can tell y'all because I already gave everybody… I got some chips coming out. They're hot chips. It was hard for me to come up with them, because I wanted to make honey barbecue hot. But I'm a hot dude, so I said "fuck it, I'm gonna make some hot chips." That's the smallest announcement. It's still big, but just stay tuned!