Read the full interview on Flaunt.com!
If you're lucky enough to have crossed paths with Amina Buddafly in your lifetime, you already know the good energy and positive vibrations she's bringing. Not only that, but she can sing her heart out, blessing audiences all around the world with her smooth, sultry voice. Born in Germany but now based in Los Angeles, Amina is a singer-songwriter, reality television star, and above all else, mother to her two beautiful children.
You may recognize Amina from her time on Love & Hip Hop: New York, where her relationship with Peter Gunz was displayed on the small screen for the whole world to see — but she's actually way more than what you see on television. With music being her #1 love and passion, Amina went from being part of girl group Black Buddafly with her sisters Jazz and Sophie to releasing her own original music as a solo artist.
Most recently, Amina had the pleasure of reuniting with her fellow cast members for the Love & Hip Hop: Family Reunion, returning back to reality TV after nearly 5 years.
On the 29th episode of Shirley's Temple, I spoke with Amina Buddafly about her journey as a reality television star, her time on Love & Hip Hop making her stronger, filming L&HH: Family Reunion, going to therapy to get over her relationship, her beautiful kids following in her footsteps, her passion for yoga and fitness, the Black Buddafly project with her sisters, dating life, collaborating with Lyfe Jennings, forthcoming music, and more!
You've had cameras on you for a long time, how does it feel to be back?
I'm used to it, but I did take almost a 5-year break from reality TV. Recently last month, I went back to film Love & Hip Hop: Family Reunion. It was wild, I can't wait to see how it looks. Because I was there, but it's always different to see it on TV.
At one point do they do a reunion?
It's a new concept they're doing called Love & Hip Hop: Family Reunion. Multiple cities meet, it's not just New York. I used to be on Love & Hip Hop: New York, but it's people from New York, Miami, Atlanta, Hollywood. We all meet together in one spot and hang out for two weeks. It was interesting to meet everyone again, some people I had never met were there. I think it airs in December. For me, it was more fun filming the regular season. It was good.
Do you get annoyed of Love & Hip Hop questions?
I do, but I can't really be mad because it's part of what brought me here. What makes a lot of people want to interview me is because I was on TV and they seen me. I'm not mad at it, but sometimes I get tired of them. I don't mind answering anything about it.
That's so vulnerable to have your relationship on national television.
[nods] I didn't even think it was going to be that crazy at first. When I first did Love & Hip Hop, I really just thought about me as an artist. The music. I didn't consider what else could possibly happen or come with it. I was really naive, I have to admit. I did not think about it. Once it aired, it was a storm. I got bombarded with the judgment, the hate, all the crazy stuff.
I'm like "why didn't I even think about this before?" [laughs] It's too late now, I'm on TV. I had to deal with it. It made me so tough and stronger. Now after so many years, it's so easy for me to deal with negativity and Instagram trolls. It really doesn't bother me, so I'm thankful I had to go through with it. I ain't mad at nothing. Sometimes you make decisions and they turn out not to be the best ones, but then what matters is how you deal with that. I feel like I've done pretty okay.
Do you rewatch your shows?
I honestly don't rewatch myself. First of all, I don't even like how I look on camera. [laughs] "Wait, this side looks bad. This is my good side." Every time I watch myself on TV: "wait, my voice is that low? I sound like that?" I think a lot of people feel that way. Me definitely, I'm a singer so all my life, I know how I sound when I sing. But I don't know how I sound when I talk, that's one thing I'm like "ew." [laughs]
Then I started to accept it's me. I'm all about accepting your flaws or whatever's not perfect about yourself. That's another thing I learned being on TV because I saw a lot of things that I didn't really love about me, but it's still me. So I don't rewatch. When it airs, I watch that episode one time and never again. I just want to see how they edit it and how it looks so I can understand the way people see it.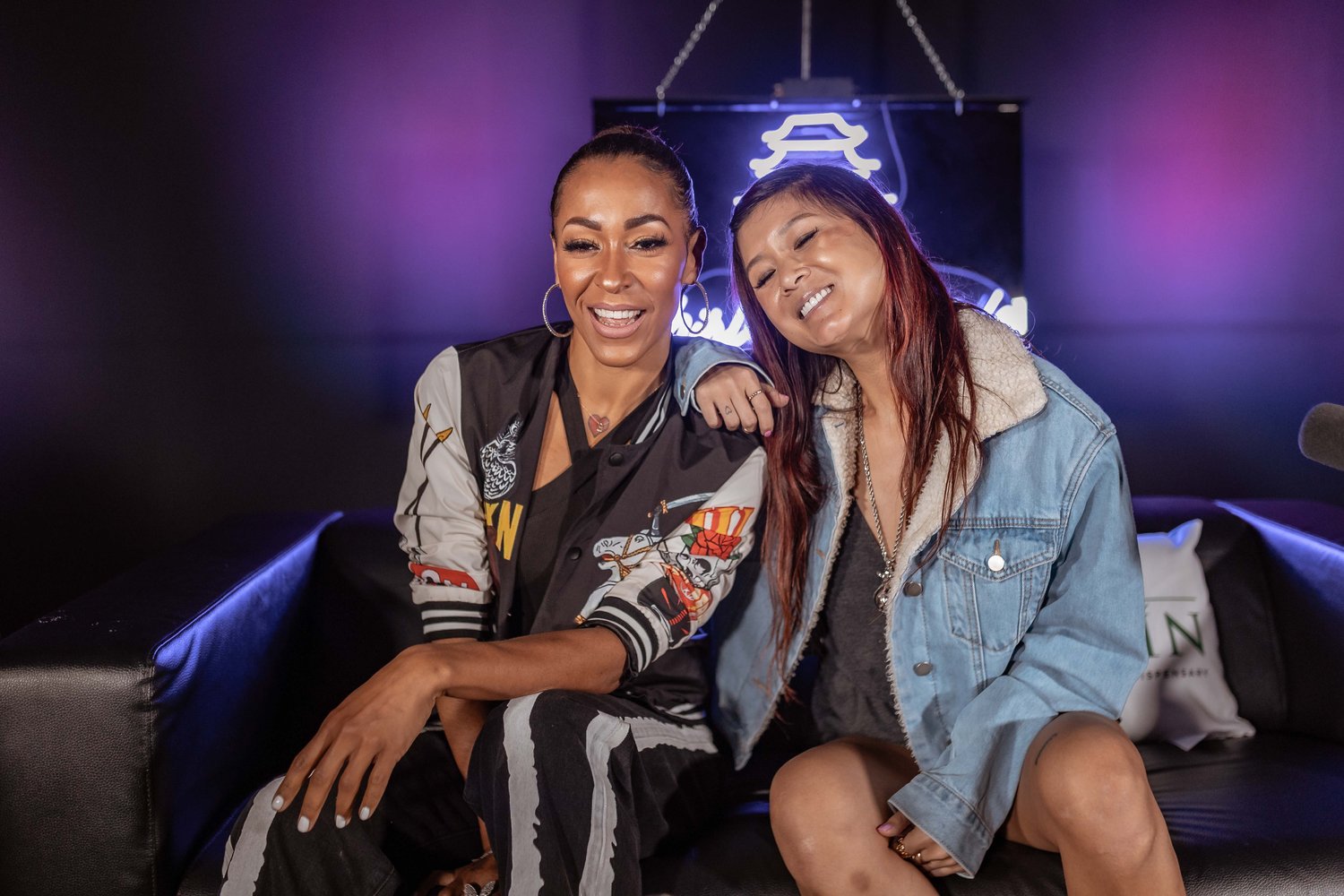 It's crazy to me how little they use, and how much you do for one scene.
Exactly. That's why I'm so anxious to see this time, because I was there for 14 days straight filming day and night. I know that every day is going to be a few minutes. Little moments.
Did they have you do stuff, or you guys just talked?
We did a lot of activities every day, really fun stuff. Of course, they put their little spice to it and tried to get everybody to talk about things that we didn't want to talk about. It's interesting, I don't know if I'm allowed to say. It'll come out this winter.
How'd it feel to sing on the show?
Always good, that's always my #1 thing. A lot of people from watching me on the show, even people now to this day they're like "you never showed enough of your singing!" It's not up to me. I wish I could only sing on there, I don't want to talk about my personal life. But they want that, especially with me, it was so crazy. If It was up to me, just let me sing my song everyday and let me get my check.
How are your children? 
Great. A few months ago, they turned 5 and 7. They're amazing. The older they get, the more I'm amazed at what I created. [laughs] So dope to see, and you don't know until you're in it. Literally, damn I made that baby! They follow my footsteps a lot. They have a lot of my personality. My older one is more like me, personality-wise. My younger one is more outgoing like her dad Peter. She's more into music and dancing, she's less shy. When I was a kid, I was so shy. I'm still laidback and not really outgoing. As a kid, I was super shy and my oldest is just like me. So sweet, I like seeing myself.
You're sweet! That's the perfect description.
That's what I heard all of my life. You know what's crazy? When I got on TV, everybody said "Amina, you're so mean." They had this idea of me. All of my life I heard nothing but sweet and nice, then all of a sudden I'm the worst. [laughs]
A big part of this show is mental health, how were you able to get through that? Negative comments really affect someone. 
Man, I don't know. It's really remembering who I really am. I wrote a song about that, it's called "The Real Me." "The Real Me" has been out for a while, but it's one of the songs that's helped me so much because I really had to go within. All of these opinions, people telling you who you are and what you do, what's wrong, then you have to remember who you really are. They're just talking, they don't really know the real you.
So I wrote "The Real Me." Music is always what I turn to. Regardless if I'm sad or happy, when I go through stuff, I always turn to music. Having the self-worth that people always thought I didn't have. I did have it, I was just stuck and in love. I'm not stupid, that was the biggest misconception everybody had. It was the biggest thing, people would tell me everyday how stupid I am. I'm not stupid! Help me out.
It's hard enough as it is…
It looked a little like I was believing the lies. I knew exactly what I was in, but a lot of times they didn't show that. They'd leave a lot of stuff out, which would've made more sense if they would have shown it.
How did you deal with that? 
It is what it is. You sign up for that and put it in their hands, they can do whatever they want with it. When I look back on it, I'm not mad at people who say things like that. It really looks like "loh, why is she doing that?" I know for myself what I was in, I knew I was in a situation that isn't healthy. I was struggling to get out of it and I admit that. It took years, it took therapy.
I love that!
It took me 3 years to finally leave, that was the first step. I moved from New York to LA by myself, pregnant at the time and I had a one-year-old. So many times I had attempted to leave, and I didn't make it because I fell back in. Us women, we want to leave and be done, then they pull us back in. It happened too many times. I realized for myself, I really need to take myself far away. It was a realization and it was the right thing.
Once I moved here, it was no turning back. Even though it still took two years for me to get over it. I was still hurting so bad, heartbreak is no joke. For me and someone who loves hard, it was one of the hardest things I ever had to do: to really leave and work on moving on. I did know that I needed help. [laughs] It's almost like an addiction. When you're addicted to something, you need to go to rehab. I need help! Everybody's telling me to do this or that to move on, but they're not telling me how.
I needed help and I knew that so I went to see a therapist, only for a few months. It helped. I had never gone to therapy in my life before. It still took a couple of years for me to really be healed. Once I was, oh my God life is so beautiful! [laughs] All of a sudden, I knew I'm over it. You can feel it. That whole situation contributed to so much of who I now am. I'm really not mad. People say "oh you wasted all that time with him," I'm not mad at it. We had good times too, and I had beautiful kids. This whole experience made me so much stronger.
Are you and Peter [Gunz] good? 
We're great. He's in LA, he came yesterday. He's all over the place. He has 10 kids, I have two of his 10 kids. [laughs] Everybody's always like "Peter is the worst!" Me and Tyra have the young ones, we also get along now really well. We're all a blended family now. When I come to New York, we all hang together at her spot. That's one thing I'm excited about for people to see on the reunion airing in December, because it was all 3 of us there. What they know of us is that it's always some drama, some lies, somebody being upset. This time, the years have passed, so we wanted to make sure people know it's possible.
How beautiful are your Christmases?
Actually yeah, but I'm from Germany. I normally still do take my kids to Germany to see my mom and family. Right now, I'm in the middle of figuring out what I'm doing for Christmas this year. I do want to go, because it's been a year since I've been to Germany.
Does it snow in Germany? 
It does! It snows almost every winter. Last year we were there, it did snow. I'm hoping to make it out there this year, we'll see what happens.
I can't remember, do you have a boyfriend? 
I don't have a boyfriend, I'm dating. I'm talking to people. It's hard to date. It's so hard. I don't know how people do it, especially in LA. A lot of my girlfriends tried the dating app. I don't know if I'd be into a guy that's on a dating app. Maybe I would, but I've never tried dating apps. I've met people on Instagram, social apps…
How are those DMs?
It didn't work out, but I've talked to some people there before. Nothing serious. What bothers me on IG with the DMs: a lot of guys hit me up, I go to their profile and it's private. They won't even get a response. Who do you think, I'm going to respond to someone I can't see? [laughs]
How did it feel to hit your first million followers? 
The million happened when I was still on the show.
How much did the show boost your following? 
I'd say 75%, 80% of my followers were because I was on Love & Hip Hop, so it's a good thing. That's one thing I could say was good, it brought me in. If I would've never been on Love & Hip-Hop, I'd maybe have a few hundred thousand. That's how I feel, just guessing. The big number comes from being on TV. In the last few years it's still going up, but slower because I haven't been on TV. It was crazy, the first night that L&HH ever aired in 2013 winter time, I was at 2K followers. That night, I remember the show being on TV. I'd look at my Instagram, it'd go from 10K, an hour later 20K, an hour later 25K. So crazy. Week by week, it'd go up 10K or 20K more.
Were you ready? 
I didn't know TV had such a reach. [snaps] The first night, it went from 2K to 20K. I'll never forget. I looked at my number like okay! First time on TV, 20K more. Now honestly, I hate that all of them came from that. I noticed a lot of people aren't my fans, they're just nosy. People that watch reality TV, they don't really support you. They want to be in the mess. They want to be in the gossip. I'd rather have fans. Give me less followers, I just want authentic… Instagram has become weird. It's gotten a lil crazy, but I can't be mad at having two million. It looks good.
When you were gaining followers, were you still pushing yourself as an artist?
Of course, always. That's always my #1 thing and my motivation. I have every year since then, put out an EP or an album. I have 3 full albums out. For the past 9 years, consistently I've put out music. That's what I'm most proud of because I'm independent. I do it myself.
How is that? 
Hard, but also amazing to me because I have freedom. Freedom is the most important thing to me as an artist, has become that at least. I've been signed, I've done record deals. I used to be with Def Jam in 2006, the Black Buddafly situation. I used to be signed to J Records, girl group days with my sisters. I always love when people remember me from the group, that was before L&HH.
I did the whole major label, being signed. It didn't give me the success I thought it would. As an independent artist, I've had way more success, way more happiness. Way more freedom to do me, to put out the music whenever I want. I don't have to worry about whether they'll like it or not, push the record or not. I just do what I feel. I'm such a real artist, I need to be in that position where I can be free.
You said you never had abs before you had kids, that's wild!
I didn't. I promise you, I really didn't. It's crazy, I'm in better shape after having kids than before. It's really a lifestyle thing. I used to hear these fitness people talk about it and never got it. Before kids, I was never overweight, but not in shape. I did workout before kids, but I'd do a lot of cardio. I started changing up and getting into yoga. Yoga has changed everything. Not just physically, but mentally. It's brought so much awareness to my being. I started doing different stuff, you know weight training. I mix it up. Even to this day, I don't ever do the same thing.
People think I'm in the gym 7 days a week, no. Maybe 4 or 5 days. Some days are lighter, some days I go really hard. It's about balancing, also listening to your body. Sometimes I'm too tired, then I don't go. I don't do nothing, but I don't beat myself up. I used to think "I have to go every day!", then diet. Now people think I have restrictions, I eat whatever I want. Whatever I feel. I have to say I love to eat healthy because it makes me feel good. I do eat more healthy foods than bad foods, and that's part of it. When I eat a lot of bad food, I don't feel good. I ate pizza yesterday, I eat everything. I just know my body, and it comes from awareness via yoga.
You started your own fitness page right?
I do have a fitness page, It's called @mi_yogaandfitness. I post everything that I do now. Me and my twin sister who lives in Germany, she was here recently. We started filming actual videos that you can follow, that we are going to put up on YouTube soon. When it's time, I'll announce it. People are always like "we need the video to follow," so it's coming. Because my sister is a certified trainer in Germany, I'm not I just do it. She came up with a bunch of routines. It's 20 or 30 minutes workouts that people will be able to follow. Our brand is called Duo Active because we're a duo. We're literally starting it. We'll post it everywhere, but Youtube is the main thing. Honestly when I don't make it to the gym, I turn on YouTube, find a workout, and I do it at home. It's so easy to do, we just have to film ourselves.
What else do you do for self-care?
Being active, working out, doing yoga is the main thing. Also, detaching from socializing. I like to be alone a lot. I like silence, because I have kids who talk nonstop all day everyday. My meditation is driving in the car with nothing, quiet. I love music so much and I always play music in the car, but sometimes I just turn it off and drive. Try to not even think about stuff, just be. That's my meditation. Also my morning routines are so important. In the morning, I drop my kids off at school. I can't right away get into go go go. I take at least 30 minutes to an hour with my coffee, I'm a coffee drinker. [laughs] And no phone calls, nothing like that. That's my self-care I need. I like wine gatherings with my girlfriends, just chill nights. I don't really club anymore like that, but I like to go out to nice lounges.
What're you most excited for next?
I'm going to drop some new music towards the end of the year. I did put a project out with Lyfe Jennings recently.
Love "Flawless Diamond"!
Thank you, I'm happy you like it. It was a little bit of a struggle to make it happen, I'm not gonna lie. He probably doesn't want me to talk about it. I'm so glad we finished the project, put it out. I love the fact that we made it happen and that I finally have a collab. I don't collaborate enough. That's one thing I told myself, I need to do more collabs.
How did it happen?
We were on tour together 3 years ago, it was a theatrical play we did together. He had his guitar, we started writing songs. It took 3 years for us to get into the studio. We finally did it, it came out really nice. "Flawless Diamond" was the first single. I have another single off the EP dropping soon, I'm in the middle of filming the video. It's going to be interesting, very cool concept. That song is called "Footprints." The EP is called the The Six Pack, it's Lyfe Jennings and I. It's out on all platforms, you can check it out.
How was it shooting the "Flawless Diamond" video?
It was good, I went to Atlanta for that. I flew in, it was a one day shoot. It was fun, it was dope. We got it all done pretty quick. It took a long time for it to come out. I honestly thought it wasn't coming out anymore, because the song dropped a month before. I was like "what's up with the video?" One day his label hit me up: "by the way, the video just came out." Oh we're still putting the video out? Cool, now it's out. Everything's out.
I like how you open the song too!
Thank you. He wrote the song, that was very interesting because I wrote all my songs. I'm a songwriter first. It's hard for me to take songs that are written. I want to express myself, and I can't when I sing somebody's song. Unless I really really really love it. He wrote that song and I was trying to be down with it. I'm always so like "nah, it's gotta be this way." In the studio, it's gotta be the way that I hear it or it's not gonna be me. This being a collaboration, let me be more open-minded. [laughs] He did his thing.
How was the release party? 
I had one here. He wasn't there because he's in Georgia, but I had a little thing here. It was fun, super dope. I played the video, I sang a little bit. I love small events when people really come out for you. That's one thing I put out this year, there's more coming before the year ends, maybe a Christmas song. The Black Buddafly project, I always have to mention it. When me and my sisters sing together people always ask us: "when are you guys dropping an album?" I always say we have, you just haven't paid attention. [laughs]
What's crazy is when we were signed to all these big major labels, we never dropped an album. They dropped a few singles on us, we always got shelved or later got dropped. We've put our first ever Black Buddafly album out in 2020, it's called Black Buddafly 2020. It has 20 songs on it. That was during lockdown. When the pandemic hit and everyone was in the house, we did a 20-song album. That's why for me, quarantine wasn't too bad because I was so excited about what I was writing. We kept productive, it was great. I did a lot of work and we kept working on ourselves. Fitness, self-care, all the stuff we talked about. Black Buddafly 2020 is out. The Six Pack with Lyfe Jennings and I is out. Of course, my other albums, and a Christmas song is coming. Always new stuff.