Read the full interview on Flaunt.com!
If you're a fan of fashion in any capacity, then you're a fan of ZCRAVE. The trendy clothing line was created  to allow chic women to ball on a budget  by purchasing high-end designer items at affordable prices. Originally  an online store, ZCRAVE recently opened their first brick-and-mortar location on New York's famed Madison Avenue, quickly becoming every NYC girl's go-to shopping destination.
ZCRAVE's founder and creator, Hila Shtork Zigdon, has always enjoyed the finer things in life. Unfortunately, she didn't have the deep pockets to purchase the upscale designer items she craved. She made it her mission to help other women struggling in the same boat, by creating her own line of unique and fashionable clothes, bags, and accessories. Hila makes it a point that it's not fashion she loves, it's designing.
For ZCRAVE's latest winter 22 collection, Hila enlisted her celebrity friends Bella Thorne and Christina Milian to rock her clothing. The two regularly showcase their love and support of the brand on their socials. In fact, ZCRAVE even did the campaign's photoshoot at Thorne's home in Los Angeles.
Flaunt caught up with Hila via Zoom to discuss her background and love for designing, how she got the idea for ZCRAVE, the items she's most excited for (including a new men's line!), her relationship with Bella Thorne and Christina Milian, and her goals to open more stores in the US, and more!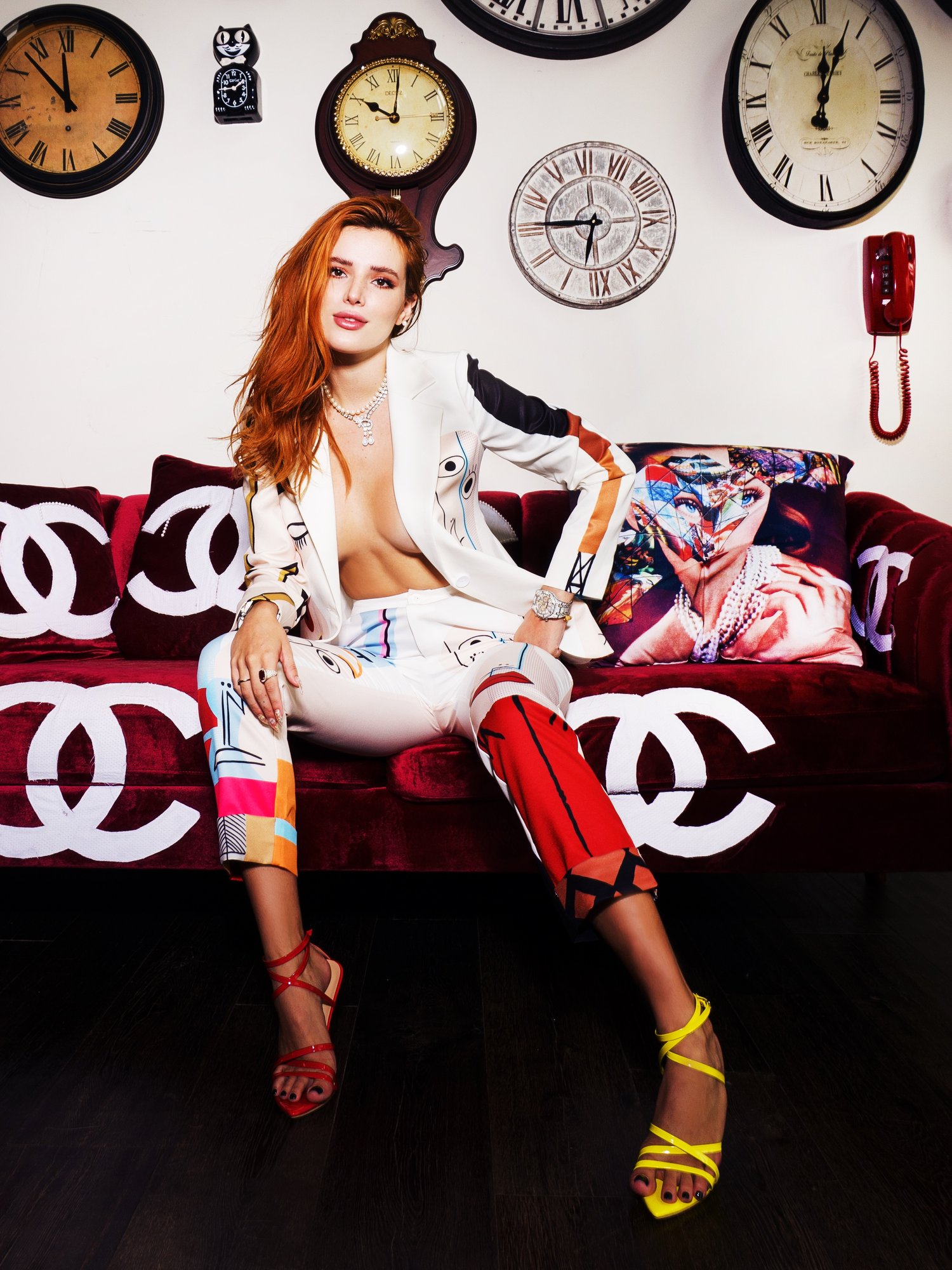 Being born and raised in Israel, talk about how you got your start in all of this.
I have had a visual design studio for about 20 years now. I think I opened the studio when I was 22. I was doing branding and mostly data branding for companies and brands. I opened ZCRAVE about 5.5 years ago, somewhere in 2017. I combined  my knowledge on e-commerce  with my passion in design, and that's how I got into this business.
I know you're not into fashion, you're more into designing.
I love design and art. I'm taking art and bringing it into fabric. This is what I'm doing. Me, as a person, I love Balenciaga. I love Off-White. I like to get dressed and there are  some brands I really, really adore, but I'm not into fashion. For me, I don't feel that I'm doing fashion.
How did you learn how to design?
I never went to any school to learn fashion design. I went to school to learn visual designing, which is completely different. Back 10 years ago, I did it for 3 years. I took the franchise of one of the football teams here in Israel and I started to work mostly with Nike. I designed all  the outfits for the players. They did amazing! There were more than 15 teams in Europe playing with the same design. It really got me going.
What sets your company apart from others?
When people go to our website and see, for example, our signature pantsuit, the one with all the art, they are amazed they can get this piece. On Madison Avenue, you can barely get a t-shirt for $250! We try to keep the quality very, very, very good. We try to be really creative. The best thing in the producing business today: if you try to compare it to 10 or 20 years before, you don't need thousands and thousands of pieces if you want to sell something.
Our quality,our design, and our prices; that's what makes us really, really different from all the big brands. Unfortunately today, people see a dress for $2,500, so they think it must be fabulous. People get attracted to high prices because it makes them feel like they're buying the fine, luxury brands. It's all so silly.  Our store is different because we are just as fabulous, often times more so, but at fairer prices.
What items are you most excited for?
Over the last year, I developed the F3TISH blazer and pants matching set. The pleated skirt with the matching blouse is amazing, as well.. This whole F3TISH series is really, really exciting. Another  piece that's working really, really great is the 5th Avenue mini-dress with the feathers. What makes these items so popular is the fact that all ages can wear them, both 20 to 70!   Imagine an outfit that you and your grandmother can wear at the same time. That's exciting!
Talk about getting Bella Thorne and Christina Millian in your latest campaign, and your relationship with them. 
Bella's amazing. She just hit us on Instagram one day, asking if we might want to collaborate on Coachella. Of course, we agreed, but then the pandemic hit and Coachella was cancelled. Still, t we wanted to do something  with her! We created the Bella Thorne collection.  In the beginning, there were some that said "Oh my God, Bella Thorne is so not ZCRAVE." But many more  were very, very excited about the collaboration and the collection has done amazingly well. .
As far as Christina, she's the love of my life. We travel a lot together. We even got the chance to travel to Hong Kong together. We have made two collections with her.  In fact, in a few hours, I'm flying from Tel Aviv to Paris to see her. My son and I are I going to spend some weeks there. with Christina  and her partner Matt.
I know you have a men's collection coming, can you touch on that?
We're working on the men's line right now. We're focusing on t-shirts. We're bringing all the linen fabric, very high quality linen fabrics. We have really really exciting prints, and I'm not talking about all the Harley Davidson and Pink Floyd prints. It's not those kinds of prints. They're really unique prints that I've painted out. That's the next step. We're hopefully going to launch in the first quarter of 2022.
What're you most excited for next?
We're working on opening three more stores  in the US. Miami and LA, for sure. The third destination is still being tested. I'm really hoping for Texas, if the analytics will support it. After the last Black Friday, I can tell you retail is dead. COVID changed the way people shop.
There will be some technology involved with the development of the new stores. We're envisioning an experience where shoppers come to  our store window. They won't need to go inside the actual store. They simply need to stand in the window like a hologram. Something will scan them, similar to how we are scanned at airports. The scan will measure them and  we will then offer recommendations for shopping our new collections. It's going to be really, really dope.