Read the full interview on Flaunt.com!
Catie Li is the definition of a go-getter, someone who went after their wildest dreams and didn't look back. Originally hailing from the Bay Area, Catie is a multi-hyphenate who has found her place in the entertainment industry as a Chinese American plus-size model, proudly embracing her own body while pushing body positivity and self-love to audiences all around the world.
Boasting 317K followers on Instagram alone, Catie is excited as ever to be fully dedicating her time into being a content creator, touching on everything from fitness to beauty to fashion, and even her relationship with her fiance. Her background includes working behind-the-scenes with The Shade Room, leading their Marketing and Advertising team and growing them into one of the biggest media outlets to date.
Now, she shifts her expertise and passion into growing her own profile and devout following. Most recently, Catie is readying her new fashion collection with Amazon The Drop, featuring staple pieces with an emphasis on inclusive sizing. Designed by Catie herself, the process is intentionally collaborative so her followers are able to give their two cents from start to finish.
Flaunt caught up with Catie via Zoom to discuss her background working with BET and The Shade Room, the importance in body positivity, her new collection with Amazon, ideal date night with her fiance, goals, and more!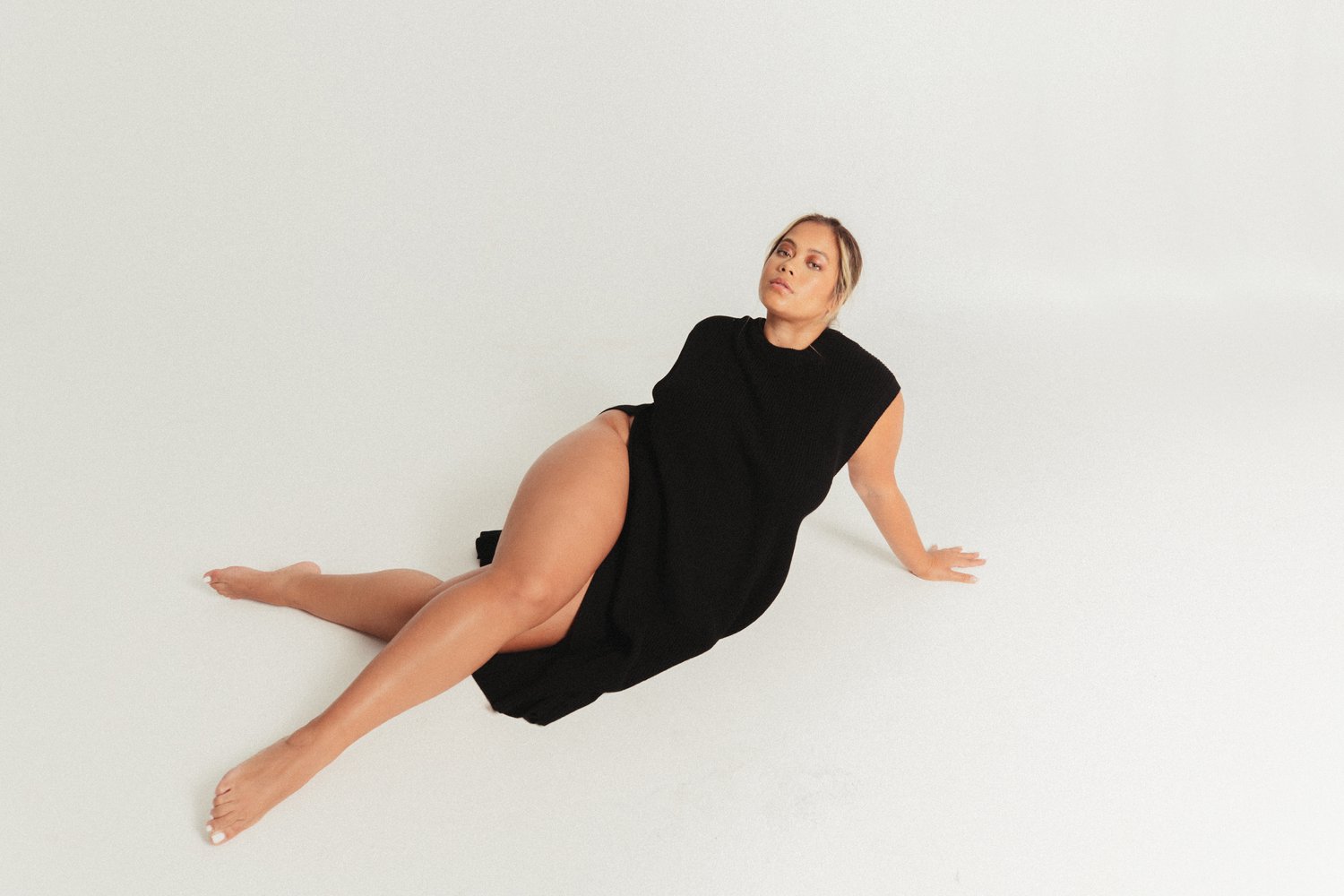 For those who don't know, who is Catie Li?
I am a workaholic, was in the entertainment industry behind-the-scenes and now I'm in front of the scenes as a plus size model and full time creator. I really hustled hard in college as an intern, turned publicist,  turned plus-size model yet still  working in the entertainment industry  as CMO at  The Shade Room helping them make millions of dollars in revenue till this past August when I decided to become a full time content creator. Within a couple of months, now having my own clothing line with Amazon The Drop.
Where are you from originally?
I'm originally from the Bay Area, Milpitas, California. Not a lot of people know where Milpitas is. I grew up living near the Great Mall.
How did you get your start in all of this, just being from the Bay?
You know how it is in the Bay, people from the bay tend to stay in the bay. I was the only one out of my friend group to go away to college. I went  to UC Riverside and I went to UC Santa Barbara.
I went to UCSB for 2 years, then I transferred to UCLA.
That's what I did. I did 2 years at Riverside, then I transferred to Santa Barbara. When I transferred to Santa Barbara, it was so funny I was watching BET. I was watching 106 & Park and thought, "I can do what Rosci does. I can do it, how do I get into it?" Because you know, in the Bay Area we're not really immersed in entertainment stuff, my sorority sister who's from LA said "You should intern  for BET and get your foot in the door.." I was looking at what they offered in LA and they offered PR & Events and I was like "Oh, I like events. I can make my way in that way, that's one thing I do like." Well I ended up being really good at PR and ended up getting hired the day after I graduated. That's how I got really into the entertainment world.
So how did you transition to the Shade Room?
I was at BET, I worked my way up a little bit where I was helping my manager do the BET Awards. I saw them on Instagram and thought "This thing's going to blow up and they would be perfect to cover the red carpet." This was years ago. I loved their platform! I met up with the owner and we became friends. I helped her as much as I could by consulting her with my corporate entertainment knowledge. From there consulting turned into a full time employee, to being the CMO.
Me having that PR background: anytime we did the BET Awards, you'd have to do a press report and then you evaluate the ad dollars. I was able to take that knowledge and see how much she should charge in advertorial services off TSR insights. My background as a model also helped me evaluate posting value as well. . I was able to take my experience from both worlds and merge them together.
Talk about stepping away from these positions and focusing on your own creative as a model? Was that scary?
Becoming a model was so hard because I am a woman of color ( half-Chinese) and curvy, I didn't think becoming a model was in my cards, nor did my family. So when I told my family that I was going to be a model, they thought I was being scammed. They really wanted me to focus on my PR career. They were already shocked I got that job as an art major LOL.
I've always maintained multiple careers: model, creator and CMO, but I got this gut feeling that I had to really shift my focus to being a creator. It was really hard to leave TSR, as I was pretty much there from the beginning, but I knew it was a leap of faith that I had to take, especially with the rise of social media and how COVID basically caused us more to be immersed into creators and their content.
I am just so thankful that The Shade Room offered me so many great opportunities. Shout out to Angie!  She's really helped me grow my career and has been super supportive of my decision of leaving!
I love what you stand for, body positivity. What does it mean to have a platform and represent for your people and have females look up to you?
I take it very seriously, because growing up I didn't have anyone to look up to. It's crazy how I get DMS from people who are my age or older telling me that I am helping them with self love and confidence. Whether you're getting healthy or where you're at right now, my platform is a safe zone and authentic.
It's super important that I help with representation too. Me being half-Asian and half-white and modeling from major brands like Nike, being in Vogue etc, makes a difference that there are seats at the table. Although, I do think we can work on making more seats.
View this post on Instagram
What does it mean to be dropping your own "The Drop" collection with Amazon. How did that come about?
Honestly, my manager is a wizard. [laughs] It came about because I did this video with my friend, we got a bunch of stuff off of Amazon and we did a haul. She's a smaller size than me,so we did a video where we wear the same thing and we show what it looks like in different bodies. It was well-received and we got Amazon a bunch of sales. We shared that insight with them and they said "Yeah, I want to work with you." It has been a really amazing process to understand production and creative design in the clothing world. It's been a really great experience. I released a video of some of the pieces that I'm launching, I've gotten a great response from it so I'm pretty excited.
You've worked with Athleta, Amazon fashion, Supergoop. What does it mean to be working with such amazing brands? 
You know what, it's so cool and it's great they're including me. There's always been that drama in the past where these brands only focus on white female creators, they pay them more and there's this whole beef between that. It's great to know that these brands are listening and they're including people of different sizes and different ethnicities. It's not only a dream for me to model for these brands, but it even goes a step further being a creator that they are trusting in me to actually create advertorial content for them in my own voice. As a model, I'm on set and I have to do what the client says. I have to wear what they want me to wear. It's honestly better and more of an honor that they are giving me a budget to say "hey, create how you want to create."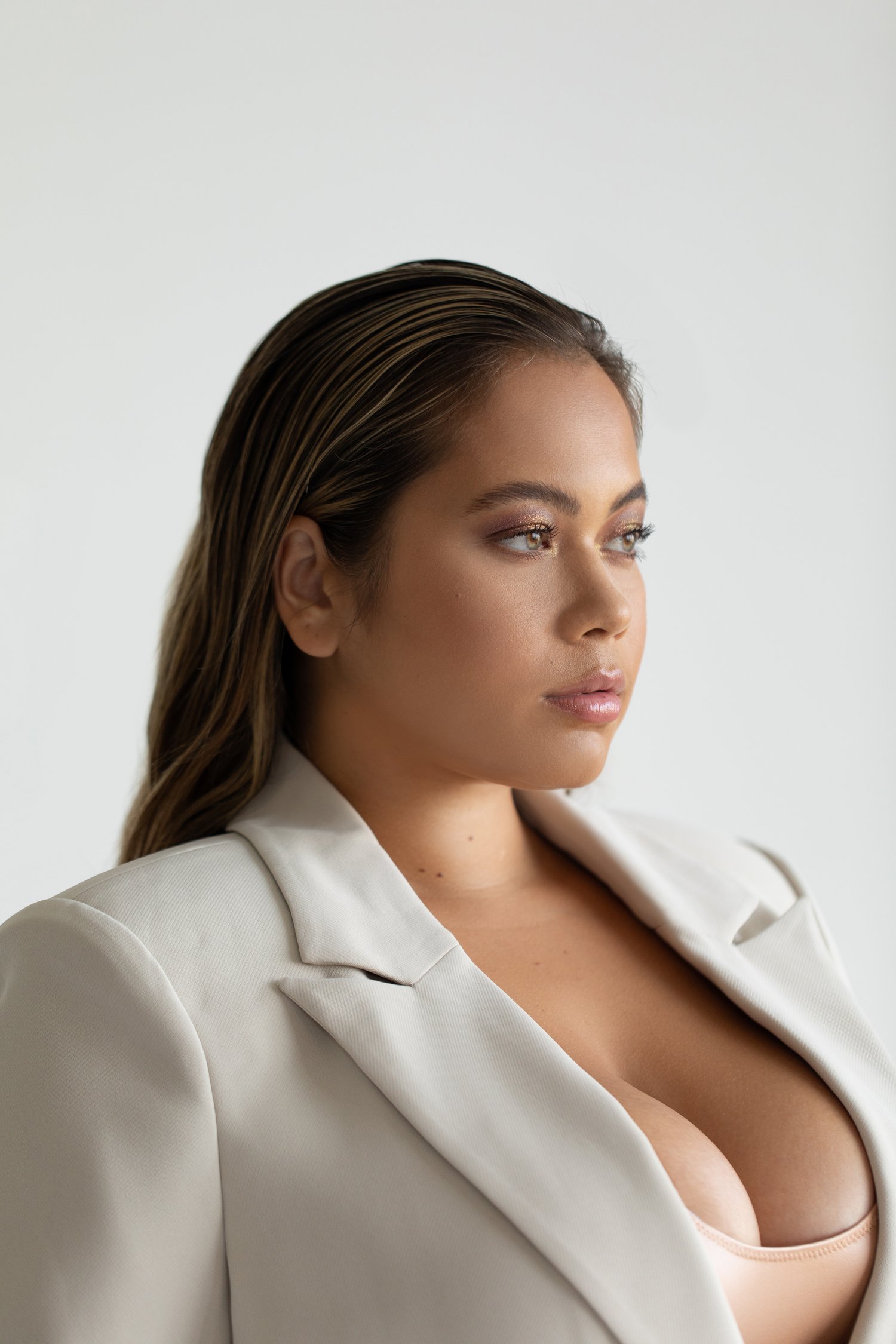 What is your ideal date night with Carlos?
It's so funny because I know Carlos' ideal date night would be a Lakers game. Anything Lakers, that is his ideal date. For me, he always surprises me with different things. Honestly, we have fun with whatever we do, it just depends on what mood I'm in. I'm a Cancer, so it always changes. Right now, the ideal is I want to get out of the house because I've been stuck in the house. Typically pre-Covid, it'd be like "let's stay in." Now with Covid, I want to have a nice dinner and that's it. I'm Asian and cheap so dinner and a free bar or open bar somewhere would be ideal. Any event that has dinner and an open bar, I'll be trying to take him and say "this is date night." [laughs]
It's a new year, any goals for yourself?
I have a long list of goals. Quitting my job in August and going full-time, it's been really fruitful. I hope to continue a lot more partnerships. I'm really excited to see what's going to happen with my collection and beyond . It's only been a couple of months as a full time creator and I got a line with Amazon, who knows  what's going to happen next month. Now with influencing, being aware and open with the opportunities that are available as a creator, there's so much opportunity. It's insane how much opportunity there is out there. It's really hard to pinpoint because literally something could happen tomorrow that I've never even thought of.