Read the full interview on Flaunt.com!
If you're not familiar with Maisy Kay, prepare to fall in love. Hailing from the UK but now based in Los Angeles, the rising star is a fresh new voice in the music industry, making her mark one heartfelt ballad and pop record at a time. Arriving in her own lane and straddling the genres of synth-pop and R&B, Maisy sees music as her therapy, a a journey of self-love and self-discovery which audiences from all around the world can relate to.
In describing herself, Maisy states, "I like to think I'm very well-versed in the way I write. The thing that's most important to me, always, is lyrics first. So whenever I write a song, that's always the priority for me. Making sure it's really well-written and it can relate to a lot of people. I hope that I can connect to people on a deeper level, without feeling too dark and dreary."
Exploding onto the scene with her breakout single "Distance" in 2017, which hit the #1 spot on Japan's Spotify viral charts, she followed it up with last year's "The Storm," in collaboration with gaming and music phenom TheFatRat. As a recording artist, Maisy's talents go well beyond her own music, discovering the beauty in collaborations whenever she can, and working closely with  Lukas "LULOU" Loules (Max Martin's close collaborator).
Fast forward to 2021, Maisy is back in a major way, with her debut single on BMG titled "Mascara Tears," which features co-writing credit from the legendary Billy Idol. Now, she unleashes her highly-anticipated new track titled "Scared Together" Premiering here first!
Flaunt caught up with Maisy via FaceTime, who was enjoying her time outside in Puerto Vallarta. Read below as we discuss her sound, roots in the UK, biggest influences, the turning point in her music career, inspo behind "Mascara Tears," signing with BMG, Billy Idol's writing credit, female empowerment, singing in Japanese, fashion sense, goals, new single "Scared Together," and more!
How would you describe your sound?
It's interesting because it's definitely evolved so much throughout the years. When I first moved out here, I was 14 years old. My early music was definitely very dark and very emotional. You know, I was a teenager going through it. As a woman now in her early 20's, I'm a happy medium between that super dark deep place and light general pop music. I try to meet in the middle and have my production a little more upbeat, but my lyrics still have that dark gripping hold.
Born and raised in the UK, what was a young Maisy Kay like growing up?
It was the best. I grew up in a place called Claverly in Wolverhampton, population 1,200. Very small, you had to drive 20 minutes to get to the supermarket. I grew up with a lot of trees, and a lot of sheep. I loved the countryside, I still do. I love nature and all that. Young me, I was climbing trees, practicing archery, playing around in puddles. Doing all of that fun country girl stuff. [laughs]
 Who are your biggest influences?
Freddie Mercury has always been my #1 influence in life, so much so that I named my cat after him. I adore him. I love his stage presence. I love his way of writing. I remember growing up, my dad would show me Queen and The Beatles. My mom would give me Celine Dion and Whitney Houston. One story about Freddie Mercury that stands out to me, specifically, was that everyone told him that "Bohemian Rhapsody" wouldn't work, it was too long of a song to be successful. Now, it's one of the most iconic songs of all time. He really broke the mold like that. He's always really inspired me in everything that he does so I try to think of him throughout my journey as an artist.
When did you realize you could do music for a living?
When I was 10 years old, I wrote a musical for my primary school. It was about a dragon. I played the dragon, there's pictures online somewhere. I'm in a massive dragon costume, it's very embarrassing. [laughs] But that's when I realized, I wrote all the songs and the lyrics myself. I wrote the script. I was only 10 so it wasn't Broadway material. but it made it to the local paper. I remember that I got approached shortly afterwards about recording in a local studio in Birmingham. Then, I realized "Wow okay, I can sing and I can write. This could be my career!" Whereas before, I just thought it was something that I liked to do for fun. 
 Is Maisy Kay your real name?
It is! The only difference is my legal name has a hyphen in between Maisy and Kay.
Did you ever want a different artist name?
We talked about it. I remember we toyed around with the idea a lot. I know at one point, we talked about doing maybe Maisy, Kendrick, or just the letter K. Ultimately, I went with what my mom named me. It's a very special old English name, it's from her mother. I felt like it was a nice name to keep for myself, to have that energy under that name.
"Mascara Tears" out late last year! How are you feeling?
Good! "Mascara Tears" was such a fun first record to come out with. It was really the beginning of this new phase we're doing. Still sad lyrics, but going with a more upbeat 80's inspired production, which was super fun. Lukas and I collaborated on a bunch of records together and we carried that throughout the whole project. Let's make some upbeat/fun records with a hint of 80's nostalgia, but the lyrics can still be really me and really personal. I feel great about it, it was a great opening record for the new phase.
How does it feel releasing your debut single with BMG?
Oh my gosh, amazing! Honestly. I first moved out to LA because of a record deal. It ended up not being the right choice for me in terms of how much I could own, and how much creative control I could have. Finding BMG has really been the perfect happy medium that I wanted since I first moved. It's an incredible label. It's very well established, and they're so supportive and happy about the records. The fact that I get to have creative control and still make the music I want to make is absolutely everything to me. It's an opportunity I didn't know I'd get, so I'm over the moon to be signed with them.
How did Billy Idol end up working on the song?
It's interesting, I wrote the record  with Lukas who I wrote pretty much all of these new songs with, and I guess he's been heavily inspired by that one Billy Idol song. I didn't obviously know that at the time, then I heard the song and was like "Oh yeah, for sure!" It ended up working out so perfectly because Billy Idol is signed to BMG. Well, why not reach out to him? See if he likes the song and is down to have his name on it… And very luckily, he was! He liked the song. He gave us a thumbs up on it, which is really exciting. It's so cool to see that in the writing credits. You see his name there, then your name. Oh my gosh, amazing! Very humbling experience.
Talk about your creative vision with the music video.
Originally, I really wanted to do an era-inspired piece because the song itself is an homage to the 80's. I thought it'd be really cool to show different periods of time with the same mascara tears, like a woman going through tragedies throughout different decades. We originally had shot stuff from the 70's to the 90's as well, but we didn't end up using it in the final cut. The original inspiration was to see multiple different shots through periods of time where you're seeing a woman going through trauma. At the end of the video, she embraced the sadness. Embraced the mascara tears, rather than wiping them off. You'll see I wipe off the mascara tears in the earlier shots of the video, whereas at the end, on the stage specifically, I'm embracing that sadness and that pain. That's what made me who I am.
What was the best memory from shooting?
We had 2 shoot days, they both were super early in the morning. Me and my manager were both delirious because it was a 2 hour drive to get over there. Honestly, the best memory from the shoot was the bonding experience between everyone on set. It was a huge group of women, it was really awesome to have a huge female-fronted team for the music video. The make-up and hair ladies were excellent. I remember being there at 6 in the morning getting my hair and makeup done, laughing and getting to know them. We were laughing over the craziest things, completely delirious but really wonderful. I feel very grateful to have experienced my first women dominated shoot, it was really cool.
How important is female empowerment for you?
Oh my god, everything! It's absolutely everything. I always feel like males have had the opportunity to dominate the media for so long that it's definitely women's time. "Mascara Tears" the music video really showed me a different side of things. It was completely female, everyone was female. The director was female, the production was female. Everyone was female except the gaffer. It was a wonderful, excellent shoot. There was incredible energy there. I'm all for female empowerment. I'll continue to make it a big part of my future videos and anything that I do: make sure that us women get a voice and we get that equal opportunity.
How'd it feel to have "Distance" peak at #1? 
That was honestly incredible. It happened so fast. I remember I was just sitting at home and someone sent me a screenshot. I couldn't believe it because the song was right there under a Beyoncé or Ed Sheeran collab. Something huge, big artist's name, and our little song was there. We recorded that in my little studio in Culver City with my engineer Joe, it had come together so quickly but so warmly. That has thus far been the biggest success of my entire career. It was insane, it was wonderful. It was really cool.
I'm not a native Japanese speaker, but I speak Japanese in the song. It felt wonderful because I performed it in Japan and afterwards a bunch of people came up to me speaking to me in Japanese. They assumed I was fluent because of how good a job I did in the song. That was the best feeling, because you always want to feel like you're doing a language justice. Japanese isn't the easiest. I felt so excited to hear everyone say, "Oh, you don't speak Japanese? We never would have known! The song sounded so good!" That was exciting to have it get that attention, but be authentic and not sound like I was making a mockery of the language in any way. That was really important to me.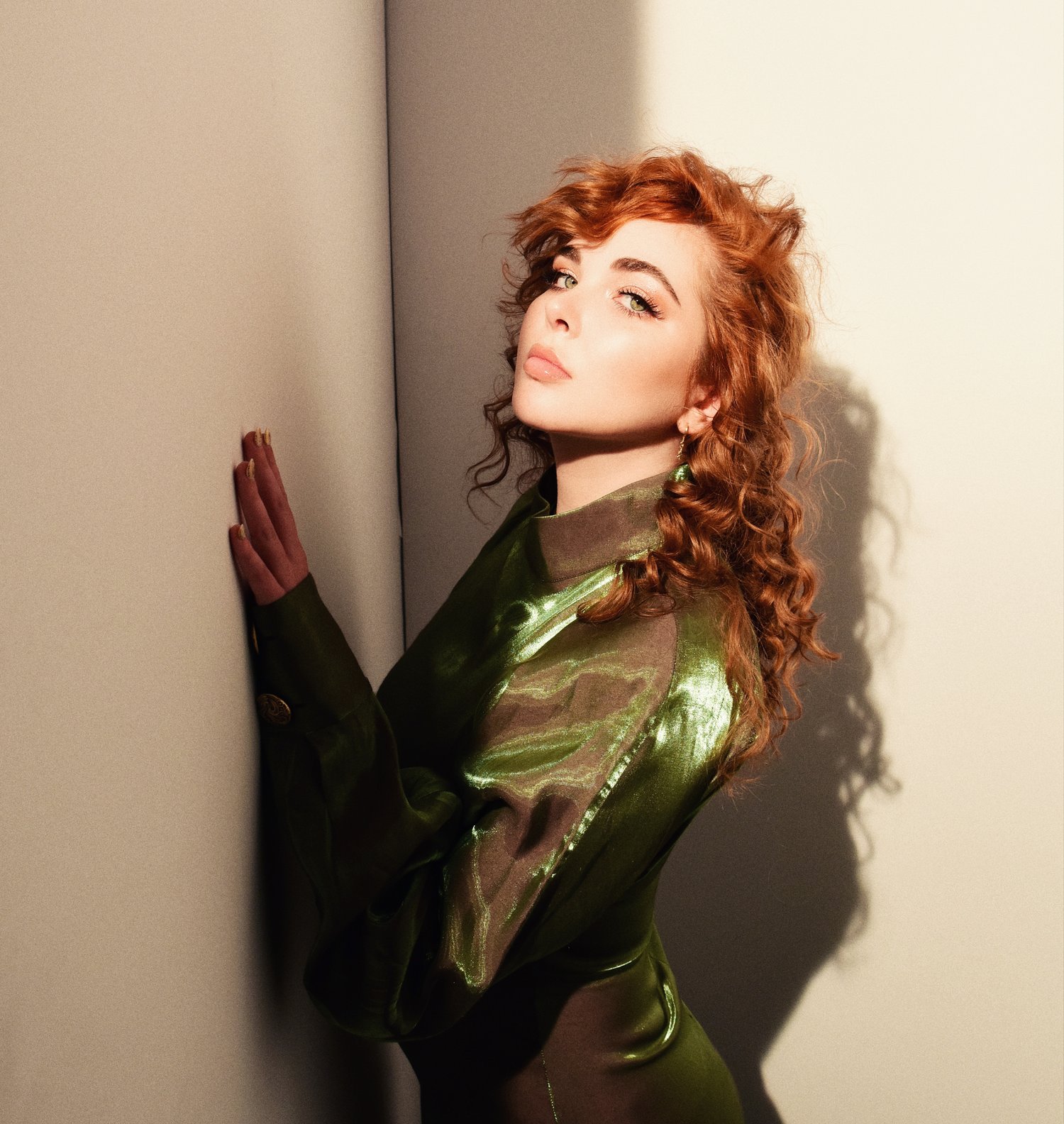 What can we expect from "Scared Together"?
I'm really excited about it, it has a lot to say about mental health. Especially with the pandemic, now is a really wonderful time to release this song. Having that uncertain feeling of genuinely not knowing where we're going and what we're doing in life right now. Which a lot of us have gone through in the past two years. I think it will be incredibly relatable. It feels crazy to say that it's been 2 years, wow. I'm hoping the song will hit people in a way where we're all scared and I don't think any of us know what we're doing. We're all taking it day by day. To me, one of the best outlets to help me with my emotions is through music. I really hope the song can serve as that for anyone who's feeling a little overwhelmed by the current situation globally.
How would you describe your fashion sense?
Ooh, I'm always learning. At this point in my life, I basically live for Urban Outfitters. I'm obsessed, I love Urban Outfitters! I'm trying to be a little bit more bold with my choices. Growing up, I felt a little bit more shy about what I could do fashion-wise. Lately especially, we have some new photoshoots coming out and you can see me gaining my own sense of confidence. It's a little bit of everything. I never want to limit myself to one thing. I try to do a bit of edge, rock, glam, some Bohemian. I love fantasy, I'm a big fan of anything Lord of the Rings. Ever since I dyed my hair red, I've been embracing an elven whimsical vibe. That's where I'm mainly staying at now, I'm trying to become a real life elf from Lord of the Rings. [laughs]
Any goals for the new year?
A big goal of mine was to stop biting my nails. I bite out of stress. So far they're doing pretty good, so that's good. In terms of bigger goals, I want to put music out more consistently. I had a bit of a break in the past from releasing. With the pandemic last year especially, I wasn't really able to actively record as much as I would like. My main goal for 2022 is to put music out more consistently, keep connecting with my fanbase and providing content. That'd be amazing.