Read the full interview on Flaunt.com!
The Professor is a streetball legend, and he'll forever go down in history as one of the greatest to ever do it. Born and raised in Keizer, Oregon, real name Grayson Boucher was introduced to the game of basketball at just 2 years old… paving the way for greatness to ensue. In the 4th grade, Boucher dedicated his entire life to studying and learning the game, which comes full circle now as he continues to create history and reach new heights.
A true multihyphenate, The Professor is not only a basketball player and entertainer, but he's also an actor and entrepreneur with his own clothing line called Global Hooper. Beyond that, he boasts one of the biggest Youtube followings, effortlessly posting viral content of himself dressing up in costumes, breaking people's ankles left and right. To date, his Spiderman videos catapulted to the #1 most viewed web series on the platform.
From touring the world on the AND1 Mixtape Tour to appearing in movies such as Ball Don't Lie and Semi-Pro, The Professor is a role model and inspiration to anyone out there with a dream — proving if you work hard and stay passionate, your time will come.
On the 31st episode of Shirley's Temple, I spoke with The Professor about his upbringing in Oregon, getting a trainer in the 4th grade, not making the varsity team as a junior, being nerd basketball, his hoop dreams, Youtube channel blowing up off cosplay basketball, his Spider-Man series being the most watched on Youtube, reaching one billion views, knowing the Ball Is Life owners, blowing all his AND1 money, recovering from his Achilles tendon injury, why he only has one tattoo, acting in Semi-Pro alongside Will Ferrell, and more!
You mention being Christian, I went to a private Christian school my whole life. Did you also?
No I went to public school, then my senior year my parents put me in a Christian private school. They're not Christian though, it was for a better opportunity for basketball. I was trying to play college ball and I wasn't getting no love from my coaches. I was real small, looked like I was 12 years old. I was a beast, but I lacked on the defensive end so coaches were scared to give me an opportunity. My parents put me in this private Christian school for an opportunity and it was great. I wish I would've gone to that high school my whole run.
It's different coming from a big school. From 5,000 kids, then there were only 300 kids in the entire school. My graduating class was 50 kids. Going there, it was a big transition. I didn't like it but after the basketball season, after the school year, I thought "oh man, I should've gone here." My brother ended up going there his whole high school.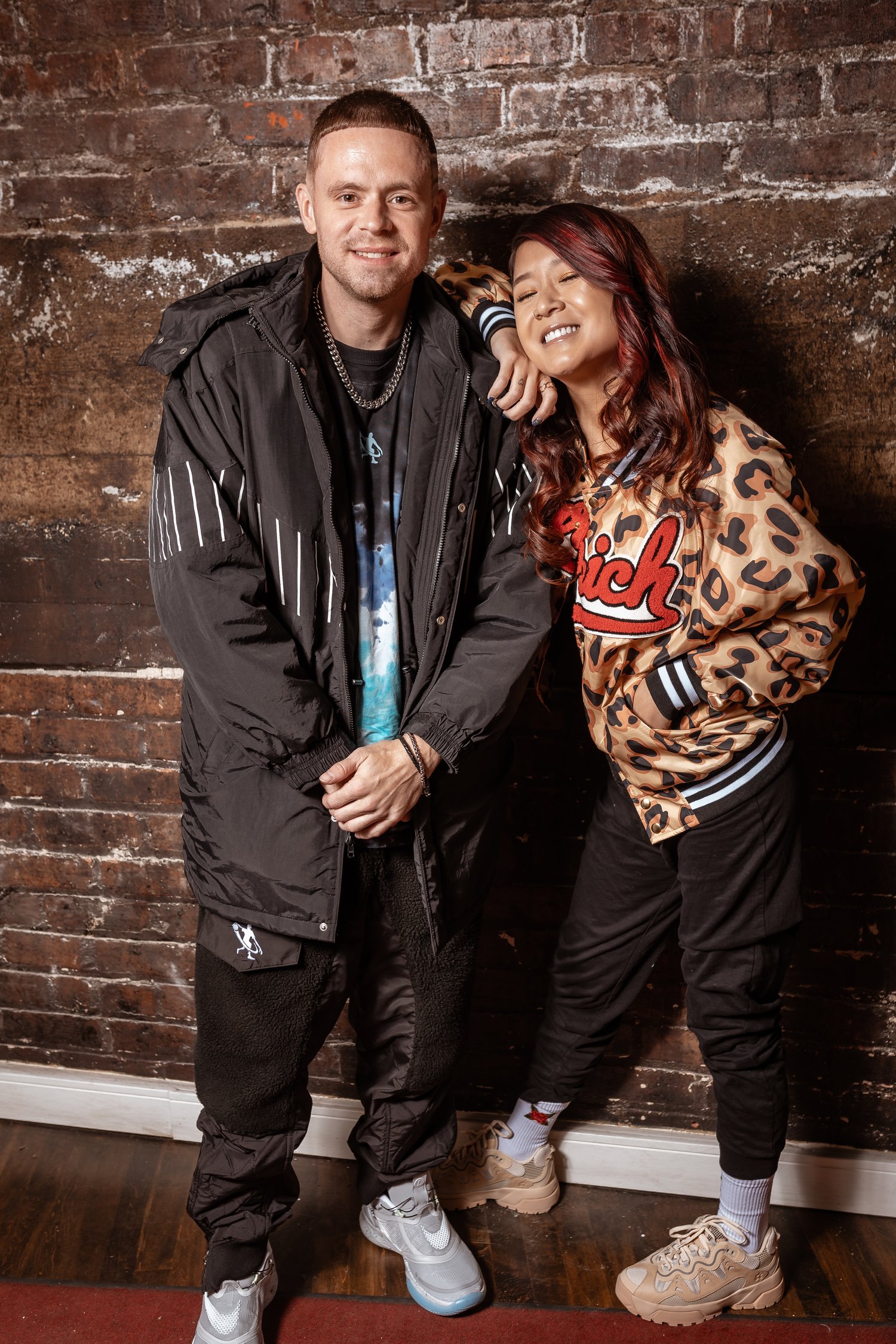 Were you a superstar then? 
I killed it my senior year. Up until then I'd do good, but I got cut from the varsity team as a junior. That was heartbreaking because my whole identity was basketball. All I did was play ball, that's all people knew me for. I was cool only because I played ball. Other than that, I was a nerd. I didn't hang out with nobody. I didn't go to parties, no girlfriends, no nothing. That was my identity: you're the basketball guy.
I just got a flashback of you dressed up as a nerd hooping.
You know what's funny? I tell people, this video is organic. I am nerd basketball. My story is so parallel to nerd that it's awesome. I started that trend online. A lot of people don't know this, it was a Vine video. Back when Instagram had 15 second videos, Vine had 6. I came out with a video, I dropped a short one on Vine and one on IG. A kid made a YouTube version and got 60 million views. He took that concept, I said "man, why didn't I bring this to YouTube?" A bunch of people did it and I was late on that trend, but screw it. I started this, I gotta do it. So now I made 4 of them. [laughs]
What was it like growing up in Keizer, Oregon? 
It's a great place to raise kids, start a family. It's the country, but people don't think they're country. I was raised in a suburb neighborhood, town of 50K people. I had a great upbringing, my parents were super supportive of my love for the game. They always bought me Jordan's. I had a trainer when I was in fourth grade. I'm going to all the camps, all the clinics. I started playing AAU when people didn't even know what AAU was. I had a great upbringing in Oregon, but I like California. I like the weather, sunshine. That rain was a lot. Now when I go back, it's always sobering.
What were your hoop dreams?
I always wanted to make the NBA. Some people think I wanted to do what I did, but that wasn't even a genre. Starting out, every kid wants to do it at the biggest level. It's college or the NBA. For me, my dad put me on the game when I was 2 years old. I got pictures in the driveway, the basketball's big as me and I'm holding it. His passion for the game wore off on me right away. He got me with this trainer, who I'm still friends with today, in fourth grade. He was the one who planted the foundation. He taught me stuff with ball handling. He taught me in and out, in and out crossover, then I had the Iverson crossover. Iverson's signature crossover? That was the move.
I was going to ask about you learning the Allen Iverson crossover!
That was everything! I literally was as tall as this microphone stand right here, but I could cross grown men with that Iverson crossover. I had an identity as this white kid with handles early early on, like fourth, fifth grade.
What's the reality of how hard you practiced? How many hours a day?
There's no set amount, the more the better. I dedicated a whole childhood life to the practice of the game, to mastering the craft. That can look a lot of different ways. A lot of parents today come up to me and say, "how much should my kid be practicing per week or per day, to get to where you're at?" Honestly, if you have to find ways to try to take him out of the game — because my parents would always say "you're playing too much basketball. We need to figure out how to get you in other things or get you away from it" — then you'll know that's pro-level dedication. Despite the 1%, some people are 6'8" and naturally super gifted. Don't even love the game but can play big college ball and make the NBA. But most people: the smaller you are, the higher skill you'll have to have.
How's it feel to go from learning the Iverson crossover, someone you idolize, to then playing with him in Asia?
It was so dope. Not only that, it blew my mind he was a big fan. He's a super supporter. I got the word that we'll be doing this tour in China. They said there might be NBA guests, I said cool. They said Iverson is the pending headliner and you'll play with him. I said "oh wow," but part of me thought "that ain't gonna happen." 'Cause he had retired, he still played a little bit here and there. Next thing I know, they sent us a flier. This is when Instagram first came out in 2012, the year before. They sent us the Instagram flier we needed to post: it was me, Iverson, my homie Bone Collector, and one other teammate. It was a full circle moment, it tripped me out. We went and played a tour in China. 3 games, I was on his team every game. It was an intersquad. It was really dope, the dream collab.
How do you time those assists? Looks so crazy.
Before I got on there, I remember I used to watch my teammates like "how did they time that?  That's so crazy!" What I realized is the talent level. Because people tell me today: "you should revamp the AND1 tour. Start your own tour." Which we're looking into, but it'd have to be slated a little bit different. Only because the talent level there compared to today was next level. We'd play with NBA players and it'd be seamless. The way we did the tour, we'd go anywhere in the world and play a pro team. Not only destroy them, but put on an incredible show.
Back to the assist thing, it tripped me out. What I've come to learn is growing up in Oregon, I didn't throw a lot of alley oops. That's something I had to learn when I started playing with High Flyers. Those guys were so talented. We were so used to each other's style of play that by the time we'd do our moves, crossover, drive the lane, guys are already looking to cut. You gotta know where to throw it, but it does look like a video game. You're like "Oh, is that fake?"
I feel like most of the time, it happens.
If you watch a real streetball game, obviously there's a lot of regular plays that go into that. But AND1 was literally highlights on steroids. The first time I saw an AND1 game in person, I was shocked at the efficiency rate. A lot of people see me play now: "how do you cross the dude every play?" My bar was set high watching my big bros, my idols like Hot Sauce, AO, Bone Collector, all them.
Your YouTube channel blew up off of cosplay basketball, can you touch on that?
I started in 2009, I did AND1 highlights and games I played in. I was doing that Iverson video in 2012. A homie of mine was into cosplay. He said "have you ever tried to go viral? You're doing good numbers. You got a couple 50K, 150K." My biggest one was half a million at that time.
That's really good!
I thought we're doing great! I had 17K subs. Alright, we in here! He was into streetball, he was a hybrid. I'm like that too: he was into cosplay, but also into basketball. It's two separate, two different audiences. Today, it's more so because ComiCon blew up. It's buzzing hard still around this time. It's a dope prank, mixed with cosplay, mixed with basketball, mixed with humor, mixed with swag. He said "you should dress up as a superhero then go play people, but don't take off the mask. Keep it as is." So we did Spider-Man, that was his idea. Since then, we've done a bunch of cosplay videos.
How'd it feel having the Spider-Man videos become the #1 most viewed web series on all of YouTube?
It's a blessing. I give a lot of credit to my homie Rob Monroe, that was a genius idea. He was really versed on digital stuff, ahead of the curve. Showed me how to use a DSLR. Turned me on to cosplay, I didn't know anything about it. I thought "this is some nerdy stuff" at that time. Hopping into it, funny enough it was a prank. It's supposed to be humor. To me, it was funny. People will like it, laugh a little bit more. We dropped it, people were like, "Oh this is sauce bro! This is swag." It got taken completely different.
People are okay with getting humiliated? 
No, but some people are. Everyday of my life, somebody says "Bro, will you cross me over?" We don't even have a basketball or a hoop. [laughs] They're supporters. I try to go places where there's hoopers, go to hostile areas or go to the hood and people say "I'll bust your ass!" There's a high school somewhere a few blocks from here, we could go to the high school team and I guarantee you someone on that team will think they can beat me 1 on 1. They'll talk a bunch of trash and it'll make for a good video. Basketball's the most ego driven sport by far.
When did you realize that?
Moreso when I started making videos. I knew early just being in the game, but now that the trash talk narrative of a video spikes up the viewership makes it way more interesting. Now that we look for it, it's everywhere. It really resonates.
I saw someone say they were waiting to play you since 12, and they're 28 now. 
Some people are like that. They're like "I can't wait to hoop against you," then other people are real abrasive. Real competitive.
Talk about your relationship with Ball Is Life.
Oh they kill it. Those kids are talented. I met the owners of Ball Is Life way back in 2009. I was playing in a streetball game in Cali, there's nobody there. After AND1 died down, streetball had no popularity. I walked around, people didn't even recognize me. AND1 went from '03 to '08, then it got bought out by a company that owned a bunch of brands. They stopped doing streetball because they didn't know the DNA of the brand.
They shut it down? Wild.
Didn't re-up the ESPN deal, nothing. We went from hero to zero, literally one or two years after the ESPN show was on almost every day. Mind you, I had hired security everywhere I went. Now, I'm not known nowhere. I remember playing in a game in Corona, California. Ball Is Life owners were there filming it, there were 20 people in the crowd. I went to them afterwards: "hey, I started my YouTube channel. Would you mind if I got some of this footage?" They said "aw yeah, we're big fans. No problem." The dude sat there, put it on his harddrive. I remember he told me at the time he's living in a house with a whole bunch of roommates. Now, they're millionaires. They crush it.
What year is this?
This was 2009. They're beasts. To see them now, they kill it. I went to their offices in Orange County a year ago. They had 30K square feet. They got their own merch company that goes crazy. They've got their own streetball sector. They cover pro, they still cover AAU. Got 6 Youtube channels that all smash the game, so for them to come this far is pretty dope. Really cool cats, shout out to Matt and Eric the owners of Ball Is Life.
You guys, I stole the ball from the Professor and it wasn't on camera!
Oh yeah. [laughs] And then we started filming.
The disrespectful one is when you hit the ball on the head.
I was nice, I rolled it off your head. That's off the heezy. There's main staple moves, that's a culture move. Everybody knows off the heezy. Some people say "oh that's the most disrespectful thing in the world." Other people say "it's lit, that's been a move." That's been around since the '90s if you really know basketball, probably even before that. There's 25 to 50 main staple moves that have a name: between the legs, nutmeg, off the heezy. There's a lot of them. There's so many different combos. I did count one time. I tried to count, I got to 100.
It just comes natural to you?
No, this is over the course of my whole career. I've been playing since '03, almost 20 years now. Even when I was a kid, I studied the game. I studied my heroes. First was Michael Jordan, it was Allen Iverson, then it was guys who became my teammates later on AND1. Their move bags were crazy. I still do moves from back then, it all came one at a time. I had great idols that I mimicked, great coaches and mentors.
Are you mentoring anyone?
Oh a lot of people. It's twofold. Some people who are trying to build their socials, I help them with social media. Other people, it's young hoopers coming up in the game. Now it's a lot of young influencers trying to figure out how to do this thing. It's so many strategies, secrets, and insights for it that I'd be doing a disservice if I wasn't mentoring youngsters.
How did it feel reaching one billion views on Youtube?
It tripped me out. It was humbling. I remember only a year or two ago, looking at it and it was 600 million. That was a trip. I thought "man, a billion would be crazy to resume. Someday." Then a year and a half later… [laughs] Sometimes you'll have a viral wave though. If you have 2 or 3 videos that do over 15, 20 million in a short amount of time, you subwave and go crazy. I didn't even tell you that first Spider-Man video I did in 2013, I got to a million subs in a week. The video did 6 million in one week. Now, YouTube got really good with the algorithms. It's a lot more friendly.
I did a Bugs Bunny 1v1 cosplay video that did 19 million in a month. Back in the day, if you got to 5 to 10 million in a week, you'll know it's true virality. Certain videos are spiked behind the scenes, or at least I have that feeling. With 6 million views in a week, they were Good Morning America, ESPN, CNN, NBA, everything. That was crazy, it was literally one million subs in one week. You can have a viral wave if you go crazy, but that's going to be a very low percentage of people. I tell people, come with a steady message where you can grow slowly over time, and that's most people's grinds.
How did that feeling compare to when you were on ESPN, on television, becoming this AND1 star?
This one was rewarding because it's my own shit. Sitting in the CEO seat is always going to be more rewarding. When we were with AND1, to me that was a dream come true at that time, but I had never really thought about being a businessman. I thought of being a pro-athlete. I'm playing with my idols, so it was already a movie. My dream was already achieved. For a few years, I wasn't working as hard. Got a little sidetracked, a little unfocused, because I already felt like the dream was there. For me, going broke and starting new, steering my own ship and building my own business media empire was very rewarding and definitely in a new space that I never envisioned.
I saw you made millions of dollars AND1, then blew it all. What happened?
I was never a big, big spender. We didn't have 7-figure contracts, but we had multiple 6 figure contracts. My bill spend was way too high. Big condo, west LA. Which I didn't own the condo, I was renting it. That wasn't cheap. I had to get a crazy Benz. I remember I had stupid stuff: 3 cell phones. I had 4 wifi bills. At the time, I felt like I needed it. "Oh, you need a business phone, personal phone, female phone." I was doing too much.
With wifi, I remember when it first came out you could have the chip that was travel wifi. Because wifi wasn't like it was on phones now, you could have the little USB plug. I had that wifi, wifi at the crib. I had two places: I had the condo in LA, I had a house in Oregon. Every time I went to the mall, we'd go crazy. Couple grand shopping spree. It was never going to end, just being young. My parents were managing my money the first couple years, but I didn't like it because all we talked about was business. They really let me go and let me figure it out myself, which was good. I ended up learning a lot.
A huge part of this show is mental health, how are you doing? The pandemic was a lot for a lot of people.
Yeah, it was a lot for me too. I'm in a really good space right now, but it's easy with social media to get spread too thin and get stressed out. Especially trying to brigade your own ship. I'm in a place now where I've gotten better at team building and staffing, putting people in places to take weight off my shoulders so my weekly grind is a little bit lighter. You have a little bit more balance. It's still a process for me, to be honest. 'Cause I always try to go to new levels and it requires more staffing. Trying to wrap your head around that can be stressful at times but I'm in a good space. During the pandemic, I ain't gon' lie, everything took a hit. Every industry. People were like "oh, you weren't even affected by that pandemic."
I was going to ask if you were affected.
Well, we still hooped. I never quarantined.
Where do you go hoop?
Everywhere. I go wherever video's gonna be dope. I try to go to courts where there's a lot of passerby traffic. People say, "you only hoop at the beach." Well, we hoop everywhere if you watch all the videos. We could be in Africa, we could be in Venice Beach. We could be in Argentina. Now I plot out my videos, where I'm gonna go, what's gonna happen before, then the basketball's always gonna be real. We want to go somewhere we can garner an audience. I found my videos with no audience versus videos with audience, usually a game changer.
What you don't realize is, it sounds simple, but humans are interested in watching other humans react to stuff. If you got a crowd full of people and you're doing your thing, it even cosigns that what you're doing is that much cooler. Because these people are getting excited. Whereas you're in an empty gym, it's quiet and it looks the same everywhere. Need high energy, which you don't always get but you hope for.
Among professional athletes, data shows that up to 35% of elite athletes suffer from a mental health crisis which may manifest as stress, eating disorders, burnout, or depression and anxiety. For some athletes, being injured and getting taken out of their sport can trigger significant mental health issues.
Tearing your Achilles tendon, how did you get through that?
Oh I know about this. I could totally see how it is. For a lot of athletes too, their identity is in their sport. It's hard while you're in it but one thing I've tried to work on over the years is not to make your identity your sport. And it's hard not to right? Everytime I see somebody, they don't even know my name. It's only Professor. Everything is glued to crossovers, moves, and YouTube. Most athletes, by default, that's going to be your identity. If you get an injury, not only are you held up from doing what you do, but even your whole identity — you feel like it's sunk.
How long were you out for?
It was crazy because it happened right before the pandemic. 2019 for me was Achilles, 2020 was the pandemic. I was at 5 million subs, I stayed there for 2.5 years because I couldn't really get out of that. Couldn't make bangers. They even said on the paperwork, the doctor said "you have to be weary of depression and suicide." People contemplate suicide all the time. With the injury, that puts you down. The Achilles is gonna put you down for 3 months. You're on crutches, that's gonna hurt your shoulders. You ain't even gonna want to be up so you're off your feet for months.
It sucked, but God looked out for me because I had mad footage on layaway. I had footage go for 6, 7 months, then I finally ran out. But we had bangers. I still had bangers. When I uploaded the documentation process, I was already healed. I didn't drop it because if I didn't recover back to where I was, I might as well leave it off the books. If I came back 70%, 80%, or even half as good, I don't want people to say, "oh, he ain't that because this injury happened." We might as well leave that out.
It was a myth. Anything I heard from anybody saying you couldn't recover, you'd have to change your game, it's not true. Sports therapy now is a whole other level. You can recover from almost anything. The Achilles, you see Kevin Durant? He's one of the first players in the NBA who had that Achilles injury and now, he didn't miss a step. He's still on point. 99% of NBA players who had that Achilles injury, it drastically curved their career. Mine's a little different then theirs because they have an 82 game season. They're playing every other night. For me, I play whenever we're filming, so it's a lot less.
It was tough. I could totally see how an athlete could suffer from that. For me, mental health, being Christian helps me a lot because my identity is more in God and Christ. So that's my outlet. But if you don't have any idea for what it should be outside of basketball, which is probably most athletes or their sport, I could see how that'd be tough. It took 2 years for me to recover.
What do you do for self-care? 
Going on a run. I live in Marina Del Rey so running along the water is very therapeutic for me. Letting business go completely and going to hang with some friends. It's funny because people always ask "what do you do outside of work?" I say "I workout." They're like, "that's work." My work is fun, so I don't see it as work. I try to do other things outside of that, get a massage. Wind down, which also helps me stay limber for basketball. I like the beach, I go to the beach and hang. A little reading, different things like that.
Do you have any tattoos?
I have one tattoo. It's the AND1 logo on my arm. [laughs] I got it in 2006, I broke my foot so I was super bored. I did go through some depression at that time, this was 15 years ago. I got a tattoo. I'm the only person to get one and stop. I stopped because from a branding standpoint, it made me look older. For me to look young, especially back then, it was a better marketing play for me to look more young. I tell you, because I'm nerd basketball. The mashup from big, huge athlete versus me was a David and Goliath thing. If I was all tatted up, I don't think it would've resonated the same. At least in that scene.
You actually moved to LA to act. I know you did a movie with Will Ferrell right?
Will Ferrell, that was 2007. I moved to LA. I came to LA in 2006, I still had my place in Oregon but I had this script to be the lead role in this film. I had it since '04. This dude was super cool, he really knew basketball and he wanted me to play this lead in this movie. I never thought about acting. I was the kid that was too shy to give a speech. I'd shake holding my notes if I gave a speech in school. My hands would be shaking, I definitely had never thought of doing anything like that. At that time, I said "cool, let's try to expand. Let's do it." I took 6 months of acting lessons. By the time '06 rolled around, they had funding for the movie so I came here and I shot it. It was great. Had a A-list cast, but it never came out.
Who did you play?
I played this character named Sticky. I was a young kid who was in and out of foster care. That was one problem with it: it was more about foster care and only a little bit basketball, but everybody knows me for basketball. I sat and watched with some execs from William Morris back in the day, they said "man, if this whole movie was this whole basketball scene right here? We'd release this tomorrow." I learned a lot. Now full circle, I'm working on a couple films trying to redeem from that.
The Semi-Pro with Will Ferrell, I went to an open casting and got the gig. I tried out, and I got picked to do that movie. That came out '08, '09. People don't even know I was in that movie, boxed out Will Ferrell for the game-winning free throws. I had this wig though, my hair was down to my shoulders. When I show people, they're like, "I didn't know!"
Why'd they put a wig on you?
I was supposed to play an NBA player from the '70s. I was on Andre 3000's team, the Spurs in that movie. If you watch, people will see me in this one scene: he trades teams in the movie. He leaves our team, the Spurs, and he goes to Will Ferrell's team. As he walks away, leaves our bench, there's 3 of us on the team standing in the back. We're like, "how you going to leave?!" If you watch that scene, you'll see me.
What was your favorite part of the AND1 tour?
Oh dang, maybe all the traveling we did. A lot of people saw the ESPN show, which documented our summer tour. During the summer, that was the US tour, but we'd travel the world in the off-time. AND1 was licensed out in 40 countries, so we'd always go to those markets. Getting to see the world, now I can say that was the coolest part. Back then if you had asked me what was cool: partying, playing in NBA arenas. Playing in Madison Square Garden was cool. Meeting A-list celebrities, my favorite athletes I would've said at that time. Zooming out now looking at it, seeing all those cultures around the world. Making friends in different countries, that was really cool.