Read the full interview on RedBullRecords.com!
​​Kalan.FrFr
 is here to become one of the greats, and he lets his music speak for itself. Born and raised in Los Angeles, the rising star arrives on the scene with his own unique sound, style, and swag, blurring the lines of R&B and hip-hop and creating heartfelt bangers for his growing fanbase.
To date, it's hard to have a conversation about the hottest artists on the West Coast without mentioning Kalan's name. Growing up playing football and even obtaining a scholarship to play defensive back at San Diego State University, Kalan.FrFr took that same grind mode mentality on the field and inserted it into the music industry. And while it may seem effortless for Kalan to drop hit records, what most people don't see is the hard work, dedication, and passion that goes on behind-the-scenes.
View this post on Instagram
Exploding onto the scene with his 2018 smash "Right Wit It," Kalan.FrFr has since released two standout albums: "TwoFr" and "TwoFr 2" — and now he returns with his highly-anticipated new album titled "222." The 13-track project serves as the third installment in the series, with a standout feature from LA's own (Red Bull Records artist) 
BLXST
.
To coincide with the release of Kalan's Red Bull 60 Second Freestyle, which was recorded in a beautiful rose garden, we spoke with Kalan.FrFr to discuss his freestyle lyrics, his new album, working with BLXST, and more.
Red Bull 60 Second Freestyle is a fresh series. What did working on this mean to you?
Aw man, it was everything. It was dope. I was surprised when we went to the garden. I didn't know that was going on, they kept it a surprise for me so it was hella dope. I'm just glad we got to do it. The car, I got to drive the Mustang and all that. It was hella dope. It was a dope experience.
I was going to ask if you knew why it was shot in the rose garden?
Nah, I had no clue. They told me afterwards, "Yeah, it had to do with the roses symbolizing the older music." That's what Savoy was telling me. "TwoFr 2," how my own tour was the roses and everything.
How was it driving the Mustang?
It was dope, Mustang was cool. I was whipping it around. It had the updated radio side so I had the Bluetooth, I was playing jams. I was playing some oldies, it was hard. I was giving roses out to people in traffic, it was dope. We were having a good day.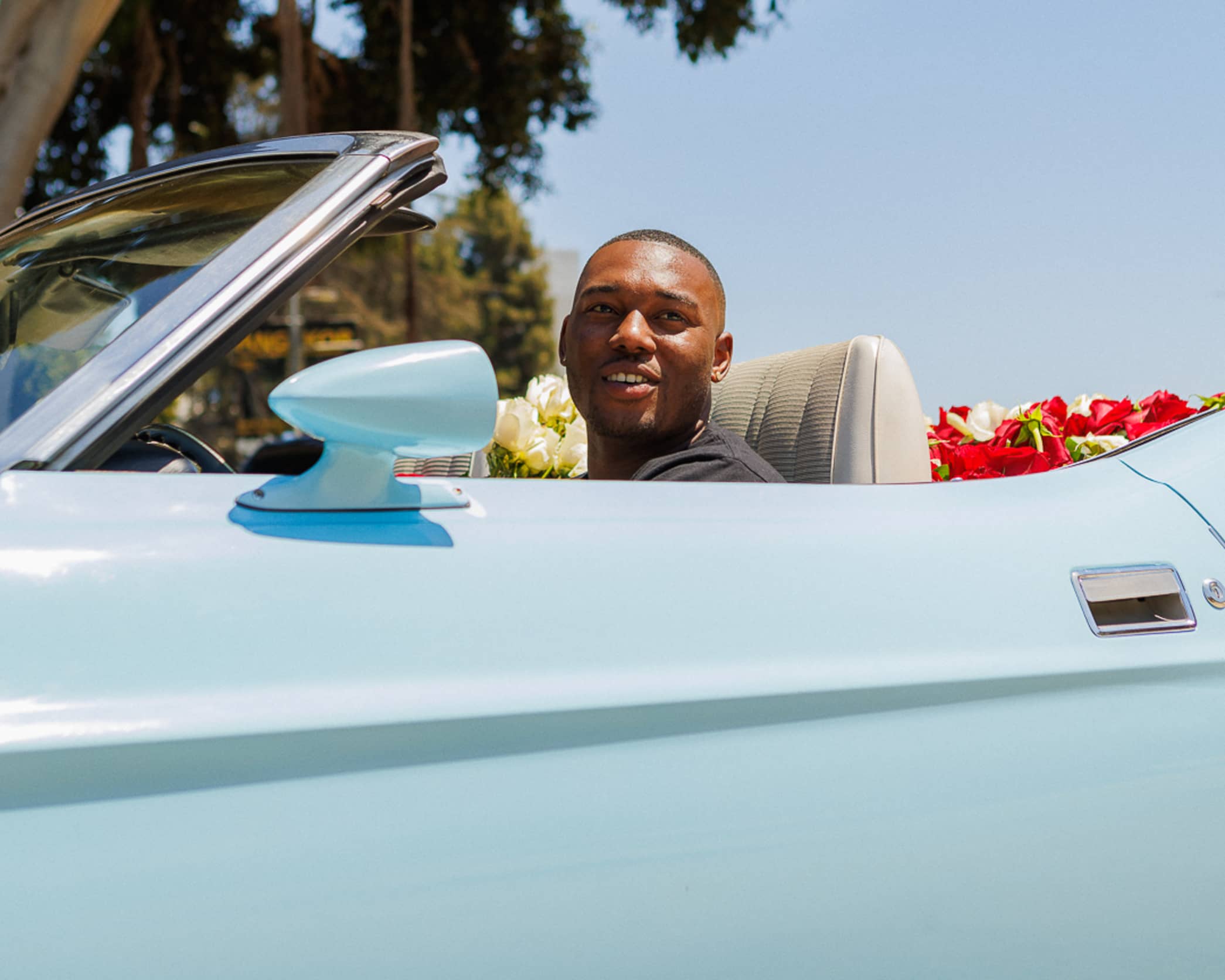 Did you get any fans when you were passing out those roses?
A couple. A couple people said "Oh shit, that's Kalan.FrFr." I was like 'ayyy.'
What inspired the lyrics for this freestyle?
Just thinking about life: what's normal, what's been going on. A repeated circle of stuff that's going on around me, stuff that I've been hearing. Just me being deep in thought. When certain things happen, there's no turning it around. It is what it is.
What was the preparation behind it?
Really, Indy (manager) said "Go record this freestyle, hurry up." [laughs] Hurry up, shoot. Vibed out, we went in there and just did it. Not too different from my whole recording process, that's how I record anyways.
Was it hard to do just 60 seconds?
Yeah, because I wanted to keep going. I'm like dang. I actually kept going, they told me "we gotta cut it down." I'm like damn! I could have kept going, I could have made that song. [laughs]
Do you have a favorite bar from the freestyle?
"Once you lose her to the streets, you'll probably never get her back." That's my favorite bar. [laughs] Hey man, life happens.
You just dropped your new album "222." What's the meaning behind the title?
"222" means you're in the right place at the right time. We take it as alignment, you're on the right path. You're going in the right direction. With the music, in that point in my life, that's what I felt like it was. Also, that's the angel number. "222," I see it a lot. That's what that means. It's also the trilogy: the whole "TwoFr," "TwoFr 2." Now, this is technically TwoFr 3.
What do you want fans to take away from this album?
I definitely want fans to understand that it's okay to live life. I know from the top to the bottom, you're going to get every emotion. You're going to be able to laugh with me, cry with me. You'll have them joints for the ladies on there, them shits for the streets. It's the combination of everything. I want you to be able to put it on, and don't turn it off until it's over. Don't even turn it off, just run it back.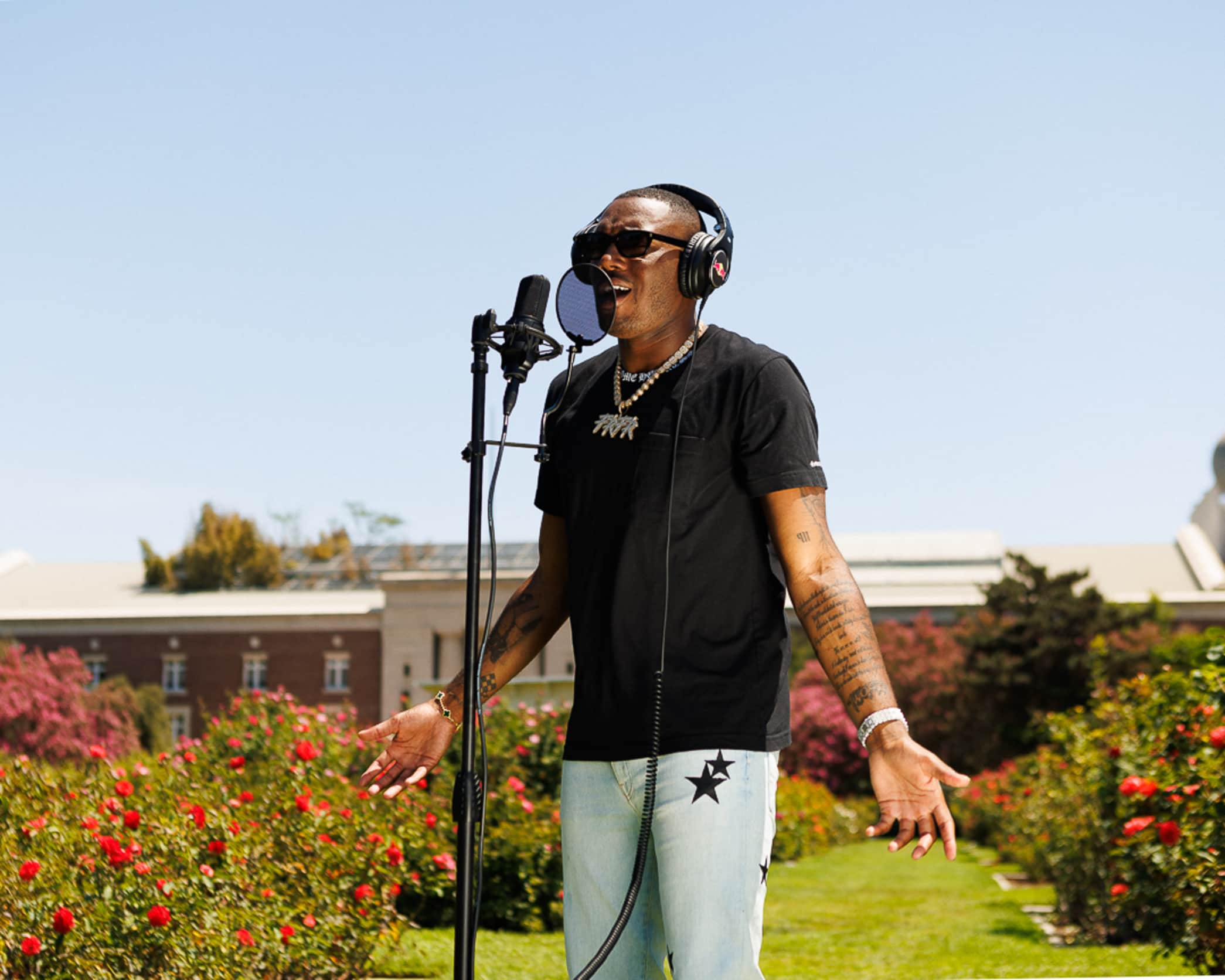 Do you have a favorite song off the album?
Nah, they're all my babies so I can't really choose. The hardest song to make probably was "Going Through Things." Probably the hardest thing to record because it was one of the deepest records I've recorded. One of the most vulnerable records I had recorded, so it was a little different.
You linked up with BLXST for "No Stoppin." Tell us a little about that.
Shoot, BLXST been my boy. BLXST produced "Right Wit It," everyone knows that. Hits! It's time we turn it around. We had to do something else so we got back in. I had sent it to him, he knocked it out. It was dope, made it happen.
Did you create that song knowing that you wanted BLXST on it?
Nope. I just made it and I was listening, then I was talking to BLXST. I said "Aye, I got one! I got the one I'm finna send you right now." He's like "man send me something." I sent it to him, he sent it right back! [snaps] Literally, I'm like wow. Fire. Soon as I had it, played it out.
The "Pull Up" hit a million views on YouTube, congrats!
Good looking. It feels good. I feel like it's working, just keep going. The music, they're responding to it. I want to get back to work so I can do it again. Looking forward to dropping more videos.
What inspired the record?
Just the vibe. Sometimes, you have to go into the studio and simp a little bit. You gotta tell them how you're feeling. There's nothing wrong with being soft. You gotta be a little soft sometimes, you gotta tell them to pull up right away. You gotta tell them about themselves. [laughs]
What're you most excited for with your career?
Man, just it flourishing. It's getting bigger and bigger, we're starting to reach more people every time. I'm getting more fans, more listeners, more support. A lot more love. I'm doing bigger rooms and performances. I'm looking forward to it growing, seeing how big it's going to get. How big it could get, because the sky's the limit. We're going to keep putting out music.
What are your goals?
To get better. I just want to get better, do better. I'm going to start spending more money, that's one of my goals. [laughs] I don't be doing too much. I'ma start spending my money on the right stuff, that's what I'ma start doing. I had to talk about finances with my folks Saturday, they're like "You waste a lot of money on nonsense." So I'm spend more money right, the right way.
What're you spending money on?
Nonsense, just BS. I don't know, it don't even count. I be eating a lot, just crazy stuff. I gotta learn how to budget. [laughs] Yeah, I buy clothes every week. Once a week, I buy clothes. I buy clothes all through the week. For sure, I've bought something every week since I've been a rapper. If it's hard, I'ma buy it. Then I be buying little dumb shit, like I bought this gravity bong the other day just cause.
What does your ideal day off look like?
Smoke, a whole lot. Eat a good breakfast, a fire breakfast. Watch a good movie. But you have to get up early though, my days start at 7am. I get up at 7:40am everyday. I had an alarm clock set for 7:40am and I never turned it off so I started getting used to getting up at 7:40am.
Are you hitting the gym early?
Yeah sometimes, but I don't really go to the gym. I do calisthenics. I ride my bike, stuff like that. I started MMA, so I've been doing that right now. That's fun. I might have to kick someone or something, you never know. [laughs] I also ride dirt bikes, that be fire.
Where do you ride dirt bikes at?
On the streets! Downtown, all over. Wherever.
Anything else you want to let us know about?
Keep streaming "222," more videos on the way. More shows on the way, everything coming out. Stay tuned in! Follow me everywhere: @kalanfrfr.