Read the full interview on SheenMagazine.com!
Nikki Leigh is here to use her platform for the greater good, promoting positivity, kindness, humility, work ethic, and simply living life to the fullest. Boasting 1.3 million followers on Instagram alone, the Orange County, California native is a true definition of a multi-hyphenate, wearing many hats including model, actress, social media influencer, fitness enthusiast and entrepreneur.
Most recently, Nikki starred in the new movie on Tubi called Butch Cassidy and the Wild Bunch, an original Western and action film that sees Nikki playing the character of Etta Place. With Nikki's previous experience on-air and on-screen, working with major companies such as Reebok and Asics, this new role suits her perfectly — starring alongside two-time Oscar nominee Bruce Dern and Jilin VanOver from Better Call Saul.
Beyond acting, Nikki is a huge mental health advocate, even hosting her own Instagram Lives over the pandemic called Positivity Time. Having been bullied when she was younger, Nikki dedicated her entire life to helping other people feel good, through kindness, joy, and gratitude.
And if you're ever in the Sherman Oaks area, be sure to stop by the restaurant called On The Thirty. Nikki has her own item on the menu called the Nikki Special, a pizza with mozzarella cheese, prosciutto, and a sunny side up egg on each slice.
Sheen had the pleasure of speaking with Nikki Leigh virtually, to discuss her upbringing, how she got into acting, her new movie, journey with mental health, her gratitude journal, goals, and more!
What part of the OC are you from?
I'm from Cypress. Me and Tiger Woods are from Cypress. [laughs] It's pretty cool.
How was it growing up there?
It was nice. It was a very safe neighborhood, with a lot of kids. I really believe that I lived in my neighborhood during the prime time of that area. When I go back, there's not as many kids running around in the neighborhoods. If there are kids, they're all indoors. When I grew up, my street had kids rollerblading, skateboarding, razor scootering, all up and down the street. Playing outside constantly. We had a really active, beautiful environment to grow up around.
So you were super outside?
Oh yeah, and I played a bunch of sports. The beach was 10 to 15 minutes away. If we wanted to go to the beach, it was not that far. I even remember riding my bike there a couple of times with a friend or two, I will tell you it was miles and miles and miles. I feel like one of those cross country bikers that you see now doing 25 miles, oh my gosh. I did that once as a kid, on a beach cruiser. [laughs]
What was your best sport, that you were good at?
I played softball, and I was a dancer and all that. I didn't really tap into my true potential because I feel one of my biggest talents having to do with sports is Volleyball. I get super competitive and super aggressive with volleyball. I love volleyball! [laughs]
Do you still play?
Yeah, sometimes on the beach. I really love doing that. I get super into it. Some people say "Yo, you need to get into some league. You have some aggression you need to let out." I'm like no, I'm just putting in effort dammit. [laughs]
What did you want to be growing up? 
I honestly wanted to be a singer and performer. I've gone a little bit into that, but to be honest, modeling and acting took off. When you're doing that, it's hard to do a bunch of other things. We're already on this grind, so it'd be fitting in yet another thing. I feel in order to be super successful, you gotta give it your all. Thankfully, I have acting. Giving that my all right now.
How did you get into acting?
Acting came after modeling. After getting recognition as a model, I got a special guest cameo in a movie. I loved it. I was super excited that everyone was a family and working towards one goal. Because that's what it is, we have this one movie to make, everyone has their position and what they need to contribute to it in order to make it all work. It's all for one common goal, so I thought that was so cool. I loved the camaraderie and the family aspect of it. I want to be a part of this every day. How do I get into a movie for the long haul, instead of a day player? I went into classes and studied up on it, got more and more experience. Here we are.
I always respect when people actually take acting classes.
Definitely. It's not easy because when you go to class, you practice something right? You learn and in order to learn something, you have to practice something. Every time I've ever gotten to a class or a workshop, you have to literally get up in front of the class multiple times a day, recite something or put on a show of some sort.
To be honest when I was in school — elementary, junior high, high school, any of those — I was deathly afraid of going in front of the class. I hated it. Do not pick me, I'm not here. Not present. Sinking in my chair, doing all the things to be like oh I'm super busy. Pretend I'm reading a book so the teacher didn't make eye contact. Divert, divert! [laughs]
How did you overcome that?
I don't even know, I think it was continuously doing it. Also being rewarded and championed helps. One of the things for me is the gradualness of which I did it in front of the camera. First, I got up as a model. I didn't have to speak, so it wasn't about my words. That helped, getting in front of the camera and becoming comfortable in my own skin. Then having these little baby steps,  eventually I had to recite a monologue by myself. I gratefully was doing it in steps, that really helped. I never really thought about it, that's crazy.
Definitely want to talk about your new movie, Butch Cassidy and the Wild Bunch. What a title!
I know! It's fun. I'm so excited. Butch Cassidy and the Sundance Kid is an iconic classic Western movie, which had Robert Redford. Definitely people at least 30 and over will 1000% know this movie. If younger, you have to maybe be more of either a Western fan or film enthusiast, or heard about in school. It's really about outlaws. There's a love triangle where my man is an outlaw, but he's more up and coming. There's this one really famous outlaw, I end up getting entangled but also we end up getting entangled with him and doing jobs. The love triangle is what helped make it so iconic back in the day. We keep that alive, that camaraderie and teamwork within each other. It's really a badass story in the West.
You play Katherine Ross's role of Etta Place. How do you prepare for a role like that?
Katharine Ross' role is definitely a big shoe to fill. I went and watched her original movies. Okay, I don't need to be exactly her, but I definitely want it to resemble her. Take some key elements away and project it into our movie. Etta Place was a real human, I wanted to research her on her own, then be able to put my own spin on it. I got to develop a lot more confidence, that was really cool. Also, the guys give me the opportunity to shine. It being a Western, usually you think of Westerns as all males. It allowed me to feel like one of the guys and feel like a badass myself. I could hold my own in a gunfight, it was really cool.
I heard there's a sequel coming, how excited are you? 
Yes! It rarely happens this fast. This movie just came out in mid-March, and we have the second one in June coming out. It's really cool because the first movie is amazing and great, you get a really great introduction but then you're left wanting more. This next one coming out so soon really allows you to fill that hunger. That's really cool. I'm super excited because there's a lot more action in the second one. You really get a good feel of it.
How did you first grow your social media following?
Modeling first. The first thing that launched me out, I was an original Hefner centerfold.
Not many people know that and I don't really ever say that, it's where I started. From there, acting and working in different things. Literally as you know, it's a job. Posting every day, being up on that. I did it all organically. It's a lot of work. Was, is, still is. A lot of work.
There's so many social media platforms you have to update, I'm over it.
Girl, I am too sometimes. It's taken me a long time to say this, but it's okay. [laughs] Screw them. If you have to take a mental health break, take it! Because it's really taxing. It's annoying. It'd be different if your effort was able to be shown as is. It used to be that way, but now there's so many algorithms. It became a video game. There's so many codes to crack, you gotta do it all correctly and within a timely manner.
If you just post then get off, they don't care. Nope, that didn't satisfy the algorithm. You need to post, comment on a bunch of things, wait for people to comment to you, reply back to them. You have to do all these things, what's going on? It becomes really annoying and tiring and sad. Everyone out there trying to grow their social media, don't stress us out too much because it's supposed to be fun. We always talk about doing what we love, we have to pull that into focus and live that.
What is your journey with mental health?
I went to college and graduated cum laude with a Psych degree. Sociology and psychology have always been in my realm. I remember taking my first psychology class my senior year in high school, I instantly was like yep, this is it. With that, I always was very empowered and excited about the mind and people. I've always been a people person. I want people to be happy.
Growing up, I was bullied heavy as a kid, from physical abuse to emotional abuse to verbal abuse. I always grew up hating how I felt and how other people made me feel, so I never wanted to make anyone feel bad. I always made sure to do my best to help people be their best, be happy and live a happy life. Not a life that's really sad. All those things have become the perfect recipe for me to be in that field.
I journal every day, so I'm really excited to hear about your gratitude journal.
I've been doing gratitude and writing in a gratitude journal for about 4 or 5 years. I love it. I was always trying new ones, there was always something I did like or didn't like about them. So I thought, I'm gonna take what I like from these other ones that I've done, also incorporate what I wish was in there and create my own. It's a first round, first try. It's my first time publishing anything like that, but I love it. I use it myself. I journal every morning, every evening. This gratitude journal is up on Amazon. It's a great gift, honestly. It's one of those unexpected gifts that if you receive it, you're like "oh my God, that's actually awesome."
Best gift ever! I totally agree with you.
Because I was always buying gratitude journals and giving them as gifts too. Screw this, I want to create my own. It's more personal when I give it to them, it's a real gift from the heart. Because I want to help people get more into gratitude, and I did that heavy during the pandemic. I was doing these IG lives called Positivity Time. I was going on for an hour a day, every single day. It was honestly awesome, but it was a lot. Once we were all back to our lives, it was really hard to go on for an hour every single solitary day.
I was very grateful for that time, but I ended up wanting to bring that into people's lives. We started every Live with gratitude. That was the only way I'd shout anyone out or do anything, because people get on here like "say my name." No, I'm not going to unless you do what this time is for. I want you to be grateful, I want you to find the things in your life that make you happy and focus on it. Being that I can't be in everyone's home every day now that life's back, the gratitude journal was another way of doing that.
I know you're a foodie, what's your favorite food?
I love food. Are you kidding? Sushi is one of my favorites, if not my favorite. I love a good steak, a good steak house. I've been talking to some friends about this recently, which is really funny. I love flavor and spice. I've been finding myself going to Thai foods, and Indian food recently. That's what I've been doing a lot recently, but sushi will always take the cake for me.
Do you have any beauty go-to's?
Honestly, one of the best oils is Jojoba. That's a great moisturizer, a great oil to put on your nail. My cousin especially swears by it, she puts it on her nails twice a day and her nails now are strong and grew fast. It's crazy. It's also really good for your skin. Dry brushing is also really really good, because it's great for circulation. It also helps in your cellulite areas, for people who are struggling with that. Honestly, drink a ton of water. That's a huge big secret that people don't really think about.
Any goals for yourself?
I mean, wake up every day. [laughs] Honestly, a big goal that's really true is to keep happy. Keep learning, that's my biggest goal. Sometimes I think about okay, how do we get specific with that? The end of last year, I got scuba certified. Now I learned that. I learned how to ski a few years ago, now I'm killing it at skiing. Or was…it just ended. So sad. But I'm always learning new things. I'm in the middle of learning Spanish. I always want to keep learning new things, because there's so many great things to know out there. I'm definitely not a know-it-all. Whenever I give anyone advice about anything, I want to be able to at least say "well I've learned this or I've done this." I'm walking the walk and talking the talk.
Anything else you're excited for anything else you wanna let the people know?
I'm honestly really excited to ride the wave of my gratitude journal, and this new movie that comes out in June. I can't wait for more to happen to be honest.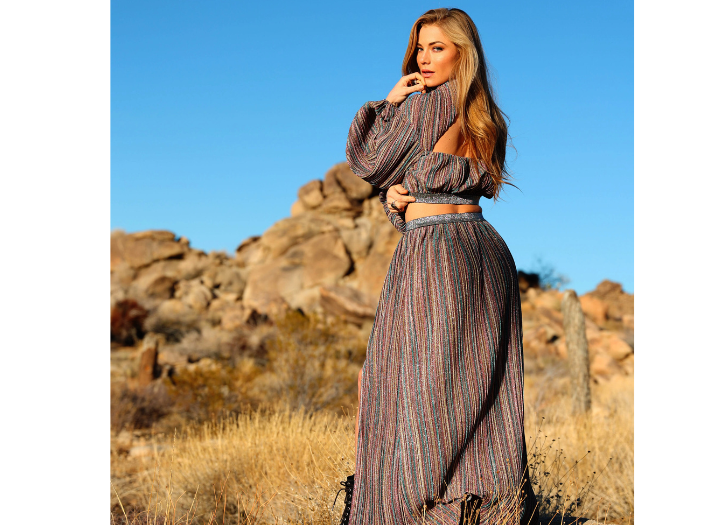 Photo Credits: Courtesy of Nikki Leigh