Read the full interview on SheenMagazine.com!
The greatest gift you can ever receive in life is a newborn, and Nikki Mudarris and LiAngelo Ball are excited as ever to be sharing that moment together.
A USC graduate with a degree in Business Communication, Nikki is an entrepreneur, real estate agent, and reality television star, best known for her role in Love & Hip-Hop: Hollywood. Gelo is a professional basketball player for the Greensboro Swarm of the NBA G League, best known for his athleticism alongside his brothers Lonzo and LaMelo, both of whom play for the NBA.
Nikki and Gelo first met while both were working out at Runyon Canyon in Hollywood with their pups. And according to Nikki, it was love at first sight. Three weeks into dating, they professed their love for each other… and it's been up ever since.
Now, Nikki and Gelo are welcoming their first child together, both stepping into parenthood for the first time as a unit. Announcing the news with PEOPLE Magazine, Nikki expressed her excitement in meeting the new baby and embarking on this new chapter in both their lives. Gelo on the other hand, revealed the excitement from his family when he shared the good news, with his siblings excited to become new uncles.
Sheen spoke with both Nikki and Gelo to discuss how they met, Nikki's pregnancy cravings, their excitement for parenthood, preparing for the arrival of their baby, and more!
How are you feeling Nikki? How far along are you?
Nikki: I feel good, I'm seven months now. It's getting close. My body's starting to feel more tired, but everything else has been good though.
How did you guys meet initially?
Nikki: We ran into each other when we're at Runyon Canyon walking our dogs. We exchanged numbers and  just went from there.
Was it love at first sight?
Nikki: I think so, for me for sure. I told him three weeks after we met, I loved him. [laughs] And then I forced to tell me too.
Gelo: You didn't force me to say that shit, what are you saying? [laughs]
Nikki: I didn't force him, but I was like, so you don't love me back?
Talk about the moment you guys found out about the pregnancy and how special it was for both of you.
Nikki: It was exciting. It didn't really come as a shock to either one of us, but we definitely talked about having kids together and a life together. Being together even prior to me being pregnant, so we already knew what we envisioned together.
Gelo: I was excited when we talked about it. We had talked about having kids before. It was exciting when I was expecting a kid. It was an exciting moment. It's my first time having a kid, it's her first time as well. I'm just glad it worked out like that.
Do you guys know the gender yet, and is it the gender you wanted?
Nikki: We know the gender, but we're not going to say. It would have been fine either or, as long as it's a healthy baby. That's the most important, but yeah. We're keeping the gender private for now.
Is there a name?
Nikki: Yeah, we have the name. If we tell you the name, you're going to know the gender. [laughs]
Obviously when you get pregnant, people have crazy cravings. Nikki, what have your pregnancy cravings been like?
Nikki: Oh gosh, I eat a lot of Wingstop. I eat a lot of Jack in the Box tacos. Ugh, I don't know why I like those so much.
Gelo: It's food I used to eat.
Nikki: It's everything that my man likes, I started eating. I crave a lot of sweets, like chocolate. I have to eat chocolate every day, and donuts. Not donuts every day, but I love donuts now. I never used to like them like that.
What's your favorite donut?
Nikki: Just a glazed donut from Krispy Kreme. They're so good.
Gelo, how's it been supporting Nikki throughout their pregnancy?
Gelo: It's been good. I've been asking her what she needs and making sure I'm there for her. I be paying attention. If she needs something, I'll be on trying to make life easier for her. Because she's going through some changes.
Have you guys been prepping for parenting in any way?
Gelo: Oh yeah, we talked about that. She put me up on game on how to raise a baby, because I never really talked about that stuff. But it's all good.
Nikki: We're doing a parenting class together.
Gelo, do you want your kids to hoop?
Gelo: Yeah, of course. I'ma show him or her some stuff. If he don't want to though, I'm not one of those people that gonna be like "you gotta hoop!" I'ma just make sure he knows how to do something right, you know?
Nikki: If it's a boy, I would love for him to teach him basketball. But if it's a girl, he could teach her too.
Have you guys put together a nursery yet and how has that process been?
Gelo: That's going on right now actually. We about to get together and meet with the lady and they gon' get it right.
Nikki: Yeah, I'm meeting with the nursery lady tomorrow. We're gonna get measurements for the nursery room and go over the vision. But I already have an idea of how I want to do it.
How was it telling your families? Were you guys nervous at all?
Nikki: I was not nervous to tell my family, they were excited for me. No, I wasn't nervous at all. My family's super excited, they can't wait.
Gelo: I wasn't nervous. I was excited to tell my parents when I got back from my season, because it happened when I was in Charlotte. I had to wait to get back to California to tell him the news, so I was just waiting. That was a little… I felt I had a weight on my shoulder. But I wasn't nervous.
What were their reactions? I'm sure they were both super excited.
Gelo: Yeah, they were both super excited. That caught me off guard a little bit. My mom started yelling and cheering. [laughs]
Why did it catch you off guard?
Gelo: I don't know, I wasn't expecting that. I didn't know how they'd take it, because I wasn't gon' tell them.
Nikki, I know you're a real estate agent. Do you plan on continuing?
Nikki: Oh yeah, for sure. That's my main focus. I want to close some deals while I'm having my baby. I don't really want to do the hosting thing anymore. I feel that chapter is completely done for me. I'm done with that. I'm 32 now, I just want to have a stable life and raise my baby. I've been doing good with my real estate, so why not continue doing that? Less stress, traveling. I make good money doing it, so might as well continue doing what's easy for me.
Did you always want to do real estate or you fall into it?
Nikki: Well my family, they own a lot of real estate in LA. It was something I wanted to help them do, because my parents are getting older. Okay, somebody asked to keep this going. So let me step in and help them.
Do you plan on creating a baby Nude clothing line? 
Nikki: I want to do a baby line, but branch off from my personal laundry line. Nude By Nikki, I want to do something different. But I think I'll be great at creating a kid's clothing line.
How do you guys plan to juggle parenthood along with your busy careers?
Nikki: For me, I could do real estate anywhere. So wherever he ends up playing basketball, I'll be with him and the baby. I could manage. If I have to have a showing somewhere, I could have somebody do that for me kind of thing. I can make it work, I'm definitely flexible with my schedule.
Gelo: I feel like I can make it work. I just got to see where I'm playing at forreal, see what state I'll be in. Once we know all that, we can figure something out for sure.
Is there a team or a state you want to be in?
Gelo: Oh yeah, I of course want to play at home in California. Whether it be Clippers or the Lakers. If it don't work out like that, I'll have to make something work.
I'm guessing you're rooting for the Lakers in the playoffs?
Gelo: Oh nah, I don't mind. I like watching Steph Curry and LeBron, so it don't matter. I just want to see a good game.
Did anyone give you parenting advice? Or the best parenting advice you've gotten?
Gelo: Nah, not directly from nobody. But I got some parenting tips from watching my pops raise me. I got some stuff that I could tweak.
How early did he put a basketball in your hand?
Gelo: Ever since I can remember, I was hoping on a little rubber hoop when I was a little baby. I was two or three.
Nikki: Aw, that's cute.
One thing you guys are most excited for, as the baby arrives?
Nikki: Just meeting the baby, and raising the baby. That's the most exciting for me for sure.
Gelo: Yeah, I'm excited for that to happen forreal. Becoming a new father, that'll be nice. Right when it gets there, I'm just excited to see them get born.
Anything else you guys are excited for?
Nikki: Just beginning a new chapter overall, I'm excited for that. I can't wait to see Gelo yell at the baby, so I could laugh at him. Because it's hard for me to take that serious. [laughs] To see him in daddy mode, it's going to be fun. Because it's our first time being parents together, so it'll be a new thing for both of us.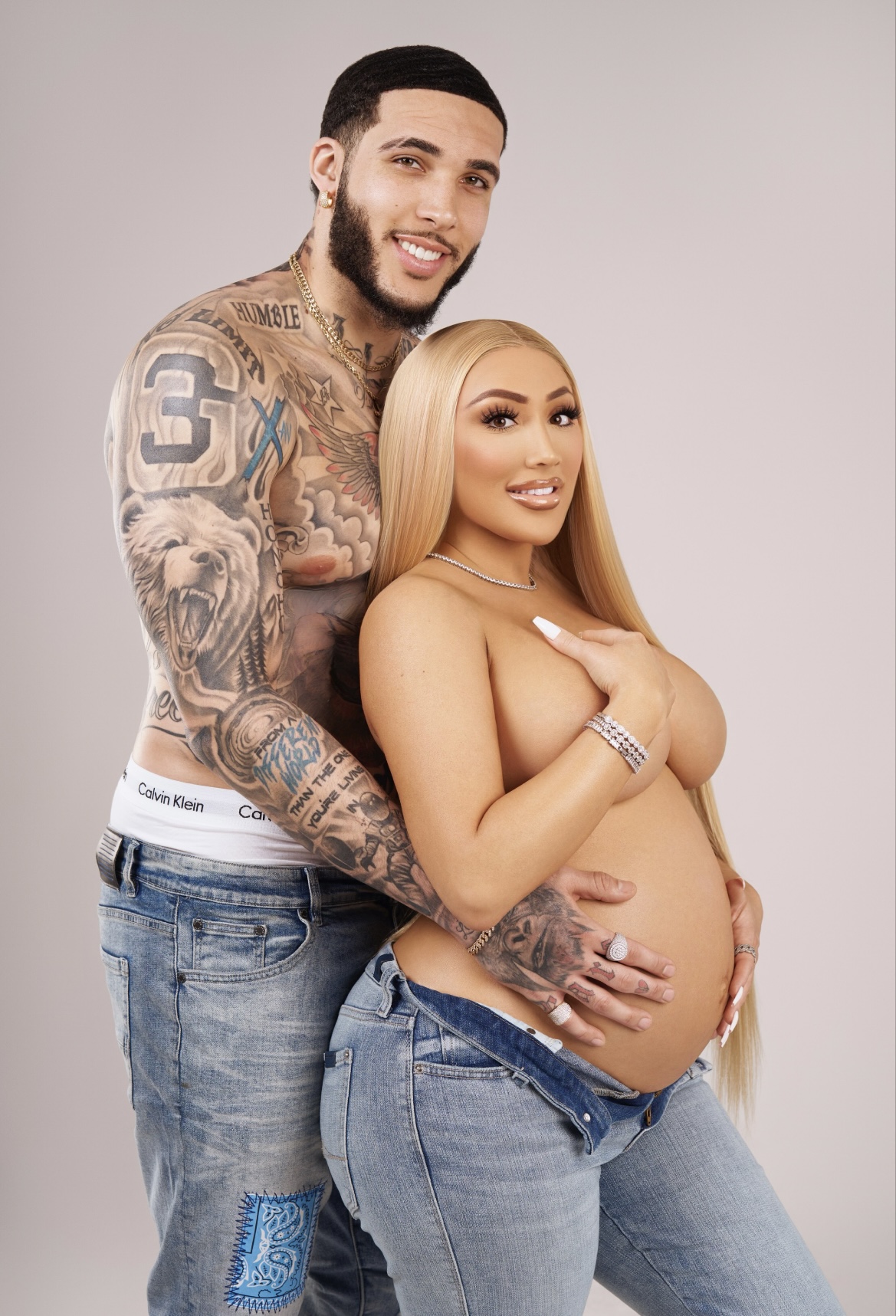 Photo Credits: Sean Coleman