Read the full interview on SheenMagazine.com!
Lil CC, let it slap with the bass! *Drake voice* If you're not familiar with Lil CC, you've definitely heard production on Drake and Rick Ross' "Money In The Grave." The song's official music itself boasts over 58 million views on Youtube alone… not too bad for it being Lil CC's first placement ever.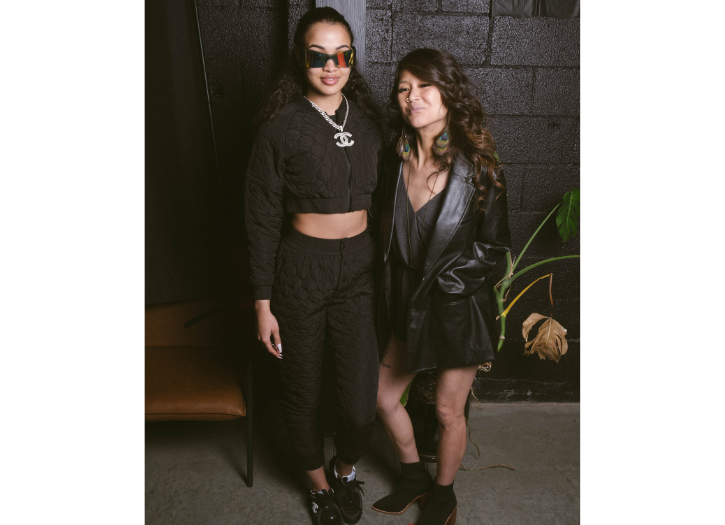 Born and raised in Los Angeles, real name Cydney Christine is a fashion model, influencer, and producer, proving that beauty and talent can coexist. Boasting 796K followers on Instagram alone, Lil CC is a true music lover at heart, growing up listening to classical music with Beethoven being her biggest inspiration. Her musical background consists of playing drums at a very young age, listing Jay Z as her favorite artist of all time.
Most recently, Lil CC collaborated with Forever 21 on their Rolling Loud collection, as she continues to stay locked in the lab perfecting her craft. Fans can expect collaborations with Rae Sremmurd and Kid Cudi in the works.
On the 53rd episode of Shirley's Temple, I sat with Lil CC to discuss her studio essentials, love for cooking, meeting Beyonce, getting $20K for producing Drake's "Money In The Grave," connecting with Roddy Ricch, her mental health, meeting Rubi Rose, dating Lil Bibby, and more!
What does Lil CC need in the studio to work?
A nice sweatsuit. I gotta have on a sweatsuit. A joint, spliff. My laptop or my phone, depending on if I'm stopping just to play beats or if I'm cooking up. Headphones. Something to drink: water, juice.
How long have you been vegan?
So I'm almost 7 years, but I'm 6 years right now. So 6.5.
Do you ever cheat? 
Never. If it's on accident and maybe some butter gets in something, but never meat. No, not doing that. I only cook vegan food.
What's your favorite thing to cook?
Breakfast, or pasta. Italian food is my favorite to cook, or vegan soul food. That's fun too.
$500K or dinner with Jay Z? 
Oh, you talking about my favorite rapper? Hold on. $500K, I've got that before. I'm never gon' get a dinner with Jay Z though.
But you met Beyonce, so that ain't too far out. 
Yeah I have. What's crazy, I saw them at the same time. Jay Z's my favorite artist, but
I was way more what the fuck when I saw Beyonce. I'm like whoa. Jay Z was there, that was cool. That was my first time seeing both of them, but Beyonce though? Whoa. That's like seeing an angel.
Where'd you guys meet?
It was at this Fourth of July party in the Hamptons. That all-white party that Mike Rubin be doing. He's legendary. I just found out me and him have the same birthday, which is crazy. July 21st.
I know you're a water sign. What are Cancers like usually?
I'm loyal. I'd say creative, nurturing. I'm very nurturing. I'm like a mom damn near. I got two pets, they're my children.
I love that you listen to classical music
Oh yeah, I love classical music. That shit makes me feel good. I wish I learned how to play the piano more than the drums, but I like the drums. The drums are nice.
How did you play that so little? How old were you?
I started learning around 5. My school that I went to offered music classes. Since pre-K, we always had music class. We could always play whatever instrument we wanted, or you'd learn how to sing. Or you'd act, different things in performing arts. I like drums, because my older brother played drums. Went with the most familiar one.
When did you know you wanted to be a producer? 
Not until way later, after I already learned how to make beats. I learned how to make beats as a hobby in high school. It was for fun. I never thought it was a career, would ever take it as a career. It was just fun. People in the music industry, my other producer friends were like "what, you make beats? You might as well make beats, you know how to do it." That inspired me a lot.
How did you learn? 
I learned in high school. I was 17/18, around there. Late in high school.
Do you remember how much you sold your first beat for?
My first beat was "Money In The Grave," so it was $20K. It was crazy. Man, I fuck with this. Wow, knowing that somebody believed in me that much and supported what I did, it made me want to go even harder.
Lil CC let it slap with the bass! is the hardest tagline. 
Yeah, it could be my tag. I don't know. I don't really have a tag. I've never used it in anything that's out. Maybe I should get one.
What was your reaction when you heard it? 
I heard it before everybody else heard it. It was sent in a video, I went crazy. I was in a changing room, I was modeling for Missguided in England. I was listening to it while I was changing into my next outfit. I'm like what the fuck? They're like "are you okay?" Yeah, I'm okay. I'm real okay. I was so happy to shoot the rest of that day. I was smiling in every picture. I couldn't stop smiling.
That's beautiful!
I remember there was one other model that was there. She barely spoke English, but she knew who Drake was. She was the first person I told because when I'm all the way over there, I don't have friends to talk to because they're all asleep in America. I'm barely trying to talk to this girl in another language, and she could understand me a little bit. Luckily, she knew who Drake was. [laughs] I played the song, she's like "he's talking about you!" She was losing her mind, talking in a different language. That was funny. That was the first day I found out, I told her.
Your phone must have been going crazy. 
No, not really, because people didn't really get it at first. I don't think they really understood what was going on. I didn't also put it out there like that. I did post, but I wasn't going crazy with it. Maybe I should have, but I didn't.
Did you listen to it a lot after it came out? 
I listened to it a lot before it came out. For 3 months, I was listening to it. I been knew all the lyrics. No! I take that back, because my first time ever hearing the Rick Ross feature on it was when it came out. I'd always listen to it for his verse more, because I wanted to learn it. I wanted to know how to rap it on my beat. But the whole song is amazing, I love the whole song. Every bar, every word. That was crazy.
I know you also did the song for Yung Bleu and Lil Wayne. How did that happen? 
I know Yung Bleu, so I sent him some beats, then he put Lil Wayne on it. Lil Wayne is one of my favorite artists too, he's in my Top 5. I got two artists in my Top 5, trying to get a couple more.
As a producer, how much is it throwing shit and hoping something sticks? I feel like
it's a waiting game.
Yeah, it is. But when it comes, it's well worth it. And I do other things, so I don't really think about it too much. I work according to when I'm inspired because that's when the work comes out the best. I don't overwork myself or force myself to do anything. When it does come, I can't explain it. This was supposed to happen, on to the next one.
How did you get the song with Roddy Ricch?
I went to high school, well not the same high school but I knew his baby mother, ex-girlfriend. Allie. That's how he knew of me, then I reached out to him and his team Keefa to send beats. He picked that "more than a trend" beat. That's fam.
Did you see his grind? 
Yeah, he actually performed at my little sister's Sweet 16 years ago. Years ago. He was still up and coming, but his shit always been hard. That was crazy he performed there, then a couple years come by, he got the #1 album.
You listened to Eminem growing up too? Favorite album?
I couldn't tell you the album. As a kid, I wasn't looking at the album. I just went to different songs I liked. "Lose Yourself" for sure was always getting played. I played "Cinderella Man" a lot, I really like that song. That shit's hard. All his shit to be honest. I'd go through the top songs on iTunes and play his shit, he was hard. Jay Z though, that's really my dawg.
Favorite Hov song? 
It's on In My Lifetime, and the song is called "Who You Wit II." That's my favorite. It came out '97, the year I was born.
Shirley's Temple has a focus on mental health. How are you doing? 
Oh I'm so happy right now. I don't think you understand how much peace I have. I really mastered peace. When I turned 25, bruh I don't give a fuck about nunnadet. I'm so at peace.
Do you meditate?
I do. I do it spiritually though, like certain moon phases. For 30 minutes to an hour, nothing too crazy. I know people that meditate for 5 hours, nah. 30 minutes to an hour, but in the evening though. Right before bed, after a shower or something.
You don't get tired?
Nah because that's what I'm preparing to do. It's like going out and doing something, I'm getting ready for this. Or a spiritual bath. Certain phases of the moon, I'll do that and meditate.
Do you feel like the industry can be a lot?
If that's what you call for it to be. Sometimes, you can't control certain things. But it's the way you react after that, is what's gonna make it peaceful or not. Just learning how to handle certain things, react certain ways. Like I said, I'm at peace. There's really nothing nobody can say to me, and I'm really gonna care.
Do you have advice for people who may be really struggling with social media? 
I think everybody handles things differently. You can either learn from it, or it could fuck you up and you can react a certain way. But everyone handles things differently. For me, I learn from things. Do better next time, that's really all.
Do you have a good support system? 
Yeah. I'm really strong mentally. I might be trippin' for a day, but I don't be trippin' for too long. Nothing could bother me for that long.
What's your favorite thing to do for self-care? 
Take a shower. Take a bath. Just reset the skin, the body. The head, the face. Water is a very powerful element. I love water, so something in the water for sure. Steam room.
What is your workout regimen? 
I work out at Equinox. I move around, so I'm not at one specific one. I like going to different ones. Go to Equinox, stretch. I mainly do weights. I don't do no cardio. That's the way my body's set up though, I don't really need to do cardio. I grew up an athlete.
What'd you play?
Basketball, soccer, softball, track, cross country.
Did you ever want to go pro? 
No. I knew I never wanted to go pro, it was fun though. Good workout.
Cross country is fucking hell. 
Oh I loved it. That's a form of meditation for me. Turning my brain off, just going. At the time, that was meditation.
What was your mile time? 
Maybe 6 minutes and 10 seconds? Something like that. I was fast.
Growing up in LA, did you go to a lot of Lakers or Clippers games? 
Mainly LA Sparks, because I like watching women's basketball more than men's. I'd go if my favorite player's playing. Like if Kobe was playing, Kawhi Leonard. But I'm not just going to a basketball game, no.
How much did it hurt you when Kobe died? 
What's crazy, I was sleep and my homegirl was with me. She said "Kobe just died." That's all I heard, I woke up and instantly started crying. I didn't have to look at an article, nothing. Just by the look on her face, I woke up and instantly started crying. A tear instantly fell from my face. I was like, what? What did you just say? Don't play with me right now. Not Kobe. An hour later, they said it was his daughter too. Man, I'm fucked up. I instantly cried, that was crazy. Kobe's my favorite player ever, all time. Being from LA, that man did some crazy things for us. I love Kobe.
Loved seeing you work with Forever 21 for Rolling Loud. Did you grow up shopping at Forever 21?
There's one at this mall I grew up at, the Fox Hills Mall. Everyone went to that mall, that's right by where I'm from. I've been going there since a kid. There's a Forever 21 so I was always in there, getting my little outfits. I've shopped at Forever. 21 I've been in their stores, on their website before that. It was crazy. To know that they love me so much, because I love them equally so much. It's crazy, brands like that supporting you.
Any fashion icons?
Kimora Lee Simmons, I love her whole aesthetic. Rihanna. I really like the way Lil Wayne dresses.
How'd you meet Rubi Rose? 
I met Rubi way before we was doing anything we were doing anything we're doing now. Before she was rapping, before any of that. It was 2017. I met her in LA through a mutual friend, we became cool after that. Rubi's cool. I love her, she's so supportive. Rubi's a sister to me, I love her so much.
How was it dating a rapper?
I never dated no rapper.
Lil Bibby was a rapper!
He was not rapping when I met him. He ain't never been in no studio, any point I was with him. He stopped years before I met him, so I ain't date no rapper. It was cool. He real chill. We both a Cancer, it was real calm. Chill.
How'd it end?
People change. It was years later.
Were you cheated on?
I think everybody gets cheated on. I do think people could get better though. Not saying people are incapable.
Have you ever cheated? 
Have I? Under certain circumstances, not for no reason. I'm 25 now. I'm gon' sit here and act like I ain't done nothing out of revenge? Okay.