Read the full interview on Flaunt.com!
Joey Trap is hard to miss with his split-colored hair, which he dyed black and white to match his two adorable miniature poodles too: Huey and Riley (named after The Boondocks characters).
The Bronx-born, San Diego-based rapper pours his heart into the music, working his ass on the daily while making his dreams come true.
With his Instagram handle as @kloudgod, Joey Trap arrives with one hell of a personality and undeniable bangers. Exploding onto the scene with his standout single "Nemo," which saw Joey even eating live goldfish on camera, the rising star continues to elevate with each release—gifting fans a piece of his story and truth.
Most recently, he released his album aptly titled LOYALTY, an 18-track project that sees Joey bouncing back between hip-hop and modern day trap. The name itself is an ode to his own devotion to music, and staying loyal to himself amidst the ones who have switched up on him. A true creative if there ever was one, Joey has his hand in all aspects of his artistry when it comes to music, visuals, creative direction, and everything in between.
Flaunt caught up with Joey via Instagram Live to discuss the "Nemo" days, his roots in both coasts, love for Lil Wayne, the creative process behind LOYALTY, shooting the "BRACE" visual, love for sneakers, growing his own weed, forthcoming album Professional, and more!
Last time we spoke was in 2018, how have you evolved since?
I've been growing mentally, music-wise trying to get to a better place and get bigger. Work more and work harder.
Fondest memories from the "Nemo" days?
I like doing the press back before Covid, going to interviews like XXL and all that shit. Radio is super different than now, they changed a little bit for a while there. I like going in-person to those things in LA, it's an experience. It's different.
You're from the Bronx, New York, came to California at age 15. Talk about being from both coasts.
That's what I try to do in my music, bring the best from East Coast and West Coast music and sounds and collaborate with that. Going to Cali is the opposite of Biggie and Pac, they had that so it's always been 2 rivalries. I'm coming to both and learning from both sides. Yo, both of y'all are really dope, I wish there was more collaborations. That's what I'm trying to do with my music, tie it together from what I learned with both influences.
Biggest influences coming up?
Honestly from New York, I don't really have that many influences. I used to listen to Lil Wayne heavy when I was younger, that was my shit. Every Lil Wayne song was my shit.
Favorite Lil Wayne song?
Damn that's tough, I think "Mo Fire" off Carter II. OG Wayne shit. [laughs]
How does it feel to have LOYALTY out?
It's dope because I really feel like I've been around for so long doing so many different types of things like this. I've been very diverse over the past years but I still have those loyal fans. It's really dedicated to them so they can hear my growth, that's why I called it Loyalty. 
What was the creative process like with this project?
My n*gga Imagine Beatz produced the song "Loyalty" off Loyalty. He's from the Bay I believe, he's a CalI producer so he has that CalI sound. I'm from New York so I'm hitting these CalI type beats with my New York shit, that's really my goal of putting both sauces together. Mixing them.
You released the visual for "BRACE," what were you going through recording this one?
Yo, "BRACE" is tough. What's crazy is there's a song called "Triple S" by YN Jay with the same beat, that went viral on TikTok. I'ma address this, I didn't even know that song existed until after I made it and sent it to Energy. He said "yo this is a hit! But we got YN Jay on this too." I'm like "oh shit!" But we already shot this video, I said "bro this is epic, we gotta put it out anyways. There's no way." I was thinking I wanted to do some superhero X-Men shit and walk out of a building that exploded, so that's what we went and did. [laughs]
Talk about directing and editing the video yourself.
I've over the years directed and edited a lot of my projects. Earlier on, it wasn't as developed. Working over and over on different projects is what got me to really think about simplicity, which is what that video is. There's only 2 scenes shot in that video, but it looks like so much is going on. [laughs] It's practice, practice makes perfect honestly.
You're very involved in all aspects of your artistry. What was your creative direction for the project?
I really like beats that make you want to dance. You hear it like "wow shit, this is that vibe! I'ma move." That's what I was fucking with Energy, with Imagine. I produced 2 of the tracks on there. I've been producing mad on my beats, n*ggas don't even know I produce half my shit. I really love making shit that makes you want to dance and move. That's why we put a lot of ukulele tracks and guitar beats on there because that's something that makes people move.
You have a song called "For My Health," how health-conscious are you?
I'm not even health conscious at all. The title was Loyalty, then "For My Health" was the second song originally. "For My Health" is me reminding myself to be healthy even though there's n*ggas that's not loyal, that's breaking the code, that's fucking shit up. I shouldn't be stressed about these n*ggas, I gotta be focused on myself for my own health. Mental health, nothing to do with the food aspect.
What do you do for self-care?
I look fucked up 'cause I ain't got a haircut in a fat minute, y'all got me on the worst day. I'm getting one tomorrow, don't play me. [laughs] What I love to do is shop, I buy sneakers often so I have a lot of sneakers. I love Jordans, Nikes, GuccI, shit like that. I'm a shopaholic, that's my main hobby besides music. [laughs]
How much you dropping?
I got a lot, I'm just sitting on this. I got a lot of stuff over the years, I collected a lot. I don't buy everyday but when I do buy, I buy some fire shit. Something super rare, I like rare things.
Favorite brands?
My favorite brand is definitely Bape, and Polo Ralph Lauren. I don't know why Polo, I guess that's the OG New York in me. But Bape's my favorite brand.
How much diamonds you got on you?
These are VVS's, you know the vibes. I got this with my first rap check, this was my first trophy.. The Cuban chain itself was $20 bands, then this was another $20K. [laughs] So we put $40K on it. And I got some Rollies.
Do you ever get scared someone is going ot snatch it?
Yo! It's not that I feel somebody would snatch it off me, but I smoke a lot so I'm mad forgetful. I always misplace things. One time I left this in my car and I thought somebody took it from me, I was shook. Yo, that's $40 bands. Fuck! That's a nightmare definitely, going crazy.
Where did you end up finding it?
I did find it, it was in my car in the glove compartment. [laughs]
Any more tattoos? I know you got TRAP across your stomach.
I got a bunch of tattoos. I have a full sleeve, they're all Japanese stuff on my chest. I have Greek stuff, this is all Roman Greek myth stuff and statue arts. I like tattoos. I'm going to get a full body suit one day, it just takes time.
What's your favorite Greek goddess?
Aphrodite is the Godess of Sex, so that's cool. I always thought Hades is a badass because that's a cool name.
We hear you're a weed cultivator, tell us about that.
Yes, I can show you my grow but I'm inside. I have a bunch of fucking plants, they're all beautiful. Right now, it's ending winter and turning into spring so it's a bad season to grow. Once spring starts, it'll be a better season to grow a bunch of plants. I have at least 3 different unique strains right now that I'm working on, they're pretty gas. I smoked them already, they're pretty fire.
What sets your weed strain apart from the rest?
It's organic, it's home grown. I don't do any chemicals, chemical nutrients that a lot of people put in their weed. I don't think anything's really special about it because there's a lot of other people with great weed, but when you grow it yourself you don't have to pay nobody for it. [laughs]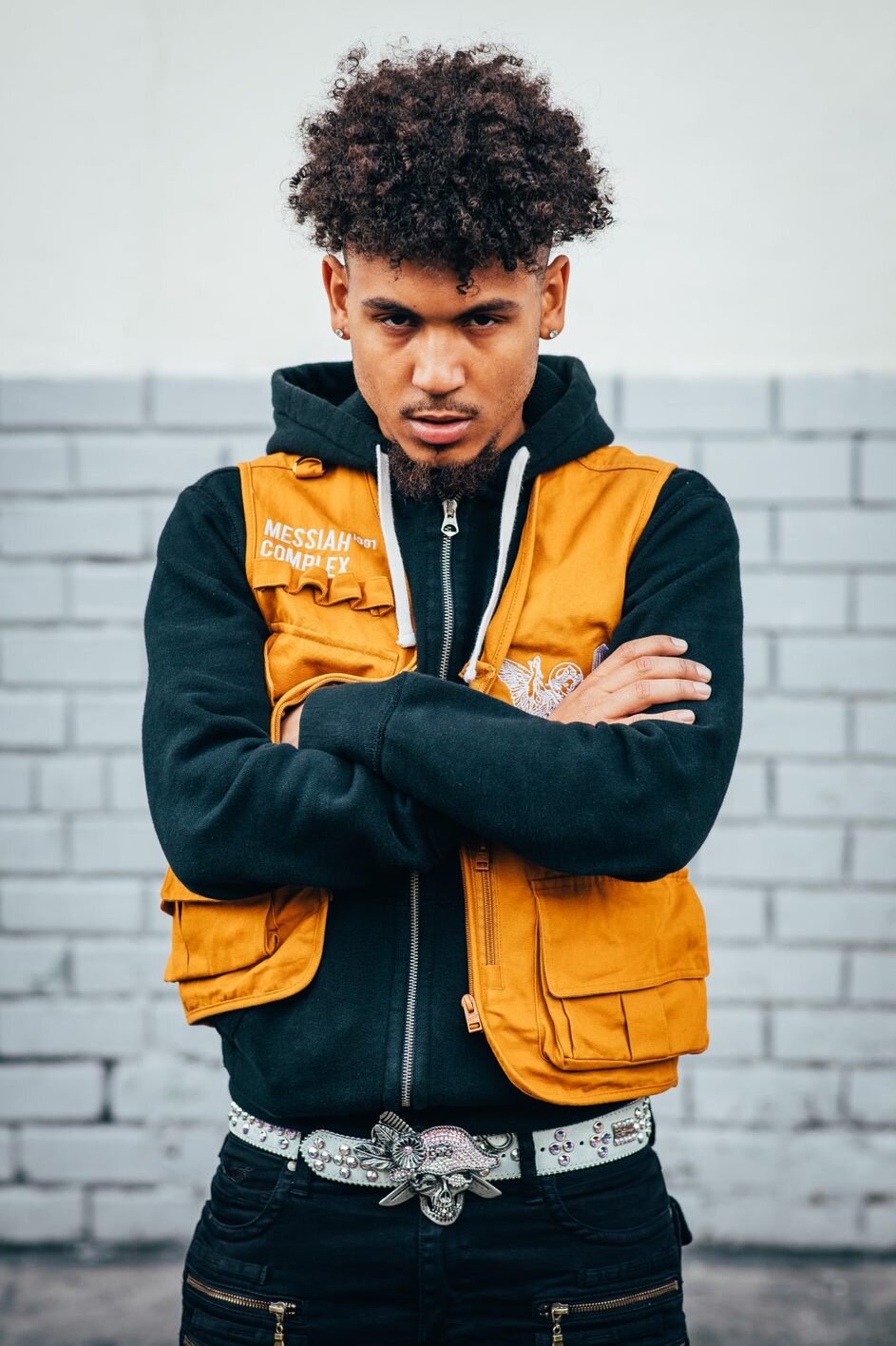 What's next for Joey Trap? 
May 3rd, I'm dropping another album called Professional. That's going to be 25 songs, I'm excited for that for sure. It's finished, I already submitted that one.
You didn't have any features on the last project, can we expect some on this one?
Okay so my plan this year is to do no features at all. Next year, I'll do features. I really want to show off that I can do no features. [laughs] I don't really need features. I don't like working with other people honestly, it's better when I be in the stu by myself. Personally. [laughs]
Anyone you'd like to collab with?
In the future, I'd love to work with Future or Young Thug. That's a dream collab but besides that, I don't really listen to a lot of underground people. I listen to myself I'm not gonna lie. I'm trying to work with the big ones right now. I listen to people a lot, but I don't see myself working with everybody so to speak.
Who are your Top 5 artists in rotation?
Kodak, Travis, Future, Thug, and Drake. Maybe Nav in there, I fuck with Nav. All the autotune n*ggas are hard.
Anything else you want to let us know?
We got one single coming April 9th called "Professional," off the album Professional dropping May 3rd. Tune in to that when it comes, you already know. More blessings coming.